Yogabed is a newer mattress startup that launched in late 2014. Like many other online mattress companies, their prime directive is to produce a high-quality and affordable mattress that can be delivered to your door-step in a box. However, Yogabed is taking it a step further by also offering pillows, mattress protectors, and sheets. We'll be taking a look at their other sleep accessories later, but for now we're going to review the Yogabed pillow.
Read on for our full review of the Yogabed pillow, or if you're in a rush jump to the review summary and see if the Yogabed pillow is right for you.
Wish you could watch this review instead of reading it? We've got you covered! Watch our comprehensive Yogabed pillow review here:
Foam
The Yogabed pillow is created from the same custom foam material that's in the Yogabed mattress. They call it Yoga Instant Response foam. As the name suggests, the foam is highly responsive, meaning as you move the foam adjusts and moves with you. By contrast, memory foam pillows tend to be lower response, and are generally described as feeling "like quick sand".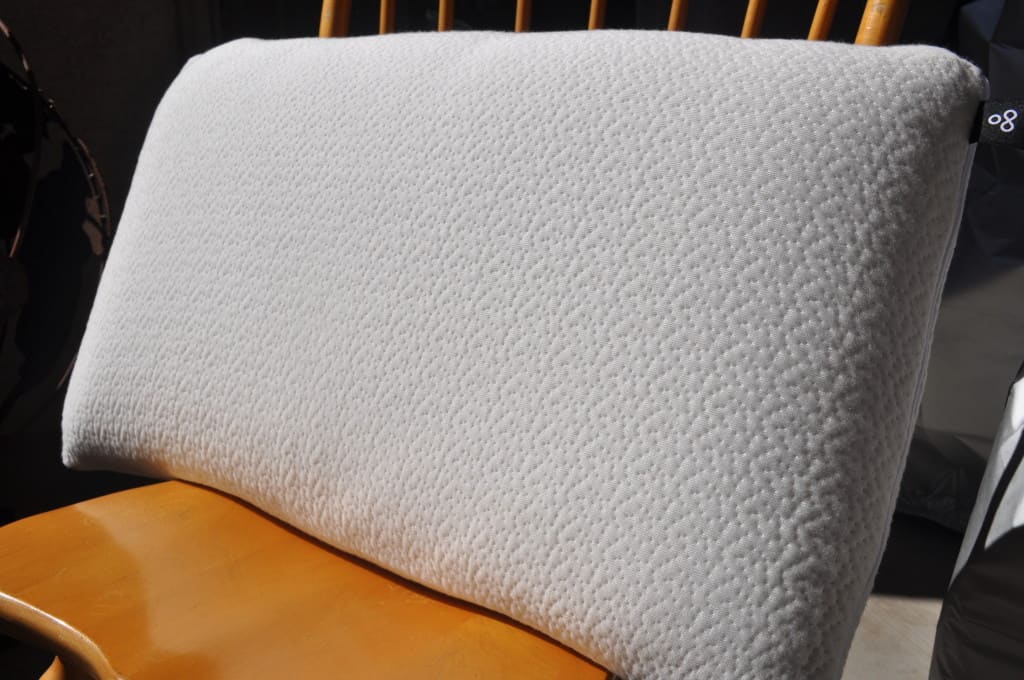 The foam in the pillow feels and reacts similar to latex foams I've slept on, both in responsiveness, cooling, and bounce factor.
The Yogabed pillows have a medium profile, not too high and not too low. This is by design. The size and profile strikes a balance so it is well suited to back, stomach, and side sleepers.
Cover
The cover is all white, soft, and simple. The cover is a stretch knit over a wicking material. This helps to move any perspiration and moisture away from the sleeping surface, improving cooling.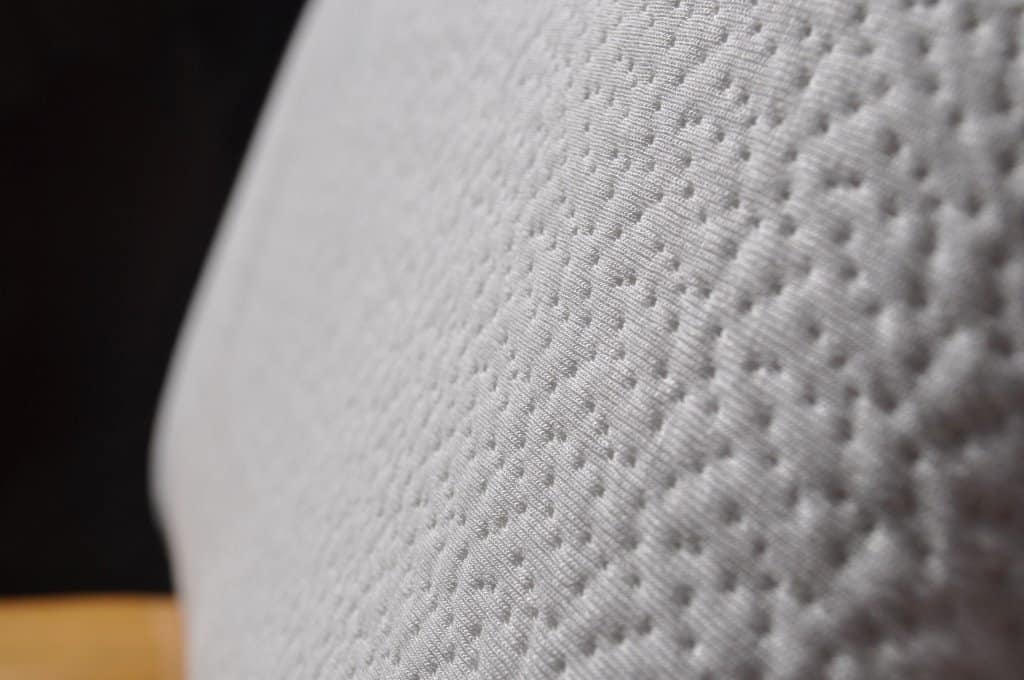 Pro – Moldability & Cuddliness
Most foam pillows tend to be very solid and on the firm side. For this reason, they are not always ideal for sleepers who prefer and need a moldable and pliable pillow.
Traditional pillows can be molded and adjusted to provide the proper height, support, and comfort for the sleeper. Yogabed pillows strike a nice balance in this regard. It feels and reacts very close to a traditional pillow in terms of pliability and cuddliness.
As a stomach sleeper I generally don't love solid block foam pillows. They often are too firm and too tall. Since the pillow is moldable I was able to get it adjusted to my preferred height and support level. Additionally, the medium profile helped to not make it too unwieldy and large.
My wife sleeps on her back and side. She commented that she also liked the moldability and that the pillow felt equally nice on both her back and side.
Pro – Cooling
The foam used within the Yogabed pillow has small ventilation holes drilled into the foam. This helps the pillow breath better and remain cool during the night. During my sleep test I thought the pillow did a pretty good job on staying cool. It was not any hotter than any traditional pillow I have slept on.
Additionally, the ventilation holes help to increase the softness and moldabilty of the pillow. Any time a foam pillow can act a little more like a traditional pillow it's a good thing in my book.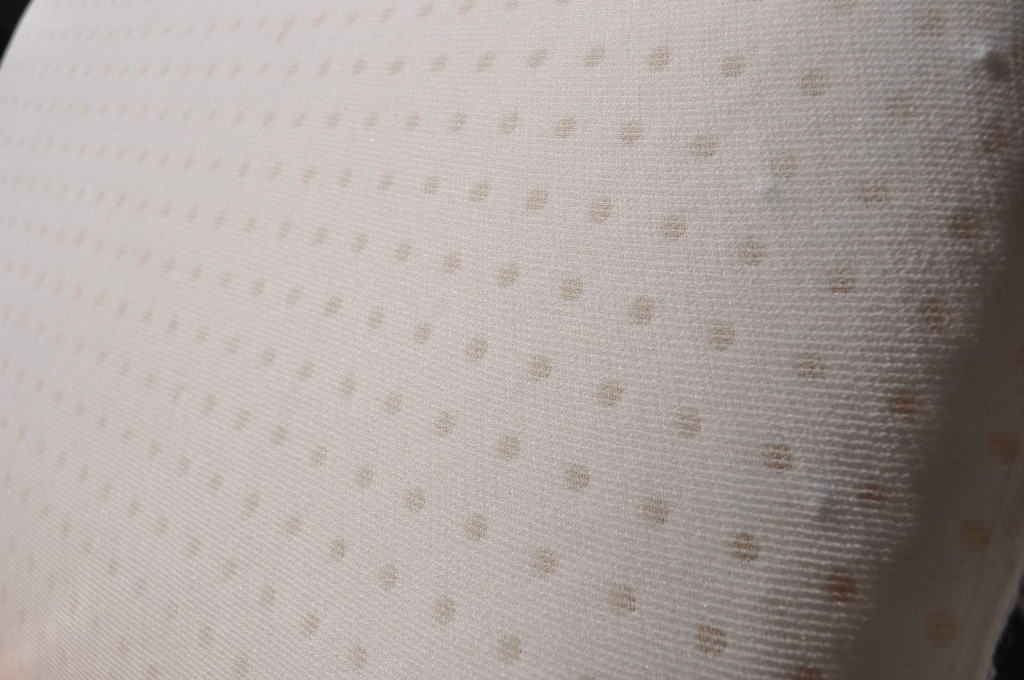 Con – Smell
The biggest con of the Yogabed pillow is simply the smell. The smell was present for the first 3 days of my test. By the 4th day the smell began to dissipate and after a week it was 100% gone. If you're very sensitive to smells you might consider letting your Yogabed pillow air out for the first 3-4 days before you begin using it. Additionally, you can manually move the foam around with your hands to help release some of the odor a little bit quicker.
Is the Yogabed pillow right for me?
Overall, I like the Yogabed pillow. Like the Yogabed mattress, it's designed to meet the needs of most sleepers. If I had to pick my favorite thing about the Yogabed pillow, it would simply be the moldability and cuddliness. From the first night I was extremely surprised by how pliable it was. Most foam pillows don't react this way.
This pillow provides great support and comfort, while remaining pliable and cool during the night.
Looking for more on Yogabed? Check it out below!
Balanced feel & height, Great cuddliness
Materials

Comfort

Support

Value

Cooling

Smell

Company
Summary
The Yogabed pillow, like the mattress, has a balanced feel designed to fit the needs of most sleepers. It sleeps cool, has good moldability, and provides strong support whether you like to sleep on your back, stomach, or side.