Whether parents are cooking, having guests over, or simply in the other room relaxing, baby monitors play a key role in ensuring children's safety. Baby monitors allow parents to not only view their children with a camera on a mobile monitor, they can typically communicate with two-way audio, and operate various functions remotely. This can be of great relief for parents or other guardians who need to focus on work or chores while a child sleeps or have security concerns.
Baby monitor manufacturers have devised different methods for transmitting the video signal, as well as several different functions that users can employ. This differentiates the units in ways that go beyond the basics of how well they actually function. Because these features may not be for everyone, it is important to know exactly what type of baby monitor the customer is getting. We've compared some of the top baby monitors available to see how they stack up: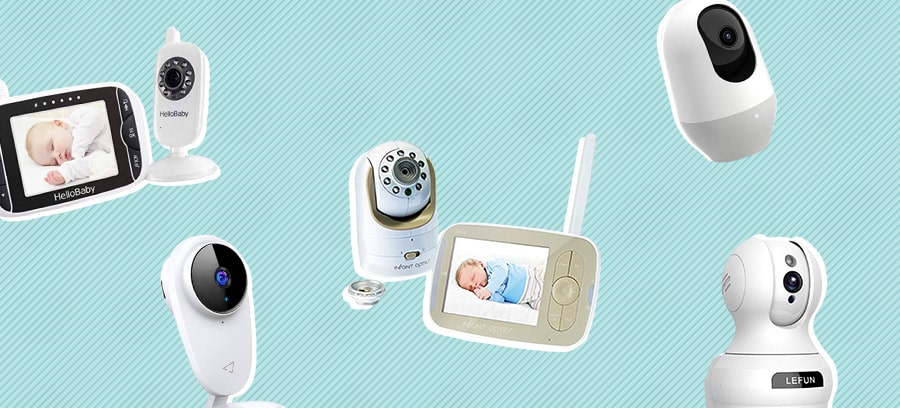 Editor's Choice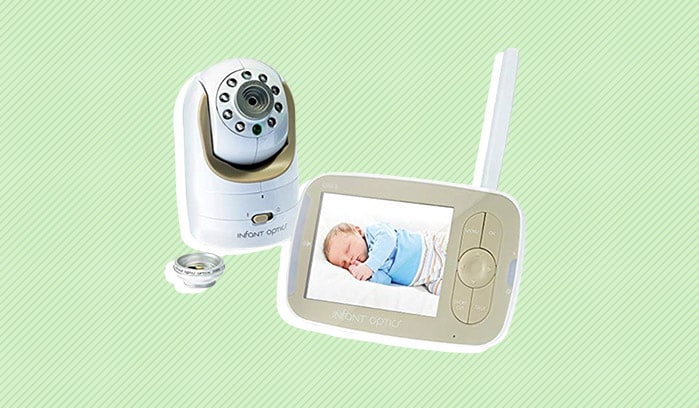 Infant Optics DXR-8 Video Baby Monitor
Pros:
4 camera set-up optional. This baby monitor can be expanded to include up to four different cameras. Using the product's scan mode, users can cycle through the different cameras for up to four live feeds. Extra cameras will need to be purchased.
Secure channel. This product does not use wifi, relying on a dedicated FHSS channel instead to transmit signals to personal devices from the monitor. This may allay some worries of those who are concerned with home cyber security.
Room temperature sensor. A great safety feature of this baby monitor is that it can sense the temperature in the room it is housed in. Great for safety or just simply to make sure the child is comfortable.
Cons:
Price. This baby monitor is one of the more expensive ones on the market. It can cost well over a hundred dollars.
Lights are a bit bright. The different lights that are used to signify certain statuses of the product, such as when it is on or when it is charging, can seem a bit bright, especially in a dark room. This may make falling asleep harder for a child.
Infant Optics DXR-8 Video Baby Monitor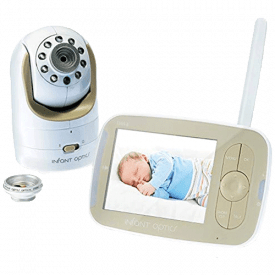 The Infant Optics DXR-8 Video Baby Monitor provides a closed-circuit visual of up to four different cameras, and doesn't rely on a smart device as a monitor. This device has some smart features itself, such a temperature monitor, infa-red vision for night time, an alarm, and a two-way audio channel.
Sleepopolis Score
4.50 / 5
The Contender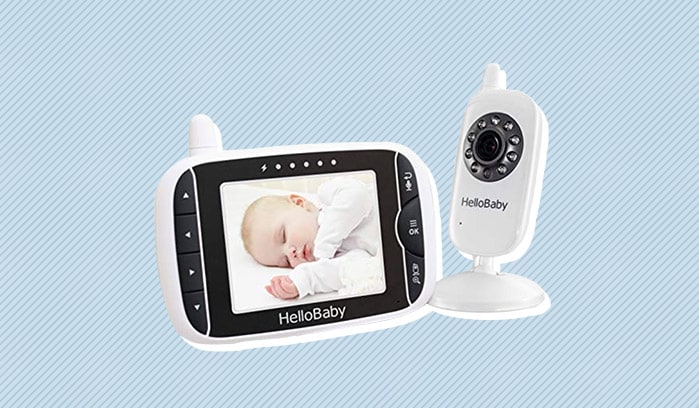 HelloBaby Baby Monitor
Pros:
Lullaby feature. This device can be commanded to play a lullaby in the room with the child. This is a great way to provide soothing sounds to a child when not at home.
Black or white options. This camera and monitor set can be purchased in a white casing or black. This can make a difference when trying to have a camera discreetly blend into a room's decor.
Almost no set-up. The manufacturer boasts that this product is "plug-and-play", meaning it has virtually no set-up requirements and can be used right out of the box. Great for those who are not the most technically savvy.
Cons:
Doesn't charge with USB or micro-USB. While many competing baby monitors employ a USB or micro-USB charging port, this one uses a coaxial power connector.
Volume could be louder. Depending on the environment that the monitor is in and how far away it is from the listener, it may be difficult to audibly capture every sound. The volume could have been programmed to be a bit louder.
HelloBaby Baby Monitor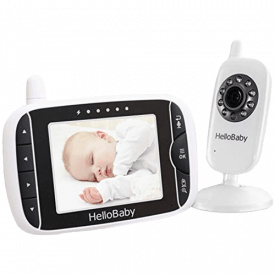 This baby monitor from HelloBaby features lots of features such as the ability to remotely play a lullaby, infa-red, temperature sensor, and a camera that can tilt, pan, and zoom. It uses a secure channel to provide audio and visual signals to a 3.2" LCD display on the monitor.
Sleepopolis Score
4.30 / 5
Best Bargain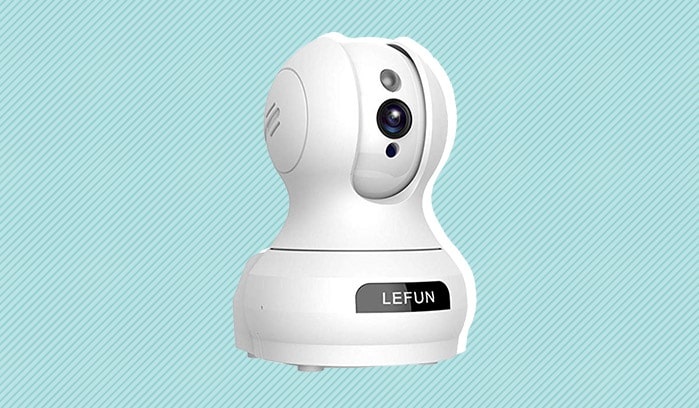 Lefun Baby Monitor
Pros:
Pair with Alexa. This baby monitor can be paired with Alexa, allowing hands-free operation. This is crucial for those times when hands are full with dishes, cooking, or other household tasks.
3 year warranty. The manufacturer provides a warranty of three years. For a device that could be in use daily, this is a comforting guarantee.
Price. With this product, customers can get a quality camera with great range-of-motion for a fraction of the cost of some near competitors.
Cons:
Wifi dependent. This baby monitor requires wifi to connect with personal devices. If the wifi at home isn't working or doesn't have ample strength, users may experience a degraded transmission or no communication at all.
Camera noises. As the camera rotates, some of the inner machinery makes a slight but noticeable sound. This may make the camera less discrete.
Lefun Baby Monitor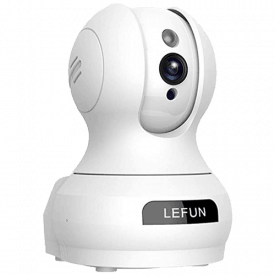 The Lefun Baby Monitor is an affordable baby monitor that uses home wifi to connect with any number of different types of personal devices. With Alexa-compatibility and video alerts savable with a free cloud service, this device has many modern trappings without a huge price tag.
Best Wifi-Enabled Baby Monitor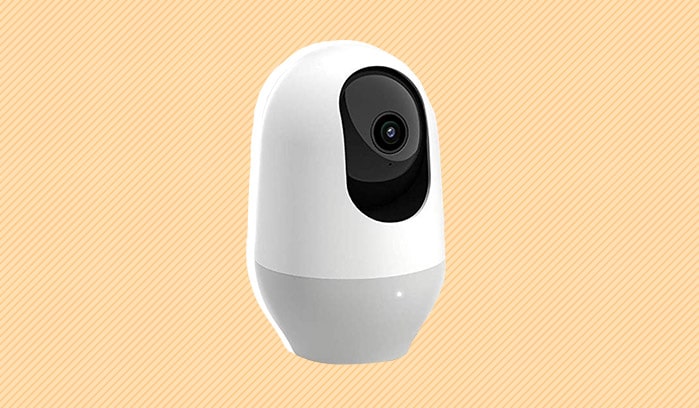 Nooie Baby Monitor
Pros:
355° horizontal axis. This camera (with a lens with 101° field of vision) can rotate 355° horizontally and an additional 94° vertically, making for a full 360° viewing area.
32 feet night vision. The infa-red capabilities of this camera allow the user to see up to 32 feet away from the camera at night without any ambient light. Great for checking up on children or a home while away at nighttime.
Light can turn on and off remotely. The LED lights that signify certain statuses of the device can be toggled on or off. This can keep rooms dark enough for children to fall asleep.
Cons:
Wired. This device needs to be plugged into the wall to be powered. Many competitors are wireless and use battery charge.
Settings reset. An irritating feature of this product is that the settings will reset if the device is unplugged or if the power goes out. For those hoping to move the device around the home, this may be an intolerable aspect of this baby monitor.
Nooie Baby Monitor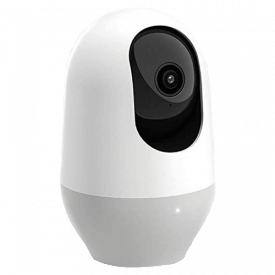 This Nooie Baby Monitor has a wide range of vision, 32 feet of night vision, and can connect through wifi to any personal device. It also sends alerts to the personal smart devices when it senses motion or sound, and can be calibrated to start recording when motion or sound is detected.
Sleepopolis Score
4.20 / 5
Best for Travel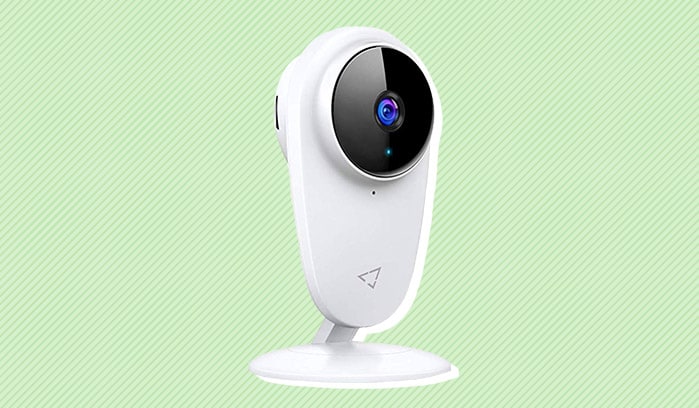 Victure 1080P Baby Monitor
Pros:
8.8 ounces. This baby monitor is one of the lightest on offer. Weighing just over half a pound, this device is perfect for those hoping to move their monitor around their house or for travel.
First month of cloud storage free. This baby monitor allows storage on an SD card locally or through its cloud service. The first month of storage is free, so users can see how it is working out for them before committing any extra funds to a service they may or may not like.
120° wide angle. This camera has one of the wider lenses available for a baby monitor. That means that a larger area of a given room can be seen at a time from the monitor.
Cons:
Doesn't rotate. The lens on this camera can only provide a view of 120°, as it does not rotate. While this may suffice for some situations, other competitors offer visual angles upwards of 355°.
No sound detection. This camera does have motion detection, but it has no sensor to monitor sound. That can be problematic, as ofte
Victure 1080P Baby Monitor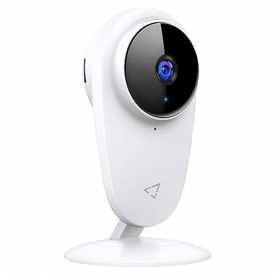 This is a light-weight baby monitor from Victure that has local storage or cloud storage, motion detection, and a 120° wide angle 1080 Full High Definition camera. It is also one of the more affordable baby monitors available for purchase.
How We Picked
Baby monitors are products that parents and guardians could possibly rely on every day to provide security, oversight, and peace of mind. Of all of the types of products designed for child care, baby monitors are products that adults will be relying on to function properly, safely, and easily any time they are called upon. Baby monitors need to earn the trust of parents; here are the aspects of the different products we looked at that we think stood out in our evaluations:
Type of monitor
There are two key ways that baby monitors broadcast signals to the end user. One way is through dedicated monitor screens. These video receivers accept signals from the cameras placed in the rooms. The benefit of this style of baby monitor is that the video signals are closed circuit, thus increasing the security of the transmission and not causing reliance on wifi.
There are also baby monitors that sync with home devices, such as smartphones, tablets, and personal computers. These use the home wifi set-up to connect these devices, so there is some dependence on the wifi signal being strong and stable. The benefit of this type of baby monitor is that there is no additional charging needed and the need to carry around a separate device.
Extra features
Baby monitors are more advanced than they have ever been, increasing what parents can control remotely and monitor in the room. Temperature sensors, alarms, and camera movements can all be monitored and controlled from other rooms. Some products even allow users to play lullabies when children need comforting sounds.
Sound and motion sensors are also common features that lots of manufacturers – but not all – are including with their baby monitors. These can be set-up to automatically start recording when sound or motion occurs in the camera's frame of view. This is an added layer of safety that allow some products can be programmed to send alerts to the smart devices of the user if any motion or sound is detected.
Mobility
While for some users, a baby monitor will live in the same place for the duration of its use. However, some may need to move the baby monitor around depending on the time of day, who is in the house, and especially if the baby monitor is used in places outside the home.
A first big determinant of how mobile a baby monitor is concerns its power; if it is wired into the wall to operate, it has a limited scope to where it can live. These wired units sometimes need to be reset when unplugged, making moving them an inconvenient process. Battery-operated cameras can be placed in places all over a room and can be easily transported to other rooms or homes if needed.
Tips
Not sure which baby monitor is right for you? Below are some questions to consider that may help your thinking:
Will you be using the baby monitor in more than one place?

If you are hoping to have the camera set up in multiple locations around the house, depending on where children are present, it might be beneficial to get a wireless camera. Sometimes the wired variety need to have their settings reset when unplugged.

One option for those with multiple locations they would like to observe is to get multiple cameras. Some brands allow up to four different cameras to be monitored at once.

Do you have good wifi signal throughout your house?

For some, using a baby monitoring system that syncs to a personal smartphone or other device makes the whole process a bit easier. There are no additional monitors that users will have to carry around. The smart devices work with wifi.

If the wifi signal strength is not strong throughout the house, then there may be a video lag or even difficulties connecting at all. For these situations, it is advised to get a baby monitoring system that doesn't connect to wifi. These usually have their own proprietary monitors that come with the set.