Before you set off on your next outdoor adventure, you'll definitely want to snag an excellent backpacking sleeping bag. Lightweight, compact, and resistant to inclement weather, these accessories are designed to keep hikers, backpackers, and other outdoor enthusiasts cozy at night without taking up too much space in their packs. And while there are a lot of options available on the market today, not all of them are created equally. So, which ones are actually worth the money? Well, I'm so glad you asked.
In this guide, I'm going to introduce you to the absolute best backpacking sleeping bags! Though they differ in terms of style, construction, and price, they're all built with packability, lightness, and comfort in mind. After we go over my picks, I'll share the methodology I used to select them, so you know exactly what to look for when shopping for one of your own. Plus, I'll round things out with a few tips and tricks you can use to improve your buying experience.
Most Functional
Teton Sports LEEF Lightweight Mummy Sleeping Bag
A Versatile Sleeping Bag Perfect for any Backpacker
Lightweight, warm, and ultra-compact this sleeping bag is a great accessory for novice and career backpackers alike. And when you're not using it, you can simply stuff it into its sack, no rolling required!
Pros:
You can choose either a +20°F/-7°C or 0°F/-18°C temperature rating, which means this sleeping bag is guaranteed to sleep warm.
A three piece hood makes it easy to customize the bag to your liking.
The sleeping bag is also lined with anti-snag zippers, so set-up is always a breeze.
Cons:
This isn't the cheapest sleeping bag on the market, so may not work for those shopping on a budget. 
TETON Sports LEEF Lightweight Mummy Sleeping Bag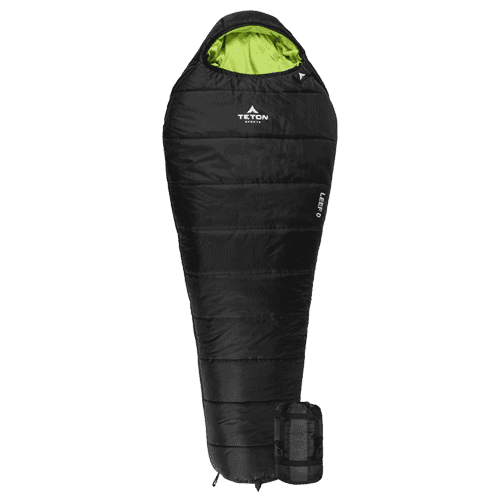 The TETON Sports LEEF Lightweight Mummy Sleeping Bag is doesn't need to be rolled to be stowed away and is super lightweight.
Sleepopolis Score
4.60 / 5
Most Affordable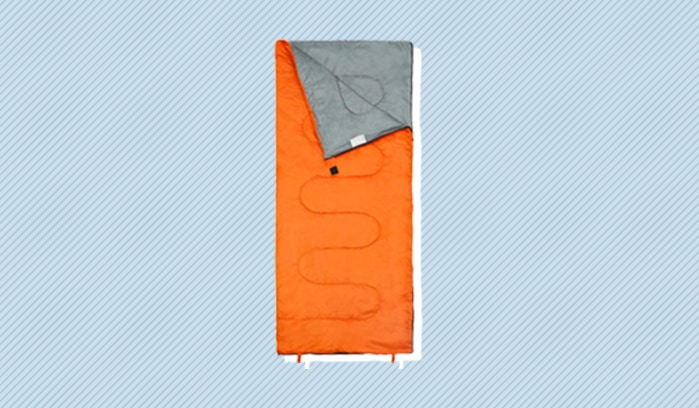 REVALCAMP Sleeping Bag
An Affordable Option for Folks on a Budget
Enjoy all the benefits of a great backpacking sleeping bag at half the price with this model from REVALCAMP. Available in an array of playful colors, this bag is lightweight, cozy, and built for both adults and kids.
Pros:
Budget shoppers should be well-pleased with this affordable and versatile sleeping bag.
Proceeds from each purchase go back to community organizations.
This sleeping features a plethora of fun color options, which is a nice departure from the muted tones of other models on the market.
Cons:
This sleeping bag isn't built for extreme weather, so may not work for all climes. 
REVALCAMP Sleeping Bag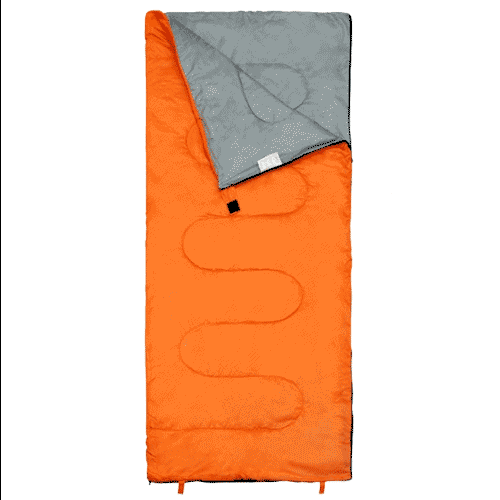 The REVALCAMP Sleeping Bag is great for indoor and outdoor use.
Sleepopolis Score
4.60 / 5
Best for Warm Weather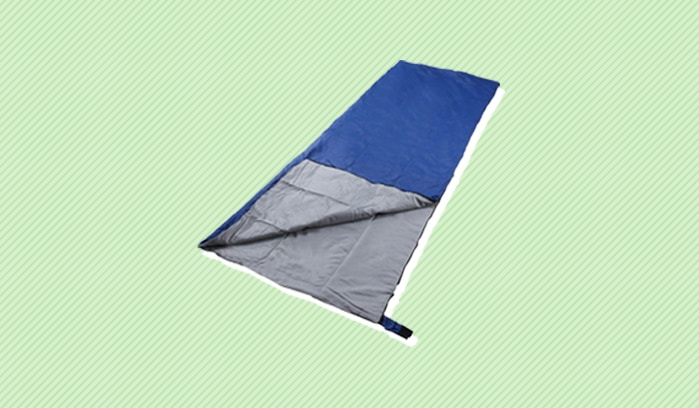 ECOOPRO Warm Weather Sleeping Bag
Perfect for Backpackers Who Need to Sleep Warm
Sleep cool and dry with this warm weather sleeping bag from ECOOPRO, which features both a low price point and a low weight. Plus, it's easy to compress and transport, making this a great option for backpackers.
Pros:
This sleeping bag is a nice, affordable option for folks on a budget.
The bag weighs less than 2 pounds and compresses very well, making it lightweight and portable.
According to the brand, the bag is waterproof and ideal for temps around 50 degrees Fahrenheit and up, so it should sleep comfortably in warm weather.
Cons:
This sleeping bag is not ideal for cold weather. 
ECOOPRO Warm Weather Sleeping Bag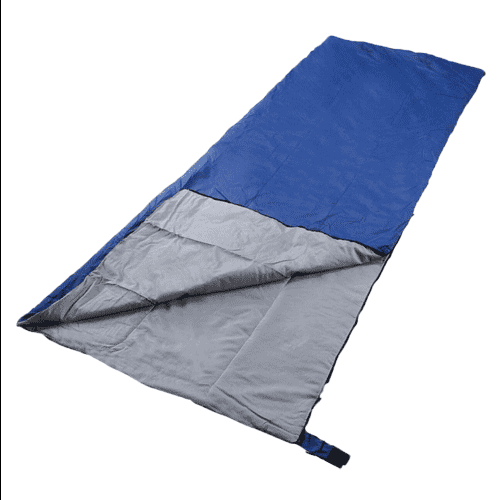 The ECOOPRO Warm Weather Sleeping Bag is a lightweight and affordable option.
Sleepopolis Score
4.40 / 5
Most Luxurious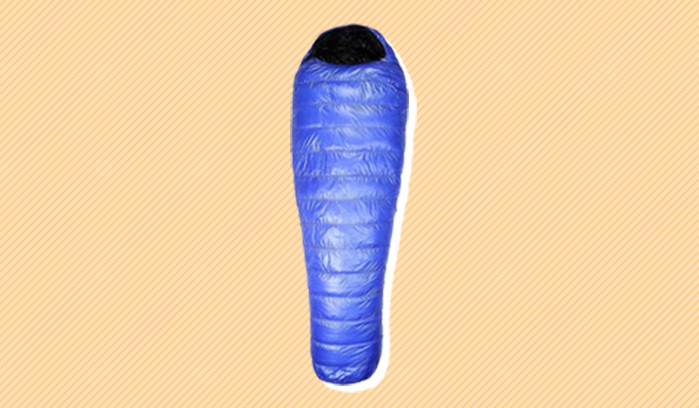 Western Mountaineering UltraLite 20 Degree Sleeping Bag
A High-Quality Sleeping Bag for the Career Backpacker
Made with a breathable and weather-resistant shell, this lightweight sleeping bag could be a great investment for those who backpack year round. Plus, it's amply stuffed with down, so is sure to keep you warm in all kinds of climates.
Pros:
This bag is exceptionally well-made, which makes it durable, comfortable, and long-lasting.
The high-quality materials in this sleeping bag make for a versatile accessory that can work in most conditions.
If you're a career backpacker looking to add a new luxury product to your adventure toolkit, this could be a great option for you!
Cons
This sleeping bag is quite expensive, so may not work for those on a budget.
Western Mountaineering UltraLite 20Degree Sleeping Bag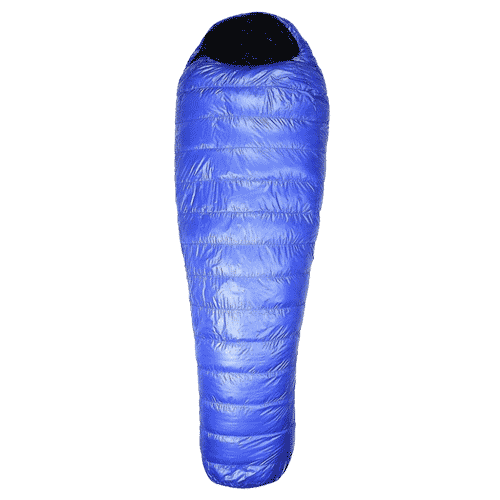 The Western Mountaineering UltraLite 20 Degree Sleeping Bag is well-made from high quality materials.
Sleepopolis Score
5.00 / 5
How We Picked
Now that we've gone over my picks, let's chat about the methodology I used to select them. You can think of this section as a round-up of all the factors you'll want to consider when shopping for a backpacking sleeping bag of your own.
Use
First and foremost, you'll want to think about how you're going to use your sleeping bag. If you're a novice camper using it solely for easy weekend getaways, a simple sleeping bag without all the bells and whistles should more than suffice. However, if you're toting the accessory into the wilderness for long stretches of time, you may want something with a little more heft. Considering all the ways in which you plan to use your sleeping bag will inform your search and help you narrow down your options immensely.
Packability
Packability is another major characteristic to think about when shopping for backpacking sleeping bags. You won't have a lot of space in your pack, so you'll want to maximize the room that you do have.
It's up to you to decide what kind of packable design you'd prefer. There's no wrong answer here, it's more about assessing your pack, thinking about your needs, and seeing where your sleeping bag can fit into the scheme. One thing I will say is that you should avoid clipping too many items onto the exterior of your pack. It seems like a handy trick when planning, but can become quite a nuisance when on the trail.
Cost
And how you use your sleeping bag is going to inform how much money you should spend on it. When you start researching sleeping bags, you'll notice that they range in price from around $20 to well over $500. On one hand, this is great news because it means there are options for each and every budget. But on the other hand, it means that there's a lot of variability in the quality of sleeping bags you're likely to see online.
When it comes to sleeping bags, the old mantra holds true: You definitely get what you pay for. Cheaper bags are more likely to be both less durable and less comfortable than their more expensive counterparts. Plus, pricier bags almost always come with extra technical features that help optimize the camping experience.
That said, there's no reason to spend hundreds of dollars on a bag that you're going to use for short car camping trips or backyard camping. Your intended use for the bag will help you determine just how much quality and durability actually matter.
Materials
The materials in a sleeping bag can have a big impact on its functionality and durability. For instance, real down is very insulating, but gets heavy when wet. Synthetic down options have come a long way and can perform well in a variety of conditions. Some bags come with water-resistant linings, and others don't. So, it's important to really read up on the material description in the "details" section of the product listening. If there's a material that you've never heard of before, do a little research to see if it's right for you and your unique sleeping needs. And, of course, always check out the user comments to see what other folks think about the material construction.
Weight
Another important factor to consider when buying a backpacking sleeping bag is its weight. As avid backpackers know, the weight of one's pack can make the difference between a great backpacking experience and a downright painful one. So, you need to be careful and precise with each and every item that you stow away, and this includes your sleeping bag.
For that reason, I think it's best to choose a sleeping bag that weighs between 1 and 2 pounds. Though an extra ounce or two might seem like chump change while you're getting your pack ready at home, it's crucial to remember that ounces add up. Extra ounces from a bag plus a few extra ounces from socks, cooking gear, water bottles, and shirts can result in a lot of unnecessary weight.
Weather-Proofing
Some bags are optimized for cold temps while others are only suitable for warmer climes. Some bags feature waterproofing or water-resistance, and others don't. You'll want to look for weather-proofing that's appropriate to where you're planning to camp. This can be especially crucial with backpacking sleeping bags, as they tend not to be as warm as their more traditional counterparts. So, if warmth is a big issue for you, you'll want to make sure that the brand has built the sleeping bag with insulation in mind.
And speaking of temperature: Note that the rating for a bag doesn't guarantee you'll be comfortable at the number in question. Typically, it just means the bag will help you keep you alive in those temps. So, if a bag is rated to 15 degrees Fahrenheit, you probably won't be warm at that temp unless you add a liner, a ground pad, some layers, and so on.
Sleepopolis Tips
Still not sure how to find the backpacking sleeping bag of your dreams? No worries! I'm going to wrap up this guide with a few tips you can use to improve your search.
Really consider the environments in which you'll be backpacking. If you're going on a desert adventure, you'll want a well-ventilated sleeping bag that's breathable and cool. But if you're exploring the tundra, insulation and heat retention are going to be more important.
Practice packing your sleeping bag before you hit the trail. This will save you a lot of hassle when you're finally on your trip.
And finally, make sure to test out your sleeping bag while you're still at home. After a long day of hiking, you'll want to collapse into a bag that's comfortable and right for you, so make sure your new purchase fits the bill.
FAQs
What is a good weight for a backpacking sleeping bag?
A good weight for a backpacking sleeping bag is anything under two pounds. Your pack should be as light as possible, so saving weight on a sleeping bag is always a good idea.
What sleeping bag is best for backpacking?
The best sleeping bags for backpacking are those that are lightweight, compact, and easy to set up. Depending on where you're backpacking, weather- or water-resistant designs might also be useful.
What is the best ultralight sleeping bag?
The best ultralight sleeping bag is one that is compact, cozy, and under two pounds in weight. Ideally, this bag will also be water- and puncture-resistant to increase its overall durability.
Wrapping Up
Well folks, that about does it for this guide to the best backpacking sleeping bags on the market! When searching for one of your own, remember to focus on weight, packability, and weather-proofing. Then, you'll be well on your way to scoring the sleeping bag that's 100% right for you.