Taking a bath is not just a way to wash and clean oneself. It is a time to relax and luxuriate in a private spa in the comfort of one's home. While baths may be a great way to unwind, bathtubs themselves are not the most comfortable on their own. Bath pillows are a nice way to make the tub a more comfortable place.
Bath pillows are designed to be soft yet durable, water-friendly but also easy to clean. Because of these requirements, bath pillows tend to share some key traits. That doesn't mean there aren't crucial differences that define the varying offerings. We took a look at some of the most popular brands to see how they stacked up: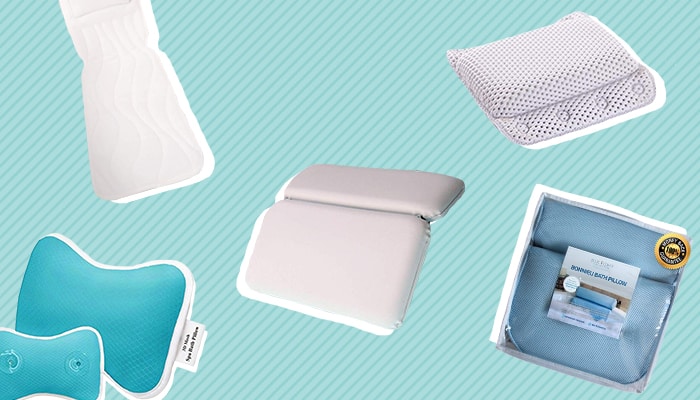 Editor's Choice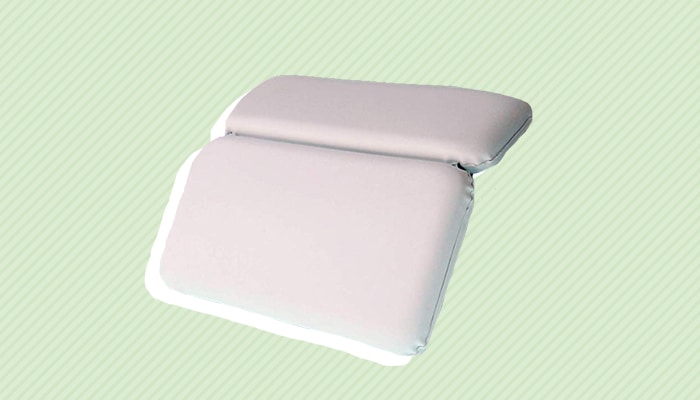 Gorilla Grip Original Spa Bath Pillow
Pros: 
7 section cups. This bath pillow is designed to ensure it stays affixed to the wall of the tub, courtesy of the seven suction cups arranged along its backside. This means bathers can spend more time enjoying their bath and less adjusting the pillow.

Two panel design. One thing that makes this bath pillow stand out when compared to other bath pillows is the two panel design. This allows the pillow to contour to the shape of the tub, providing cushioning along the wall and the rim.

Guarantee. This manufacturer is so sure of their product that they have a 10 year guarantee. This should be of great comfort to those who have been disappointed by past bath pillows.
Cons:
Not ideal for deep tubs. Those with deep tub walls may find that the panels don't lay in a way that support the shoulders properly.

Need large tub rim. Bathtubs that have walls that run right into the walls of the bathroom probably don't have big enough rims for the top panel to rest on.
The Contender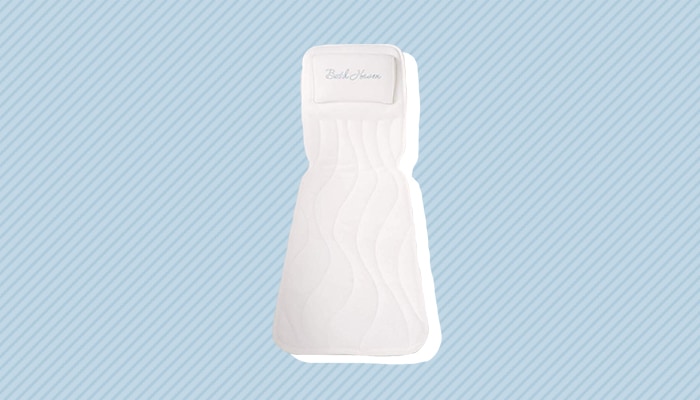 Bath Haven QuiltedAir BathBed Luxury Bath Pillow and Spa Cushion
Pros:
Head pillow. The deluxe version of this product includes an additional raised pillow at the top of this product. This added comfort costs about more than the regular version.

Easy storage. Can easily store it on a hook using the loops at the end of the pillow. It is designed to air-dry quickly.

Wash bag. This product can easily be washed in a washing machine inside of the mesh wash bag included with every purchase. This is great for those who will use it frequently.
Cons:
Not big enough for some people. Though this bath pillow is designed to extend along the length of one's upper body, some people may find it too small to do so.

Lacking neck cushioning. This bath pillow is comfortable but doesn't provide much support in the neck region.
Best Bargain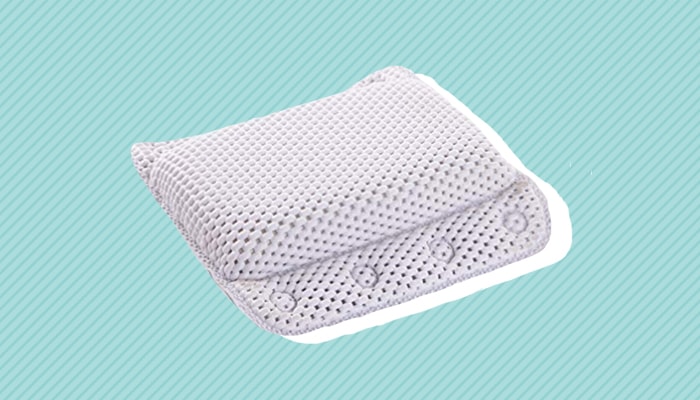 BINO Non-Slip Cushioned Bath Pillow With Suction Cups
Pros: 
Color options. You can choose between white, silver, and navy blue. Not many bath pillows are offered in more than one color.

Sizes. This line of bath pillows has a small and large size. This helps you find a bath pillow that fits their and their tub's needs appropriately.

Value. While both sizes of this line of bath pillow is typically offered at an affordable price, the small size costs about the same as a few bottles of shampoo.
Cons: 
Suction cups can fold. Some may find that the suction cups can fold down and thus lose their ability to stick. Users will have to keep an eye on this before affixing to the tub wall.

Small suction cups. The small version of this bath pillow has rather small suction cups. These are not as efficient as the larger ones found on the larger pillow.
Most Compatibility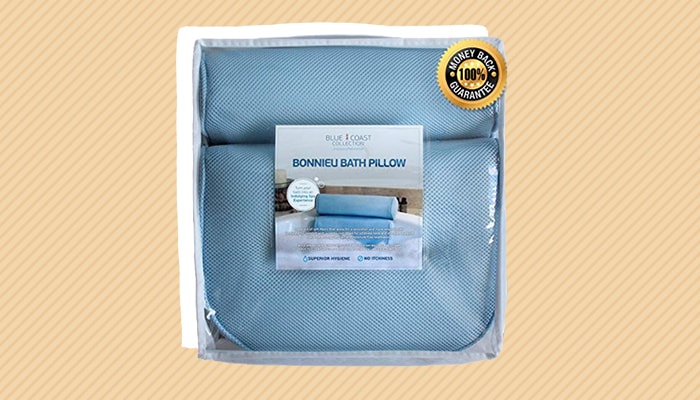 Blue Coast Collection Bath Pillow
Pros: 
Round top. This two-panel pillow features a top section that has a round top provides extra support for neck and head. Great for those with a narrow bathtub rim.

Contoured shape. One difference between this bath pillows and many others is the contoured design of the lower pillow. This provides opportunities for users to find their ideal sitting position.
Cons: 
Can't wash frequently. Though some may want to wash this frequently to avoid mildew, the manufacturer recommends against that so the suction cups don't fall off.

Only 4 suction cups. This product only has four suction cups on the back, making it less resilient than some of its competitors.
Best for Travel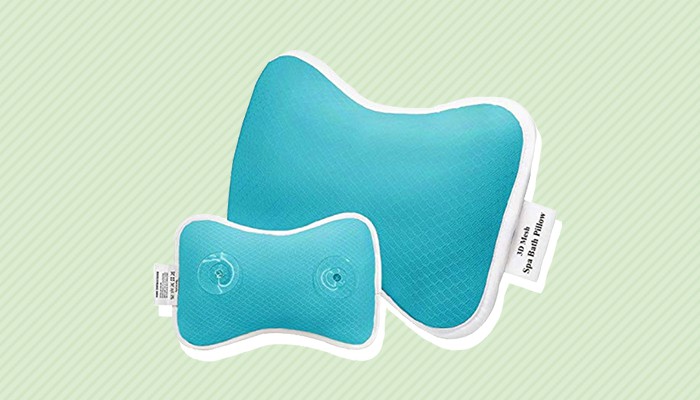 Coastacloud Bath Pillow
Pros: 
Easy to maneuver. Though some may want a more full-body pillow, those looking for an easy-to-manage pillow for their neck and head will enjoy this one's economical design.

Travel. This pillow has a small profile which is great for travel. It is designed to dry quickly so it can be packed not long after use.

Colorful. While most bath pillows are white, this one is also offered in light blue and pink. 
Cons: 
Only 2 suction cups. Though this pillow is rather small, it could have been designed with more than two suction cups. If one fails, the product may not stick to the tub walls.

Absorbs water. Due to its thick design, if submerged in water for too long, it can absorb lots of water and become heavy.
How We Picked
Bath pillows can truly enhance the bath-taking experience, but they do not do so intrinsically. Shoppers need to find a bath pillow that fits their tub, is comfortable, and is easy to clean. These, among other factors, can make a certain pillow more appropriate for different people. Here are the determining factors we considered most critical:
Size
Unlike bed pillows, bath pillows are not always intended to just be placed under one's head. Bath pillows can be designed to provide a comfortable surface for a head, neck, shoulders, and even an entire torso. The difference in price is typically marginal regardless of the size.
Though neck pillows that are designed for the entire body may seem like a better product, they aren't always as soft or provide as much support. Full body bath pillows are typically thinner. Those who are hoping for a certain area of relief, say for their neck or shoulders, it may be wise to find a bath pillow that specifically provides support for those regions of the body.
Upkeep
Most bath pillows have an exterior that is made of a mesh material that allows them to breathe and dry quickly. This helps the pillows avoid building mildew, which is not ideal for health and can be an eyesore. However, pillows still need to be maintained and occasionally cleaned.
While many bath pillows are machine washable, not all are. The pillows that are machine washable are usually still prone to degradation, with the suction cups in particular vulnerable to falling off due to over-washing. Manufacturers that include a mesh bag with the bath pillow provide an easy way to sustain the life of a bath pillow.
Fit
Even the most comfortable and ergonomically-advanced bath pillows can prove to be problematic if they don't properly fit in a tub. Bathtubs with big rims around the tub are usually a fit for any variety of bath pillow without a problem. It is bathtubs that have tub walls that have narrow rims or no rims at all that may have problems with some bath pillows.
Two-panel bath pillows typically need a surface for the top panel to both rest and to affix to with suction cups. For those without much room around their tub walls, it is wise to find a bath pillow that has an ample number of suction cups and enough surface area to provide support. The smallest pillows will probably work with the most amount of tubs, but may not provide as much overall comfort.
Tips
Not sure which bath pillow is right for you? Here are some guidelines that can help make the process a bit easier:
What is your bathtub like?

Stand-alone bathtubs that aren't abutting a wall may need a bath pillow that can hang over the walls of the tub.

Bathtubs that have tub walls that are especially smooth may need more suction cups on the bath pillow to ensure a strong adherence.

How often will this be used?

Those who aren't planning on using the bath pillow very often should not leave it in the bathtub to avoid mildew buildup. Bath pillows that have easy storage may be the route to go.

Bath pillows that are used every day should still be monitored for mildew and cleaned every so often. Products that are machine washable may be preferable in this case.