Is your bed ready for an upgrade? Then consider investing in a bed in a bag. These bedding sets make it easy to change up the look of your entire bed or bedroom by providing you with all the pieces you need to overhaul your bedding.
Different bed in a bag sets will include different pieces, but here's what you should expect at a minimum: a comforter, a fitted sheet, a flat sheet, and two pillowcases or shams. These complementary items let you create a cohesive look for your bed — often at a lower cost than if you bought all those pieces individually. Need help choosing between the best bed in a bag options? Check out our curated list.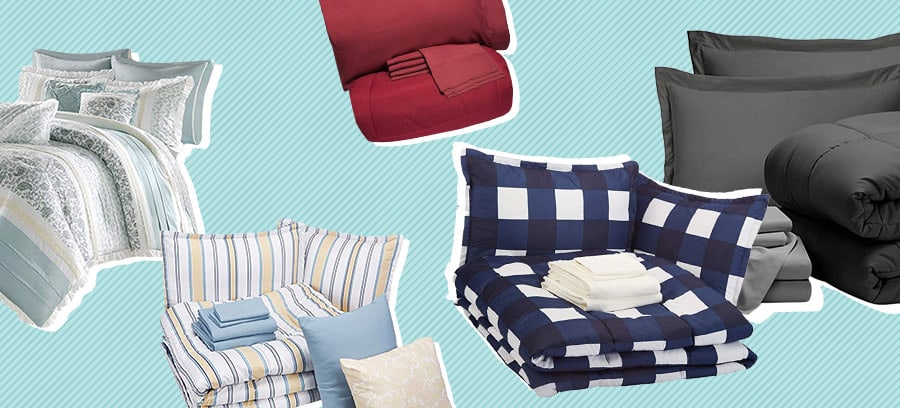 Pros
The comforter in this set is mid-weight and fluffy, ideal for year-round use.
The pinch-pleat detailing and piped edges on the comforter and pillowcases add a uniquely attractive flare.
This bed-in-a-bag set is offered in five different colors, all of which evoke a spa-like aesthetic.
Cons
While I think the colors offered with this set are very pretty, it's important to note that they are all bluish in hue. Those looking for warmer colors like red, orange, or brown might want to look elsewhere.
The comforter in this set is mid-weight, which might not be ideal for sleepers who run very cold.
Pros
Those who love the feel of real down but don't want to sleep on animal products are probably going to be most compatible with this set. Personally, I found the comforter to offer a very fluffy feel that's quite similar to real down!
This bed-in-a-bag set comes in over a dozen colors, most of which are very bright and vibrant.
This set is a fantastic value for the price. Not to mention, it comes with a 30-day money-back guarantee.
Cons
Sleepers who run hot should note that the comforter in this set is quite warm and insulating.
The pillowcases in this set have envelope closures on the back, which might not be ideal for those who like to flip their pillow mid-slumber.
Pros
Personally, I can't decide which I like more — the micromink side or the fleece side. Both are incredibly soft and cozy, perfect for cool weather.
The comforter features box stitching, which helps keeps the internal polyester stuffing in place.
This set comes complete with one comforter and two pillowcases, and it's all machine washable!
Cons
Sleepers looking for a light and breathable comforter set should probably look elsewhere, as this one is very warming.
This bedding set is on the pricier side, so might not be in everyone's budget.
Pros
One of my favorite things about this bed-in-a-bag is its fretwork printed pattern! Folks looking to spruce up their bedroom decor with a stylish comforter set should definitely give this one a try.
This comforter is filled with a very fluffy down-alternative, ideal for those who love the feel of real down but don't want to sleep on animal products.
The comforter and pillowcases in this set are easily machine washable and dryable, which makes maintenance pretty simple.
Cons
It's important to note that this comforter set only comes in two styles, and they both feature a fretwork printed pattern.
Keep in mind that the Twin size set only includes one pillowcase.
Pros
From plaid and pinstripes to windowpane and polka dots, this set comes in a variety of fun styles.
Covered in microfiber and stuffed with polyester, the comforter in this set offers a soft and cushy feel.
In my opinion, the best part about this ensemble is that it comes with everything you need to make your bed. Additionally, the sheets, comforter, and pillowcases all color coordinate!
Cons
Sleepers looking for a plain white comforter set should probably look elsewhere as this one only comes in printed patterns.
Because this set comes with five pieces, it's a bit pricier than other options we reviewed for the Full/Queen size.
How We Picked
To narrow down this list, the first thing we looked for is what's included in each set. We eliminated any options that didn't meet this minimum for included pieces:
A comforter
A fitted sheet
A flat sheet
Two pillowcases or shams
These represent the very basics that you need to outfit a bed, so we made sure every option on this list included these pieces. In many cases, sets on this list include additional items such as bed skirts, pillows, or extra pillowcases.
Beyond the contents of these sets, we also considered the following.
Aesthetics
To accommodate different aesthetic preferences, we made sure to include sets in a variety of colors and patterns, from basic solids to classic patterns and intricate Jacquard designs. There should be something for most tastes on this list.
Comfort
Bedding should be comfortable. So we prioritized sets that generally have soft comforters and sheets. Stiff, scratchy bedding need not apply!
Cost
Cost is always an important consideration when you're on the hunt for new bedding. Quality bed in a bag sets can range from less than $50 to over $400, so there's a lot of variety under the "bed in a bag" umbrella.
Most of the options on this list are closer to the low end of that price scale, because we wanted our choices to be accessible to as many people as possible. But we also included a big splurge if you're looking to add some serious luxury to your bedroom.
Sleepopolis Buying Tips
In the market for a whole bed in a bag? Ask yourself the following questions to help find the best bed in a bag for your needs:
What pieces are essential? Your existing bedding will help determine your needs for a new bed set. For instance, if you don't have any pillows, then it might be worth looking for a bed in a bag that comes with pillows. Or if you only use one or two pillows on your bed, you might feel that a set with four or more pillowcases is overkill.
What's your design preference? Do you have strong preferences when it comes to colors or patterns? Knowing your aesthetic desires will help you rule out a lot of options.
What's your budget? Some sets will cost less than $50, while others cost hundreds of dollars. Getting clear about your budget will help you filter through your options.
Buying a bed in a bag is a convenient way to overhaul your bedding and upgrade the look of your bedroom in one fell swoop. Think about your aesthetic preferences, your functional needs, and your budget to zero in on the best bed in a bag for you.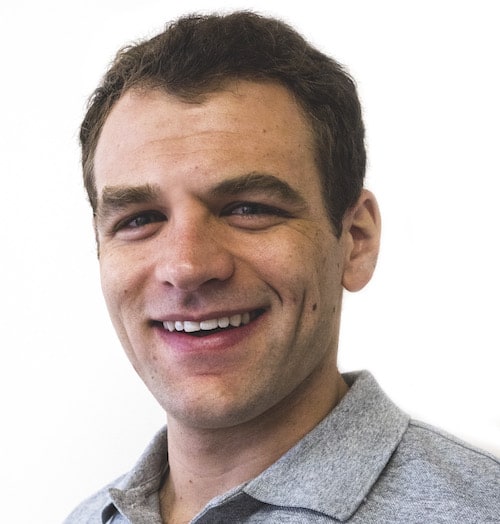 Logan Block
Logan is the former content director of Sleepopolis. As content director, he reviewed new mattresses every week and curated the comparisons, best of pages, and video guides on the site. Logan perfected his method by personally testing over 200 different mattresses, so he's not only able to discern the overall vibe of a specific bed, but to contextualize its feel within the bed-in-a-box market as a whole.