Bedroom fans can help aid the sleeping process in a number of ways. On hot nights, fans can provide a crucial cooling system that can get sleepers' minds off of the balmy weather. Additionally, fans can be a great source of white noise, creating background sounds that can distract sleepers from their thoughts and lull them to sleep.
Bedroom fans can be fashioned in a variety of ways. There are tall fans, short fans, portable fans, and rotating fans. All have their benefits and drawbacks. We took a look at some of the leading options of the different varieties out there; here is what we learned: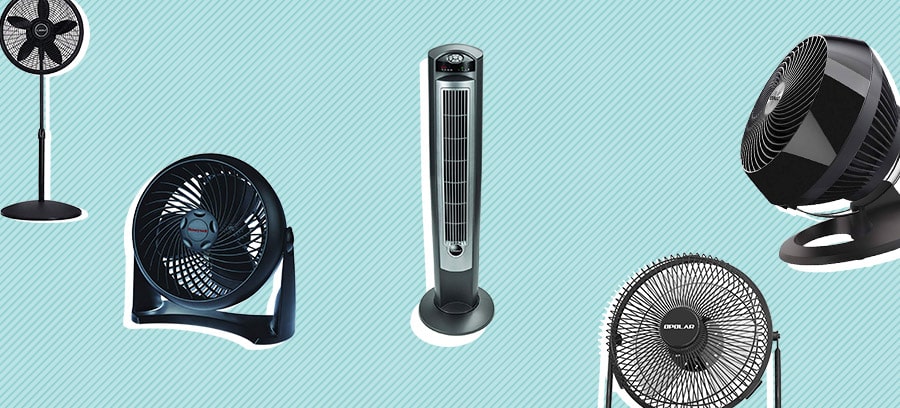 Editor's Choice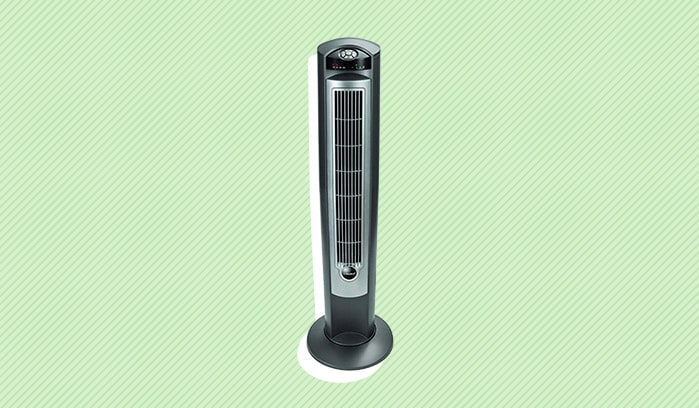 Lasko Wind Curve Oscillating Stand Up Tower Fan
Pros: 
Thin. Many vertical fans – especially ones that oscillate – can be cumbersome and even knock into neighboring objects when spinning. This fan has a narrow profile, even when rotating.

Nighttime setting. This fan can be set to dim at night while it de-escalates its intensity from high to medium to low. Great for those who like to fall asleep to white noise.

Remote control. This fan can be conveniently controlled from the bed. With the remote, users can adjust the intensity, oscillation, nighttime mode, the timer, and power buttons.
Cons: 
Narrow oscillating range. This fan doesn't rotate across as wide a range as other oscillating fans. Users will need to target specific areas for cool air.

No tilt. Another major difference between this fan and other oscillating fans is that this one does not tilt at all vertically. Air only comes out perpendicular to the floor.
The Contender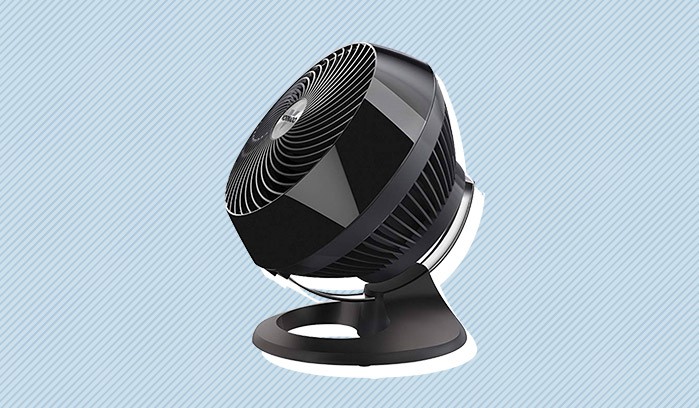 Vornado Whole Room Air Circulator Fan
Pros:
Four speeds. This offering from Vornado has four different speed options for the fan, more than most competitors. The high speed is 584 cubic feet per minute of air volume, which is usually ample to feel cool on a hot day. 

Size options. This line of fans has three different sizes available. The range is between 75 and 100 feet. This optionality is great for those picking out a fan for a specific space.

Five year warranty. This brand offers one of the longest manufacturer warranties of its nearest competitors. This guarantees the product for up to five years.
Cons:
Doesn't oscillate. This fan doesn't oscillate like other brands. While it is designed to circulate air rather than direct it, some may want a direct blast of air spread around the room.

Loud on highest setting. The two highest settings have a rather loud sound when operating. This is fine for those who want white noise but may may obstruct TV watching or radio-listening.
Best Bargain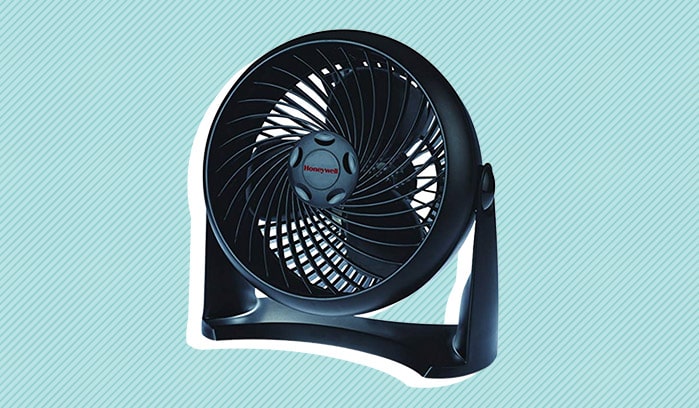 Honeywell TurboForce Air Circulator Fan
Pros: 
Mounting. Honeywell has designed this fan to be able to stand on its own or be mounted on a wall. This is great for those wanting a fan to provide cool relief at a permanent or inconvenient location.

90 degree tilt. This compact fan can be tilted up to 90 degrees. This feature allows the fan to direct air in a direction that is not level, such as towards a desk or bed, or to help with circulation.

Value. This is one of the more affordable fans available to purchase. Multiple units can be purchased to help cool down an entire house.
Cons: 
Hard to clean. Users may have a hard time cleaning this fan as it cannot be broken down into component parts.

Tilt intervals. Though the fan does tilt 90 degrees backwards, it won't hold in place other than in a few preset intervals. This makes position customization a bit more difficult.
Most Customizable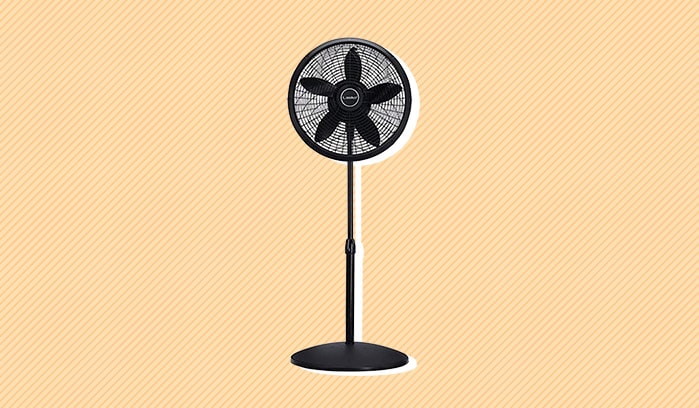 Lasko 18″ Remote Control Cyclone Pedestal Fan
Pros: 
Adjustable height. This fan not only rotates but it also has a height that can be adjusted. This is great for users who may be sitting or standing at variable times in a space.

Built-in timer. This fan can be purchased with a built-in timer, which can be timed for up to four hours. This is of great help when needing to leave a room abruptly and not worry about wasting energy.

Easy assembly. For a product that is so high-powered and adjustable, it is surprising how easy it is to assemble. The instructions are clear and the pieces well organized.
Cons: 
Plastic base. This fan is rather light, so this could be a positive. However, the plastic base can feel flimsy when the fan is lifted to its top height.

Narrow range for remote.

The remote control for this product needs to be pointed directly at the fan. If the fan is around the corner, it will not respond to the remote control signal.
Best Personal Fan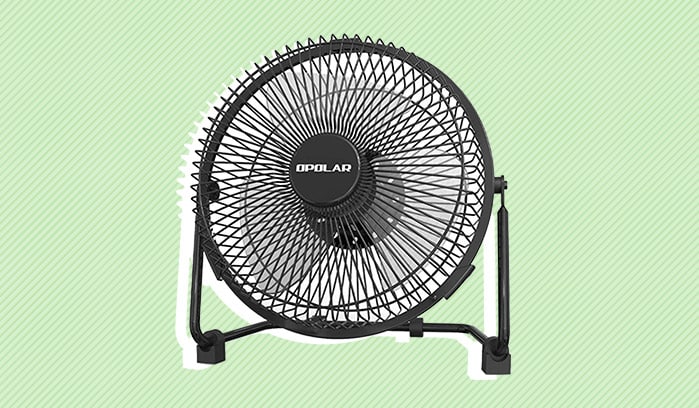 OPOLAR 9" USB Fan
Pros: 
USB powered. This fan is powered by USB. It can be plugged into computers, USB wall charging bricks that are used for phones, and even into some cell phones.

Mobile. This fan is not only light-weight (about 1.6 pounds) but it can be charged by a travel USB power bank or even by a car charger. This is great for camping and other outdoor activities.

360 degree rotation. This fan can rotate all the way around its horizontal axis. This makes it very easy to adjust the air to where it is needed.
Cons:
Can't use high power with all USB power sources. Using it on high power on a computer or phone may draw too much energy from the power source. Users should use caution when using a computer to power their fan. 

Off switch. The power switch on this fan is located awkwardly at the back base of the fan. It can take some maneuvering to turn it on and off.
How We Picked
Fans can be a crucial piece of furniture in the bedroom. Placed at the right spot, they can help cool down a hot night, provide relaxing undertones, and circulate the air so the room doesn't seem so stagnant. With all of these possible benefits in mind, not all fans satisfy them to the same degree. Here is how we measured each fan when evaluating them:
Horizontal Rotation
One of the more important features a fan can have is its ability to rotate. This allows one unit to provide air flow for a larger area than a static fan could provide. There are two types of rotations; horizontal and vertical.
Most fans that can rotate horizontally also can automatically oscillate from side to side. The range that the fans can oscillate can make a big difference in the area that it can cool. Many fans can be locked into place as they are automatically rotating, letting users customize the direction the fan is being blasted at any given time.
Vertical Rotation
Additionally, fans can also tilt backwards vertically. The range of this rotation is one of the bigger differences between different tilting fans. Some will tilt back only 90 degrees, while others can rotate all the way around 360 degrees. This can help direct airflow in any direction.
Vertical rotations typically don't have automatic oscillation and have to be rotated manually. A key determinant when deciding between vertically tilting fans is the ability to lock them into place at a certain angle. Some fans have preset intervals where they can be held steady. This may not get quite the angle users are hoping for, so the fan placement will have to be adjusted in other ways.
Intensity
Fans not only have differing levels of intensity between them, but also tend to have differences in the ability to adjust the speed with which it spins. Larger fans tend to have stronger wind flows, but that isn't necessarily true in every case. The unit of measurement, CFM, measures cubic feet per minute and can be a great way to distinguish between different brands.
Within a fan itself, it can have different levels of intensity. Some offer two, while more sophisticated units can offer up to four. Keep in mind that while the highest level of intensity may provide more cool air, it also may be the noisiest.
Tips
Not sure which bedtime fan is right for you? Here are some things to consider before making your decision:
Where are you placing this fan? 

Some fans tend to be placed in a permanent location. This is typically the case when there is one area that needs cool air or if the fan can oscillate.

Smaller fans can usually be easily moved to cater to the positioning of the sleeper. Some brands even allow wall-mounting for an air flow from above.

Do you enjoy white noise?

Fans when turned to their highest intensity level sometimes are a great source of white noise. However, some may be too loud at their highest level even for those purposes.

More advanced fans can have automatic shut-off options that will turn them off as the person falls asleep. Even better, some have their lights dim and lower in intensity gradually.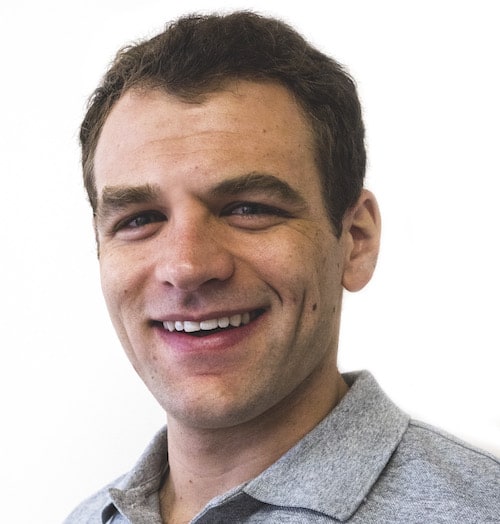 Logan Block
Logan is the former content director of Sleepopolis. As content director, he reviewed new mattresses every week and curated the comparisons, best of pages, and video guides on the site. Logan perfected his method by personally testing over 200 different mattresses, so he's not only able to discern the overall vibe of a specific bed, but to contextualize its feel within the bed-in-a-box market as a whole.