In a bedding world of synthetic materials and blends, a cotton blanket stands out as a comforting classic. A cotton blanket brings timeless pleasure to the end of a bed or back of a sofa, and complements almost any decor. Cotton blankets are a great four-season cozy layer and come in a wide variety of colors and warmth levels.
With so many options, how do you choose the right cotton blanket for you? We've hand-picked five of the best to help you select the perfect blanket for your family and personal taste.
The 5 Best Cotton Blankets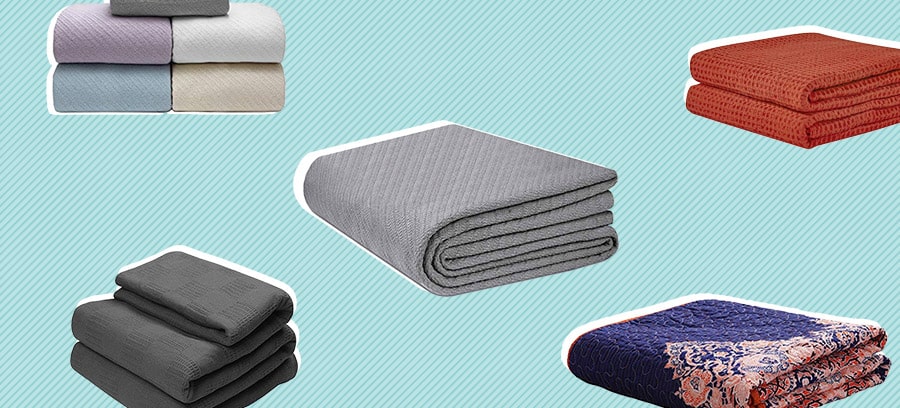 Pros:
Lightweight. The Cotton Craft blanket gets high marks for its soft, airy warmth. This is a true year-round layer that goes from foggy summer night to snowy winter day with ease

Soft. I found this blanket to be smooth and snuggly, with an appealing cottony softness on my skin

Weave. The tight weave of the herringbone pattern made this blanket feel warmer than I expected for such a light layer. The texture felt and looked high-quality, and lay evenly across the end of my mattress
Cons:
Lint. This blanket sheds quite a bit in the dryer, so much so that I had to clean my lint trap halfway during the first drying session. Hopefully this will improve with repeated washings, but the shed factor is something to keep in mind

Colors. I ordered the sage green, which wasn't quite as bright as expected. The other color options may be more true to the photographs
Pros:
Pattern. There's something about a waffle-weave texture that just

looks

warm, and that's true of the PHF cotton blanket, as well. The fabric is tightly woven with the comforting hand-feel you'd expect from this type of weave

Cotton quality. The cotton used in this blanket felt breathable without sacrificing warmth or coziness. Think your favorite, well-worn thermal shirt and you'll get the idea

Colors. The color options range from charcoal gray to vivid green and citron yellow, making it a great choice for a decorative throw in any room. I chose the navy blue, which has stayed true and bright after several washes
Cons:
Shrinkage. My blanket shrank a bit overall after washing and drying according to instructions. This might be an issue if you're spreading it over a bed or need to wash it frequently

Durability. A few areas of the blanket felt thinner after use and washing. There may be other, more durable options available
Pros:
Oversized. This blanket is a bit oversized to allow for any shrinkage after washing. The queen size fit my extra thick mattress with plenty of room to spare

Warmth. The Utopia cotton blanket is one of the warmest I tried. It has a thick, thermal weave in an attractive diamond pattern that looks elegant but subtle

Minimal shedding. This blanket didn't shed much on my bed or in the wash — a definite departure from other 100% cotton blankets I tried
Cons:
Scent. This blanket smelled a bit stronger than expected coming out of the package, though airing out and washing helped. It may be the dyes or the fabric — hard to tell but it was a slight downside for me

Heavy. Warm though this blanket is, it also felt a bit weightier than some others. This could be a benefit for people who prefer a denser feel in a blanket
Pros:
Design. The Mezcla blanket showcases some brilliant and beautiful patterns and colors. If you're looking for an eye-catching blanket to add brightness and flair to a room, this may be a great choice

Reversible. This blanket can be flipped over for a pop of new color and a fresh motif

Bargain price. Both the blanket and throw offer plenty of 100% cotton coziness at a cost that won't break the bank
Cons:
Though the cover of this blanket is 100% cotton, the filling is 50% cotton and 50% polyester. This may be a downside for people looking for a blanket made of all-natural materials

This blanket shouldn't be ironed but can be steamed. Steaming out wrinkles might be a little challenging with a blanket of this thickness
Pros:
Quality. Not only is the Elite Home blanket organic, the quality of the cotton is exceptional. This blanket feels soft and hasn't pilled after several rounds in the laundry

Warm. I found this blanket to be a warm and cozy accompaniment to binge-watching on a chilly night

For a 100% organic blanket of this quality, the Elite Home blanket is a bargain in any size
Cons:
This blanket is a bit heavier than expected. While it suited my purposes as a winter throw, it may be a bit too weighty if you're on the hunt for something light and fluffy

Snags. If you want to avoid snags, be careful of cat claws and clothing hooks
How We Picked
In evaluating a large number of cotton blankets on the market, we examined a few key factors. When you start the hunt for a blanket that will look great and offer warmth for years to come, keep the following in mind:
Materials
Probably the most important factor when choosing a blanket is fabric. Your choice of fabric will determine how your blanket performs, breathes, washes, and holds up under normal use. The best material for you will depend on your needs, personal, aesthetic, and budget. Blanket material options include:
Cotton. Cotton is one of the most popular materials in the world. This natural fiber comes from the cotton plant, a shrub native to tropical and subtropical regions such as Africa and South America. Cotton is generally considered a breathable and absorbent material, and can be woven to have a tight or loose weave
Polyester

. Polyester is a synthetic material that is often less expensive than natural fibers such as cotton and wool. Because polyester is less absorbent and breathable, it may not be the best choice for warm sleepers. Polyester is often used with another material to add a particular texture, increase durability, or reduce wrinkling and shrinkage. Polyester acrylic is made to feel similar to natural wooly fabrics and to offer comparable warmth

Wool

. Wool is another popular natural fiber. Wool and similar fabrics are obtained from animals such as sheep, goats, and rabbits. Like cotton, wool is breathable and absorbs moisture. Wool is a warm material, but may be scratchier than cotton and polyester

Down. Down is a common fill material in comforters, blankets, and duvets. Down is obtained from geese and ducks, and is exceptionally insulating. It is also light, which allows it to create warmth without heaviness. Down blankets and comforters are typically categorized according to the amount of "fill," or amount of feathers, they contain. Down is usually more expensive than other types of fill, such as polyester and cotton
Fleece

. Fleece is similar to wool but is usually softer, lighter, and less expensive. The material is made from polyester or other plastics such as recycled water bottles. Typically cheaper than wool, fleece is warm even when wet and dries quickly. Fleece is a synthetic material and therefore may not be as breathable as natural fabrics

Faux fur. Faux fur is becoming increasingly popular as a throw or comforter material. Faux fur blankets may have a contrasting backing made from a material such as polyester or satin. The faux fur material itself is typically made of synthetic fiber that feels soft and similar to real fur. The length of fibers varies from short and fuzzy to long and luxurious
Blanket Type
Blankets come in a myriad of different types. Besides comforters and cotton blankets, some of the most popular kinds of blankets include:
Throws

. Throws are designed for use while sitting on a sofa or chair, to wrap around cold feet, or as an extra layer on a bed. Throw sizes vary, but are generally in the 70 x 50 inch range. Throws may be made of any material from cotton to fleece to faux fur

Heated Blankets

. Heated blankets contain electric coils or tubing that provides heat once the blanket is plugged into an outlet and switched on. They may be helpful in drafty rooms or on particularly cold nights

Weighted Blankets. A weighted blanket is heavier than a traditional blanket, and usually ranges from five to thirty pounds. Weight can be created by seeds, small glass balls, or another dense material. Weighted blankets can have a calming effect that helps to ease insomnia or anxiety. Weighted blankets are believed to influence certain hormones that produce feelings of relaxation in some people
Quilts

. A quilt is a stitched blanket with a classic look. This type of blanket may have a filling such as cotton or polyester, and is often distinguished by a unique pattern or design

Afghans

. An afghan is a knitted or crocheted blanket usually made from wool or synthetic fiber yarn. Afghans have a distinct, retro vibe and are typically used as throws or accent pieces

Coverlets. A coverlet is a light bedspread designed to add an airy layer either under a heavier comforter or blanket or by itself. A coverlet may be used on its own during the summer, as additional insulation during the winter, or as an accent piece on a bed or sofa. Coverlets are often made of cotton or polyester, and may have a loose, light weave
Price
A blanket can be one of the most inexpensive elements of your decor, or as costly as furniture or draperies. Price usually is determined by materials, brand name, and type of blanket. A made-in-USA blanket may cost more, as could one made of rarer fabrics such as German batiste cotton.
Some blankets incorporate artistic elements in their design such as embroidery and contrasting edging. These blankets are meant to be seen and enjoyed for more than just warmth, and may come with a higher price tag. Blanket sales are common in the spring and fall as seasons and warmth needs change.
Sleepopolis Tips
To take the guess-work out of choosing the perfect cotton blanket, consider the following tips:
Determine where and how you'll be using your new blanket. In a child's room, guest room, or for yourself? Will the blanket be used as an occasional throw or every night? Frequent use usually means frequent washing, making care instructions important

Consider which material works best for your needs. 100% cotton may be best for summer or a warmer bedroom, whereas fleece may be ideal for fall and winter

Know what you're getting. Buying a blanket to be used by kids, guests, or pets? You'll want to choose a machine washable blanket made of a durable fabric like fleece or polyester. If warmth is key, check out the weave and materials to make sure they'll stand up to chilly weather

Size up. Blankets come in many sizes, from small throws to California king spreads. When exploring options, think about how large your new blanket should be and keep shrinkage in mind. Many people prefer a slightly oversized blanket to one that's a bit too short or narrow

Keep weave in mind. A tighter weave will be warmer than a looser weave, and offer a different look. A loose weave may be perfect for a summer blanket, while a tight weave may be best for cold, dark months
FAQs
What's the best way to wash a 100% cotton blanket?
Though many cotton blankets are machine washable, they may need to be washed in cold water and tumble dried on a low setting. Check the care instructions on your blanket before washing. 
Why is my cotton blanket pilling?
Shedding or pilling can occur with a new blanket because of loose fibers left over from the manufacturing process. Washing and drying will usually remove these fibers, but always follow the care instructions on your blanket.
Where is cotton grown in the United States?
Cotton is grown in seventeen states across the western and southern regions of the country. Texas produces the most cotton of any state in the US.
How long will my cotton blanket last?
That depends on the quality of your blanket and how you use it, but cotton is a durable fiber that can last a long time if cared for properly.
Last Word From Sleepopolis
The right cotton blanket is more than just another piece of bedding — it can be a comforting go-to and a decorative accent that brightens a room. When looking for a new blanket, keep in mind price, quality, and materials to make sure your purchase is the right fit for you and your family. A great classic, cotton blanket can offer warmth on chilly days and last for many years to come.