Daybeds are one of the most versatile pieces of furniture one can add to a home. As their name implies, daybeds can be used to lounge, relax, read, nap, and entertain guests during waking hours. Additionally, they are wide enough that the daybed doubles as a bed at night, sometimes even with a trundle bed underneath so people can sleep on both levels.
As daybeds are not nearly as common as some of their furniture cousins (futons, couches, and chaises), it can be easy to overlook the differences between various brands. Some brands lean into the sleep aspect of the beds, while others try to make pieces of furniture that are comfortable during the day. We have evaluated some of the more popular offerings out there to help disseminate some information about them. Here are our findings: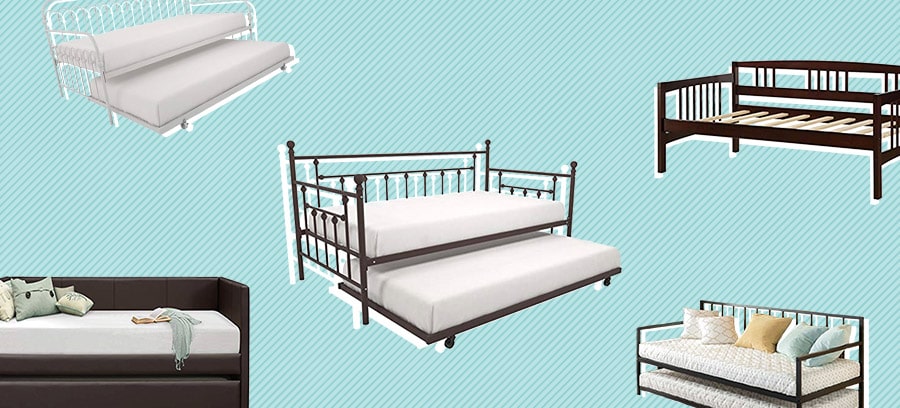 Editor's Choice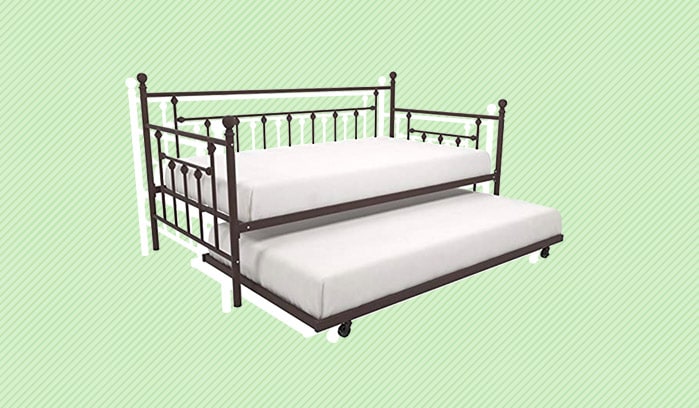 DHP Manila Metal Framed Daybed with Trundle
Pros:
4 color options. Choose between four different color varieties for the frames. On option are gold, bronze, white, and pink.
Available as twin, full, or queen. DHP has on offer a twin, full, or queen bed as a daybed with a twin or full beneath as a trundle bed. Most brands only have one size.
Lightweight. This daybed and trundle weighs in at just over 61 pounds. This is great for those who may want to adjust the furniture's positioning depending on the situation.
Cons:
Trundle can't take as much weight. Those hoping to use the trundle bed full-time as a bed may need to be careful and avoid jumping or landing with too much force. The daybed can take almost double the impact as the trundle.
Wheels may need to be replaced. The caster wheels on the trundle bed are not the highest quality, so those hoping to roll out the trundle every day may want to upgrade. 
DHP Manila Metal Framed Daybed with Trundle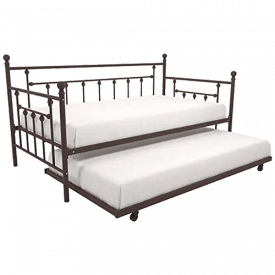 The DHP Manila Daybed with Trundle is a lightweight daybed and trundle bed combination that you can purchase in four different colors. Twin, full, and queen daybeds are available.
Sleepopolis Score
4.40 / 5
The Contender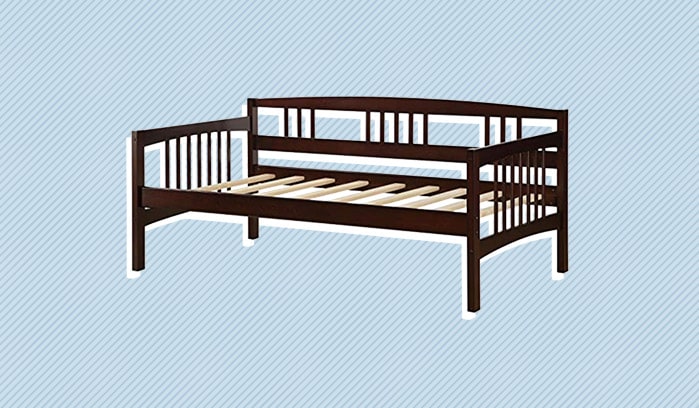 Dorel Living Kayden Solid Wood Daybed
Pros:
Handsome design. This daybed features vertical slats that are positioned close to each one another in bunches. The clean style of this bed can match modern and classical decors.
Trundle optional. Not everyone will want a trundle bed underneath their daybed. This brand has made the daybed with enough space underneath for an additional trundle purchase if you so desire.
Wood. Whether purchasing the white, black, or espresso versions, they will all be constructed with a sturdy wood frame. Wood furniture has a better chance of complimenting a room than those with metal frames.
Cons:
Assembly a two-person job. This is a piece of furniture that may be difficult for one person to build on their own. The slats can be a bit annoying to corral while building.
Exposed bolts. The bolts used to connect the component pieces are not hidden in holes or in corners like other pieces of furniture. They are visible and protrude from the furniture. Some may consider that a subtle eyesore. 
Dorel Living Kayden Solid Wood Daybed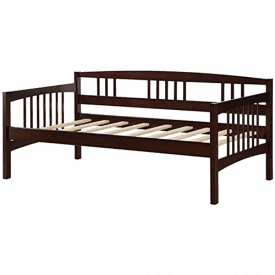 Dorel Living's Kayden Solid Wood Daybed is well-designed and available in espresso, white, and black. You can purchase as only a daybed or with an option trundle bed.
Sleepopolis Score
4.50 / 5
Best Bargain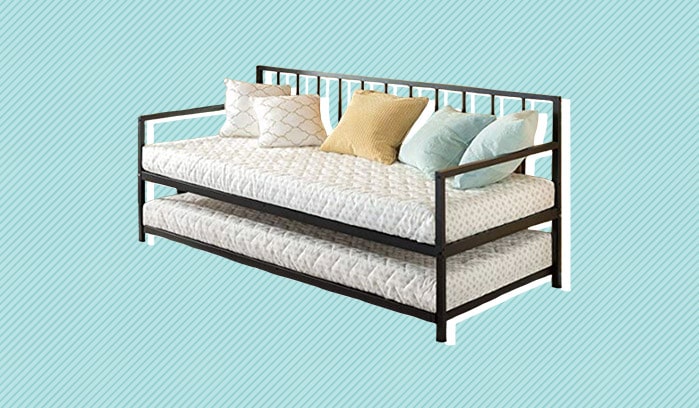 Zinus Eden Twin Daybed and Trundle Set
Pros:
Thick mattresses. This daybed from Zinus allows beds of varying thickness for the underneath trundle, allowing up to 12 inch mattresses. Some manufacturers design their trundle space for beds of only 6 or 8 inch thickness.
Steel frame. Constructed out of steel, this bed features a bed frame that will be very difficult to bend. This is a great choice for those who hope to use it often as a bed at night and daybed during the day.
Price. Surprisingly, this well-designed and stylish daybed can typically be found for a reasonable price. Great value for a product of its kind.
Cons:
Trundle can seem loose. Depending on the type of floor and the activity level of the upper sleeper, the trundle bed can seem loose underneath the day bed. There are only two wheel locks rather than four, so that is probably the reason why.
Sharp corners. This may not be the best choice for children, as the edges on the bed frame are sharp metal.
Zinus Eden Twin Daybed and Trundle Set
The Zinus Eden Twin Daybed and Trundle Set is a solidly-constructed yet affordable addition to a household. It features sleek modern design and enough room for twin mattresses of various sizes.
Sleepopolis Score
4.60 / 5
Best Design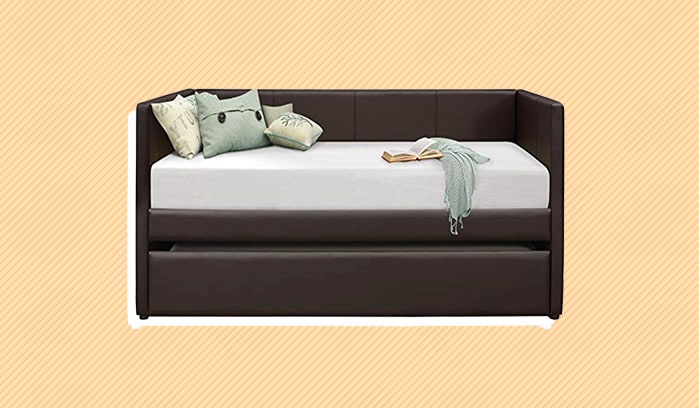 Homelegance Adra Upholstered Daybed with Trundle
Pros:
Upholstered. This daybed is upholstered in an elegant dark brown synthetic PU leather. This furniture can serve as a building block of an unfurnished room or as an upgrade to rooms of many different styles.
Plush frame. The frame is not only upholstered, but it is plush and soft to the touch as well. This may be preferable to those hoping to use it more as a couch.
Discrete. The trundle underneath the bed is somewhat disguised by the design. The outer end of the trundle bed just looks like a front panel.
Cons:
Heavy. This daybed weighs over 140 pounds. Some users may not be able to move it on their own.
One style. The dark brown coloring of the daybed looks great, but it would be nice if there were other color options, such as something lighter brown or black.
Homelegance Adra Upholstered Daybed with Trundle
The Homelegance Adra Daybed sports an upholstered and plush frame situated over a trundle bed. With a discrete trundle bed and classic color, this product can mesh with many different styles.
Sleepopolis Score
3.80 / 5
Best for Children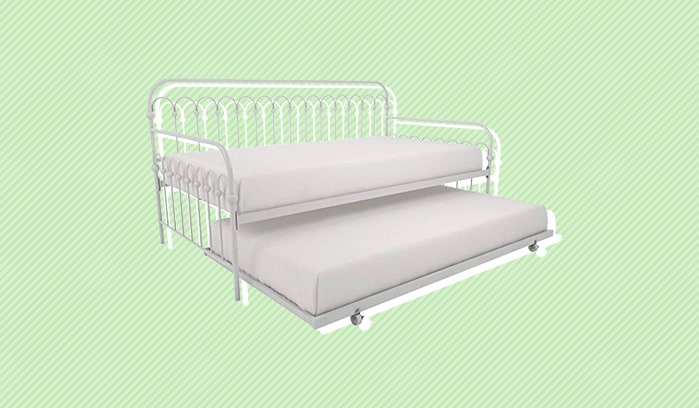 Novogratz Bright Pop Twin Metal Daybed
Pros:
Vibrant colors. While many frames for daybeds will be in subdued colors, this offering from Novogratz comes in turquoise and teal, along with white and black.
Easy assembly. Furniture items a big as a daybed can be confounding to build. This manufacturer includes easy-to-follow instructions and can be assembled rather painlessly.
Rounded edges. This bed has rounded edges on the frame, making it a great option for families with kids who will be playing on the bed.
Cons:
White is more of a cream. Though it looks nice on its own, some may be disappointed if they are trying to match the daybed with white furniture. It looks more cream colored.
Bed can squeak. As is often the case with metal bed frames, this daybed can squeak a bit when moving on it. This is especially true when someone is also on the trundle.
Novogratz Bright Pop Twin Metal Daybed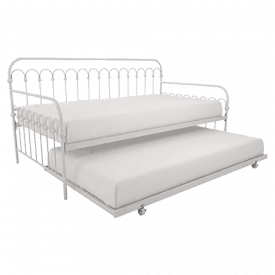 The Novogratz Twin Metal Daybed is a colorful and easy-to-assemble daybed that is perfect for families. The rounded edges and lightweight design make it suitable for play and sleep.
Sleepopolis Score
4.60 / 5
How We Picked
Daybeds can spruce up a room or provide valuable space-saving. These pieces of furniture can serve primarily as beds or only be used as a bed in a pinch. With so much versatility, it is important to outline which elements to give most consideration to. Here are the ones we looked at the most:
Trundle
This feature on a daybed is so ubiquitous a person would be excused for believing that every daybed comes with a trundle bed underneath. However, that is in fact not a feature that defines a daybed. Though it is not necessary to all people, it can be a helpful addition to the furniture.
Trundle beds roll out from underneath the daybed, usually housing a bed of equal or lesser size than the daybed itself. While this may be useful for some people as a makeshift bunk bed, others may prefer using that space underneath for storage – or may simply prefer the aesthetic without a bed underneath. Look out for beds with trundles built-in or available as an optional purchase.
Style
Daybeds can't vary too much in terms of their shape, as they usually consist of a couch-like bed frame. There are typically two armrests and a backrest. The armrests are usually non-negotiable, as there needs to be some protection at the feet and the head for those using the daybed for sleep.
Where style can differentiate is in the material, color, and design of the frame. Metal and wood are the most frequent materials that can be found. While steel might be the most durable, wood can be sturdier than some lighter metals. As for color, subdued and classic colors like black and white are most common, but more vibrant colors are available for those who are looking for some punch.
Durability
Daybeds can last a long time, it just depends on how it is used and how frequently. Some daybeds will only be used as a spare couch or an emergency bed for when guests are over. Others will use daybeds everyday as a couch and a bunk bed.
Beds made out of lighter materials like softwood, hollow metal, or plastic may be easier to maneuver, easier to assemble, and potentially less damaging to wood floors. However, these may not withstand years and years of extended use. Those hoping to have children play and sleep on a daybed may need to get a more durable option, like those made of hardwood or steel.
Tips
Not sure which daybed is right for you? Before making your purchase, make sure to check out our tips compiled below:
Will this be for kids?

Shoppers can find fun colors like teal, pink, and turquoise available for kids. Classic colors work too if the daybed will be used for various purposes.

Look out for daybeds that have rounded corners. Daybeds can have sharp edges, which may be dangerous for kids during sleep or play.

What will the primary function be?

Some people may be buying a daybed strictly for leisurely use. It is recommended to get daybed with comfortable armrests and backrest.

Those hoping to use the daybed as a bed or bunk bed for guests or children should look for daybeds that have an appropriately-sized mattress. Additionally, keep in mind that the trundle bed, if included, may have limited space for all types of mattresses. More space means a more comfortable lower mattress.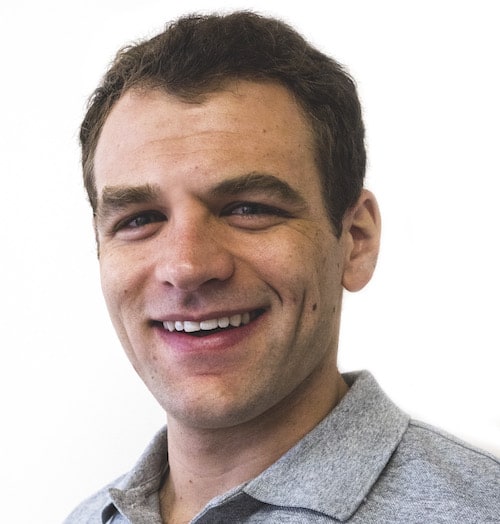 Logan Block
Logan is the former content director of Sleepopolis. As content director, he reviewed new mattresses every week and curated the comparisons, best of pages, and video guides on the site. Logan perfected his method by personally testing over 200 different mattresses, so he's not only able to discern the overall vibe of a specific bed, but to contextualize its feel within the bed-in-a-box market as a whole.