While almost every bedroom has a bed, a bedside table, and a dresser, there is one piece of furniture that can tie it all together: the end of bed bench. This product gives residents of a home a place to place their coats, bags, and other clothes while changing. It also can provide storage for these clothing items when they aren't in season.
Further, these pieces of furniture are a great place to sit when getting ready or when a guest is over. Because these items play such a diverse role in a bedroom, it is important to determine how different brands stack up in various aspects. Here is what we found out: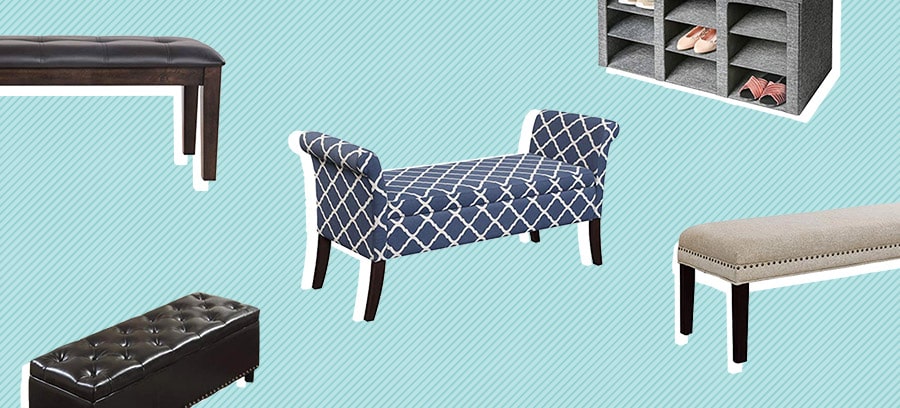 Editor's Choice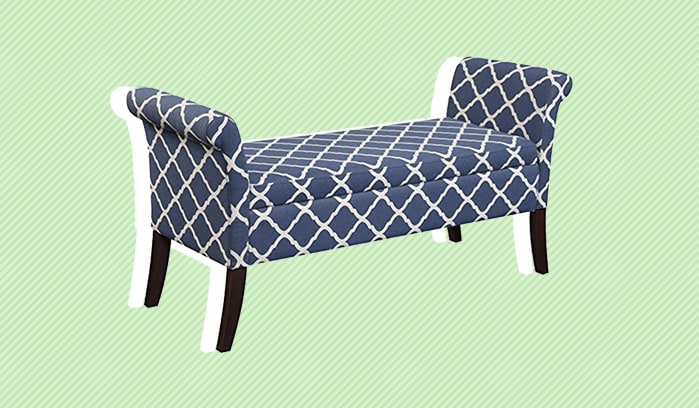 Convenience Concepts Garbo Storage Ottoman
Pros: 
9 different colors and patterns. A great aspect of this line of end of bed benches is the variety in different patterns and colors that are available. Stand out options are the blue & white Moroccon pattern and the dark brown espresso.

Storage. This bench has built-in storage capacity. This is great for those who are short of space in their bedroom.

Fabric diversity. While all the benches in this line have the same button-tuft accent design, they are made of different fabrics. There should be a bench that fits every aesthetic.
Cons:
Cushion not softest. Though the cushions aren't uncomfortable, they aren't as soft as many couch or loveseat cushions.

Wooden leg color inconsistent. The wood legs might not look exactly as pictured in advertisements for the product. Not a bad color, but perhaps not matching what customers are looking for.
The Contender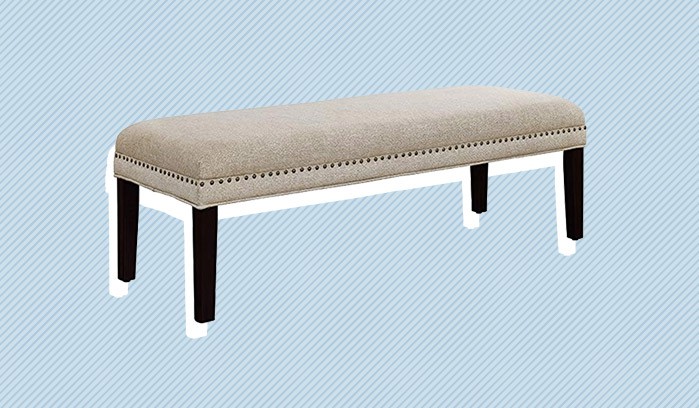 Pulaski Selma Upholstered Bed Benches
Pros:
Matching headboard. This bed bench is designed to match with a similarly constructed headboard. They are available to be purchased individually or together.

Queen or king. While many benches only come in one size, this company makes their benches in both queen and full size. This can help with correct spacing in a bedroom.

Welted edges. The sides of this bench feature welts all along the edge. This creates a sophisticated look that is great for classing up a bedroom.
Cons:
Material can be rough. While some similar competitors will use linen-like materials, this one uses a wool-like linen. It may not be as comfortable as other fabrics.

Only one style. Though the beige is a nice neutral color, it would be nice if there were other options to choose from.
Best Bargain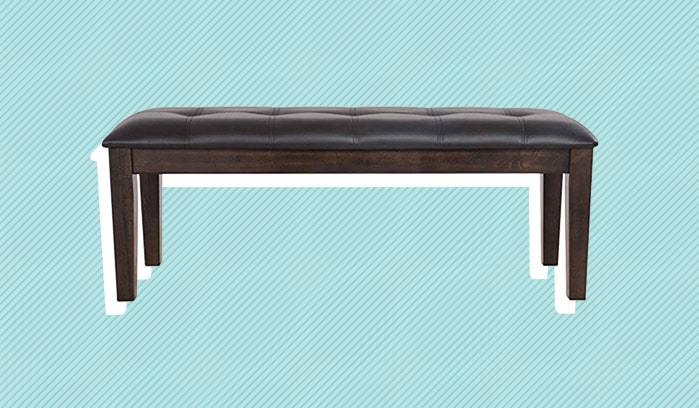 Ashley Furniture Signature Design Haddigan Upholstered Bench
Pros: 
Tapered legs. The Haddigan-style bench from Ashley Furniture has tapered legs on either side of the bench. This modern style should compliment many aesthetics.

Real wood. The legs of this bench are made of a solid dark wood. This will make it sturdier than other benches that are made out of pressed wood.

Value. This is one of the more sophisticated styles available at this price range. This is a great choice for those on a budget but with refined tastes.
Cons: 
May wobble. As this is a product that needs to be assembled at home, the legs will need to be.

Product has a scent. Customers may notice that the inside of the shelves has a distinct scent. It isn't necessarily pleasant, so it is recommended that customers air out the product before use.
Best for Organization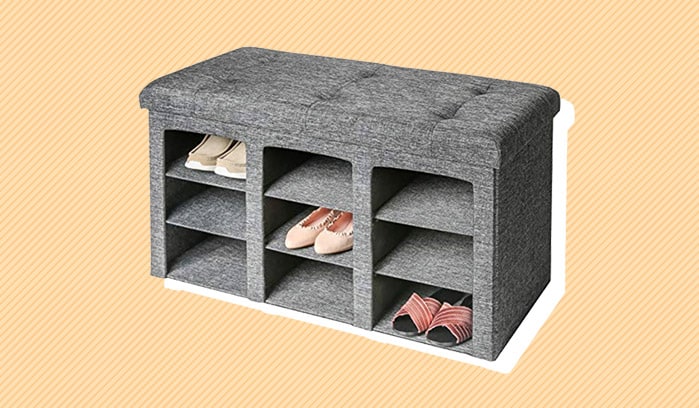 Seville Classics Tufted Shoe Storage Ottoman Bench
Pros: 
9 shelves. This bench has three levels of shelving with three shelves on each level. This is a great place for people to store shoes.

Easy assembly. Even though it may seem to be more complicated than other bed benches, this product from Seville Classics has only a few assembly steps before being ready to use.

Cost. For being one of the more convenient takes on an end of bed bench, this offering is surprisingly one of the most affordable. It costs half the amount of some benches with no storage.
Cons: 
Not the most sturdy. Though the company claims it can support up to 500 lbs of evenly distributed weight, it may not be sturdy enough for all adults to sit on.

Product has a scent. Customers may notice that the inside of the shelves has a distinct scent. It isn't necessarily pleasant, so it is recommended that customers air out the product before use.
Most Storage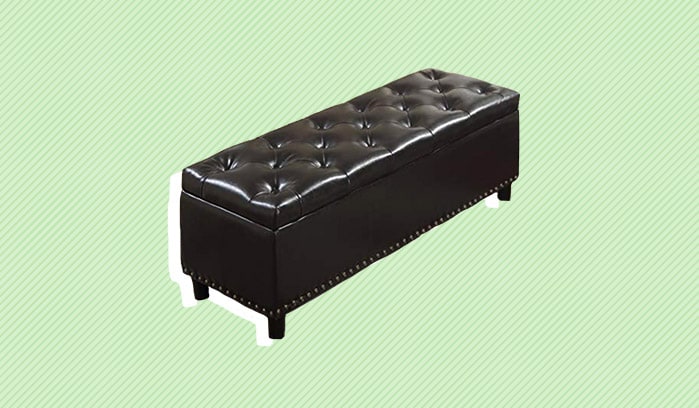 Belleze Ottoman Storage Bench
Pros: 
Large interior storage. With dimensions measuring at  48″ x 17″ x 16 1/2″, this bench provides ample space in its interior for storage. Users can easily store season clothes, shoes, or other personal effects in the bench.

Style. The variety of looks provided by this brand features elegant and classical colors and materials. The faux leather brown and rustic brown are standout pieces.

Only need to assemble the legs. This is one of the easier benches to assemble, as users will only have to screw in the legs. This is great for people who are assembling a bench alone.
Cons: 
Lid doesn't open all the way. It can be difficult to put some larger objects into the bench as the lid only opens up to a certain angle.

Ornamental buttons fall off. The buttons that adorn the side of the bench have a propensity to fall off over time. Users should be careful of bumping into the bench.
How We Picked
Benches for the bedroom, specifically at the end of a bed, need not only be functionally helpful but need to match the decor of the bedroom as well. Aside from these facets, there are other areas that we looked at to measure the various offerings. Here are the factors we weighed most heavily:
Style 
It is a difficult task making – and finding – a bench that can match the style of a wide range of bedrooms. Bench manufacturers have to accommodate bedrooms with modern aesthetics as well as ones with more traditional decor. Further, the bedroom of a child will typically have different design elements than that of an adult.
Most companies offer a variety in the color of the fabric and the material of the fabric itself. This can help accommodate different decors. Some benches have tapered legs made out of stained wood to make their pieces look more modern. Those that have opted for welted buttons and button-tufting on the fabric can pass as more traditional and match those bedrooms accordingly.
Storage 
While not all end of bed benches will have storage, for those looking for extra capacity, there are plenty of options to choose from. Most common, these benches have a seat that lifts up to reveal storage space. While this area typically won't be enough for a full closet or dresser, it can be used to store seasonal clothes or bedding.
Some benches take a different approach to storage. There are options for customers that have storage more as shelves, wherein customers can organize their belongings and have them in clear view. This is a less discreet manner of storage. Many customers will probably use their benches to temporarily lay their clothes, so in that respect, all benches provide some storage capacity.
Fabric
One of the major differences between benches is commonly the material used on the exterior. This is true not only between brands but even within the same line of benches. The color and aesthetic of the bench typically goes hand in hand with the material, so those looking for a polished finish will probably opt for leather or faux leather, for example.
Some may opt for a linen or linen-like materials based on the decor of their room. These may be more comfortable or better for colder climates than leather-like materials, which may feel cold when sitting on them in winter. However, the leather-like materials probably resist stains better and may be more suitable for those with children.
Tips
Not sure which end of bed bench is right for you? Here are some guidelines we've compiled to help your decision-making process:
What style bedroom do you have? 

Most companies will offer neutral options. These will most likely be gray or beige.

Those who are outfitting a bedroom from scratch can find options that have matching headboards or even bed frames.

Do you need storage space?

Those with little closet space or generally a smaller room may want a bench to help with storage space, even if just for temporarily housing clothes.

Benches can work in bedrooms with lots of space as well. Putting shoes underneath a bench can be a great way to tidy up a bedroom.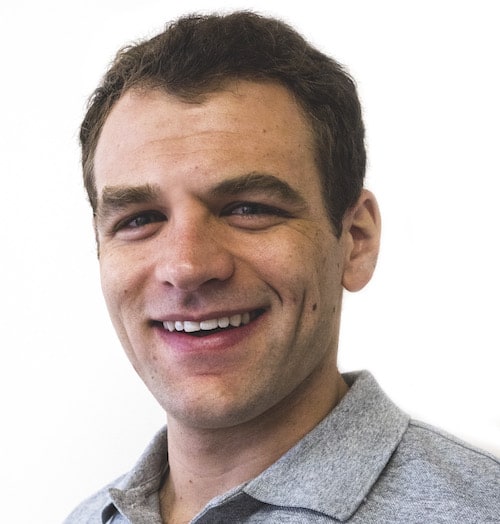 Logan Block
Logan is the former content director of Sleepopolis. As content director, he reviewed new mattresses every week and curated the comparisons, best of pages, and video guides on the site. Logan perfected his method by personally testing over 200 different mattresses, so he's not only able to discern the overall vibe of a specific bed, but to contextualize its feel within the bed-in-a-box market as a whole.