Sleep accessories such as earplugs and white noise machines have become popular devices to help reduce stress and promote slumber. Headphones intended specifically for sleep are a more technologically advanced option that can help block unwanted sounds and make it easier to relax and fall asleep. These headphones are designed to fit the ear comfortably and stay on overnight without moving or causing discomfort.
Headphones for sleep come in an array of designs with a wide range of features. Not sure which model is right for you? Keep reading. I've road-tested a variety of great headphones to take the mystery out of finding the right slumber-friendly pair. Below are four of my top picks.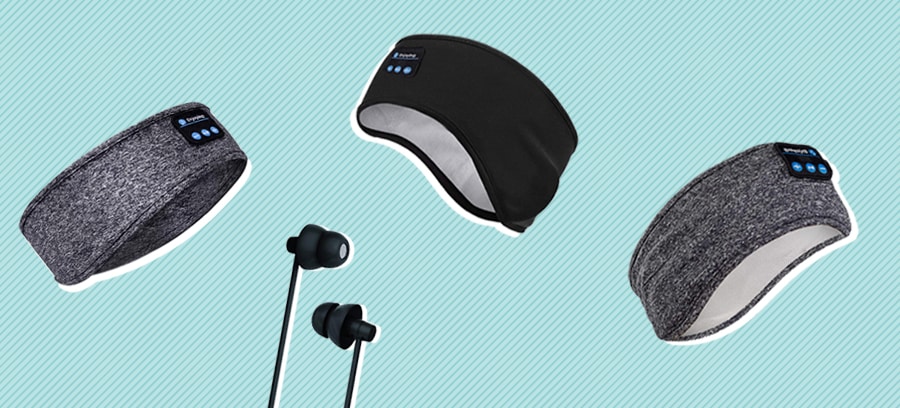 Editor's Pick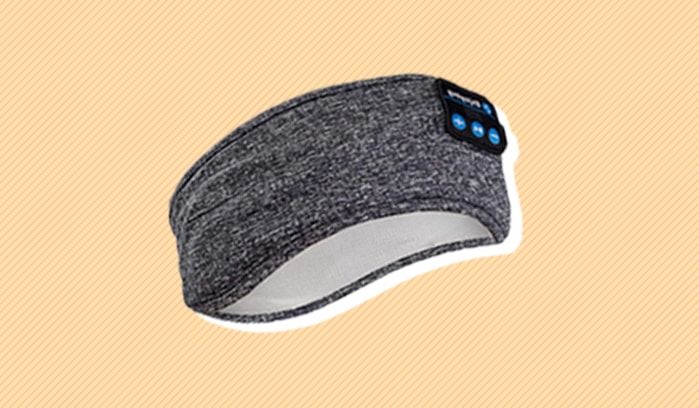 Perytong Bluetooth Sports Headband Headphones
My top choice for editor's pick are the Perytong Bluetooth Sports Headband Headphones. This gray fabric wireless model features ultra-thin speakers that are perfect for slumbering. The Perytong Headphones last for 10 hours one on charge and can pick up a sound signal in a range of 33 feet.
Pros:
Sound quality. The sound quality was surprisingly rich and deep when I used these to play a meditation app
Cooling. The moisture-wicking fabric felt thin and stretchy, making it a great choice for warm seasons and folks who sleep hot
Side sleeping comfort. Speakers don't get much thinner or sleep-friendly than these
Cons:
Control box. The control box on the forehead of this headband can be uncomfortable. A little extra padding would make this easier to wear for longer periods
Bluetooth connection. I found the connection to be spotty at first — it could have been my device but might be an issue for other folks, as well
Perytong Bluetooth Sports Headband Headphones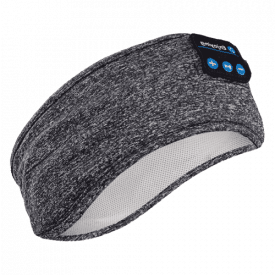 The Perytong Headphones sleep cool and have excellent sound quality.
Sleepopolis Score
4.30 / 5
Read Full Review
Best for Side Sleepers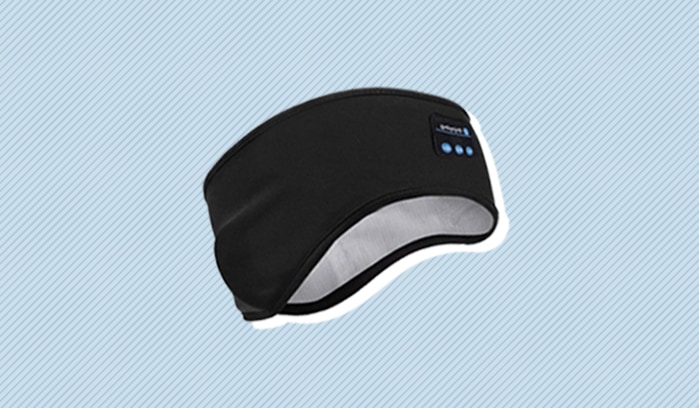 Lavince Sleep Headphones Bluetooth Sports Headband
My pick for best sleep headphones for side sleepers is the Lavince Bluetooth Sports Headband. This wireless headband has a range of 45 feet and is powered by two batteries that last up to 10 hours on a single charge. Heat-absorbing material helps to keep these headphones comfortable during sleep and exercise. Washable after removal of the audio components.
Pros:
Low-profile design. These headphones are as sleek and lightweight as a headband and just as comfortable, important if you plan to wear them through a full night's sleep
Cost. The Lavince wireless headphones are about as reasonably-priced as they come
Comfort. The flat headphones rested against my ears all night without pressure or pain
Cons:
Wide. This headband may be a bit wide for some folks, especially those who tend to sleep hot
Low volume. The audio may not be quite loud enough for sleepers who need to block out ambient noise
Lavince Sleep Headphones Bluetooth Sports Headband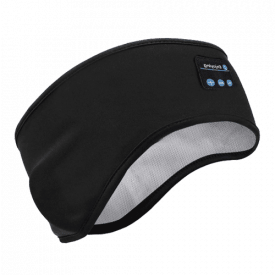 The Lavince Sleep Headphones has a comfortable, low-profile design and comes in at an affordable price.
Sleepopolis Score
4.30 / 5
Read Full Review
Best In-Ear Headphones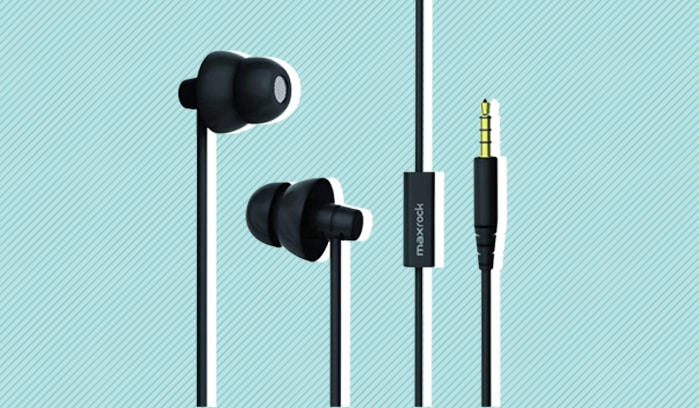 MAXROCK Noise Isolating Sleep Earbud Headphones
If you prefer in-ear headphones, take a look at the Maxrock Noise Isolation Sleep Headphones. These headphones offer a comfortable in-ear fit and noise-isolating capacity, making them a great choice for travel. A microphone is included for phone use. 3 month return policy and limited warranty.
Pros:
Blocks snoring. The Maxrock noise isolation feature helped to reduce my partner's snoring to a muffled (and much more livable) hum
Comfortable. As someone who prefers in-ear headphones, I found the silicone tips of this model to be on par with the most comfortable I've worn
Alarm-friendly. These can plug into a smartphone, making it less likely that you'll miss a a call or your morning alarm
Cons:
Wired. These headphones are not wireless, so may not be a good choice for sleepers who switch positions a lot
Fit. These earbuds fit snugly but have a tendency to shift around during sleep
MAXROCK Noise Isolating Sleep Earbud Headphones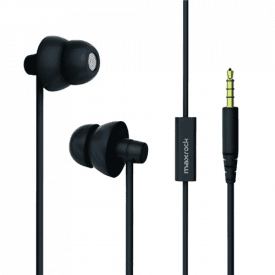 The MAXROCK Noise Isolating Headphones are alarm-friendly and do a great job of blocking snoring.
Sleepopolis Score
4.20 / 5
Read Full Review
Best Bargain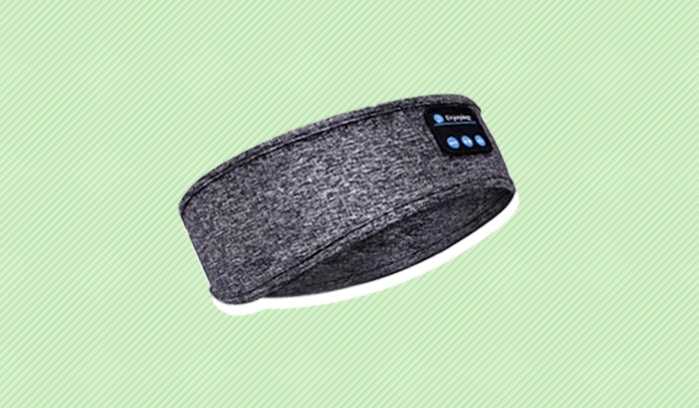 WINONLY Sleep Headphones Bluetooth Headband
My nod for best bargain goes to the WINONLY Sleep Headphones Headband. This headband is a shoo-in for sleepers on a budget who want solid sound and all-night comfort. These wireless rechargeable headphones are available in your choice of black or gray and come with a 5-year warranty.
Pros:
Price. These headphones are well-fitting, sound great, and won't break the bank
Comfort. Most of the headband models I tried had a mesh interior, but these have a nice moisture-wicking lining that looks and feels like silky regular fabric. I found it a touch more comfortable to wear than mesh
Battery life. The WINONLY headphones had the longest battery life of any of the models I tested
Cons:
Thin. Though comfortable, the fabric is thin, and may not feel padded enough for some sleepers
Durability. After a week of use, one of the seams looked a little frayed. This could be a durability issue over the long term
WINONLY Sleep Headphones Bluetooth Headband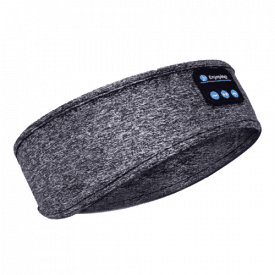 The Winonly Sleep Headphones are super comfy and have impressive battery life.
Sleepopolis Score
4.20 / 5
Read Full Review
How We Picked
Headphones designed for sleep can be an important purchase that helps you wind down, fall asleep, and stay asleep. Your choice of headphones should depend on how often you plan to use them, your budget, and the design you find most comfortable. Here are some important metrics to keep in mind when looking for the right headphones:
Design
Headphones for sleep are similar to headphones intended for daytime use except for a few significant differences: they need to be comfortable enough to wear all night without causing too much pressure, becoming dislodged, or turning off. Sleeping headphones fit the ears in several ways to accommodate different sleepers and individual preferences.
On-ear headphones – On-ear headphones cover the outside of the ear without resting around the ear or inside it. Headphones that fit on the ear are typically suggested for folks who prefer a smaller and more streamlined headphone during sleep that doesn't press on the ear canal or fit around it
Over-ear headphones – Over-ear headphones are typically padded and fit snugly around the entire ear. Over-ear headphones are often bulkier and are attached to a plastic or padded band that goes over the head to keep them securely in place
In-ear headphones – In-ear headphones fit into the ear canal and usually have a plastic or silicone tip for a secure fit. In-ear headphones may be best for noise-blocking and sound quality, but might not be comfortable for side sleepers or others who dislike the feeling of an object inside the ear
Sleep headbands – Sleep headbands are fitted with cushioned speakers that fit over the ears as part of a headband device. These types of headphones are typically flatter, without the traditional headphone shape some sleepers find uncomfortable
Sleep masks – Like sleep headbands, sleep masks fit around the head and include speakers that fit over the ears in a layer of padding and/or fabric. Sleep masks with headphones may also block out light, eliminating the need for a traditional sleep mask
Wired Vs. Wireless
Headphones designed for sleeping are either wired or wireless. Wired headphones have a cord that connects to the headphones on one end and an audio source such as a smartphone on the other. Wireless sleep headphones use a Bluetooth connection to receive signals from an audio source. This allows them to play music or sounds without a wired connection. Many sleepers prefer wireless headphones to avoid tangling of wires or discomfort when changing positions.
Wired headphones may not need to be charged unless they include certain features such as the ability to cancel noise or amplify sound. Wireless headphones do need to be charged unless they use replaceable batteries.
Noise Canceling Headphones
Many models of sleep headphones include a noise canceling or isolating feature that helps to block external sounds such as voices, footsteps, and traffic. Noise canceling headphones utilize a microphone that measures ambient sounds and generates negative soundwaves that reduce or block the ability of the noise to reach the ear. These models can play music or other sounds in addition to blocking noise.
White Noise
Some sleep headphones also produce white noise or other sounds. These sounds can help promote relaxation and sleep and reduce the impact of ambient noise. White, pink, brown, and other "colors" of noise are produced by blending different sound frequencies together to create a unique noise with its own tone. Studies show that some types of colored noise can increase the length of time spent in deep sleep, which can improve memory and other brain functions.
Headphone Safety
Using headphones can help promote quality sleep but does come with potential downsides. Though headphones in general are considered safe, possible risks of sleep headphones include:
Hearing impairment – Listening to any sound through headphones can cause hearing loss. Prolonged listening to sounds at 60 decibels or higher is considered potentially damaging to hearing. Keeping the volume of headphones at a healthy level well below 60 decibels is essential for ear health
Infection – Any headphone can cause infection or irritation if used too frequently or not cleaned regularly. To avoid excessive buildup of earwax or other ear conditions, be sure to keep headphones clean, don't insert in-ear headphones into wet or irritated ears, and see your health care provider if you develop symptoms such as earaches or itching
Lack of awareness – Headphones may prevent a sleeper from hearing sounds such as smoke and burglar alarms, a crying child or pet, or other sound that indicates an emergency. Headphone volume should never be so loud that it blocks emergency sounds or impairs awareness
Injury to children – Children's hearing can easily be damaged by loud noises or music, particularly if they wear headphones. To prevent hearing damage, check with your pediatrician for advice on buying headphones for your child, and only use headphones designed for children's unique hearing needs
Sleepopolis Tips
If you're still not sure which headphones are right for you, consider the following tips:
Know how you'll use them. Are you looking for headphones to block out neighbor noise or help you relax on a nightly basis? Headphones that you plan to use every day may be different from a model you buy for occasional travel
Keep comfort in mind. If you typically prefer the feeling of a headphone that fits entirely around the ear, you may want to look for a sleep headphone with a similar design. Other folks like the low-profile fit of on-ear headphones or those that nestle inside the ears. If you're not sure which model is right for you, try them out at a store before buying
Consider your sleep position. Back sleepers will typically have more choice of sleep headphones than folks who sleep on their sides. Side sleeping puts pressure on the ear and may make some models of sleep headphones feel uncomfortable. Look for headphones designed for your primary sleep position to maximize your chance of a good night's sleep
Movement matters. Don't forget how much you move around during the night. Folks who change positions a lot will usually sleep better and more safely with wireless headphones that don't tangle or pose a strangulation hazard
FAQs
How much do sleep headphones cost?
The price of sleep headphones varies according to brand, features, and design. To find a pair at a more reasonable cost, know your must-haves before shopping and read reviews. As the popularity of sleep headphones increases, more lower-priced models are becoming available.
How long do sleep headphones last?
As with any electronic device, the durability of headphones varies. Check the warranty and reviews of any headphones before purchasing. Know the return and exchange policies in case you don't like your new headphones or they arrive damaged. If durability is important to you, consider purchasing additional buyer protection to cover the cost of repairs or defects.
Does weight make a difference?
It depends on the sleeper. Some headphones are designed for an almost weightless feel, while others have a bulkier, more traditional feel on the ears. In-ear headphones generally weigh about the same across brands and styles, but may vary in terms of fit and comfort. Lighter headphones can be more expensive — check products from different manufacturers to see who offers the lightest model at the best price.
Last Word from Sleepopolis
Sleep headphones can be a valuable accessory that helps you relax and sleep more soundly. To find the right headphones for you, know how you sleep and what kinds of headphones you find most comfortable. Your primary sleep position and how much you move during sleep are essential factors, too. No matter what your personal preferences, you can find headphones that fit you comfortably and help improve the quality of your sleep.