Infant pillows can be a helpful and versatile addition to any parent's baby cache. They can be used for infants as they lay in their cribs, sit in car seats or strollers, and even lay on their stomachs. Some parents use infant pillows with indents to help assuage or prevent flat head syndrome.
Infant pillows take many shapes and can be made of materials with differing composition and density. Since these are for infants, the patterns and designs tend to be vibrant, playful, and sweet. Because infant pillows may look similar, it can be hard to ascertain their differences. We've compared some of the more popular offerings to see what we could find out: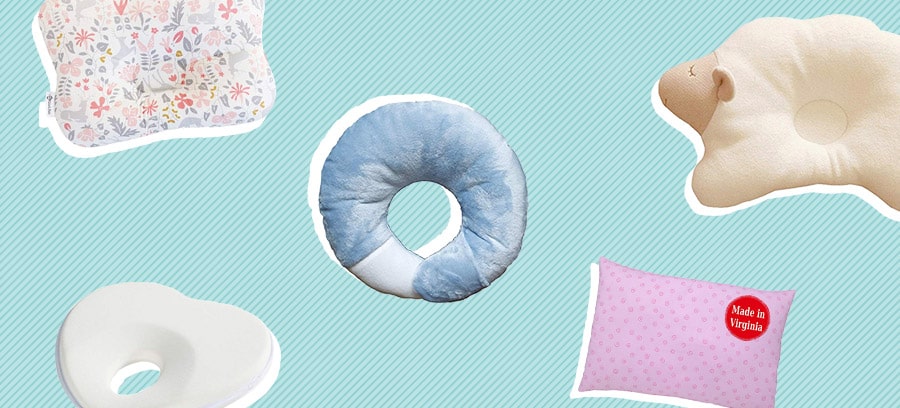 Editor's Choice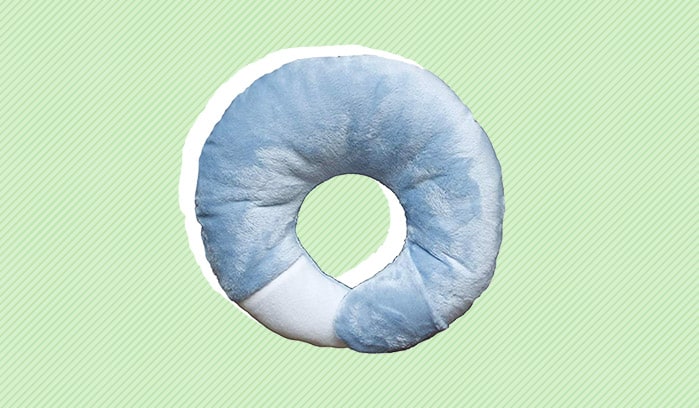 BabyMoon Pod Multipurpose Infant Pillow
Pros:
Prolonged use. This line of infant pillows can be used to support whole heads in the cavity of the pillow when children are first born. As they babies grow, they can provide support by wrapping around the baby's neck or laying under their stomachs.
Adjustable. Parents have the ability to adjust the circumference of this pillow by using a velcro system that connects end to end. This makes the pillow very versatile in the ways it can provide support.
Cotton or polyester. Consumers can decide between polyester or cotton versions of these pillows. Not many brands offer that choice.
Cons:
Doesn't fit all car seats. Though this product is advertised as being helpful in car seats, it has a size that may be too big to fit in every car seat behind a child. This may limit its use.
Cost. This is one of the more expensive pillows available for infants. Those shopping on a budget may need to look elsewhere. 
BabyMoon Pod Multipurpose Infant Pillow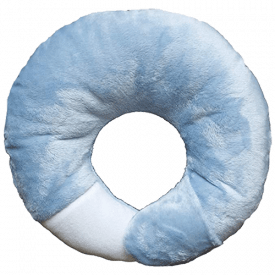 The BabyMoon Pod Multipurpose Infant Pillows have a design that is conducive to various uses. Parents can use both to rest underneath a baby's head, while it can also be used as a neck pillow, in a car seat, and when the baby is on their stomach.
The Contender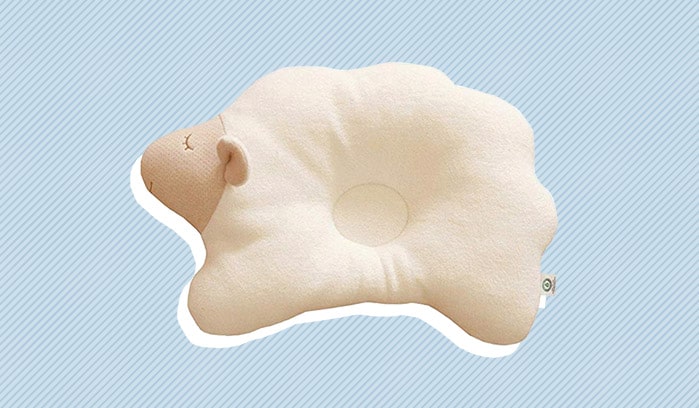 John N Tree Organic Cotton Baby Protective Pillow
Pros:
Machine wash. While some pillows are not suitable for machine washing, this pillow can safely be put in the washer and dryer without ill effect. Great for those who don't always have the time to wash by hand.
Animal shapes. A fun aspect of this line of baby pillows is that many are shaped after animals. Horses, lambs, monkeys, dogs, cats, and elephants are available options.
Mesh. This pillow can be fashioned with one side as cotton, with the other side being made of mesh. This is designed to help babies that sweat a lot and need more ventilation.
Cons:
May be too big for a newborn. Depending on how the pillow is positioned, it may be too big for some newborns.
Fabric can get caught in hair. Some may find that the fabric from the pillow can get stuck in babies' hair. It is advised to be gentle when using the pillow.
John N Tree Organic Cotton Baby Protective Pillow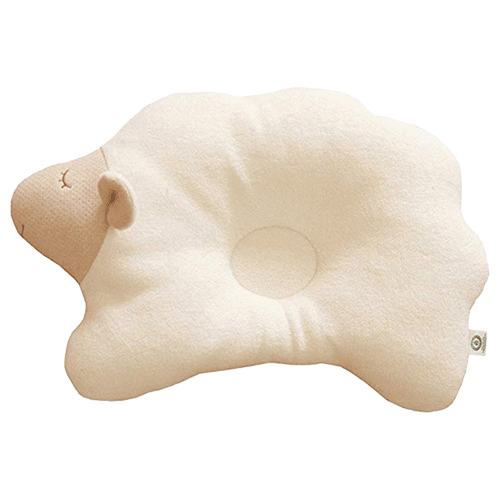 These cotton baby pillows are offered in a number of cute animal-shaped designs. Made of organic cotton and mesh, these pillows can easily be washed and are inherently soft.
Best Bargain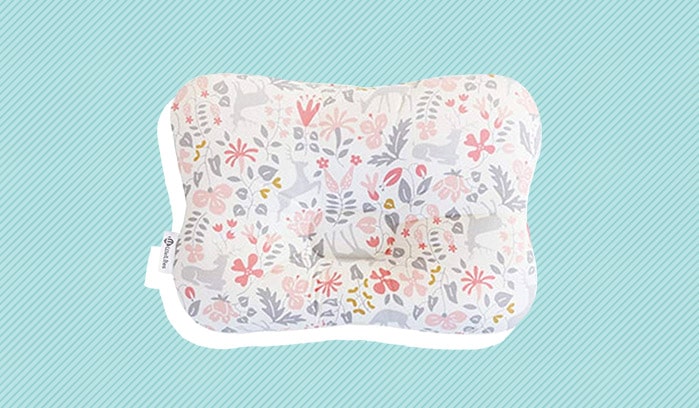 W WelLifes Baby Pillow for Newborns
Pros:
25 patterns. This line of baby pillows has twenty-five different options for shoppers to choose from. Floral patterns, stripes, checkers, and different collages adorn these pillows.
Depressed center. This pillow has an indent in its center; this provides a space in order to cradle a baby's head. This can help keep baby's heads secure and stable.
Value. Those shopping for an infant pillow may notice how affordable this particular brand is; they are typically offered at a few dollars less than similarly designed products.
Cons:
Stiff pillow. Though great for stability, this is not the softest pillow available for infants. Some babies may require extra padding.
Hard to wash. This pillow either needs to be hand-washed or cleaned in a washer with very specific instructions.
W WelLifes Baby Pillow for Newborns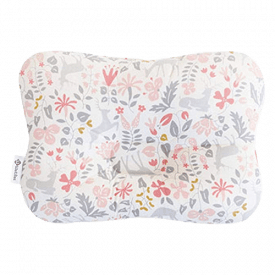 The W WelLifes Baby Pillow for Newborns features a concave indentation in the middle of the pillow, allowing a space for babies to rest and let their skulls grow. It is available in 25 fun styles.
Best for Comfort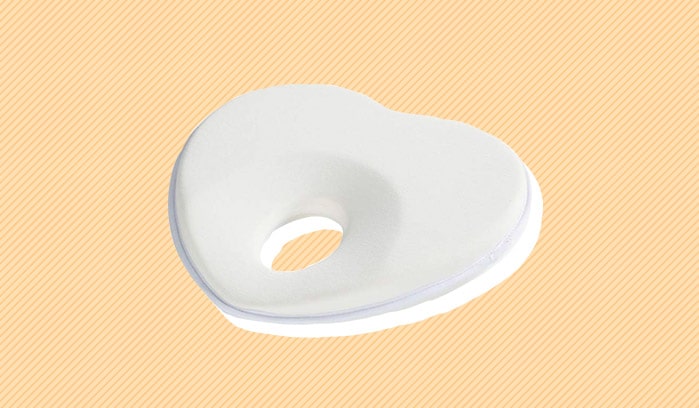 Sweeterbaby Baby Pillow for Flat Head Syndrome Prevention
Pros:
Memory foam. This particular pillow is made to offer extra support in the way of a memory foam interior. This is great for helping an infant get used to using a pillow.
Cavity. The hole in the middle of this infant pillow is helpful for having circulated air reach baby's heads, so as not to let them overheat.
Versatile. Due to the sloped design and the actual cavity in the indentation of the pillow, babies use this pillow in a variety of positions. This is great for babies that sometimes like to lay on their stomachs.
Cons:
Can be outgrown. This pillow is great for babies up to a certain size. Some babies may grow too big for this pillow in just a few months time.
Baby can roll off it. Because it is not flat, it can be easier for a baby to roll off of. The slope off of the inner cavity can send heads rolling off of the pillow.
Sweeterbaby Baby Pillow for Flat Head Syndrome Prevention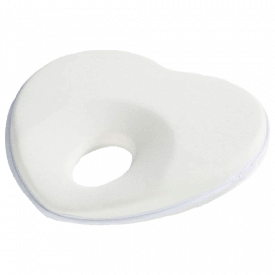 The Sweeterbaby Pillow for Flat Head Syndrome Prevention is a product explicitly catering to parents with infants that have a flat spot on their head. The memory foam, inner cavity, and shape can offer relief to the right baby.
Best for Toddlers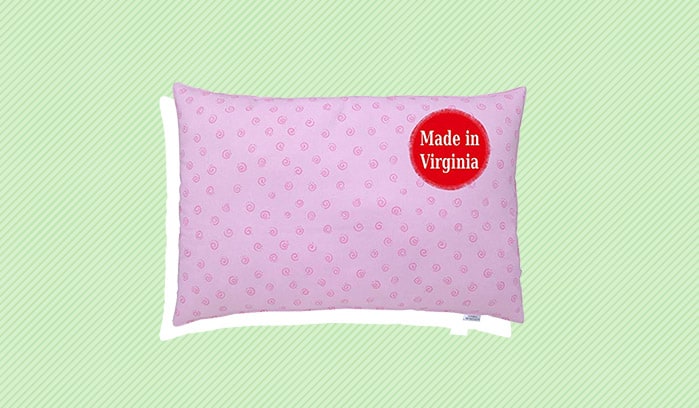 A Little Pillow Company Toddler Pillow
Pros:
Hypoallergenic. This brand of pillows are made to be hypoallergenic, meaning it is designed to be sensitive for kids with sensitive immune systems.
Double-stitched. These pillows have a double-stitched exterior, which helps with durability and also making the pillow feel softer. The pillow can be used without a pillow case.
Vibrant colors. The designs used for this pillow are full of color and patterns. The pillows have a bold and pleasant aesthetic.
Cons:
Pillowcases don't fit. Though these may be the right type of pillow to keep in a case, it has a size that can be hard to find a pillowcase for.
No wash instructions. Customers may be confused as to how to care for this product best. There are no wash instructions included, so caution is generally advised.
A Little Pillow Company Toddler Pillow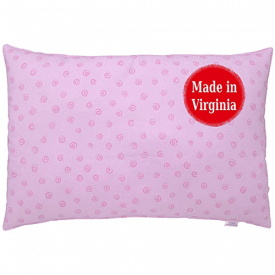 The Toddler Pillow from A Little Pillow Company is a fun and bright collection of flat double-stitched hypoallergenic cotton pillows. Their sizing is meant to offer support and comfort for babies as they start to age.
How We Picked
Pillows for babies, when sized appropriately, can provide just enough support for a child while staying comfortable for them at the same time. These types of pillows are typically sized, shaped, and patterned differently than adult pillows, so parents may not be familiar with them at first glance. Here are the aspects we examined when investigating some of the leading products:
Composition
Infant pillows be produced in a wide variety of materials and with an interior foam of varying density. The exterior is usually cotton, but how it is treated as a fabric can make a big difference. There are different kinds of knits that are more comfortable than others, while some are designed to let the fabric "breathe" better by taking more of a mesh form.
The foam interior can be of varying levels of density. The sturdier materials may help stabilize babies' heads better, but may not be as comfortable as other fluffier pillows. Pillows with memory foam padding can venture to achieve the best of both options, but these can be pricier.
Shape
Infant pillows can be shaped in a number of different ways. Most common are a "u" or circle-shaped pillow and a more rectangular one. The "u" and circle shaped pillows can act somewhat like a travel neck pillow for adults, or simply be laid underneath a child's head (allowing extra space for their skulls to take shape).
There are also infant pillows that can more closely resemble adult pillows. These tend to be smaller (too small for most pillow cases) and often have an indent for the heads to rest. Some manufacturers have fun with the shape and make them look like animals or other baby-themed objects.
Design
Baby pillows tend to be vibrantly colored or patterned, often times with a baby-themed color scheme. Light blue and pink against a white background is a common sighting. Other themes that echo children's books and tv shows, such as construction trucks, animals, and the earth and sky, often adorn these types of pillows.
Some manufacturers make more simplified pillows, typically one solid subdued color. This may be preferable for those that are using them for travel. Some manufacturers flip the script, and make very noticeable pillows in fun shapes.
Tips
Not sure which infant pillow is right for you? Rest easy and read below for some suggestions:
How are you going to use this pillow?

These pillows can be used in a variety of ways. Some pillows are designed for babies that sleep on their backs and also those that sleep on their stomachs.

Take a look to see if a certain pillow is appropriate for car seats and strollers. Some are designed to fit.

Does your child have flat spots on their heads?

Though a common feature of newborns, some parents are looking for ways to prevent or accommodate a baby with flat spots. Infant pillows are sometimes meant for that.

It is advised to seek the advice of a medical professional if looking to buy an infant pillow for medical reasons.