Getting children to sleep can be a daily exercise in patience, communication, and negotiation. One way parents can make bedtime more desirable for a child is to pick out fun pajamas for them to wear as they slumber. These PJs can have their favorite characters, colors, or just be especially comfortable.
Lots of brands have dipped their toes into the children's pajamas realm. While some products may seem cute, they may not be as comfortable as less colorful options. To help shoppers discern between the multitude of options available, we've surveyed some of the leading brands. Here are the insights we gained: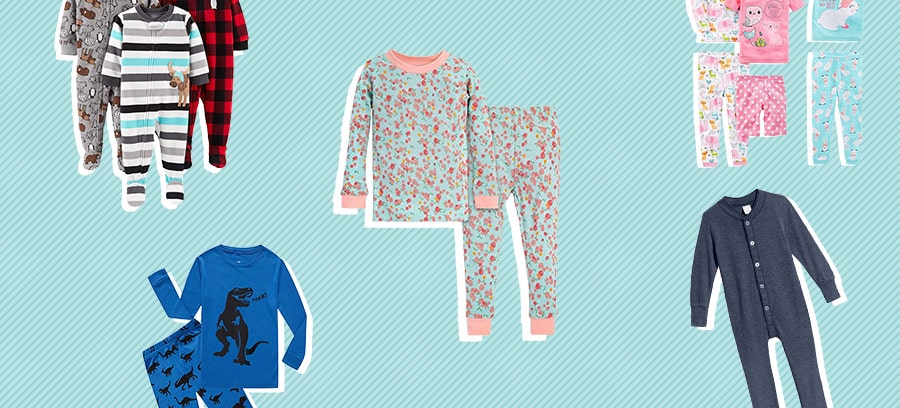 Editor's Choice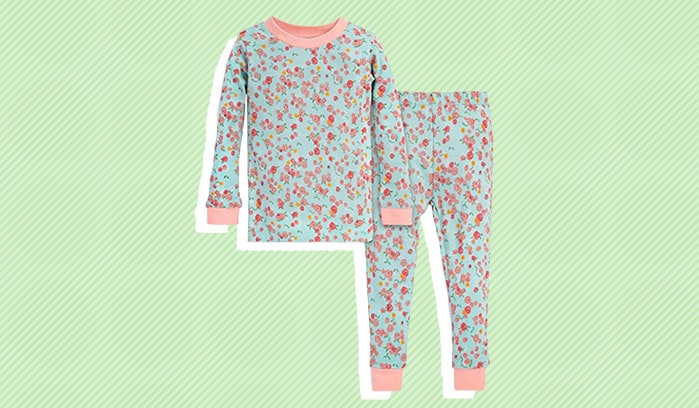 Burt's Bees Baby 2-Piece Pajamas Set
Pros: 
Cuff & neckline. A nice design element with this line of pajamas is the contrasting color from the cuff and neckline and the body of the pajamas. It helps make the pajamas' colors and patterns stand out more.

Ribbed cuffs. The cuffs at the ankle and wrist are vertically ribbed. The pajamas do not roll up as easily with this feature.

Art. These pajamas feature a collection of hand-painted designs that would be showpiece articles of clothing even for adults. The flowers, oranges, and butterflies stand out.
Cons:
Tight sleeves. While some people may not want baggy pajamas, the sleeves on this set may be rather tight for some kids. 

Stiff seams. Though the fabric is comfortable itself, some may find that the inner seams are rather stiff and be an irritant for some users.
The Contender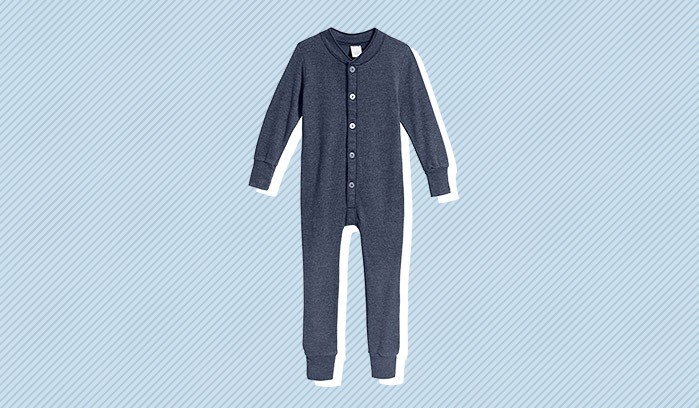 City Threads Union Suit Thermal Underwear
Pros:
15 colors. Customers have lots of options to choose from with this line of pajamas for kids. There are shades of pink, three shades of blue, and even two shades of purple.

One piece. As this product is only made of one single article of clothes, it is easier to clean, store, and for kids to put on. This is great for parents with multiple children.

Stretchy. This product is made of a 50/50 mix of cotton and polyester, making it extra stretchy. This makes it easier for children to sleep and play in without feeling encumbered.
Cons:
Tight fit. Though these pajamas are stretchy, they tend to hug the body. This can be uncomfortable when it the temperature is hot.

No bottom flap. Some parents would prefer these pajamas to have a bottom flap for easy access to diapers.
Best Bargain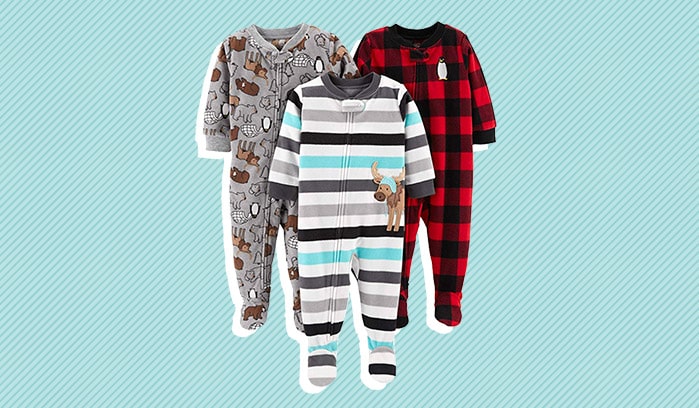 Simple Joys by Carter's Baby and Toddler 3-Pack Loose Fit Fleece Footed Pajamas
Pros: 
Gripper feet. These onesie pajamas have enclosed feet to keep kids feeling warm and cozy. They have grips on the bottom of the feet to help with traction while walking.

Zipper. This line of pajamas is easy to operate for both parents and kids. The zipper allows kids to get in and out quickly without dealing with buttons.

Price. Parents will find that these pajamas cost as much for a three-pack as some brands charge for one set of pajamas. Great for parents shopping on a discount.
Cons: 
Footie can be tight. The fabric that goes over the feet can be too small for some children. Parents may need to cut them off in that case.

Thick fleece material. Though they may be ideal in the wintertime, these pajamas are rather thick and may be too warm for the summer.
Most Fun Patterns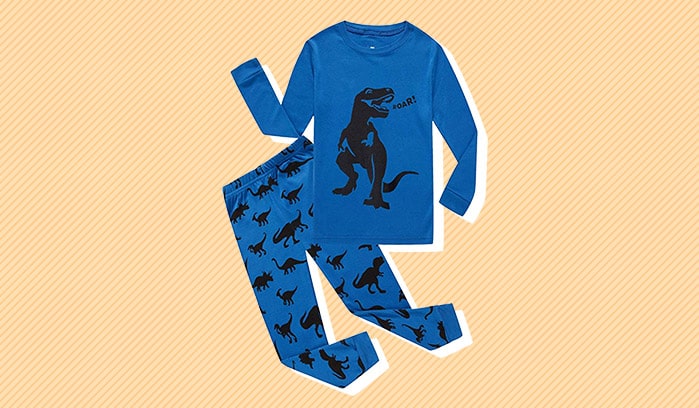 Family Feeling Cotton Pajamas
Pros: 
Complimentary designs. The tops of these two-piece pajamas have a large design, while the pants typically employ that same design but in a pattern form. This is an interesting and fun style.

Up to age 16. Customers can find pajamas that are sized to fit children up to the age of 14 or 16. This is helpful for fitting kids who have grown to a large size quickly.

Cotton. Not many pajamas for kids are made out of 100 percent cotton. Rather than being a blend, this one is fully cotton and may breathe a bit more than other fabrics.
Cons: 
Thin material. This line of pajamas may be well suited for summer, but may not be thick enough for super cold temperatures.

Scratchy. Some may find that the material is a bit scratchy. This may be solved once the product is washed a few times.
Best Variety Set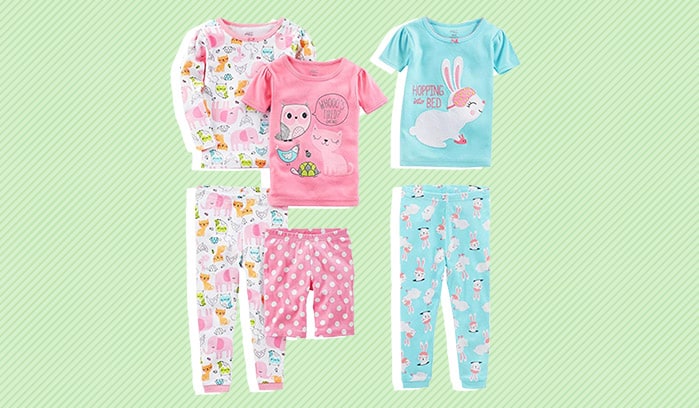 Simple Joys by Carter's Baby, Little Kid, and Toddler 6-Piece Snug Fit Cotton Pajama Set
Pros: 
Long & short sleeve. Customers will receive two short sleeve shirts and one long sleeve shirt in this set. Additionally, they will get two long pants with one pair of shorts. This is great for mixing and matching to match the weather.

Funny. These pajamas will elicit chuckles time and again with their cute sayings. For example, one has an elephant eating a donut with the phrase "I donut want to go to bed."

Variety. Each pack has three distinct looks that feature varied colors, themes, characters, and styles. These are great for parents looking to outfit a child all at once.
Cons: 
Glitter. Some of the individual tops are adorned with glitter. This can fall off and become somewhat of a cleaning nuisance.

Stretches over time. Perhaps due to the material, these pajamas have a tendency to stretch out over prolonged periods of use.
How We Picked
Kids pajamas are rather different than what babies wear and are certainly not the same as adult pajamas. For new parents, there can be a learning curve as to what type of pajamas their kids respond to. Here are the facets of pajamas that we felt were most important when giving our evaluations:
Fit
Regardless of how cute a pair of PJs is if they don't fit the child properly or if the child isn't comfortable in a certain fit, they might end up being quite useless. There are two main styles of pajamas for kids: ones that fit snugly, and ones that have a baggy fit. Surprisingly, this difference is largely based on fire safety.
Snug-fitting pajamas are less prone to catch fire than baggy pajamas, so baggy pajamas tend to be made with fire-retardant chemicals. This can make the material feel different than snug-fitting pajamas. While either option is considered safe, the comfort of the child may end up being the determining factor.
Style
Parents can choose between several different styles when picking out these pajamas. Onesies are a popular choice, as they are easy to organize and clean. These are also quite easy to put on, but may be too warm for the summer months.
While two-piece pajama sets will not have footies or hoodies like some of the onesies have, these types of pajamas can be found in short sleeve and short varieties so may be more appropriate for warm months. These pajamas also have more variety between the pants and tops.
Designs
Now the fun part. Kids may respond to certain characters or animals (dinosaurs, butterflies), certain patterns (polka dots), or even specific colors. It is prudent to find a set of pajamas that your kids will like; there are so many options out there that shouldn't be too difficult.
As these pajamas are clothing items that children will probably be wearing day after day, it may make sense to get a variety of options. This way kids and parents can learn which pajamas fit best and which types of patterns and designs the kids respond to most. Parents can also learn which ones look the cutest for photos opportunities.
Tips
Not sure which kids pajamas are right for your family? Here are some tips:
How quickly is your child growing? 

If your child changes size every few months, it may make sense to get more affordable pajamas.

Those buying pajamas that are appropriate for that particular season may find that those pajamas only last one season.

What is your child interested in?

There are many topics that adorn pajamas, both for girls, boys, and unisex.

If your child isn't into a specific type of animal or general topic, there are cute patterns and colors that can still seem fun.