Loft beds are a great option for those with a child or just looking for space. Loft beds take up the same surface area as a normal bed, but are elevated so the area under the bed can be used for different purposes. Some may put a desk there, others a couch. It is a great space for storage as well.
Loft beds are great for children because their smaller sizes can utilize the space under the bed better for play or for homework. Loft beds can be a great option for college students as well, by being able to maximize a small dorm room better. Since there are so many different uses of a loft bed and different styles, we went and picked out our favorites. Read below to find out our reasoning why: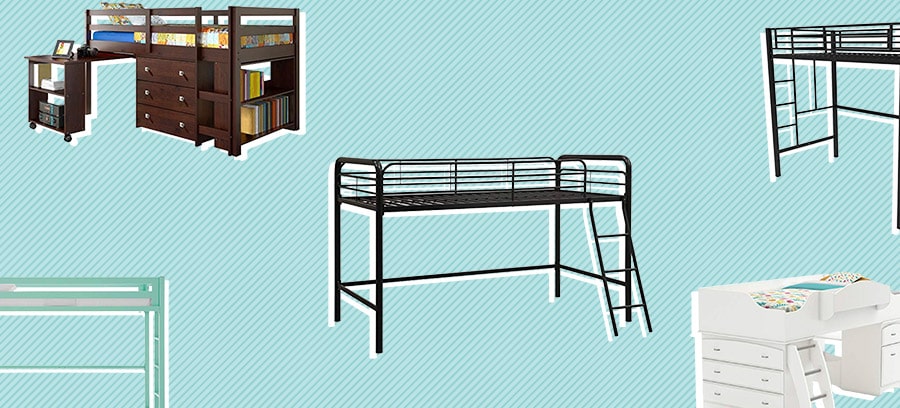 Editor's Choice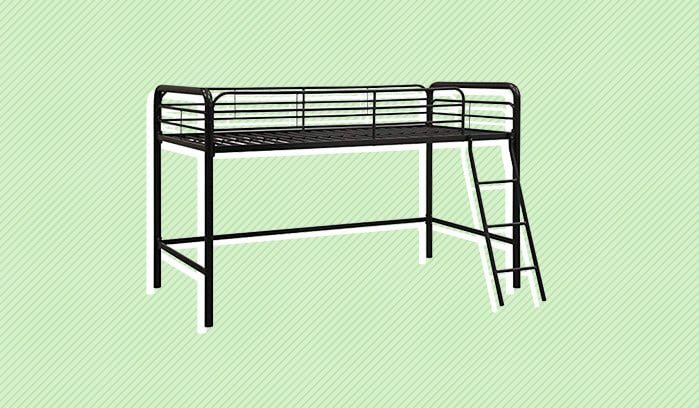 DHP Junior Loft Bed Frame With Ladder
Pros: 
Five color options. These beds from DHP come in one of the wider varieties of color. The options are black, blue, pink, silver, and white.

Tall guard rails. The guardrails on this loft bed measure about 12" from where the mattress sits. This is a great safety feature for children who are apt to roll around at night.

Angled ladder. The ladder protrudes from the top bunk at an angle down to the floor. Some similarly designed beds have a completely vertical ladder that can be harder to climb.
Cons:
Hard to put together. Perhaps due to the style of the metal construction, it can be hard to get pieces to fit together perfectly during assembly. It can require some patience.

Ladder is not the most comfortable. The ladder that is included with this bed has solid tube-metal steps, which may not be the most comfortable on bare feet.
DHP Junior Loft Bed Frame With Ladder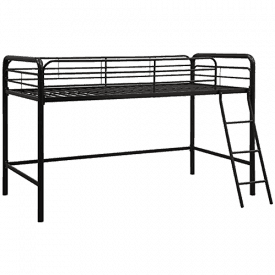 DHP Junior Loft Bed Frame With Ladder
The DHP Junior Loft Bed Frame features a solid metal frame and is available in five distinct colors. The ladder is angled for convenience and the guard rails sit high on the bed frame.
The Contender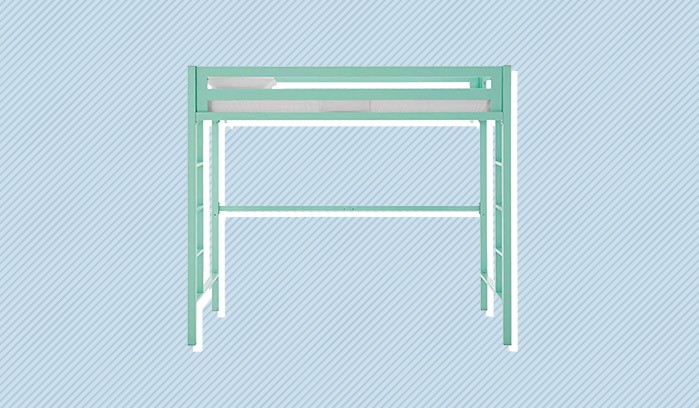 Walker Edison Furniture Company Metal Twin Loft Bunk
Pros:
Supports up to 250 pounds. This twin loft bed is a bit more sturdy for heavier weights than other metal bed frames. It can support up to 250 pounds of weight.

Not squeaky. Often with metal loft beds, it can be a bit noisy when someone is sleeping on top or when climbing the ladders, as the construction puts pressure on itself. This one is rather silent.

Powder finish. This bed is covered with a powder coat finish. This makes for a nice aesthetic touch.
Cons:
Price. Though this is a well-made bed, it can cost several times more than other lofts available.

Narrow vertical ladder. The ladder on this bed is rather narrow and vertical. This can make it difficult to climb.
Walker Edison Furniture Company Metal Twin Loft Bunk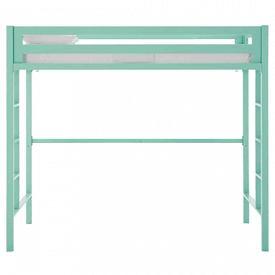 Walker Edison Furniture Company Metal Twin Loft Bunk
Walker Edison Furniture Company's Metal Twin Loft Bunk is a classically-and-well-designed product. It has two ladders on each side and is available in white and mint.
Best for Taller Kids / Teenagers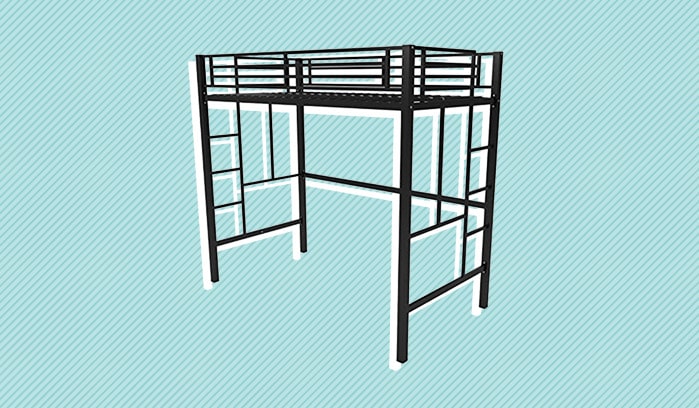 Your Zone Metal Loft Twin Bed
Pros: 
Height. This bed stands at a top height of just over 72 inches. This makes it one of the taller loft beds of this design, allowing for maximum space underneath for storage, desk, or seating.

Comes with a sheet set. This bed frame comes with a fitted sheet, a flat sheet, and a pillow case. This is great for those starting to furnish a room from scratch.

Two ladders. This bed has ladders on both front and back ends. This can make arranging the bed in a room much simpler as it is more versatile.
Cons:
Wobbly. This bed, if not constructed perfectly, may wobble a little bit. This isn't so much of a concern other than as an annoyance.

Unsightly stickers. The frames are fashioned with several large stickers that have product info from the manufacturer. These may be removed for aesthetic reasons.
Your Zone Metal Loft Twin Bed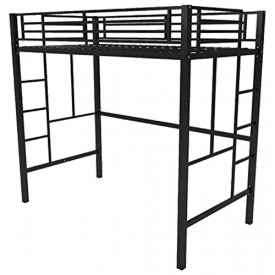 Your Zone Metal Loft Twin Bed
This twin bed from Your Zone has a high profile, two ladders, durable design, and comes in several different colors. It also comes with a sheet set making it great for a dorm room.
Best Attachments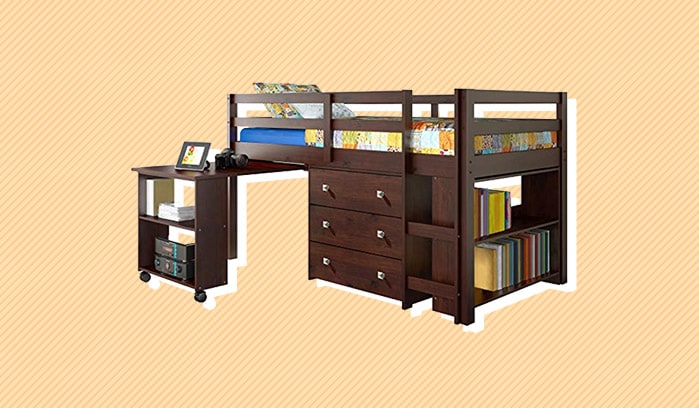 DONCO Kids Low Study Loft Bed
Pros: 
Wood. While many loft beds are made of metal, this bed is made of solid wood. The desk, the bed frame, and the drawers are made of pine.

Slide-out desk. One of the biggest questions to answer with a loft bed is what is going to go underneath. This product solves that question with the inclusion of a desk that easily slides out.

Storage. This bed also comes with not only drawers but shelves as well. This is great for conserving space.
Cons: 
Screws can be hard to reach. This desk can be a bit cumbersome to assemble because some of the holes for screws are at an odd angle for the tools. 

Drawers and bookcase not attached. These parts of the set are freestanding, meaning there is a bit less stability and the unit as a whole can look less put together.
DONCO Kids Low Study Loft Bed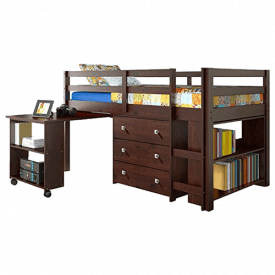 DONCO Kids Low Study Loft Bed
This DONCO loft bed is a great piece of furniture for a kid in school. Not only does this wood bed have a slide-out desk, but it also has a bookcase and a chest of drawers.
Best Loft for Young Kids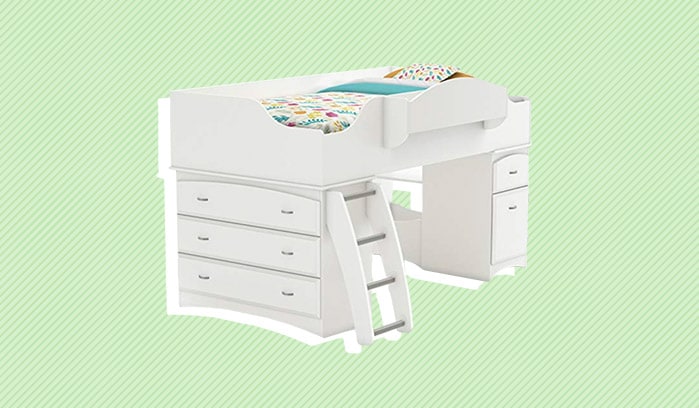 South Shore Loft Bed
Pros: 
Interchangeable parts. The two chests of drawers that serve as the legs of the bed can be interchanged, allowing flexibility in how the bed is arranged.

Storage nook. There is a storage bin right next to the bed with substantial space. This prevents kids from having to make trips up and down to get reading materials and homework.

Low profile. This bed stands just under 46" tall, meaning it is easier for a child to climb on to and it is a smaller distance for them to fall from. This is a great safety feature.
Cons: 
Only for younger kids. This bed may be too big for older kids. This means kids may eventually grow too old for this bed.

Lots of pieces. Expect to spend a lot of time putting this bed together, as it has many component parts. It might be best to assemble with another person.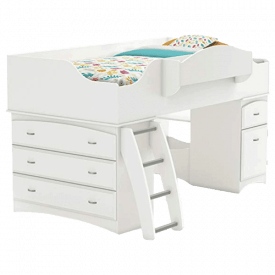 This loft bed from South Shore has an elegant design in white or cherry and has lots of storage elements. It is great for young kids due to its low profile and easy-to-use ladder.
How We Picked
Loft beds can be made of different materials, in a wide array of styles, and made to cater to different types of people. Regardless of their differences, there are still a few areas where these beds can be compared against each other. Here are the areas we looked at:
Height
While the height of a normal bed wouldn't be top of mind when shopping for one, the height of a loft bed can matter quite a bit. Loft beds by nature utilize the vertical space above a bed to help maximize the use of the space. That doesn't mean they are all uniform height by any means, however.
Taller loft beds have the obvious advantage of being able to use more space underneath, whether it be as a desk, storage, or a couch. However, taller beds may have less room for the person sleeping on it to maneuver at night, what with the ceiling so close. Shorter beds may be appropriate for smaller kids who may, for safety reasons, not want to climb too high up.
Attachments  
Standard loft beds will just have the extended bed frame, a ladder or two, and the supporting structure. This allows the person outfitting the space to use the area underneath the bed as they see fit. Couches, chairs, desks, cabinets, TVs, and tables are all common pieces that live under a loft bed.
Some manufacturers go the extra mile and include one or more of these elements with their loft bed. This is great for those starting a room from scratch, as it gives a few useful pieces of matching furniture. There are certain loft beds that go even further and have furniture integrated as part of the structure of the bed frame itself, further saving space.
Materials & Assembly
Most loft beds will have to be built at home by the person who bought it. It is wise to have help, as loft beds can be complicated to build. Not only will the added height add some complexities to the process, but there tends to be a lot of individual pieces that will need to be organized, kept track of, and assembled.
Many loft beds are made of metal, either solid or fashioned into tubes. These are durable and can match a certain modern aesthetic, but they can be a bit more difficult to assemble properly compared to wood lofts. Lofts made out of wood, usually pine or rubberwood, won't squeak as much and tend to wobble less than beds made out of metal. They will be a bit pricier, however.
Tips
Not sure which loft bed is right for you? Take a look at the guidelines below:
Who is this bed for?

If you are getting a bed for a toddler or elementary-age kid, it makes sense to get a lower-profile bed with guard-rails.

Those buying a bed for an adult, college student, or teen may want to get a taller bed that maximizes the space below.

Are you trying to match an existing room's aesthetic?

If you are trying to match the decor of an existing room, the biggest decisions to make will be between metal and wood, shiny and matte, and bright or neutral.

There are beds with unique colors that may pop in certain settings, but usually brands have neutral colors like black, gray, white, and stained wood.
FAQs
How tall are loft beds?
Most loft beds measure between 42 and 72" above the ground at their top height.
How much space is under a loft bed?
A twin loft bed will have about 42" x 78" of surface area space underneath the bed. The area vertically available underneath typically varies between 27 and 58".
Will I need tools to assemble a loft bed?
Typically loft beds will have all the hardware and tools necessary to build it included. However, sometimes wood beds will need to have the pre-drilled holes expanded or replaced, so a simple electric drill might help.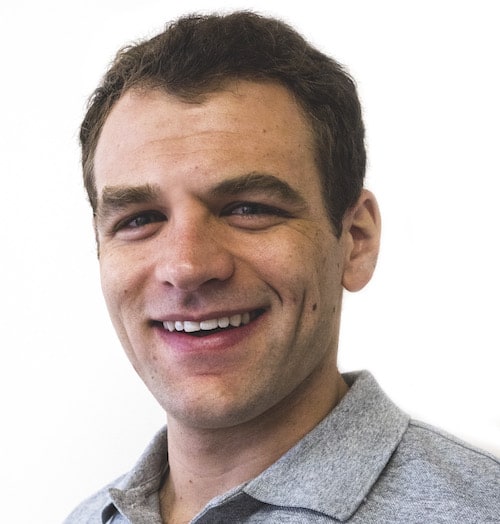 Logan Block
Logan is the former content director of Sleepopolis. As content director, he reviewed new mattresses every week and curated the comparisons, best of pages, and video guides on the site. Logan perfected his method by personally testing over 200 different mattresses, so he's not only able to discern the overall vibe of a specific bed, but to contextualize its feel within the bed-in-a-box market as a whole.