Mattress joiners have been a simple, effective way to turn two twin beds into a king for decades. Typically, these connector kits come with one large central piece that runs in between the two mattresses and a strap that runs along the perimeter of the newly assembled king bed to hold the individual mattresses in place. Whether you're making guest beds into one large bed or you're combining hotel beds for a more comfortable vacation stay, mattress joiners are a great option for making twin beds more versatile.
This guide will take you through some of our favorite mattress joiners on the market to help you easily combine twins to form a comfortable king that won't separate while you're sleeping. Many of the mattress joiners available feature all the necessary components in one individual kit; and some even include handy carrying cases which make them great options to carry with you when you travel.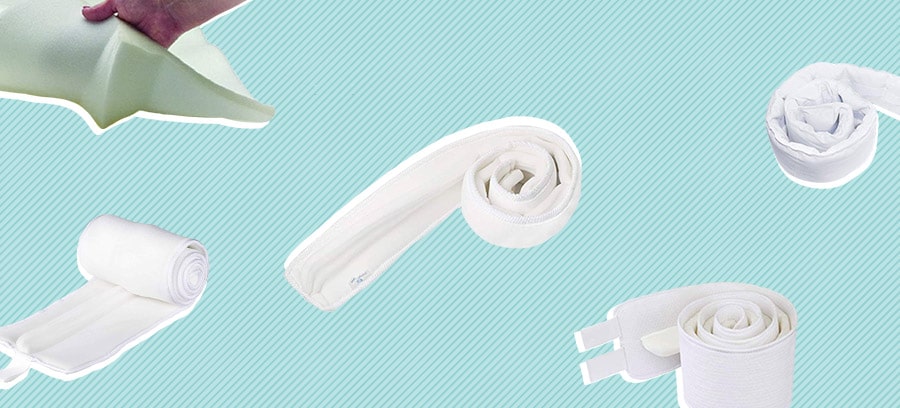 Editor's Pick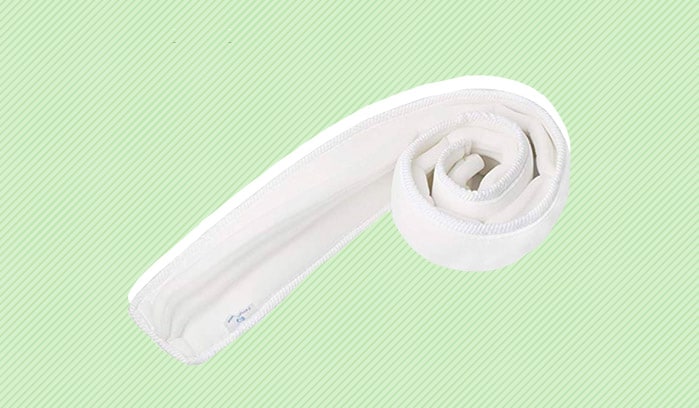 FeelAtHome Bed Bridge Twin to King Converter Kit
Pros:
The t-shaped foam bed bridge features a cloth cover that does a great job of filling in the gap without adding an uncomfortable bulk to the middle of the mattresses.

The 33-foot strap leaves ample room for connecting twin beds with the option of joining mattresses as large as queen.

The strap is sturdy and lightweight, which makes it strong enough to hold mattresses in place without sacrificing portability or taking up too much space in your closet.
Cons:
The strap doesn't come with any additional fasteners to the bed bridge, which means it needs to be pulled fully taut or there may be risk of separation over time, especially for active sleepers.
FeelAtHome Bed Bridge Twin to King Converter Kit
FeelAtHome Bed Bridge Twin to King Converter Kit
This all-in-one conversion kit gives you everything you need to join your mattress in one handy, affordable package. Featuring a bed bridge, a 33-foot long strap and a storage case, you're able to not only join two twin beds to make a king, but even two queen sized mattresses for an even larger sleeping area. The lightweight straps are easily portable, and the included instructions are intuitive enough for anyone to understand.
Best Design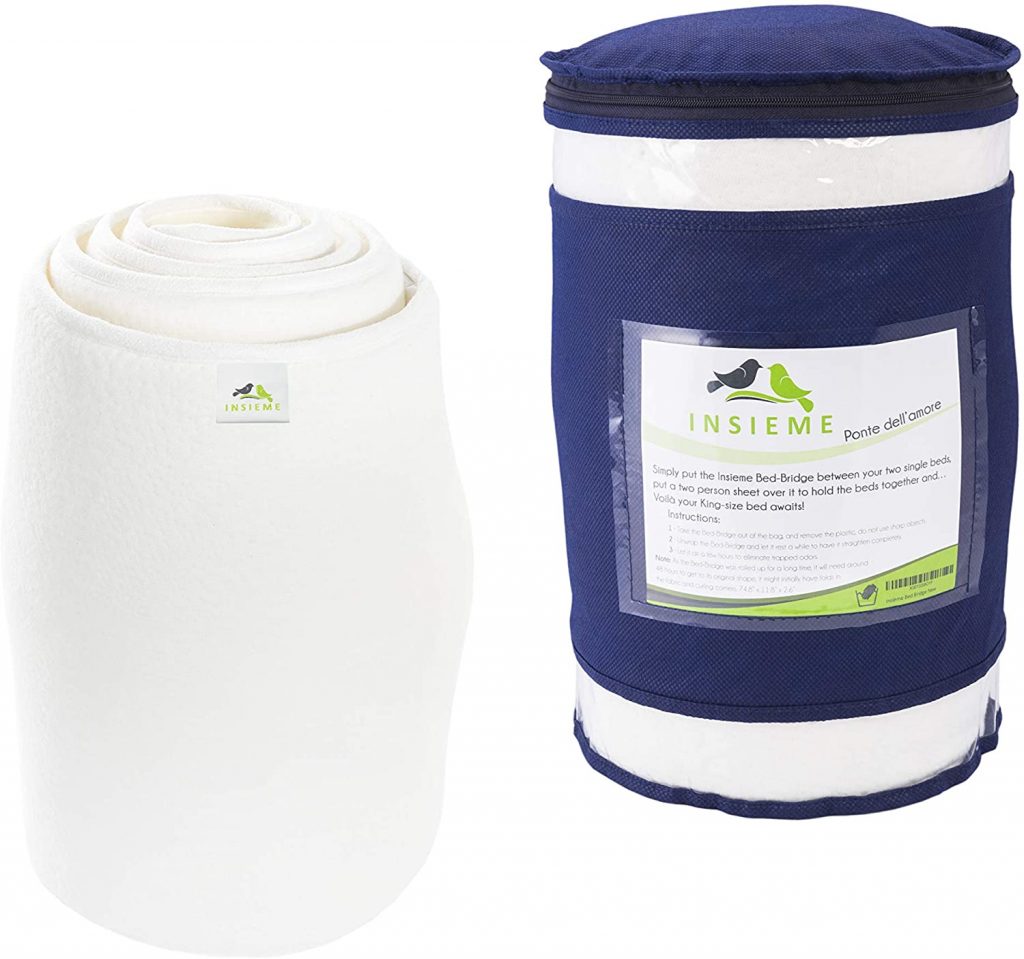 Insieme Bed Bridge Twin to King Converter Kit
Pros:
This distinct, V-shaped bridge is made from 25D foam and has a fabric finish that's soft and smooth, as to avoid injury and unwanted friction.

It's 2″ and nearly 3″ deep, allowing it to fit between extra-tight mattress crevices. This also helps even out the surface between mattresses that are different heights.

There are no straps, knots, or buckles, so you should be able to add and remove the V-bridge with ease.
Cons:
It isn't recommended that you use this bed bridge on pillow top mattresses or any beds with a gap bigger than 2″ wide and 3″ deep. So make sure you measure your beds' crevices before choosing the Insieme.
Insieme Bed Bridge Twin to King Converter Kit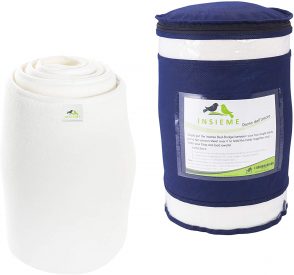 Insieme Bed Bridge Twin to King Converter Kit
Insieme's bed bridge has a simple V-shaped design that connects two twin or twin XL beds without the need for straps. Once the beds are bound together, the connector evenly distributes the weight across the two surfaces. 
Best for Memory Foam Mattress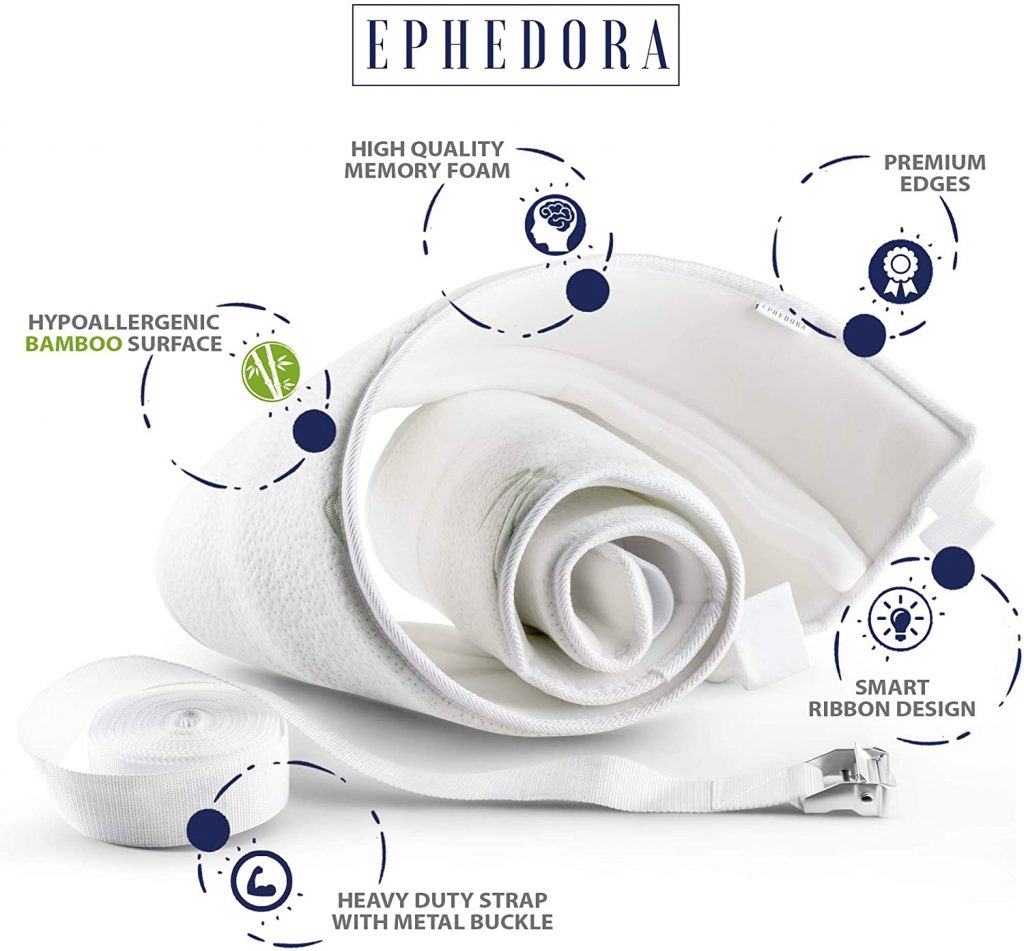 Ephedora Extra Wide Bed Bridge Connector
Pros:
Because this connector is essentially a memory foam pad fastened with straps, it blends nicely with memory foam beds and creates a soft, seamless sleeping surface across the gap.

It's available in two different sizes: twin to king and twin XL to king. Both options come with a travel bag for easy transportation.

The straps that hold the bed together are 33 feet long, ensuring security and a snug fit between the two mattresses.
Cons:
Because the strap has a buckle, it might be somewhat difficult for kids to use.
Ephedora Extra Wide Bed Bridge Connector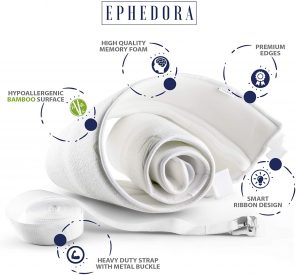 Ephedora Extra Wide Bed Bridge Connector
Made from a breathable, hypoallergenic bamboo and a cushy memory foam, the Ephedora bridge connector has a softness that works to protect foam mattresses. 
Most Durable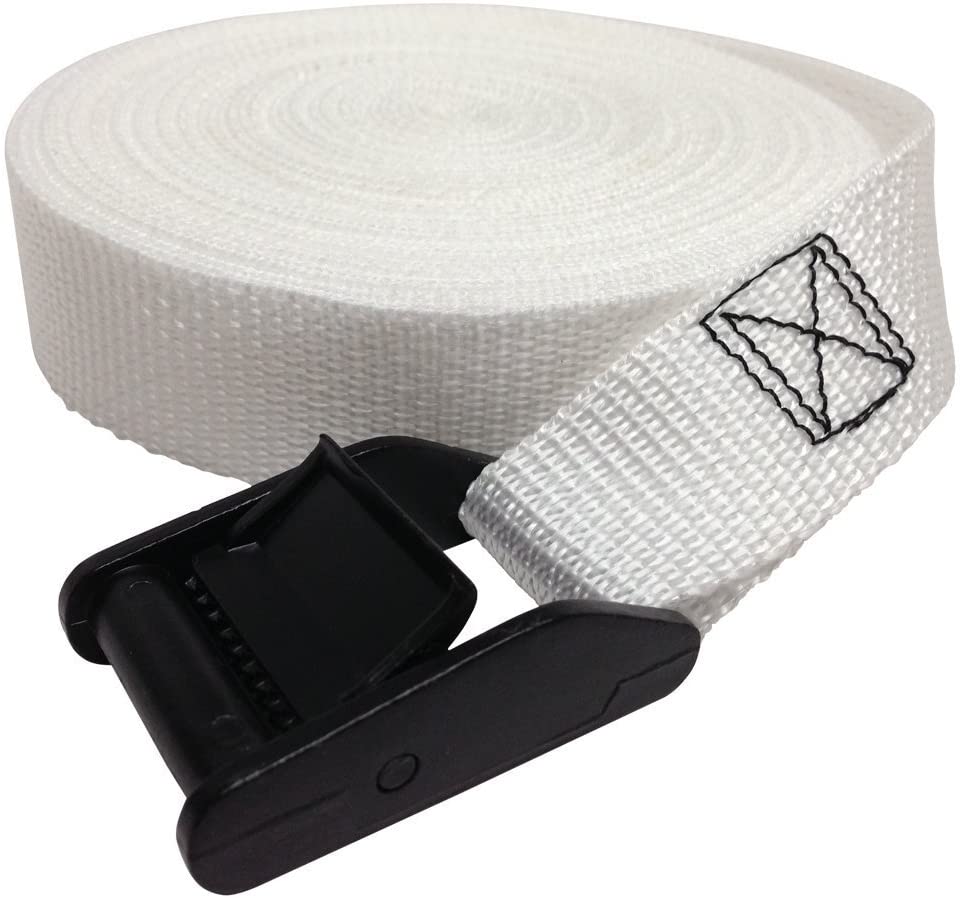 SGT KNOTS Polyester Webbing Twin Bed Connector
Pros:
The metal buckle of this strap is especially strong and easy to fasten, just like a belt.

There's also a ton of durability in the polyester strap. Resistant to moisture and abrasions, it's available as 1 or 2 inches wide.

Reflecting the strength of their products, SGT KNOTS is veteran-owned and operated.
Cons:
The buckle has tiny teeth, which make it easy to adjust the strap. But you'll likely want to go over safety procedures with any kids who will be using it. This is essentially the same type of strap that you'd use to secure cargo. 
SGT KNOTS Polyester Webbing Twin Bed Connector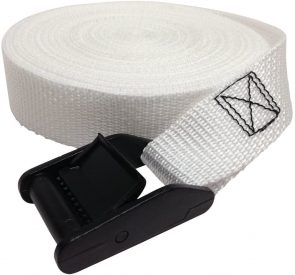 SGT KNOTS Polyester Webbing Twin Bed Connector
This belt-like strap has a strong metal buckle that's heavy-duty, but also extremely easy to wrap around two twin beds in order to transform them into a single king. 
Top Contender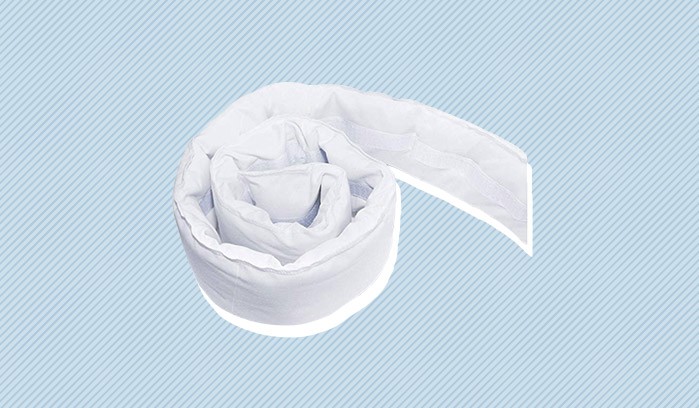 Easy King Bed Doubling System
Pros:
The ease of use here is the big draw. The simple seatbelt-style clasp on the connecting strap is an elegant way to hold mattresses together.

The ten-inch width and velcro back on the bridge covers more area than competitive mattress joiners, which helps keep it from slipping between the two mattresses.

The bridge is made from washable, hypoallergenic materials.
Cons:
The size of the strap is made for twin and twin XL mattresses, which is good for the intended purpose, but isn't built for adjoining larger mattresses.
Easy King Bed Doubling System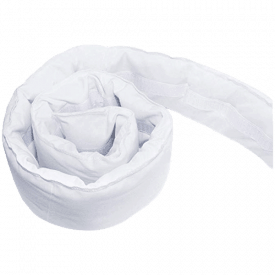 Easy King Bed Doubling System
With a ten-inch wide bridge that runs the length of the mattress and an easy-clasp strap, this kit is one of the simplest ways to turn two twin or twin XL mattresses into a king. While not designed for pairing larger mattresses, it makes converting twins about as easy as it gets. And, with a velcro base under the bridge it helps hold everything in place to reduce the threat of the bridge falling in between the joined mattresses.
How We Selected the Best Mattress Joiners
Mattress joiners can work miracles with their versatility. If you live in a home with a guest room, having two twin beds is great for hosting children, but if you're hosting an adult couple the next weekend, having the option of making those twin beds a king is a godsend. Likewise, the ability to join beds can be a great option for saving money on hotels that may have rooms with two twin beds discounted; just create your own king! As we were considering the best mattress joiners, some of the considerations we made were:
The Length of the Mattress Strap
Generally speaking, mattress joiners are two components: the bed bridge which sits in between the two mattresses, and the strap, which stretches the perimeter of the two mattresses and keeps them bound together. Most mattress straps are built to accommodate twin or twin XL mattresses, which combine to form a king. We liked mattress joiner kits that provided extra slack in the strap, however, because they could be used to join larger mattresses like a queen to a twin, or even two queens.
The Width of the Bed Bridge
The biggest complaint about mattress joiners is that the bed bridge isn't sturdy enough, which means during the night, or during the strapping process, the bridge gets pulled down into the gap between the mattresses, which either creates an elevation in the middle or causes the mattresses to gap over time. We liked mattress joiners that featured wider bridges (the wider the better!) so that even with some moderate pulling they would remain in their proper place.
Additional Ribbons and Loops
Not every mattress joiner kit comes with the option to join the bed bridge to the strap, but we preferred ones that did. The inclusion of a loop on the ends of the bed bridge that the strap could be run through was a great additional way to secure the mattresses together and keep them together firmly.
Tips for Choosing the Right Mattress Joiner
When selecting the right mattress joiner kit for your needs, there are some things to keep in mind that will help save you some headache later on. The main consideration being the types of beds that you're looking to join. While most joiner kits are built for standard mattress types, specifically twin beds, there are other options available that can be used with more versatility which frees you up to joining other sizes and types of beds. Some general things to keep in mind are:
Strap or Strapless: Most mattress joiner kits include a long strap to secure the mattresses together. If you're not an active sleeper, however, there are wedge-style bed bridges that can easily join two twin beds together and, when covered with a king-sized fitted sheet, can provide all the security you need to hold the beds together. And, as always, straps can be purchased separately should you need additional support later on.
The Perimeter of the Two Beds:

The worst feeling in the world is getting a product you think will work for your needs, getting to the final step in the installation process, and realizing it doesn't work for your needs. Before selecting a mattress joiner kit (with a strap), measure the perimeter of the two beds you're looking to join together and compare it to the length of the included strap. A little preparation early can save you a big headache later on!
Recapping the Best Mattress Joiners
When you find the right mattress joiner kit for your needs, it opens up a whole world of possibilities, especially in guest bedrooms and hotel rooms. Consolidating furniture and making it more useful for your space can save you hundreds of dollars when compared to buying a whole new bed. Mattress joiners are an elegant, inexpensive solution to a potentially costly conundrum.
FAQs
Can you put two twin mattresses together to make a king?
Pushing two twin beds together will approximately create a king sized bed. In actuality, the measurements of two twin beds together is two inches wider and five inches shorter than a standard king. Twin XL mattresses are actually five inches longer than standard twins, which makes them the ideal choice if you're looking to have two beds that can be joined together to create a king.
Can you put a mattress on top of another?
If you have a box spring, adding a mattress on top of another mattress is a solution many people have turned to over the years. Especially adding a more plush, foam mattress on top of a harder-style mattress. Mattress joiners are typically not used in this scenario, however; they're typically used to combine two mattresses side by side.
How do you connect a twin bed?
Mattress joiner kits are a great way to connect twin beds. In the mattress joiner process, you'll get a centerpiece, known as a bed bridge, which runs the length of the bed and fills in the gap between the two mattresses. Then, you take a strap that runs around the perimeter of both beds together to create one unified mattress. The beds are then further held together with the addition of a fitted sheet (in the case of two twins together, a king-sized fitted sheet).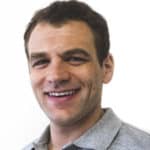 Logan is the content director of Sleepopolis, which means he not only reviews new mattresses every week, but also curates all the comparisons, best of pages, and video guides on the site. He takes a straightforward, honest approach to his reviews and endeavors to give viewers an objective look at each new product he tries out. Logan has perfected his method by personally testing over 200 different mattresses, so he's not only able to discern the overall vibe of a specific bed, but to contextualize its feel within the bed-in-a-box market as a whole. When he's not hopping on a new bed or working with our editorial team to whip up an engaging sleep education guide, you can find him reading books on world history, walking his dog Pepper, or searching for the best cheeseburger in New York City.