When relaxing at home, sometimes it is a nice feeling to extend the coziness of bed to when we are elsewhere in the house. That's where slippers come in; they are typically a no-nonsense piece of apparel that provides easy comfort and can be the best way to quickly run outside.
Depending on how they will be used, there are a number of different types of slippers to choose from. Some are designed for versatile uses and can be worn while doing errands, while others provide a quick and comfortable choice for walking around indoors. We have outlined our favorites of some of the various styles available; read below to see what we picked: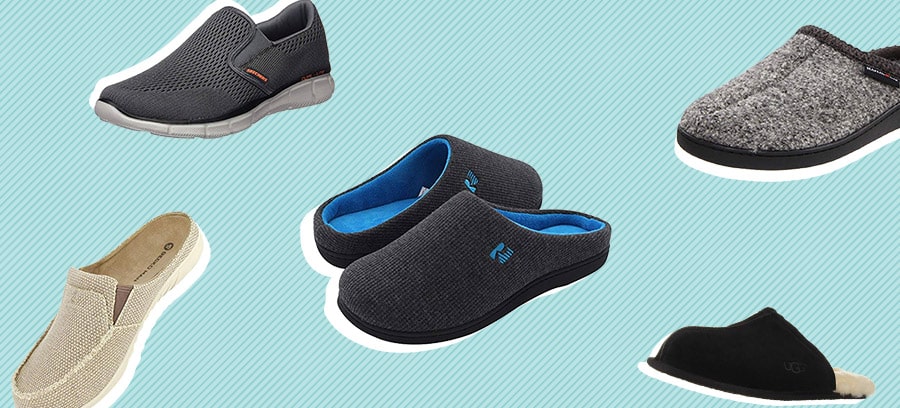 Editor's Choice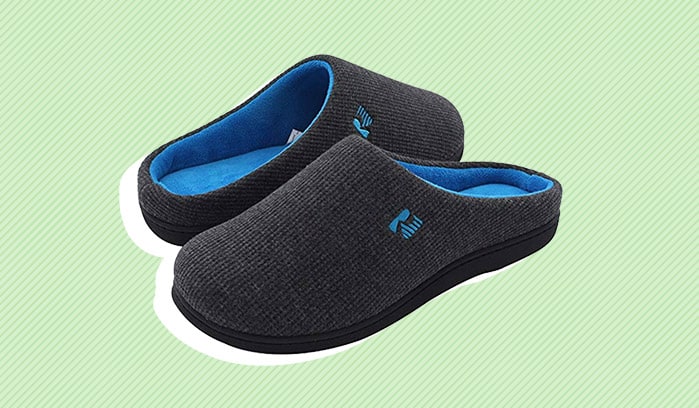 RockDove Men's Original Two-Tone Memory Foam Slipper
Pros:
Memory foam soles. For added comfort, these shoes have a rather deep memory foam sole. The soles will contour to the shape of the foot, enveloping the foot in softness like normal shoes typically don't.
Waffle knit. The fabric of the upper part of this shoe is made out of a cotton and spandex waffle knit. This style of knit and the use of cotton allows the slippers to breathe more and unpleasant prevent scents from appearing.
Colored lining. These slippers have a colored cotton footbed. This provides a nice accent color without creating slippers that are too loud, making them more appropriate for wearing outside of the house.
Cons:
Tall arch.These slippers may have a loose fit around the top of the foot. This is not uncomfortable, but means they might slip off more often.
Sizing. The fit of these slippers is less specific than in most shoes. Each slipper is available in sizes that are grouped, like 9-10 and 7-8. This may mean shoes fit a bit looser or tighter than is desired.
RockDove Men's Original Two-Tone Memory Foam Slipper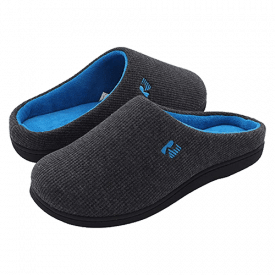 These slippers from RockDove feature comfortable and foot-conforming memory foam soles. The shoe is made of a mostly cotton waffle knit that allows nice ventilation.
Sleepopolis Score
4.50 / 5
The Contender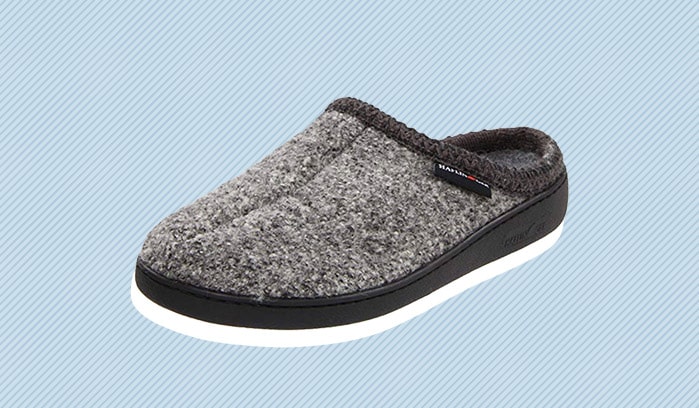 HAFLINGER Unisex AT Wool Hard Sole Slippers
Pros:
Wool. The upper portion of this slipper is made out of 100% wool. Wool provides great insulation in cold weather and quality breathability during warm months.
Arched support. The arch of the slipper is enforced with a molded latex. This provides a supportive and firm feel while walking.
Color options. These slippers have a nice variety of different base colors that the wool is dyed in. The stitching offers a nice shock of complementary color.
Cons:
Care. These slippers can be machine washed and dried but only for a few minutes and under close supervision.
Can stretch over time. Over a period of time these slippers have a tendency to stretch a bit, especially in the collar.
HAFLINGER Unisex AT Wool Hard Sole Slippers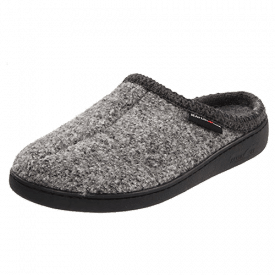 These wool slippers have a firm rubber sole with molded arch support. The upper is made of an insulating natural wool that is available in a number of strong color varieties.
Sleepopolis Score
4.50 / 5
Best for Support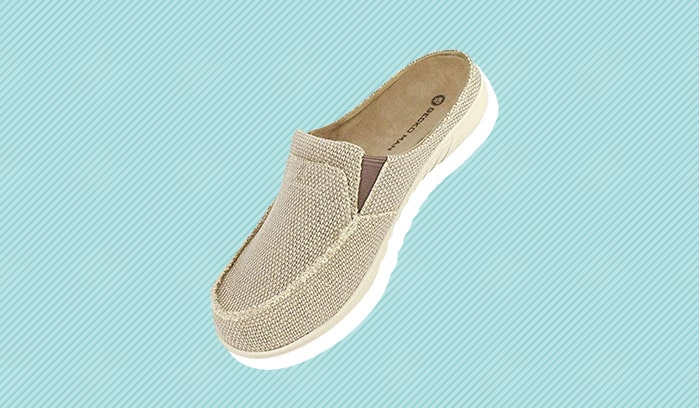 Gecko Man Canvas House Slipper
Pros:
Wide toe. The forefront of these slippers is designed with more room than many other slippers. This is great for those who sometimes find themselves crunching their toes in slip-on shoes.
Metatarsal pad. There is raised and contoured padding in the front part of the sole that helps to alleviate pressure on the ball of the foot.
Suede or fleece insole. There are two great options available for insoles with these slippers. The suede and fleece insoles are both comfortable for different reasons; the choice will come down to personal preference.
Cons:
Less cushioning. These slippers may be more durable, but offer less cushioning than some other types of slippers.
Narrow opening. These are not the easiest slippers to slip on, especially for those with wide feet. 
Gecko Man Canvas House Slipper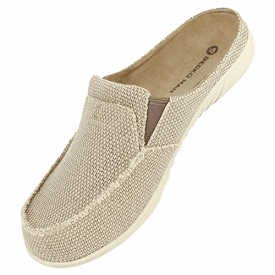 The Gecko Man canvas house slippers offer great durability, arch support, and grip. The interior is lined with either a soft suede or fluffy fleece fabric.
Sleepopolis Score
4.40 / 5
Most Versatile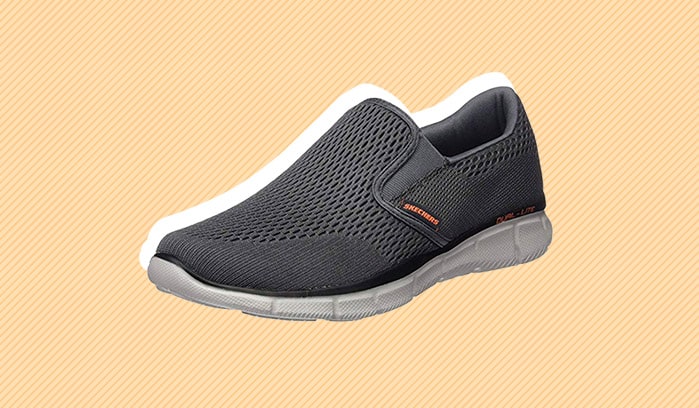 Skechers Men's Equalizer Double Play Slip-On Loafer
Pros:
Lightweight. For this style of loafer, these are one of the lightest options. The use of low-density mesh and a flexible sole makes for a lighter shoe.
Stretchy. The fabric this slipper is made out of is especially stretchy and does a good job of fitting a foot snugly. This makes the loafers capable of being used indoors and outdoors.
Ventilation. The mesh fabric is also designed with rather large pores throughout much of the upper. This is one of the more breathable fabrics slippers are available in.
Cons:
Durability. Mesh can be a more delicate fabric than other thicker weaves. This means the slippers may be more vulnerable to stains and rips.
Arch support. These slippers do not have much in the way of arch support. Though they have a sporty look, they are not sufficient for any sort of exercise.
Skechers Men's Equalizer Double Play Slip-On Loafer
These loafers from Skechers are made of a lightweight mesh that makes the shoes fit tight to the foot. The sole is stretchy and with good treads, making these great for indoor or outdoor use.
Sleepopolis Score
4.60 / 5
Most Comfortable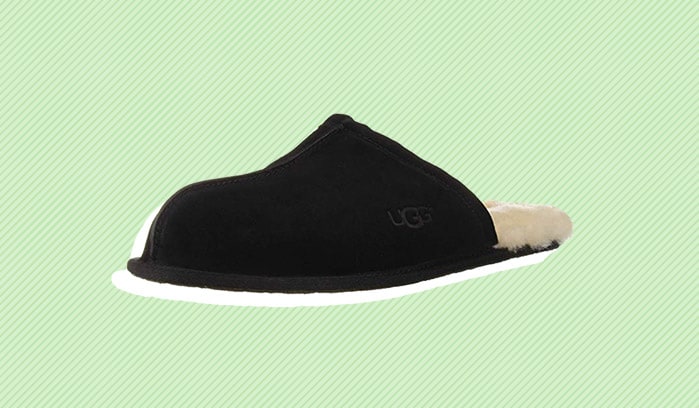 UGG Men's Scuff Slipper
Pros:
Well-made. Those looking for a classically designed and well-executed slipper may enjoy these. The materials are of good quality and the style is all-season.
Size range. These slippers are available in a very wide range, with size options available from 7 all the way up to 18. It can be quite difficult to find slippers in that upper size range.
Easy to put on. This style in itself lends itself to being easy to put on, but these slippers are among the easiest. The lofted instep gives plenty of room before narrowing at the toe.
Cons:
Flat. These slippers have a flat sole with almost no arch support. These aren't made for long walks.
Caring for suede. Suede can be harder to care for than other fabrics. It can attract dust and dirt when moist.
UGG Men's Scuff Slipper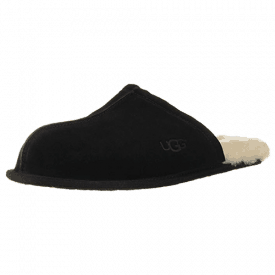 The scuff slippers from UGG are a well-designed and handsome option for people of all sizes of feet. These suede and sheepskin-lined slippers are easy to get on and feel quite soft inside.
Sleepopolis Score
3.00 / 5
How We Picked
Slippers come in all sorts of shapes, sizes, colors, and styles. While some slippers may achieve a higher level of comfort, others might be more durable or sport a more elegant style. Below we have given an explanation of how we weighted different slippers against each other:
Style
There are a number of different styles that men's slippers come in. While some are open-toed, most are enclosed around the front part of the foot. The back can be exposed, leaving a bare heel; these are typically the easiest to get on and off.
Those looking for more versatile slippers will find ones that have an enclosed heel, sometimes with fabric coming all the way up the ankle. This style will often have a sturdier sole with treads that are meant to help with walking outside and on slippery surfaces. The different styles of slippers will usually be signaled by the choice of fabric used.
Comfort
Slippers are worn as much for their convenience as they are for the comfort they provide. This is often achieved by using super-soft materials as liner. Wool, thermal cotton, and soft synthetic foam slippers are often not only lined with a soft surface, but the lining is usually rather thick and fluffy as well.
Some slipper brands take pride in the comfort their soles provide. Many slippers have soles made out of memory foam; this creates a nice bouncy yet soft feeling while walking. Brands use materials such as suede, leather, cotton, and wool for soles, so there are a lot of options for people with different preferences.
Versatility
Slippers can have a pretty substantial range in what conditions and situations they are useful for. While the traditional slipper that may come to mind is cozy and designed for indoor use, there are certain features that can broaden the utility of slippers. This mainly comes in play with the outer sole and the instep.
Some slippers have a durable and thick design with arch support that supports the feet when walking outside by providing insulation and a solid sole. Lightweight slippers with water-amenable fabrics such as mesh may also be useful when trekking outdoors. Those going for longer walks may want to find a slipper with an enclosed instep that envelopes the heel and lower ankle.
Tips
Not sure which men's slippers are right for you? Here are some things to consider before taking the next step:
Do you need arch support?

Look out for slippers that have a thick sole that is shaped like a shoe. Some may even have a contoured sole for support.

The more thin a slipper, the less support it will probably provide.

What climate do you live in?

If you live in a climate that experiences a lot of rain and snow, it is wise to get slippers that don't get damaged with exposure to water.

Many people will have one set of slippers for lounging around the house and another for venturing outdoors.
FAQs
What type of slippers are warmest?
Slippers that are lined with wool, fleece, or other thick and fluffy material will be best for keeping feet warm.
Can I wear slippers outdoors?
Many slippers will have treads on the outer sole that help with traction outdoors. It is not advised to walk long distances in slippers, however.
Can I put slippers in the washer and dryer?
Some slippers can be put into the washer and dryer, but often times have specific care instructions. Make sure to read the care instructions carefully, as sometimes cleaning slippers in a washer and dryer can cause malformations.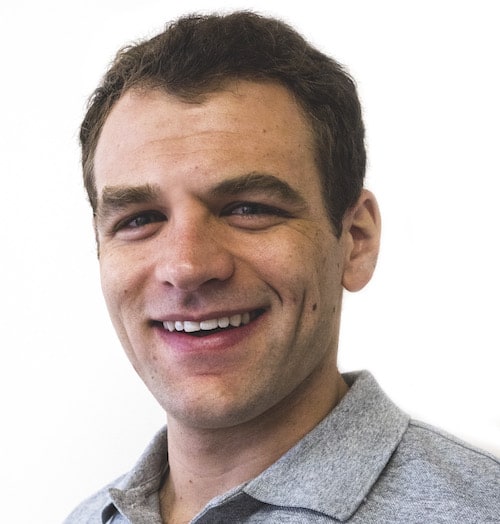 Logan Block
Logan is the former content director of Sleepopolis. As content director, he reviewed new mattresses every week and curated the comparisons, best of pages, and video guides on the site. Logan perfected his method by personally testing over 200 different mattresses, so he's not only able to discern the overall vibe of a specific bed, but to contextualize its feel within the bed-in-a-box market as a whole.