How do I clean lounge pants?
After a long day or at the end of a long week, there is nothing better than slipping into comfortable lounge pants. Lounge pants are typically very soft pants that aren't as thick as sweatpants and more casual than proper pajamas. They help signal to the wearer and his family members that it is time to relax and get comfortable.
Although many lounge pants may have a similar look, there are subtle differences in how they are styled that may make one a better fit than another. Aside from the physical shape of the lounge pants, the material, cut, and designs vary from brand to brand as well. We have identified our favorites right now; read on to find out what they are!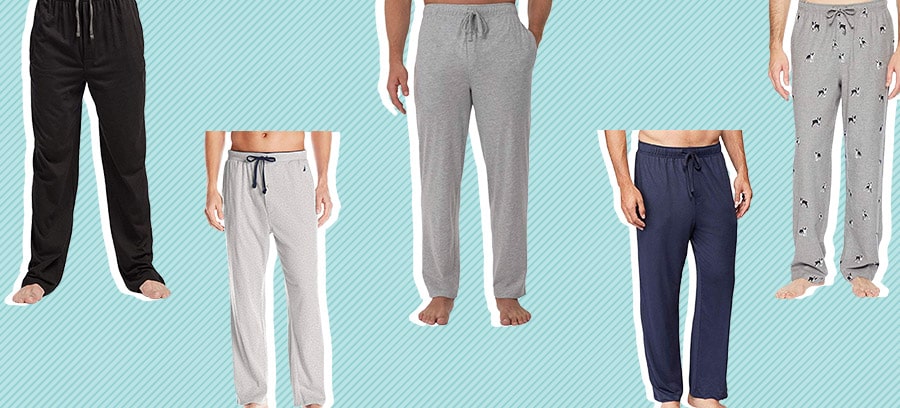 Editor's Choice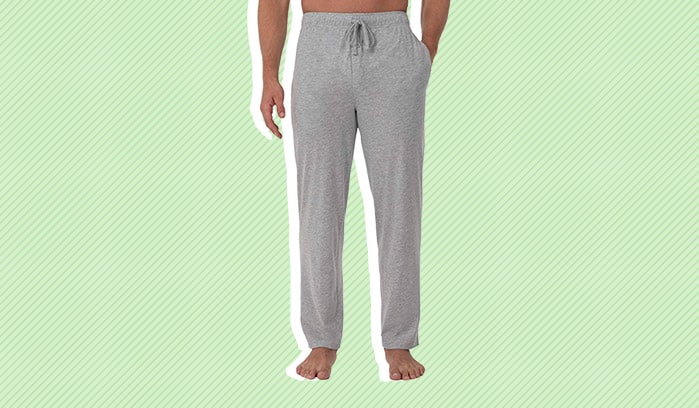 Fruit of the Loom Men's Jersey Knit Sleep Pant
Pros:
Extended sizes. This line of pants comes in a very large range of sizes. They are available from small up to 6 XL.
Camo. These sleep pants come in a nice variety of colors and patterns, but the camo pants stand out. These are unique and can be a fun addition to a wardrobe.
Tall sizes. Another nice part of these pants' sizing is that many sizes are additionally also available in tall (T) sizes. This might be nice for some people who have trouble finding lounge pants that fit properly.
Cons:
Small pockets. While it is nice that these pants have pockets on both sides, they are a bit shallow. They won't hold much more than an item or two in them.
Rather thin. Though these pants are great for warmer climates or for those looking for a lightweight material, some may find that they prefer a thicker fabric.
Fruit of the Loom Men's Jersey Knit Sleep Pant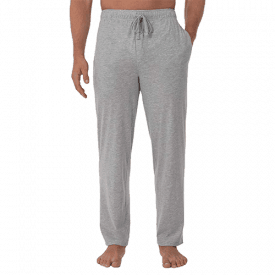 These lounge pants from Fruit of the Loom are made of 60% cotton and 40% polyester in a jersey knit style. They are available in several colors and in a wide range of sizes and shapes.
Sleepopolis Score
4.50 / 5
The Contender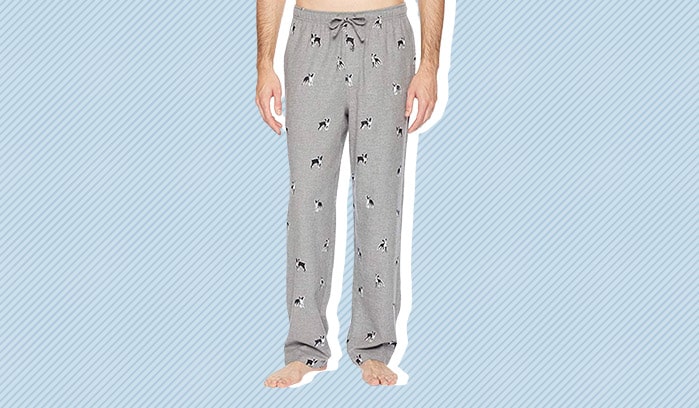 Amazon Essentials Men's Flannel Pajama Pant
Pros:
Fun designs. These pants are not only available in classic flannel designs, but also have some fun patterns to choose from. Cute dogs, polar bears, and penguins adorn solid color backgrounds.
Cotton. These pants are made out of 100% cotton. Some people find cotton to be more comfortable, especially as something that is slept in.
Soft. The flannel knit has a nice fuzzy feeling that makes the pants feel cozy. Great for wearing during winter and for holidays at home.
Cons:
Noticeable tag. Men may notice that they can feel the tag while sitting in certain positions. It can always be cut off.
No stretch. Some may prefer their lounge pants to be a bit stretchy, and these pants don't stretch much at all. 
Amazon Essentials Men's Flannel Pajama Pant
These flannel lounge pants are made out of a soft-textured cotton knit. There are several different patterns and designs that these comfortable pants are available in.
Sleepopolis Score
3.00 / 5
Best Slim Fit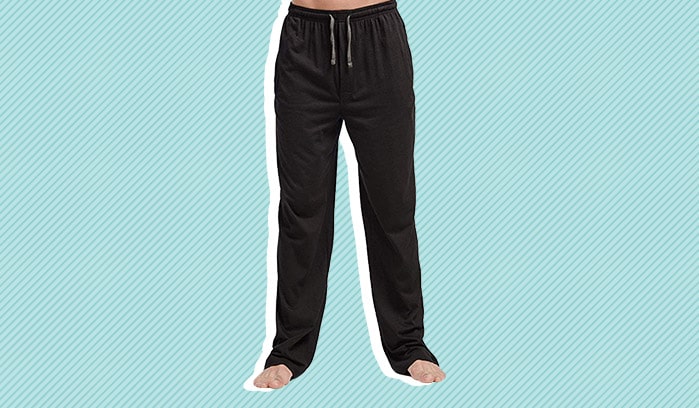 CYZ Men's Cotton Jersey Knit Lounge Pants
Pros:
Nice elastic. The elastic band on these lounge pants have a nice thickness and are relatively wide when compared to some other lounge pants. This should make the elastic stay taut for longer.
Well-shaped pockets. These lounge pants not only have pockets that have a good amount of storage capacity, but they are cut in a way that makes it comfortable to rest one's hands in them.
Slim fit. While some lounge pants have a baggy shape, these hug tighter to the legs. This is great for those who prefer that style or simply have a slighter frame.
Cons:
Exposed waistband. The waistband is not encased in fabric on the interior side and exposes the skin to elastic. This can feel irritating if the waistband is too tight.
Shape. Some may find that the pants fit a little tight in the buttocks. It may be advised to get a larger size if a baggier fit is desired.
CYZ Men's Cotton Jersey Knit Lounge Pants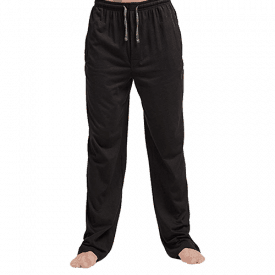 These cotton lounge pants have nice pockets, a sturdy waistband, and feature a snug fit. They can be found in several rich solid colors.
Sleepopolis Score
4.40 / 5
Best Colors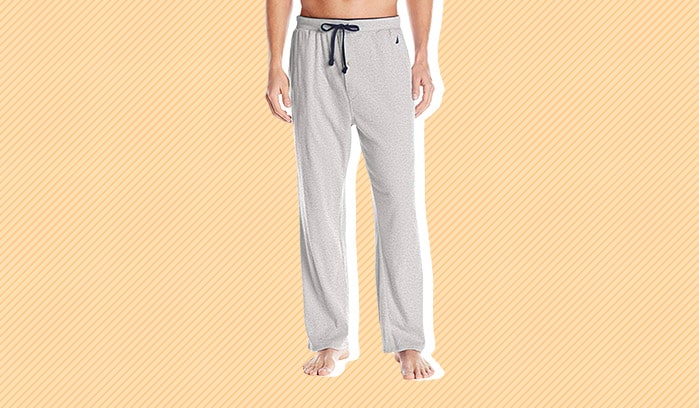 Nautica Men's Soft Knit Sleep Lounge Pant
Pros:
Encased waistband. The waistband of this line of pants is encased in cotton on both sides. This makes it comfortable even when pulled in tight.
Colors. These lounge pants are available in all of the classic colors one would expect of pajamas, but also in some unique blue shades as well. The edition with the series of sailboat logos is also handsome.
Lining. The detailed linings on these pants offer not only a nice shock of contrast, but also add some added durability to the fabric. The drawstring has a similar piping aesthetic.
Cons:
High waist. The waists on these pants tend to sit a bit high on the torso. Those who sag the pants may find that they are then too long.
Tight fit. These pants fit snug to the legs and may be in fact too tight for some people. It may be advised to go a size up if you are vacillating.
Nautica Men's Soft Knit Sleep Lounge Pant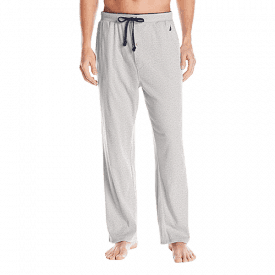 These lounge pants from Nautica are made of a soft cotton with a comfortable enclosed waistband and a well-made drawstring. The colors are quite vivid and pretty.
Sleepopolis Score
4.60 / 5
Best for Warm Weather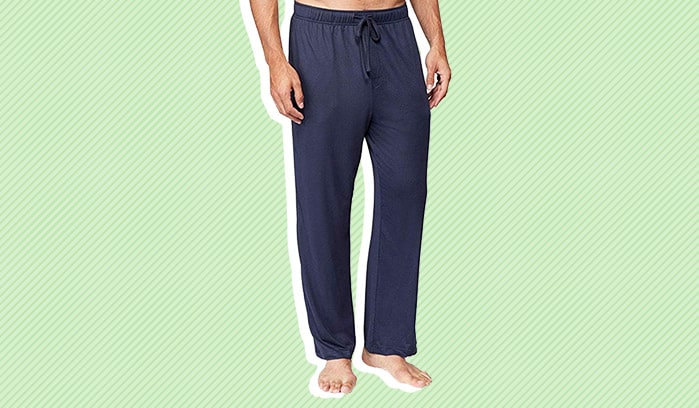 32 DEGREES Men's Cool Knit Wicking Lounge Pant
Pros:
No fly. This pair of lounge pants is great for those who don't want to worry about an unbuttoned fly, as there is no fly to become unbuttoned. This makes these pants akin to sweatpants.
Quick dry. The fabric these lounge pants are made out of are intended to dry quickly. This is great for hot climates and for those who sweat at night, as the pants don't absorb as much moisture as other lounge pants.
Stretchy. These pants are made out of polyester and spandex. This composition lends itself to being more stretchy than cotton.
Cons:
Baggy. These are some of the baggier lounge pants one may come across. Great for those looking for more room, but probably not for everyone.
Lack of color options. These pants are only available in three colors, which are all pretty subdued. Those looking for a bright color may need to look elsewhere.
32 Degrees Men's Cool Knit Wicking Lounge Pant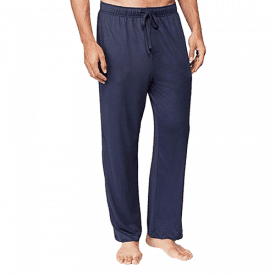 These moisture-wicking pants are made of a stretchy material that is soft, lightweight, and cool to the touch. They are made of a quick-drying fabric that is ideal for both warm and cold weather.
Sleepopolis Score
4.60 / 5
How We Picked
Lounge pants are supposed to be comfortable and easy to relax in. That's why there should be no reason to stress the decision on which pair to get. In order to make the decision-making a little easier, we have included an explanation of how we made our choices:
Fit
Lounge pants, as previously stated, should above all be comfortable for the person wearing them. That being said, people's idea of comfort may differ, especially when it comes to clothing. The first thing to decide is how snug you will want your pants.
Some people like to think of lounge pants as an extension of bed sheets; providing a soft cover but not very constraining. For these people it is best to find a baggy pair with a long inseam. Others may like the look and feel of tighter lounge pants. If a particular pair is not available in the desired fit, it is always an option to get a size bigger or smaller and make alterations.
Material
Lounge pants are usually made of one of a few different fabrics. Most common are probably cotton and polyester, though many pants will have some sort of blend. Pants that are 100% cotton will breathe well and definitely be soft.
Flannel pants can be made of various materials, though they are typically made of cotton. This weave tends to be softer than normal cotton knitting, as the fabric itself has been treated to make it softer. Polyester is durable and can be great at wicking moisture. When spandex is included it can provide some stretchiness as well.
Design
Some people may be getting lounge pants for use primarily at home, while sleeping, with family, and during festive holidays. Others, however, may want to wear the pants out to the post office, grocery shopping, on a jog, or to the movies. The style of the pants will probably vary between these two cases.
Flannels, fun designs, and colorful patterns may be too loud to wear out in public for some people. Additionally, this sort of style definitely doesn't hide that the pants are indeed lounge pants. Those looking for more subtle styles can find black or other neutral colors available.
Tips
Not sure which lounge pants are right for you? Take a look at some of our suggestions below:
What climate do you live in?

Some lounge pants are better equipped for colder climates and some are better for warmer climates – this is usually determined by the thickness of the fabric.

If you are a "hot" sleeper, look out for pants that allow circulation and with a thinly woven material.

Are these primarily for sleep or for more than that?

Those looking to wear these pants as all-around pieces of clothing should find a pair that doesn't have an exposed fly.

Pants that will only be worn at home can have fun and loud designs, with features like the pocket size and the cut of the fly not being as important.
FAQs
Are lounge pants adjustable?
Most lounge pants will have an adjustable drawstring that can be altered to make sure they fit right. The elastic waistband may be encased in fabric or exposed, however.
How do I clean lounge pants?
Lounge pants typically can be washed in the washing machine and dried in a dryer. It is important to look at the care instructions however; polyester may require a different type of cycle than cotton, for example.
What if I can't find a pair that fits perfectly?
Some brands will have "tall" or "plus" sizes that have different style cuts that can accommodate people of different shapes and sizes. Lounge pants should be easy to alter too if any hemming needs to happen.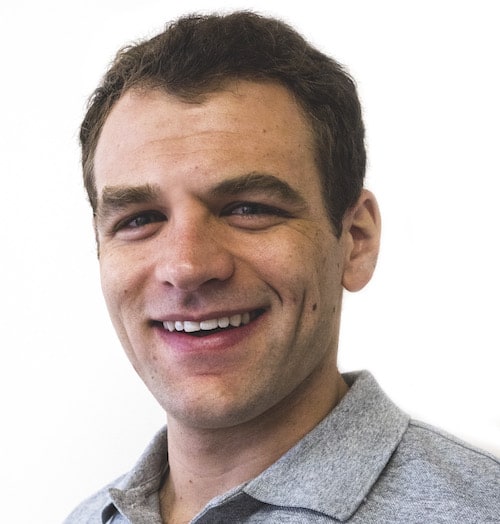 Logan Block
Logan is the former content director of Sleepopolis. As content director, he reviewed new mattresses every week and curated the comparisons, best of pages, and video guides on the site. Logan perfected his method by personally testing over 200 different mattresses, so he's not only able to discern the overall vibe of a specific bed, but to contextualize its feel within the bed-in-a-box market as a whole.