A great pair of pajamas can help you relax, get comfortable, and enjoy high-quality sleep. The only trouble is, when it comes to men's pajamas, there are approximately one bajillion options. So how can you narrow down your choices?
It helps to start by thinking about whether you have strong feelings when it comes to materials. For instance, do you want warm flannel pajamas, lightweight cotton ones, luxurious satin, or something else? Then, consider your functional needs: Is a button-down top a must? Are pockets essential? Finally, think about whether you want a matching set and if you have aesthetic preferences around colors, designs, and so on. Then check out our list to get started on your search.
Best Men's Pajamas 2023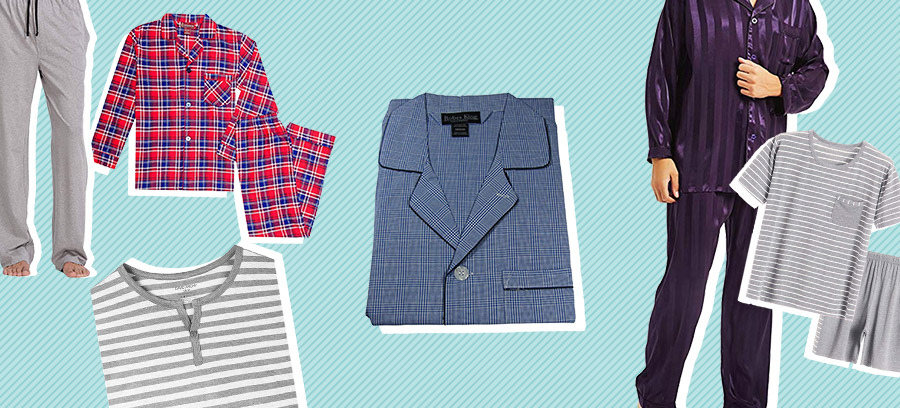 With this gift set of short pajamas, Dagsmejan goes above and beyond your typical PJs, bundling a balance sleep shirt with a pair of sleep shorts and sleep mask. Each garment is fitted, but not too tight, and is available in three muted yet evocative colors: balsam green, deep grey, and midnight blue.
Unlike many pajama sets, these are made with a proprietary material called NATTWELL. Woven with a blend of beechwood fibers and spandex, the fabric is a lot more breathable than cotton and designed to wick moisture. This should help keep you cool throughout the night.
You can nab these PJs in small to XXL sizes. For care, the shirt and shorts can be machine-washed, but the sleep mask should be washed by hand. It's recommended that you line dry the pajamas, rather than tumble dry.
Our full Dagsmejan Gift Set Short Pajamas review is coming soon. For now, you can check out our full Dagsmejan Pajama review for more information about Dagsmejan.
When it comes to pajamas (and mattresses), bamboo is a popular material because it's naturally breathable and moisture-wicking. This makes bamboo pajamas an excellent choice for the hotter months, or climates where it's warm all year around.
We think that one of the most stylish sets of bamboo pajamas out there comes from Cozy Earth, a company that lists responsibly sourced materials as part of their mission (bamboo fibers are naturally derived from the bamboo plant). Their Stretch Knight Jogger set includes a breezy shirt and pants that have a modern jogger fit, with cuffs that fit snugly around the ankles. The pants also include pockets in case you want to carry any belongings as you lounge around your home.
This jogger set comes in small to XXXL sizes and five different color schemes, including charcoal, heather grey, and olive. You can machine wash them on cold and machine dry them as well.
Our full Cozy Earth Men's Stretch Knit Bamboo Pajama Jogger review is coming soon. In the meantime, you can read our full Cozy Earth Long Sleeve Bamboo Pajamas review to learn more about the brand and bamboo as a material.
For anyone wanting a more traditional luxury feel, they should look at the Brooklinen Henry Pajama Set.
These are light blue, long-sleeved PJs with tidy buttons leading up to a clean collar, with dark navy piping along several of the seams and cuffs. You can also opt for fully striped pajamas with white buttons.
Regardless of color, you get pajamas made of very soft cotton, resulting in a plush and cozy feel. And thanks to the long sleeves and collar, they can also function as daywear around the house. Although the sizes range from extra small to XXL, availability depends on which color option you choose. Machine wash cold and tumble dry low.
Our full Brooklinen Henry Pajama Set review is coming soon.
Like many of Dagsmejan's other pajamas, their Sleep Tech Pants Cuff set is made with proprietary technology called NATTWELL. Thin, breathable, and stretchy, this fabric is made from beechwood fibers and spandex, resulting in a material designed to be six times more breathable and two times softer than cotton.
That makes this set — which consists of sleep pants and a long-sleeved sleep shirt — a good choice for anyone who's a hot sleeper. The material should feel lightweight and breathable to these folks. They can choose from a wide range of subtle colors, from deep grey to blue willow.
For size, these pajamas are available in small to XXL. You can machine wash, but don't tumble dry or dry clean.
Our full Dagsmejanv Nattwell Sleep Tech Pants Cuff review is coming soon.For more info on the brand, check out our full Dagsmejan Pajama review.
How We Picked
There are tons of men's pajamas out there, so filtering through all the options to settle on the best is a tall order. To guide our search, we focused on the following factors.
Aesthetics
There's a ton of variety when it comes to the look of men's pajamas, which can range wildly in terms of color, patterns, and overall aesthetics. (For instance, there's a big difference between a matched satin set and a beer-patterned onesie!) Because aesthetics are a matter of personal preference, we included pajamas in a ton of styles so you can choose accordingly.
Design
Different people prefer to lounge in different styles of sleepwear, so we included a lot of options. For instance, you might like a matched or unmatched top and bottom, long sleeves or short sleeves, shorts or pants, a onesie versus a set, and so on. There should be something for pretty much everyone on this list.
Functionality
We prioritized pajamas with thoughtful design features ranging from side pockets to functional flies, working buttons, adjustable waistbands, and so on. Some features might be more or less important to you, so you can choose what suits you best.
Materials
The materials used in a set of pajamas can influence their feel, breathability, and mobility. No material is inherently better than another; instead, it's largely a matter of personal preference. We included pajamas in a variety of materials — including cotton, flannel, satin, and polyester — so you can choose based on your preferences.
Weight
Depending on your climate or the time of year, you might prefer lightweight versus heavier PJs. We included pajamas in a variety of materials and lengths so you can find an option that will keep you comfortable when it comes to temperature regulation.
Sleepopolis Buying Tips
Trying to narrow down your search for the best men's pajamas? Ask yourself the following:
Do you want a set, or just bottoms? Determining whether you want a coordinated top and bottom or simply a pair of bottoms is a quick way to narrow your search.
What are your materials preferences? Different materials have different weights, hand feels, breathability, and so on. Deciding whether you prefer cotton, flannel, satin, polyester, or something else will shrink your options.
Do you have specific functional needs? For example, some guys won't consider bottoms that don't have a functional fly; others require pockets, and so on. If you have strong preferences on this front, that can help you know what to look for.
It can take some time to settle on the best men's pajamas for your needs. But once you do, it's totally worth it. A comfy set of pajamas makes lounging and sleeping that much better. So think about your preferences when it comes to design, materials, functionality, and so on, and get hunting!