Choosing the right nightstand for your bedroom can come down to several factors. Are you most concerned about price, or is it critical that you match your bedroom's decor and achieve a certain aesthetic? How much and what kind of storage space do you need? How will you use your nightstand every day (er, night)? The answers to these questions can help guide your search — and that's good news, because there are a ton of options out there!
As you start to investigate the world of nightstands, you'll discover that much of their variation comes down to the type of storage they allow for and their aesthetic. For instance, some nightstands feature open shelving, some include built-in drawers or cabinets, and some encourage the addition of fabric drawers. Then there's a range of options when it comes to design, including different materials, colors, shapes, sizes, and design influences (e.g. modern, traditional, minimalist, and so on). Feeling overwhelmed? Let's get you started on your search with our roundup of best nightstands.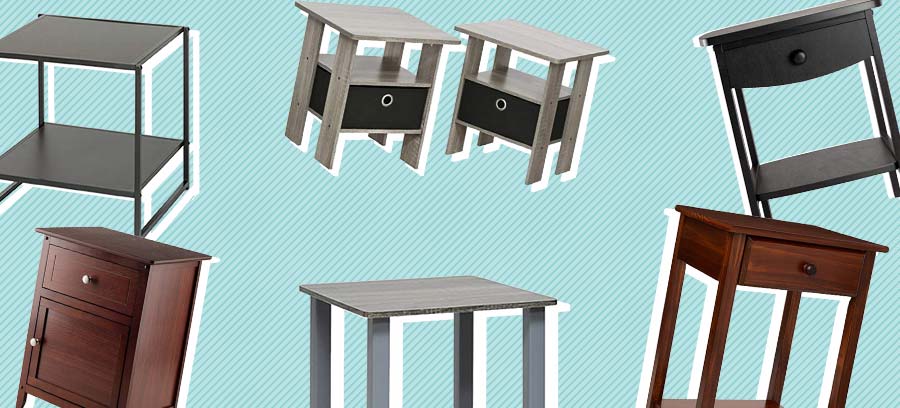 Editor's Choice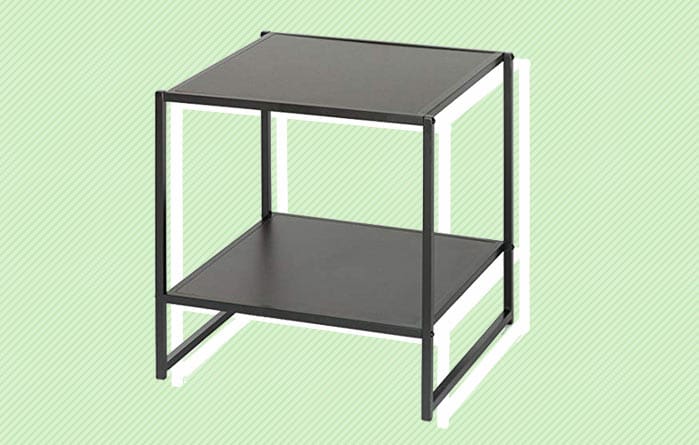 Zinus Dane Modern Studio Collection
Pros:
This nightstand's modern, minimalistic design features clean, sleek lines and an airy (not bulky) look.
The wide-open lower shelf features ample storage space, even for larger items such as books. You could also add a basket for more private storage.
The frame is made of steel tubing and can hold up to 100 pounds, making this nightstand sturdy and durable.
It's easy to clean and assemble.
Cons:
A set of these nightstands costs a little under $100, which might not be in everyone's budget.  
The nightstand is 20 inches wide and 20 inches deep, which might make it too large for smaller bedrooms.  
Zinus Dane Modern Studio Collection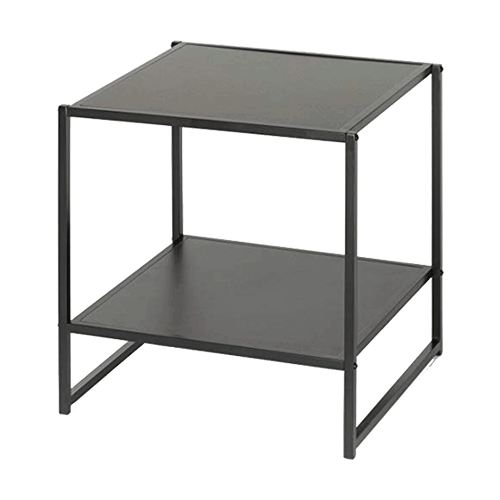 Modern finishings, ample space for storage and customization, and durable construction earn the Zinus Dane Modern Studio Collection nightstand its status as Editor's Choice. The airy design offers plenty of functionality without bogging down your sleep space with heavy furniture.
Sleepopolis Score
4.50 / 5
Contender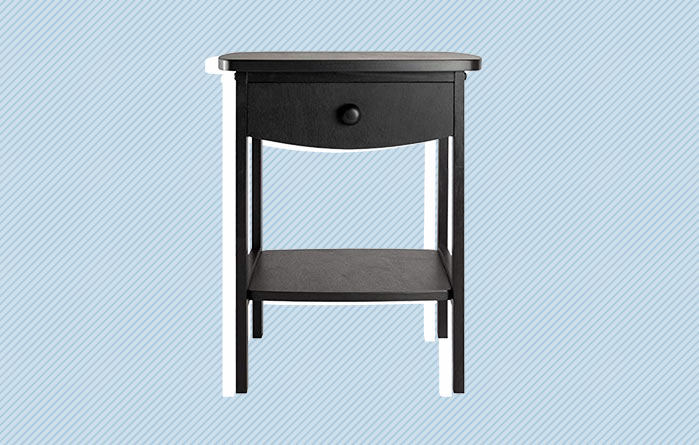 Winsome Wood Claire Accent Table
Pros:
The nightstand features an oversized tabletop, a bottom shelf, and a drawer so you can store a variety of items and stash private or unattractive items out of sight.
Assembly is fast and easy.
It's available in several colors (Black, Natural, Walnut, and White), so it's easy to tailor the aesthetic to your bedroom's color scheme.
Cons:
Some reviewers have noticed the finish color doesn't always match what you see on the web.  
The bottom shelf is not exceptionally sturdy, so it's not a great place to store heavy items. If you're keen to make this work, consider reinforcing the shelf with an extra piece of wood. 
Winsome Wood Claire Accent Table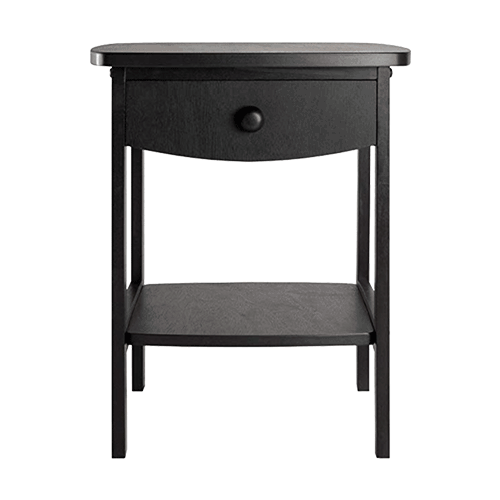 For those who care more about function than modern style, the Winsome Wood Claire nightstand features a traditional design, several storage options, and easy assembly for no-fuss bedroom organization. Choose from four different color options to ensure this nightstand matches your bedroom.
Sleepopolis Score
4.40 / 5
Best Bargain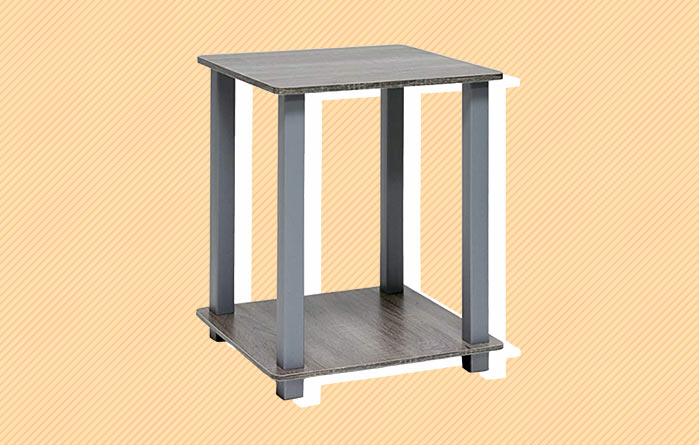 Furinno Simplistic End Tables
Pros:
A pair of these nightstands costs less than many single options, making them a pretty remarkable bargain.
Assembly is simple, fast, and requires very little equipment.
Even though these aren't made from the most durable materials (see cons), they're surprisingly stable.
Rounded edges make bumps in the night less painful.
Cons:
You get what you pay for: Fairly cheap construction (e.g. the legs are made out of PVC plastic) means these may not be the longest-lasting nightstands. 
While the instructions say that assembly is tool-free, it may be challenging to insert the dowels without a rubber mallet or similar tool.  
Furinno Simplistic End Tables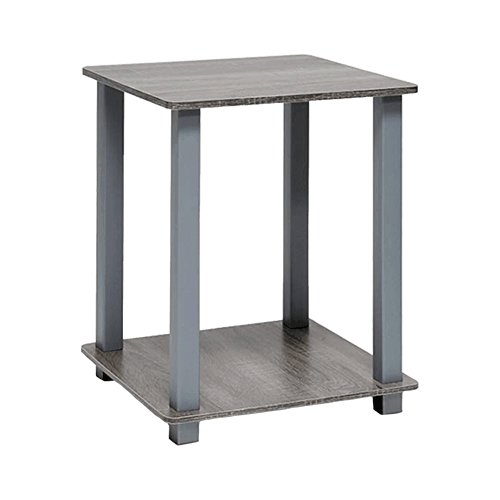 If you're looking for functional nightstands at a shockingly low price point, then you'll find what you need in the Furinno Simplistic nightstands. This set of two promises fast assembly and no-fuss design for a fast and budget-friendly bedroom storage solution.
Sleepopolis Score
4.30 / 5
Best for Small Spaces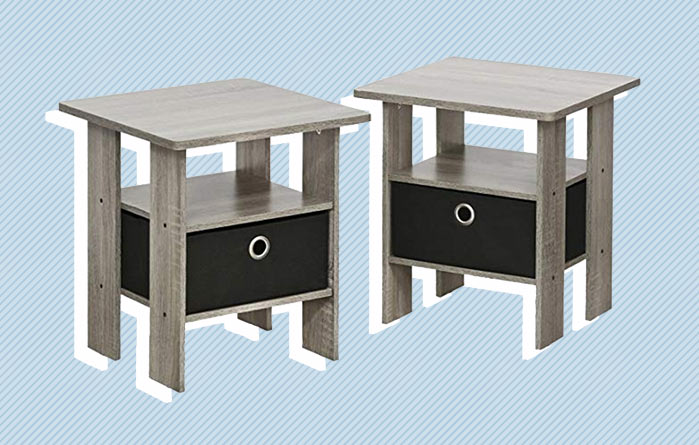 Furinno Petite Night Stand
Pros:
These are smaller than most other nightstands, which makes them ideal for tiny living spaces. (Dimensions are 15.75 inches wide, 15.75 inches deep, and 17.5 inches high.)
They're sold in a set of two, which makes these a great value.
Each table features an oversized tabletop, a shelf, and another shelf with a removable fabric drawer, which provides a variety of storage options.
The composite wood that forms the bulk of these tables is made from recycled materials.
Cons:
The nightstands' small size probably won't appeal to people who are looking for nightstands that match the height of their bed (with some exceptions depending on the bed frame in question).
Because they can only hold around 15 pounds, these aren't the sturdiest option. 
Furinno Petite Night Stand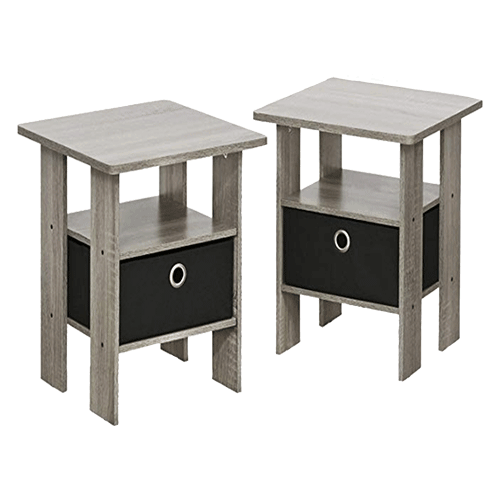 If you're short on space, this petite nightstand should deliver adequate storage without taking over your bedroom. Customizable storage options provide plenty of function in a small frame.
Sleepopolis Score
4.10 / 5
Best Enclosed Design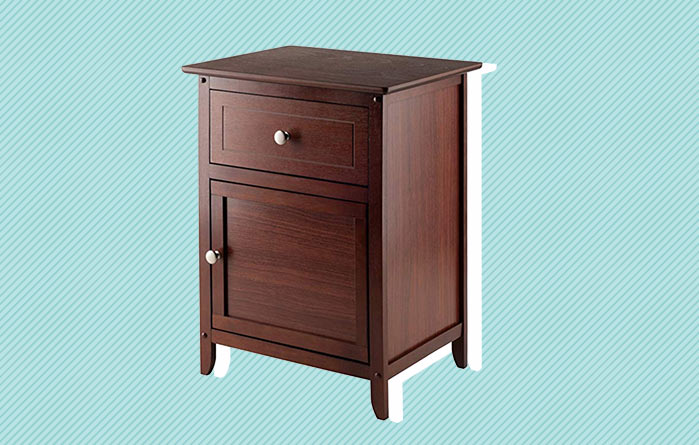 Winsome Wood Eugene Accent Table
Pros:
Fully enclosed storage (featuring a drawer and cabinet) is perfect for anyone who wants to maintain a tidy appearance and doesn't want to broadcast their "stuff" to the world.
At 25 inches high, this nightstand should be tall enough to match the height of most beds.
Fairly durable construction should make these longer-lasting nightstands.
A variety of color options make it easy to tailor the nightstand to your bedroom's color scheme. (Choose from Espresso, Natural, or Walnut.)
Cons:
Assembly is slightly involved and may take up to 45 minutes. 
The fully enclosed design makes for a fairly "heavy" appearance, so this nightstand could make a small space feel even smaller. 
Winsome Wood Eugene Accent Table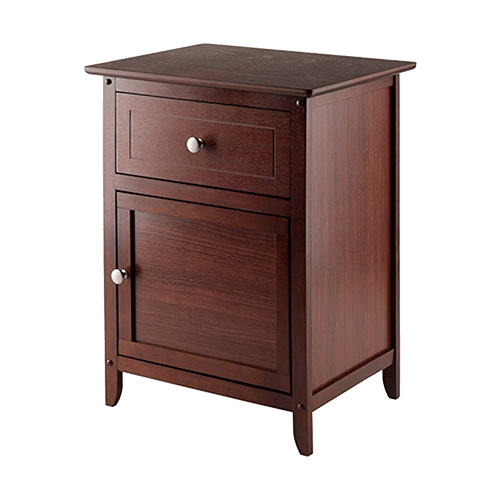 Hide your mess (and maintain your privacy) with the Winsome Wood Eugene nightstand, which features both a drawer and a cabinet to keep your personal items out of sight. The classic look and relatively tall height should pair well with many a bed frame.
Sleepopolis Score
4.10 / 5
Best Multipurpose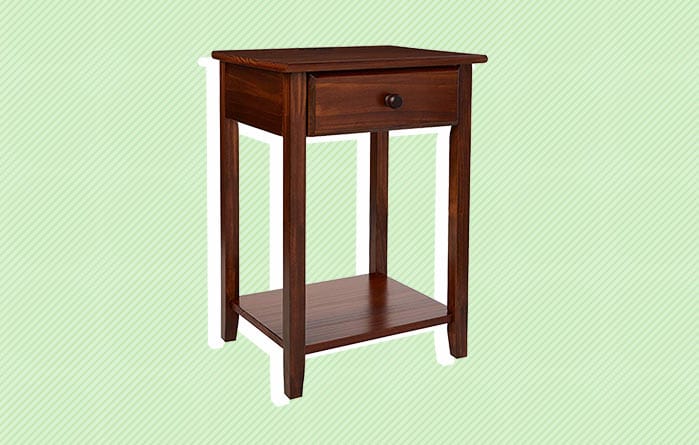 Casual Home Night Owl Nightstand with USB Ports
Pros:
Four built-in USB charging ports make it easy to recharge phones, tablets, and other small electronics with only a single wall outlet.
An oversized tabletop, drawer, and open lower shelf provide a variety of storage options and let you stash private items out of sight.
Primarily solid wood construction makes this nightstand sturdy and durable.
At 14.25 inches wide, this is relatively narrow and should fit into smaller spaces with ease.
Cons:
Assembly can be a little involved, and some reviewers have noted design errors that make it challenging to line up holes with dowels.   
Because the drawer bottom is not made from solid wood, it may not be useful for storing heavier items. 
Casual Home Night Owl Nightstand with USB Ports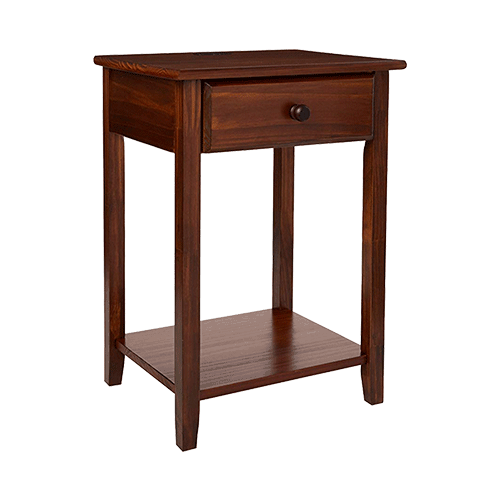 Nightstands merge with 21st-century technology in the Casual Home Night Owl, which features four USB charging ports for small electronics. The nightstand's small stature, four color options, and durable construction make it a versatile, long-lasting option.
Sleepopolis Score
4.50 / 5
How We Picked
Everyone's bedroom is different, and people may have different intended uses for a nightstand. So we selected a variety of options to appeal to a range of tastes and needs. Here are some of the key features we took into account while developing this list.
Aesthetics
This is purely a matter of personal preference, but it's important to consider whether you like the look of a nightstand. Also consider whether the nightstand matches the other decor in your bedroom (including your bed frame, chairs, art, and so on), both in terms of color and design.
Cost
This is a factor when you're buying any kind of bedroom furniture, and nightstands are no exception. Because most of us aren't millionaires, we tried to keep all of these options under the $100 mark — and most of the options on this list cost well below that.
Of course, when it comes to cost, you often get what you pay for. The bargain options on this list are likely to feature cheaper materials and slightly less sturdy or long-lasting construction. But that may be a worthwhile tradeoff if you've got a tight budget.
Functionality and Materials
We've grouped these factors together because they're often related to each other. For example, a solid wood construction is going to be sturdier than composite wood, which means a solid wood nightstand will be able to hold heavier items — and that could be an important piece of the functionality you need from a nightstand (or not).
Similarly, materials can have a big impact on a nightstand's longevity. If you need a nightstand for short-term use or you're hoping it will keep functioning well for a long time, that can determine the right materials for your needs.
Beyond materials, functionality could also refer to the type of storage available. For instance, some nightstands feature a drawer and shelving, while others only have open shelves. You might prefer one or the other depending on what you're planning to store in or on the nightstand.
Then there are more specialized functions, such as the built-in USB ports found in the Casual Home Night Owl Nightstand. Depending on your needs, extra functionalities like this one may be more or less appealing.
Size
Every bedroom has different space constraints (or lack thereof). It's important to consider how much room there is beside your bed and where you want the nightstand to line up with your bed frame. Make sure the nightstand's width, height, and depth will fit your bedroom appropriately before paying to ship anything to your home.
Sleepopolis Buying Tips
Before purchasing a new nightstand, keep the following in mind:
What do you need to store? This will help you determine whether you want a drawer, shelving, or both. It will also help you rule out options based on their weight capacity: If you plan to store heavy items, for example, then you'll need to look for a nightstand with sturdy construction.
What are your size constraints? Your bedroom's size and layout will dictate the nightstand sizes available to you. For example, if you're trying to squeeze a nightstand into a narrow space, that will rule out wider options.
What's your aesthetic? Are you looking for something with a classic design, or do you prefer a modern or minimalist look? While looks aren't everything, they're still important. After all, you'll look at your new nightstand every day for the foreseeable future!
There are a ton of decent nightstands out there for every taste and budget. To find the right one for you, it's important to consider aesthetics, cost, functionality, materials, and size. By taking these factors into account, you'll narrow down your search and increase your odds of finding the perfect nightstand for your needs.