Many people have some level of difficulty falling asleep from night to night. Some will try different sleeping aids, such as noise machines, sleep masks, and even certain medications. One of the more popular sleep aids that is becoming a much more common trend is sleeping lotions. These tend to use naturally-derived ingredients to not only aid you in falling asleep peacefully, but also to refresh your skin overnight.
The ability to wake up rested and not feeling dry and tired can be a game changer. With such immense potential to help your sleeping routine, this is a purchase where you should consider many of the top brands out there, because they all work in different ways. By testing out the leading companies, we have found out what might work best for you. Here is what we found: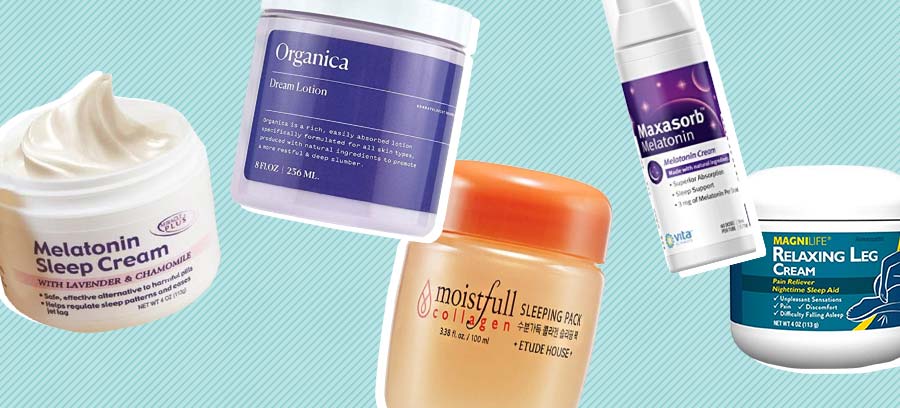 Editor's Choice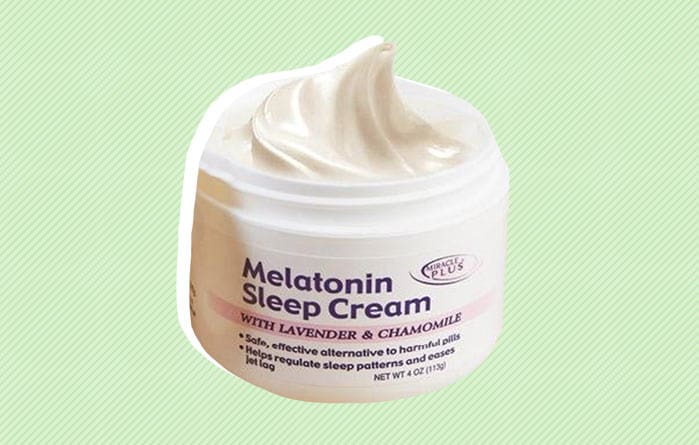 Concept Laboratories Melatonin Sleep Night Cream With Lavender & Chamomile
Pros:
Lavender & Chamomile. These two flowers can help you fall asleep in differing ways. Lavender can help lower your heartbeat and relax your muscles, slowing down your brain into a more restful state. Chamomile has an antioxidant called apigenin that can decrease anxiety, thus inducing a state more conducive for sleep.
Melatonin. This hormone is naturally produced by the body, but it has decreased output as we age. Using a cream such as this offering by Concept Laboratory is meant to replicate this natural process. Perfect for those who have found their sleep habits have worsened over time.
Fragrance. The pleasant smell of this product stands out right away. Though not instrumental in helping you fall asleep, the nice aroma makes you want to use it night after night for the comfort the fragrance it in itself provides.
Cons:
Preparation. You will need to be prepared to apply this cream about 30-45 minutes before going to bed for maximum effect. Though not a dealbreaker, some users may chafe at the advance notice needed. This reviewer often doesn't have that much time to prepare for sleep after a long day.
Not everyone reacts well to melatonin. Most users will find this cream pleasant, but for a small minority of customers, the cream may cause an adverse reaction, such as a slight headache. If you have a melatonin sensitivity, this may not be the product for you.
Concept Laboratories Melatonin Sleep Night Cream With Lavender & Chamomile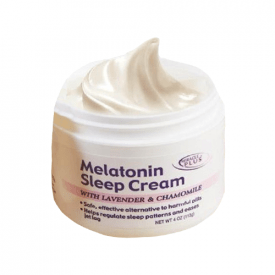 This product from Concept Laboratories, their Melatonin Sleep Night Cream, is supported with naturally derived ingredients that have properties that aid in sleep, such as lavender and chamomile. Melatonin is a hormone that is already produced in humans, so this cream can help you fall asleep in a relaxing and aromatic fashion.
Sleepopolis Score
4.20 / 5
Contender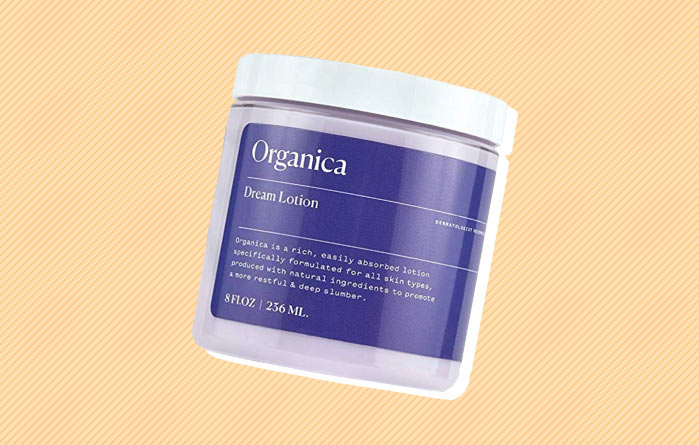 Organica Dream Lotion Moisturizing Lavender Sleep Cream
Pros:
Oatmeal infusion. One of the more impactful ingredients in this formula from Organica is the oatmeal infusion. Oats are a rich natural source of melatonin, which is a sleep hormone naturally occurring in the body.
Moisturizing. With ingredients such as cocoa butter and almond butter, this cream is an effective moisturizer for not just your face, but other areas of skin on your body as well. Perfect for those looking for a cool soothing sleep aid that doubles as a moisturizer.
Big jar. While most of the competitors make jars that have 4 oz or less of sleep lotion or cream, Organica's Dream Lotion comes in an 8 oz jar. This can be quite convenient as it delays that sad night when you are scraping from the bottom of the bottom of the jar for more cream!
Cons:
Price. Though the jar has a hefty amount of product, customers might be turned away by the nearly $35 price point. If you aren't too concerned about that amount of cash, or if you simply are looking for a calming moisturizer, then this shouldn't be enough to dissuade you from making a purchase.
May not be best for pregnant women. This product contains an ingredient called Clary Sage Oil (otherwise known as Salvia Sclarea). Clary Sage Oil can induce contractions in the uterus, so customers who are pregnant or are in the process of family planning should pay heed.
Organica Dream Lotion Moisturizing Lavender Sleep Cream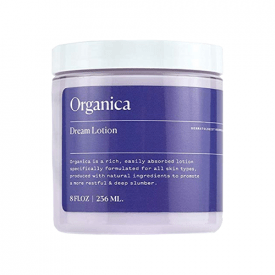 Organica's Dream Lotion uses a cocktail of natural ingredients to both aid your sleep and to moisturize your skin overnight. The blend of lavender, cedarwood, bergamot, cocoa butter, almond butter, and an oatmeal infusion utilizes properties of each of these ingredients into a formula that will keep your skin feeling refreshed and help your mind relax.
Best Bargain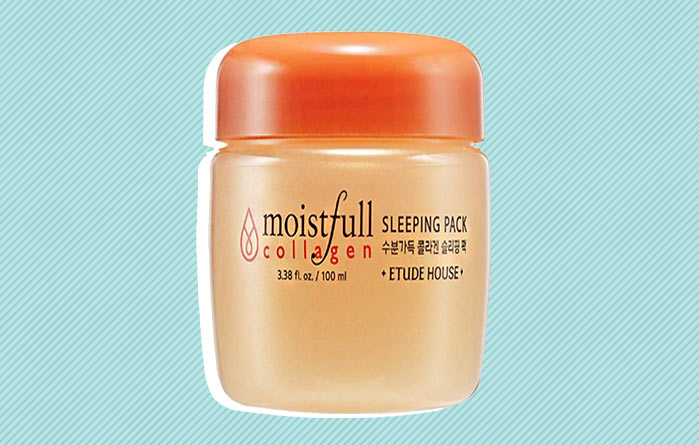 Etude House Moistfull Collagen Sleeping Pack
Pros:
Baobab water. While most people probably have never heard of baobab water, it is about time you do! Baobab trees are indigenous to Africa, Australia, and the Arabian peninsula. They have a rather hollow trunk and at any time are filled with up to 75 percent water. Baobab water is considered a superfood with many potential wide-reaching health benefits.
Collagen water. The formula that this product uses is specially designed to use super small portions of collagen particles. Collagen is a naturally occurring protein that has a sturdy molecular structure that is conducive to protection. For those that enjoy using collagen as a skin protectant, this product is a great addition to your bathroom vanity.
Value. Thankfully this offering from Etude House can be purchased for less than $12. Considering its worth as a skin protectant, the fact that it also aids in sleep makes it a slam dunk purchase.
Cons:
Might be too oily. What makes this product super moisturizing for some may actually be too much for others. Some people may have a feeling of oily skin after using. If you already have oily skin, this may not be right for you.
Can stick to pillow. Due to the gel-like consistency, if you don't put it on with enough time before actually putting your head down on the pillow for the night, you risk the product sticking to the pillow.
Etude House Moistfull Collagen Sleeping Pack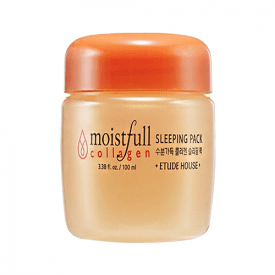 Etude House's Collagen Sleeping cream utilizes collagen and baobab water from the baobab tree to create a protective layer over your skin that both aids in sleep and improves skin health overnight. Faces using this product will feel refreshed, moist, and have a layer of protection against dryness.
Sleepopolis Score
4.40 / 5
Best for Restless Sleepers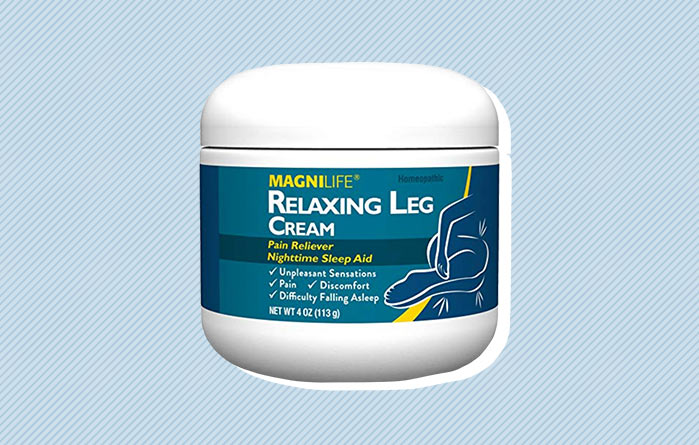 MagniLife Relaxing Leg Calming Cream
Pros:
Fast absorbing. One of this reviewer's favorite qualities of this product from MagniLife is the ease and quickness with which this product is absorbed into the skin. It does not feel oily like some of the competitors on the market.
Good for sensitive skin. This product uses a combination of minerals, vitamins, and other natural ingredients that were chosen for their mild qualities when coming into contact with human skin. These are Aloe, Sage, Lavender, Vitamin A, & Vitamin E.
Restless leg syndrome. Some sleepers just can't catch a break – even when their mind is seemingly at ease their legs pick up the slack and will cause sleep disruption. This product is meant to applied directly to the legs in order to let the vitamins and minerals in the cream help calm the legs quickly.
Cons:
Need to apply twice a day. While this lotion is meant to help during the nighttime restlessness, it is recommended to apply twice a day. People with busy schedules may not remember or have time to do this twice a day.
Doesn't work for everyone. Many users will be satisfied with the results when using this Leg Cream, but some people may not see enough relief with this topical ointment.
MagniLife Relaxing Leg Calming Cream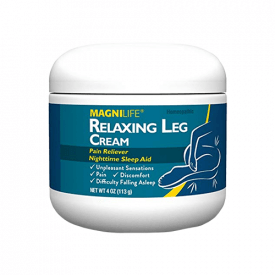 This sleeping lotion is designed specifically for those who have restless or jittery legs during the night that prevent you from relaxing or getting into a comfortable position. The natural ingredients and the fragrance of lavender are especially cooling, relaxing, and fragrant.
Sleepopolis Score
4.20 / 5
Easiest to Use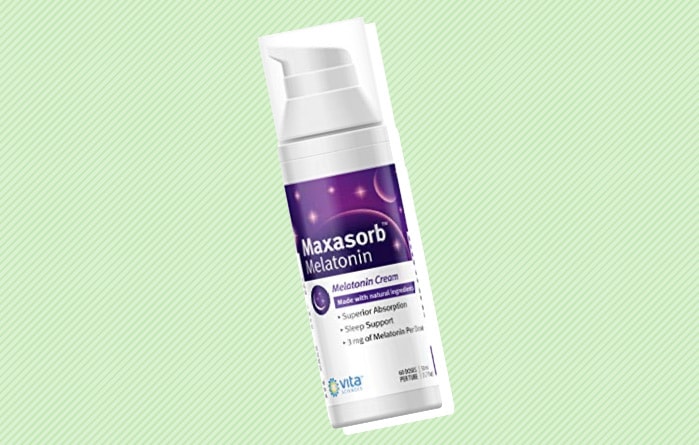 Vita Sciences Maxasorb Melatonin Sleep Cream
Pros:
Easy-to-use pump. In contrast to other cream-based products that aid in sleep, when you use the Maxasorb Melatonin cream you will not need to use your fingers to get the cream out of the jar. Simply press the pump and you can apply the cream to the area you would like to apply it to, or upon the tip of your fingers for application elsewhere.
Exact dosage. Rather than having to figure out a proper dosage of sleep cream each use, you can utilize the pump on the top of the bottle to release about 3 mg of melatonin. This is perfect for those who are using the product when tired or with specific sleep needs that may be affected by dose variation.
Odorless. While using several of the natural ingredients found in other products, such as aloe juice and coconut oil, this product promises an odorless experience.
Cons:
Don't use too much. This product is specially designed to be used per its directions, which is to use one pump per usage. Using two or more pumps may cause more drowsiness than is desired.
Price. Coming in at around $20 per bottle for 4 oz, this isn't the cheapest product on the market
Vita Sciences Maxasorb Melatonin Sleep Cream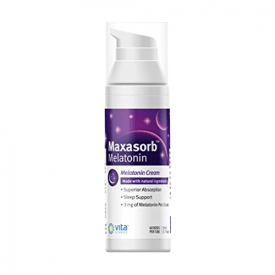 This lotion utilizes the effects of melatonin to aid the natural sleep process while coating your skin with a protective layer overnight. Each pump of the easy-to-use bottle contains around 3 mg of melatonin so application doesn't need to be a cumbersome affair.
Sleepopolis Score
3.90 / 5
How We Picked
Sleep lotions can be a welcome addition to any nightly bedtime routine. They can help aid you getting through a night of sleep, whether you have irregular sleep patterns, external distractions, or simply an active mind. These products all use different ingredients, often times with different main active ingredients that help the body fall and stay asleep with varying natural processes. Because of this variation between products, it is important to figure out how each sleep lotion might affect you, either in efficiency, how it is applied, or its effects on your skin. Here are the factors we weighed when determining our reviews of the top brands:
Skin Care
When looking to make a sleep lotion purchase, you will notice that some brands will promise anything from a protective cover to anti-aging and wrinkle relief. It is worth noting which ingredients are prevalent in each product and seeing if those ingredients really do aid in skin care. Most customers will be opting for sleep lotions to help with their slumbers, but for those who do not want to apply a separate lotion for skin care, it is a nice way to check off two boxes at once.
Fragrance
For products that will be used on you skin, and most likely come into contact with your hands and sometimes face, it is important for the lotion to be pleasant to apply. Some of the leading brands use natural ingredients derived from flowers, like lavender and chamomile. Others use ingredients with their own powerful aromas, like coconut oil and sage oil. While these ingredients are included for their sleep-aiding properties, if you have a proclivity to one smell over another, or no odor at all, it could drastically change the way you respond to a certain lotion.
Price
These aren't the most expensive purchase you will make this week, but when you are buying a bottle of sleep lotion or cream, you are making a small commitment to test it out before trying out the next one in line. If you are looking to get a top-of-the-market product, you may be setting yourself back a few '20's. Some brands are quite affordably priced, so you can use liberally without feeling the anxiety of going through an expensive bottle.
Ease of use
Most of the top brands in the marketplace are made up of jars with a screw-off top, from which you remove the product with the tip of your fingers and apply where you desire. While this is a common and somewhat convenient way of application, other brands use pumps to provide a more consistent dosage while sparing your fingers from getting totally creamed. The number of times a day and the timing of use (how many hours before sleep, for example) may deter some users who prefer a simple and straightforward application schedule.
Buying Tips
Not sure which sleep lotion is best for you? Here are some tips that will help guide your purchase.
Do you have any sensitivities? Many of the top brands on the market utilize natural ingredients, sometimes many natural ingredients, that both aid in sleep and will help faces stay moisturized and protected overnight. However, some users may not react well to specific ingredients, such as collagen or sage oil. Carefully read the ingredient list before making any purchase.
Do you know the cause of your nightly unrest? Several things can cause a poor night of sleep and there are products specially designed to treat some of them. If you have restless leg syndrome, for example, there are products out there that are made just for you. If you are of an advanced age, you may be suffering from a sight melatonin deficiency, so melatonin-based products might be the best choice available. Each product uses natural ingredients that can help in differing ways, so again, it is best to look up the ingredient list before purchasing.
Are you willing to experiment? These products, while literally working overnight, may not always work "over night". Users may need to try out the products for a time before noticing any change in their sleep patterns, both because of the vagaries of day-to-day exhaustion, and the difficulties of tracking sleep patterns. While some products come in at a rather expensive price point, others are quite affordable, and can be purchased with the knowledge that it may not be known right away if this product is right for you.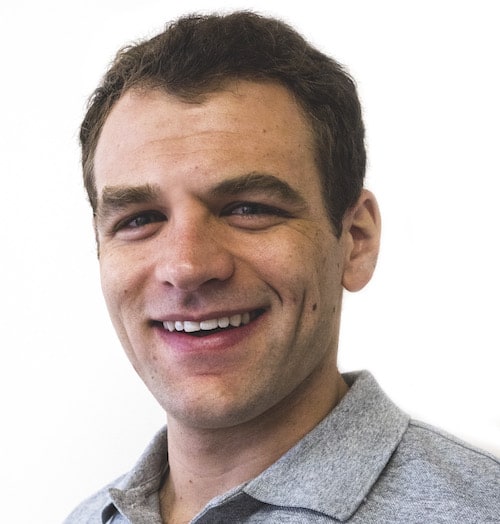 Logan Block
Logan is the former content director of Sleepopolis. As content director, he reviewed new mattresses every week and curated the comparisons, best of pages, and video guides on the site. Logan perfected his method by personally testing over 200 different mattresses, so he's not only able to discern the overall vibe of a specific bed, but to contextualize its feel within the bed-in-a-box market as a whole.