Hanging out at home calls for a warm, plush blanket or loungewear. Or, better yet, a snuggly combination of the two called a wearable blanket. If you haven't tried one for yourself, get ready to experience cuddly relaxation at its best. Folks who've always envied babies for their soft and snug onesies, your time has come. The onesie is all grown up and ready for cozy lounging.
Wearable blankets are available in a colorful array of designs and fabrics. Some cover both the arms and legs while others fit more like a plush, oversized robe. How do you find one you'll look forward to donning at the end of a long day? Read on. I've tested some fabulous wearable blankets in different styles and price ranges to help you find the perfect option.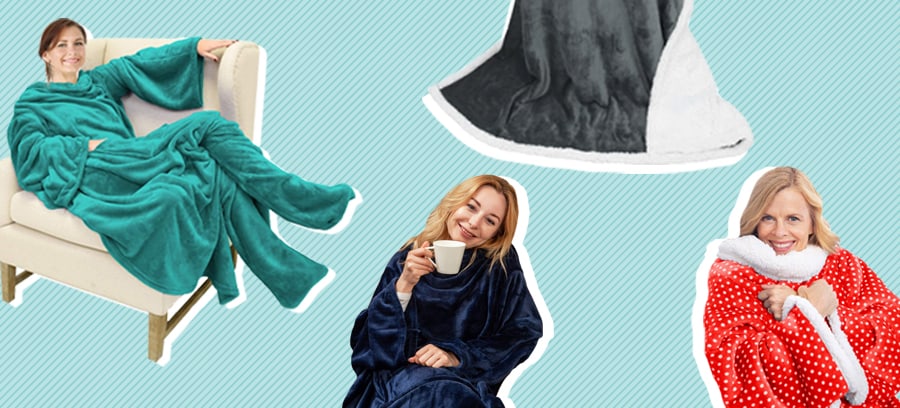 The CozyRosie Wearable Blanket with Sleeves is my choice for best overall quality, coziness, and value. This one-size-fits-all sherpa fleece wearable blanket is available in 2 colors, red rose and gold honey. The CozyRosie blanket features a button design for comfort and is machine washable.
Pros:
Design. The CozyRosie blanket's polka-dot design is cheery and colorful without being too splashy.
Fabric. The CozyRosie's sherpa fleece material felt warm and insulating on a cool night. Chilly temps are no match for this blanket.
Soft. The fleece facing has a velvety-smooth hand feel most traditional blankets would envy.
Cons:
Few color options. This blanket would be even better if it came in a few more colors.
Sheds. The CozyRosie blanket sheds quite a bit in the dryer on low heat. I'm hoping this improves with a few more washes.
The Softan Wearable Fleece Blanket is 79x 67 inches of plush, cozy comfort, and it's my top pick for design. This 100% polyester blanket comes in charcoal gray and navy and includes a 24 inch wide foot pouch. The Softan wearable fleece blanket can be machine washed in cold water and dried on low heat.
Pros:
Design. If you're on the hunt for a wearable blanket that keeps you warm from head to toe, look no further. The Softan blanket includes a spacious foot pocket that puts winter socks to shame.
Material. This blanket is cozy, comfortable, and offers just the right amount of warmth.
Durable. The Softan wearable blanket has held up to several weeks of use and washing without loose threads or torn seams.
Cons:
Large. The Softan model may be too large for folks who like to move around while wearing their blanket .
Heavy. If you usually prefer a lighter, more breathable fabric, this blanket may feel a bit heavy.
If you're in search of a great blanket that anyone can wear, take a look at the Tirrania Sherpa Wearable Blanket. This plushly textured blanket comes in 11 colors, all with a cozy sherpa fleece backing. The Tirrania wearable blanket is machine washable and can be tumble dried on a low setting.
Pros:
Colors. The solid colors and patterns are true to the pictures and include plentiful options, from zebra print to a rich chocolate brown.
Texture. The sherpa fleece backing felt cozy and cuddly to the touch.
Style. The monk's robe styling of this blanket made it feel particularly practical and easy to wear.
Cons:
Wrinkles. This blanket was a bit more wrinkled than I expected when it came out of the dryer.
Snags. The smooth fleece facing of the Tirrania blanket is easy to snag — take care when using around pets or children.
My nod for affordability goes to the Catalonia Wearable Fleece Blanket with Sleeves and Foot Pockets. This velvety blanket feels light and cuddly and includes a textured sherpa fleece backing. The Catalonia wearable fleece blanket is available in 14 all-fleece colors and 8 colors with sherpa fleece backing.
Pros:
Colors. The Catalonia wearable blanket comes in neutral colors and brights as well as 2 classic plaids.
Price. This wearable blanket is soft, comfy, and priced so well you'll want to stash one in every room in your home.
Fabric. The sherpa fleece backing felt plush on my skin and is still bright white and fluffy after several washes.
Cons:
Delicate. Time will tell if this blanket can withstand heavy use and washing, but it feels a touch fragile.
Scent. The Catalonia blanket smelled a bit strong coming out of the package. Folks who are sensitive to odors or chemicals may want to wash this blanket before using.
How I Picked
Choosing the top wearable blankets from all the great available options wasn't easy. I did it by examining some important metrics that helped me determine quality, value, and comfort. These metrics hold true no matter which wearable blanket you're considering, and can help you decide which one is right for you.
Material
The fabric used to make a wearable blanket determines how it feels against the skin, how warm it is, and how long it will last. Common wearable blanket fabrics include:
Fleece – Fleece is a fluffy fabric made from a form of polyester called polyethylene terephthalate, or PET. A common brand name for PET is Dacron. The density and warmth of fleece are similar to wool, though fleece doesn't typically cause the itching or skin irritation common with wool. Fleece generally costs less than wool and is known for its lightness and moisture absorption
Microfiber – Microfiber is made from fine strands of polyester and is known for its smooth feel and moisture-wicking properties. Microfiber wearable blankets are less breathable than those made from natural fibers and may not be the best choice for folks who overheat easily. Microfiber is often a less pricey wearable blanket material and one of the easiest to care for
Polyester – Polyester is used in wearable blankets as a primary material or part of a fabric blend. Polyester is a lightweight synthetic that often costs less than natural fibers such as cotton or bamboo. Other benefits of polyester include durability and resistance to wrinkling
Acrylic – Acrylic is a soft synthetic fabric similar to polyester. The hand-feel of acrylic is reminiscent of cashmere or fur, making it a popular material in bedding, throws, and blankets. Many blankets are made from acrylic for softness and polyester for durability and resistance to wrinkling
The material used to make wearable blankets may be light and similar to a light wrap, or thick and insulating like a true blanket. When choosing the material for a wearable blanket, decide which warmth level is best for you. Do you typically like heavier blankets you can bundle up in, or airier layers that don't make you too warm? How about feel? Are you a fan of fuzzy fleece or is smooth microfiber more your style? Let your usual bedding preferences be your guide when choosing the material for your wearable blanket.
Style
Wearable blankets are designed to cover the majority of the body in plush warmth. They typically come with either full leg and arm coverage or arm coverage and an open bottom. Full coverage wearable blankets have the cozy look of a baby's onesie.
The length of wearable blankets varies, as well. Some are similar in length to a long tunic or sweatshirt but are made of thicker and more insulating material. These wearable blankets are suitable to use outside or when traveling, and may be more comfortable to wear indoors if you tend to be mobile while at home.
Care
A wearable blanket is as much an item of clothing as it is a cozy insulation layer. This means that, like clothing, it needs to be washed and dried more often than the typical blanket. Most wearable blankets are made from machine washable synthetic materials that can be damaged by high temperatures. Manufacturers of wearable blankets usually recommend washing their products in cold water and drying them on low heat or an air-dry setting. Line drying can help your wearable blanket last longer by eliminating the wear and heat exposure that can occur during tumble drying.
Buying Tips
Still wavering between wearable blanket options? Consider these tips to help make the decision process easier:
Know how you'll use it – Will you use your wearable blanket regularly or just when the temperatures dip? Do you need an extra cozy layer only when watching TV or when you're moving around your house, as well? How you plan to use your wearable blanket will help determine which model is best for you
Check sizing – Most wearable blankets are designed for a loose, comfortable fit. Check the size guide to make sure you choose a blanket that won't feel too tight or too baggy
Read the fine print – Many wearable blankets can be returned or exchanged if they don't fit or the fabric doesn't suit your needs. Know the manufacturer's policy on returns and exchanges before you buy
Go for comfort – A wearable blanket is less about fashion and more about cozy warmth. Choose your new blanket with an eye toward the type of material and amount of body coverage you'll find most comfortable
Factor in budget – Most wearable blankets are made of synthetic materials that are not just cozy and easy to care for, but wallet-friendly. To find a warm and affordable wearable blanket, choose several options in your budget. Compare materials, styles, and customer reviews before choosing a great option that won't break the bank
Last Word From Sleepopolis
A wearable blanket can make unwinding at home even more relaxing. The right blanket can take the place of both a robe and traditional blanket, and keep you warm no matter where you like to lounge. When choosing a wearable blanket, go for fabrics and colors you love. If budget is key, look for a blanket that offers both coziness and value. And when your new wearable blanket arrives, enjoy the ability to be snug and comfortable anytime, anywhere in your home.