You've heard of weighted blankets, maybe even weighted eye masks or weighted robes, but what about weighted stuffed animals? These stuffed animals are just like your classic childhood teddy bear, but with a little extra heft to make them even more cozy and calming. If you're interested in picking up one of these heavy plushies, keep on reading. We've put together a list of some of the best weighted stuffed animals to help you choose the best one for you or your child.
Best Weighted Stuffed Animals 2023
Best Weighted Stuffed Animals Video
Expert Opinion
The Pillowfort Character Weighted Plush Throw pillow, perhaps better known as the TikTok-viral weighted dinosaur, is an adorable weighted plush from Target's Pillowfort brand. Made with soft velvety material and weighing about three pounds, this Internet famous dino is ultra cozy to snuggle up with. The weight provides a subtle but calming presence — kind of like cozying up with a cat or small dog. Plus, this plush is actually available as three other characters besides the green dino: a pink dinosaur, a unicorn, and a cheetah.
Who the Pillowfort Character Weighted Plush Throw Pillow Is Good For
Budget shoppers: Priced at just $20, I think this weighted stuffed animal is a great value deal.
Those who want a larger stuffed animal: While this plush weighs only about three pounds, it is larger than a "standard" stuffed animal (or at least many of the stuffed animals I grew up with). Its larger size may make for more even weight distribution and may be a better size for adults.
Shoppers looking for a cute plush: The four characters available in this style are downright adorable (in this writer's opinion) and offer a cutesy look many kids and adults might love.
Who Should Avoid the Pillowfort Character Weighted Plush Throw Pillow
Those who want a machine-washable stuffed animal: Unfortunately, this weighted plushie is spot-clean only.
Shoppers looking for special features: This weighted stuffed animal doesn't have any special features; it's a pretty basic plush aside from the weight.
For more information, check out our full review of this Target weighted plush.
Best Heatable – Warmies
Expert Opinion
Warmies are weighted stuffed animals that you can heat up in the microwave for an added warming and cozy vibe. These stuffed animals are filled with natural flaxseed grains and scented with French lavender. The exterior of the plushies is a soft faux fur that's ultra cuddly. The Warmies plushies weigh only about one and a half pounds, so they are considerably lighter than some other stuffed animals on this list. We tested the Warmies Gray Marshmallow Bear and thought it was not only adorable, but very cozy.
Who Warmies Are Good For
Shoppers looking for a specific animal: One of our favorite things about Warmies is the sheer variety of animal characters you can choose from. Warmies offers sloths, cows, manatees, penguins, seals, otters, meerkats, llamas, platypi, geese, cats, dogs, frogs, lobsters, and just about every other animal you can imagine. With so many different options, it's easy to pick out a favorite critter for you or your child.
Folks looking to relieve pain: Much like you might use a heat pad to relieve aches and pains, you can heat Warmies stuffed animals up to use for some mild pain relief.
Kids: The lighter weight of Warmies makes them a great option for kids of many ages.
Who Should Avoid Warmies
Those who value easy cleaning: Warmies cannot be machine washed and should never be submerged in water, so you'll have to carefully spot-clean this stuffed animal.
Folks looking for a heavier stuffed animal: A 1.5-pound plush may not be heavy enough to provide any calming effects to older kids or adults.
Learn more in our full Warmies review.
Expert Opinion
The Hugaroo Weighted Lap Puppy has a slightly different design than the other stuffed animals on this list. It's almost like a mini-weighted blanket in the shape of a dog — kind of like a Flat Stanley pup. That's what makes this stuffed animal stand out to us for calming; it functions more like a weighted blanket than a traditional stuffed animal — particularly for kids, since the stuffed animal will feel larger to them than it does to an adult.
The Hugaroo is made with polyester faux fur, which is soft and fluffy. Inside, it is weighted with plastic pellets. It weighs about three and a half pounds and extends about two feet long.
Who the Huggaroo Weighted Lap Puppy Is Good For
Those who value easy cleaning: This weighted puppy is completely machine washable! You can remove the weighted insert to just wash the outer part of the plush, or you can wash both the insert and outer cover.
Shoppers who want a heavier stuffed animal: This 3.6-pound plush is a little heavier than some others, although the blanket-like design does allow for a more even weight distribution.
Shoppers looking for a weighted blanket alternative for kids: If you're looking for an alternative to a weighted blanket for your child, this weighted lap puppy is much easier to transport and light enough to be suitable for many children, compared to most weighted blankets on the market (which are often too heavy for children).
Who Should Avoid the Huggaroo Weighted Lap Puppy
Those who prefer a more traditional look: If you prefer a classic stuffed animal look, this elongated and flattened dog may not appeal to you.
Budget shoppers: The Huggaroo Weighted Lap Puppy currently costs just about $60, making it a slightly more expensive option.
Expert Opinion
HUGIMALS is a weighted stuffed animal brand that's dedicated to helping everyone relieve anxiety and experience sensory benefits of weighted stuffed animals, no matter their age. The brand offers four weighted stuffed animals: Charlie the Puppy, Emory the Elephant, Sam the Sloth, and Darby the Bear.
We tested out Darby the Bear and immediately fell in love with just how adorable this teddy is. The outer cover of the plush is soft and fuzzy — it can also be removed to be machine washed. But what makes this plush stand out is its weight: four and a half pounds! That's the heaviest stuffed animal on this list, and the higher weight is definitely noticeable.
Who HUGIMALS Is Good For
Shoppers looking for a cute plush: With four adorable animal character options, you should be able to find a HUGIMAL animal that suits your taste.
Those who value easy cleaning: The exterior of HUGIMALS can be removed and washed to keep the plush clean.
Adults: If you're an adult looking for a weighted stuffed animal to use yourself, you may prefer the heavier weight of HUGIMALS.
Who Should Avoid HUGIMALS
Budget shoppers: Currently priced around $60, HUGIMALS are a slightly more expensive option.
Those who want a lighter stuffed animal: If a heavy weight isn't ideal for you or your child, HUGIMALS may not work for you, as they are only available in four and a half pound weight options.
Expert Opinion
While any of these stuffed animals are a great choice for kids (and let's be honest, they are primarily designed for children), the Sloth Heavy Hugger from Fun & Function is an especially good choice for kids. Fun & Function is a brand that offers a variety of calming toys and sensory-friendly products, including this Sloth Heavy Hugger. What makes this plush stand out is its long arms and legs, which feature snaps that allow you to make the stuffed animal into a backpack shape, so you can cuddle up with it on your front or back — hands free. There's even a small zippered compartment on the sloth's back where you can store small items.
Who the Fun & Function Sloth Heavy Hugger Is Good For
Those who want to take their weighted stuffed animal on-the-go: You or your child can easily bring this weighted sloth on the go, as it can be worn like a backpack and even function as a backpack for smaller items.
Shoppers looking for a heavier weighted stuffed animal: The Sloth Heavy Hugger weighs four pounds, although I felt the weight was evenly distributed across the sloth's body, arms, and legs.
Sloth lovers: If you or your child love sloths, this stuffed animal is sure to be a hit.
Who Should Avoid the Fun & Function Sloth Heavy Hugger
Those who value easy cleaning: The Sloth Heavy Hugger is a spot-clean only stuffed animal, so it isn't a good choice for those looking for something easily machine washable.
Shoppers looking for a variety of animal options: There aren't any other animal options besides a sloth available for this product.
What Are Weighted Stuffed Animals?
Weighted stuffed animals are basically what they sound like: a normal stuffed animal but heavier. They are generally filled with a weighted fill to make them heavy, such as plastic pellets, grains, or glass beads (much like a weighted blanket). Weighted stuffed animals are used for a variety of purposes, ranging from anxiety relief to sensory stimulation for children with sensory needs.
The idea behind weighted stuffed animals is essentially the same as weighted blankets and other weighted products: deep pressure therapy, a style of therapy that uses touch to calm the nervous system.
Benefits of Weighted Stuffed Animals
Benefits of weighted stuffed animals may vary from person to person, but the deep pressure stimulation they can provide may have similar benefits to those of weighted blankets:
Reduced stress and anxiety
Better sleep
A sense of calm and happiness
Improved school performance
Improved focus
Why might you choose a weighted stuffed animal instead of a weighted blanket? If you prefer cozying up with a stuffed animal over a heavy blanket or have a long history of sleeping with a stuffed animal, a weighted stuffed animal may be an obvious choice. Weighted stuffed animals may also be a better choice for those who feel claustrophobic under a weighted blanket. Additionally, children may prefer weighted stuffed animals over weighted blankets, as they can serve a similar function to regular stuffed animals or toys.
How to Choose a Weighted Stuffed Animal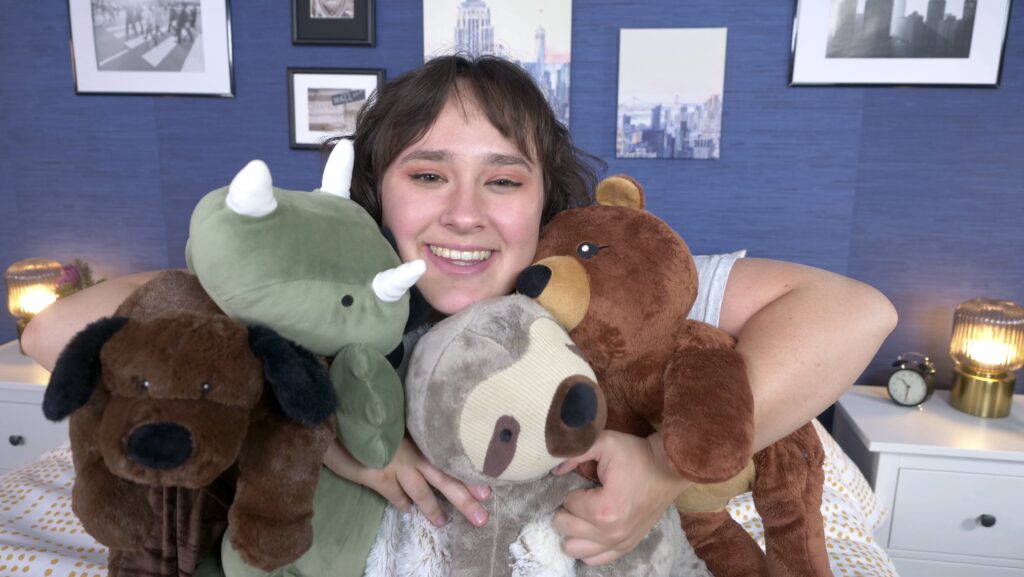 There are many options available for weighted stuffed animals, so let's go over a few considerations to keep in mind as you shop.
Size
Weighted stuffed animals are available in a variety of sizes. Take a look at the dimensions of the stuffed animal to get an idea of how large or small it is. Some people prefer a larger stuffed animal, as it may be easier to hug or hold onto. However, children may prefer smaller stuffed animals, as they are better suited for a child's size.
Weight
In addition to the dimensions of the stuffed animal, we recommend taking a look at how much it weighs. Most weighted stuffed animals weigh between one and five pounds, so they aren't generally extremely heavy. If you just want a light sensation of weight, one or two pounds may do the job. If you're looking for a more noticeable weight, three or four pounds is likely ideal.
If you are shopping for a child, keep in mind that children should not use a weighted product that is too heavy for them to lift on their own — and babies or young toddlers should never use weighted products due to risk of suffocation. We always recommend consulting your child's health care provider before giving them a weighted product to ensure safety.
Material
Stuffed animals are made with a variety of different materials. Some might be fluffy, fuzzy, velvety, or smooth. If you have a specific feel preference, take a look at the materials used for the exterior to ensure they fit your preferences.
Ease of Cleaning
One con for many weighted stuffed animals is being spot-clean only, meaning they cannot be machine washed or often even thoroughly hand washed. If you have allergies, are prone to messes, or prefer to machine wash items you sleep with, you may want to prioritize finding a weighted stuffed animal that can be washed in a washing machine.
Price
Weighted stuffed animals range in price, from about $20 to $70 in our experience. Price is often a determining factor for many shoppers, so keep your budget in mind.
FAQs
Are weighted stuffed animals worth it?

It depends! Some people find weighted stuffed animals very calming, but others may not care for them much. If you love cuddling with pets or using other weighted products, you will likely find some enjoyment or relaxation from weighted stuffed animals.
How many pounds should a weighted stuffed animal be?

Most weighted stuffed animals are about one to five pounds.
Should I get a weighted blanket or stuffed animal?

It depends on the sensation you are looking for. A weighted blanket will offer a weighted feeling across your entire body, which many people find cozy and comforting. With a weighted stuffed animal, you can cuddle with it like a regular stuffed animal for a slightly more concentrated effect.
Can you wash weighted stuffed animals?

Some weighted stuffed animals are machine washable, while others are hand wash only. Be sure to check the care instructions for your specific stuffed animal before washing.