You've probably heard of weighted blankets — they've exploded in popularity in the past few years and we've reviewed tons of them here at Sleepopolis. Maybe you've even heard of other weighted products, like a weighted robe or weighted eye mask. But what about weighted stuffed animals? 
Weighted stuffed animals seem to be the new "it" item in the overall category of Deep Pressure Stimulation or Deep Pressure Therapy products. Reports show searches for weighted stuffed animals in general have risen in the second half of 2022, but one weighted stuffed animal in particular has gone viral.
A green dinosaur stuffed animal from Pillowfort, Target's children's home decor brand, has taken hold on TikTok — and not just among the children it was originally designed for. The "TikTok-Famous Weighted Anxiety Dino" has gone out of stock after going viral on TikTok, according to Parents.com, after being popularized by influencers and TikTokers who purchased the stuffed animals for anxiety relief and comfort.
The little green guy certainly has made an impact, with now more than 24 million views under the search term "target weighted stuffed animal" on TikTok, so we knew we had to get our hands on this viral dino and test it out for ourselves. I spent the past week snuggling up each night with it and in this review, I'll go over my experience, as well as tell you a little more about this adorable stuffie.
What Is the Weighted Anxiety Dino?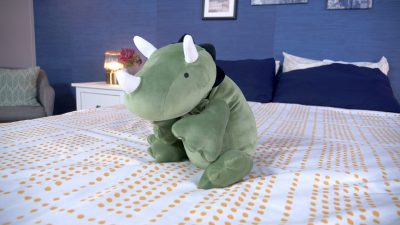 While there are a variety of weighted stuffed animals on the market, I tested the "Character Weighted Plush Throw Pillow" from Pillowfort at Target. This specific product is actually available as four different "characters": the green dinosaur, a pink dinosaur, a cheetah, and a unicorn. All four of these characters are downright adorable and while I was torn over which I liked the best, I knew I had to go with the green dinosaur to be accurate to this trend.

Who The Weighted Anxiety Dino Could Be Good For
Now that I've gone over some of the specifics about the dino, I'll offer some quick recommendations for who should try this stuffed animal out and who should skip it.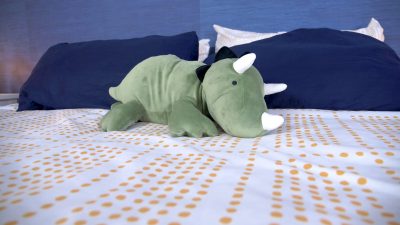 Who Should Try This Product
If you struggle with anxiety

, I think you might find this weighted dino calming. Anxiety is something I personally struggle with and I found it very comforting to cuddle up with this dino while going to sleep.

If you love stuffed animals

, this weighted dino is a natural fit for you. I've always been a stuffed animal fan (I used to sleep with approximately 50 stuffed animals on my bed as a kid), so I found snuggling up with this dino to feel natural and comfortable.

If you find cuddling with pets comforting but don't have one

, I think this weighted dino makes a good substitute for a real pet. I find snuggling up with my dog very calming, but I only get to see him when I'm at my parents' house, so a weighted stuffed animal provides a similarly cuddly experience.
Who Should Not Try This Product
If you're looking for all-over Deep Pressure Touch

, this weighted stuffed animal isn't large or heavy enough to provide that. I'd recommend a

weighted blanket

instead.

If stuffed animals aren't your jam

, there are some less childish options available, such as weighted pillows, weighted socks, or weighted hoodies.

If weighted products make you feel claustrophobic,

this may not be a good choice. While it didn't feel very heavy to me, extra weight of any amount can make some people feel uncomfortable.
How To Use the Weighted Anxiety Dino
How do you use this weighted anxiety dino? It's pretty simple — however you want! Personally, I held the stuffed animal close to my chest as I was sleeping, which is how I have always slept with stuffed animals since I was a child. However, you could cuddle up with this dinosaur stuffed animal in just about any way you find comfortable.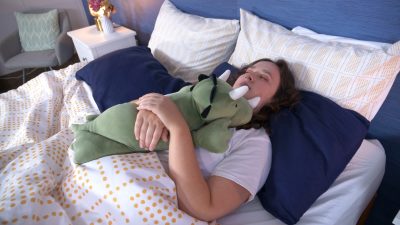 What the Weighted Anxiety Dino is Made Of
The dinosaur has a velvety soft exterior and is filled with polyester fiber fill and thermoplastic elastomer (TPE) pellets to give the stuffed animal its weight. It measures 24 inches by 7 inches — I would say it's about the size of a small cat.
It's also OEKO-TEX Standard 100 certified and designed to be sensory friendly. Take note, however, that this stuffed animal is spot-clean only.
My Experience Using the Weighted Anxiety Dino
As I mentioned before, I'm a big fan of stuffed animals. I'm also a fan of weighted blankets, so I was pretty excited to test out this weighted dino. I spent the past week sleeping with this weighted dinosaur stuffed animal and I ended up really loving it.
When I first received my weighted anxiety dinosaur, I immediately loved how it felt. The fabric used on this stuffed animal feels ultra-soft and velvety — exactly the kind of material I like to snuggle up with. I also noticed the stuffed animal was heavy enough for me to feel the difference between it and a normal stuffed animal, but not so heavy that it felt oppressive.
I wasn't surprised, primarily because this stuffed animal was designed for children and I am, in fact, a grown adult. It may feel a little heavier to kids, but I would say the weight level for me was less than most of the cats and small dogs that have laid on me before.
The first night I actually slept with the dinosaur, it felt really natural and cozy to snuggle up with it. I often like to hold a pillow, snuggle up into my blankets, or even cuddle with a stuffed animal (yes, as an adult) when I sleep, so this wasn't a big adjustment for me. I slept with the dinosaur against my chest with my arms wrapped around it, both on my back and on my side.
I didn't notice any big differences from night to night testing out this stuffed animal, but I definitely grew to love it more and more the longer I tested it. The subtle weight from the stuffed animal on my chest felt very calming and relaxing.
I frequently struggle with anxiety and getting caught in an anxious thought cycle at night can make falling asleep so difficult. I didn't have any extreme anxiety experiences at night as I was testing the dino out, but I definitely think I would find it comforting if I do in the future.
I also liked how convenient this stuffed animal is compared to a weighted blanket. While a weighted blanket can provide more of an all-over Deep Pressure Therapy, I sometimes find weighted blankets to be cumbersome and I don't generally like to sleep under one all night, so I appreciated being able to grab this little guy and cuddle up easily for a cozy, calming experience.
Price & Policies
Considering a weighted anxiety dino for yourself? Right now, you can purchase this stuffed animal from Target for $20. I ordered mine online, but I've also seen them in stores since then.
Final Thoughts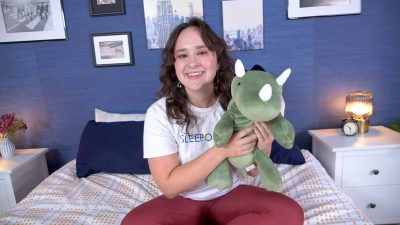 Overall, I loved my experience testing out this weighted anxiety dinosaur and I'll probably continue to sleep with it in the future, particularly on nights when I'm feeling anxious. I'm always a little skeptical when it comes to viral TikTok products — sometimes it seems like everyone gets caught up in the hype even if the product isn't that great — but I think this is a success for a TikTok-find. At only $20, this is a relatively affordable product that I think provides a lot of comfort and joy.
It's cozy, calming, and just downright adorable. What more can you ask for?
Other Products To Try