If you're looking for a blanket that'll keep you warm and relieve stress at the same time, the Helix Weighted Blanket might be the accessory for you. Filled with glass beads and covered in fuzzy fleece, this blanket lulls sleepers into a cozy state of calm by providing deep pressure touch. But how well does it actually work? You'll have to keep reading to find out!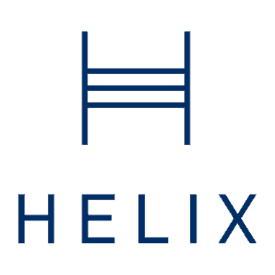 The Helix weighted blanket comes in 10 lbs, 15 lbs, and 20 lbs so you can find the right pressure to sooth yourself into a state of relaxation.
Brand Snapshot
Helix was founded in 2015 with an aim to design mattresses that meet the needs of every type of sleeper. In fact, the brand curated its own online "sleep quiz" in order to match each shopper with the bed that best suits their individual weights, sleep habits, and firmness preferences. And while mattress manufacturing is the main name of the game, Helix has since expanded its inventory to include sheets, pillows, and (most recently) weighted blankets.
We at Sleepopolis have already tested and compared quite a few Helix mattresses, but today we're focusing exclusively on the Helix Weighted Blanket! So follow along as I take you through everything you need to know about this sleep accessory.
What Is The Helix Weighted Blanket Made Of?
The Helix Weighted Blanket features a unique, two-sided cover fabric and an internal fill of glass beads. To see how this all comes together, let's dive deeper into the details of this blanket's design.
Materials: Microfiber, Fleece & Glass beads
The cover fabric of this blanket features a dual-sided design wherein one side is made of microfiber and the other is made of fleece. While both sides are crafted to be incredibly soft to the touch, they actually have distinctly different feels. In my experience, I found the fleece side to be warmer and fuzzier, while the microfiber feels smooth like velvet.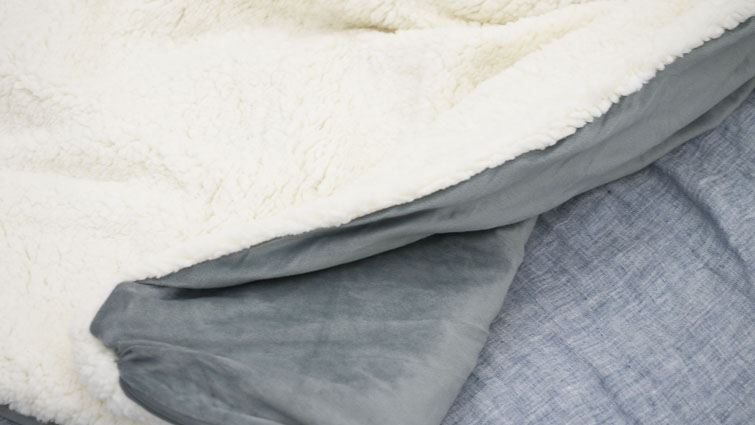 The cover is also removable and machine washable which makes caring for it pretty easy! Not to mention, a cover fabric is a great way to provide a little extra protection for the weighted portion of the blanket.
The weighted blanket itself is secured inside the cover with four clasps (which prevents it from shifting around) as is typically the case with weighted blankets. It's covered in 100% cotton, and filled with fine-grade glass beads. Now, some of you might be imagining a blanket filled with marbles, but "fine-grade" means the glass beads are super tiny and cannot be seen through the fabric.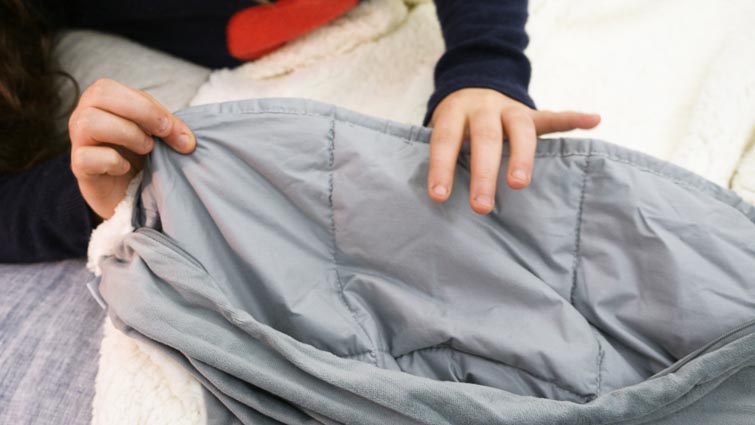 Additionally, the weighted portion of the blanket features gridded stitching, which keeps the beads locked inside their individual squares. This allows for an even distribution of pressure, and ensures that the beads are not concentrated into any one area.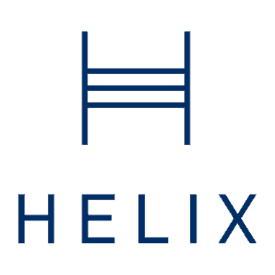 The Helix weighted blanket comes in 10 lbs, 15 lbs, and 20 lbs so you can find the right pressure to sooth yourself into a state of relaxation.
Weight Options: 10, 15, & 20 lbs
While weighted blankets typically range in weight from 15-25 lbs, the Helix is only offered in 10, 15, and 20 lb options. This might not be ideal for heavier sleepers, but petite folks who weigh under 150 lbs are probably going to be more compatible with these options. Remember — your weighted blanket should be approximately 10% of your own body weight.
More: Check out my guide to picking the best weighted blanket for you!
Of course, you may find that you fall in between weights in which case it's better to go with the blanket that's slightly over your body weight (I'm 130 lbs, so I tested the 15 lb blanket). This'll ensure that the blanket isn't too light, and you're benefiting from the healing properties of deep pressure touch.
Sometimes finding the perfect blanket weight takes a little trial and error, but many brands (including this one) offer a trial period which gives you time to find the perfect fit.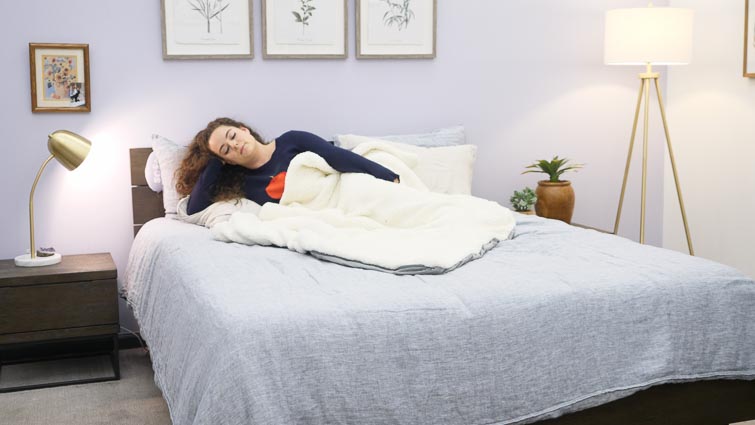 The Bottom Line: Warm, Fuzzy, & Balanced
The dual-sided cover fabric lets you wrap yourself in either fleece or microfiber, both of which are super snuggly. And hey, if you find that the cover is too warming, you can easily remove it to enjoy the cotton-covered blanket tucked inside. Additionally, the fine-grade glass beads provide a comfortably balanced feel, and don't feel bulky at all.
Essentially, if you're looking for a warm and fuzzy weighted blanket, this is a great way to go!
What Does The Helix Weighted Blanket Feel Like?
Now that we know exactly what the Helix Weighted Blanket is made of, allow me to detail my personal experience with it. In this section, I'll tell you all about how it feels, how it worked for me, and go over some basics about deep pressure touch.
Some of you may already be familiar with this phrase, but for those who've never heard of it, deep pressure touch is a therapeutic technique used to alleviate symptoms of anxiety and sensory processing disorders. It's commonly used within the special needs community, but many use DPT to unwind and ease their bodies into bedtime.
So… how does deep pressure touch actually work? Let's take a closer look.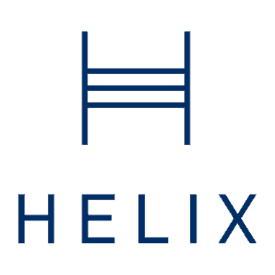 The Helix weighted blanket comes in 10 lbs, 15 lbs, and 20 lbs so you can find the right pressure to sooth yourself into a state of relaxation.
Deep Pressure Touch
Weighted blankets are meant to make you feel happy, sleepy, and calm by providing deep pressure touch. The pressure releases serotonin (our neurotransmitter that makes us feel happy) which then triggers the release of our sleepy hormone, melatonin. (1) However, it's important to note that weighted blankets are meant to be therapeutic, not replace your comforter.
In fact, weighted blankets should be used in increments of 20-40 minutes at a time. Resting beneath a weighted accessory for hours at a time can cause muscle fatigue and/or desensitize you to the healing properties of deep pressure touch. Personally, I think weighted blankets are perfect for a quick power nap, or for reading a few chapters of a book.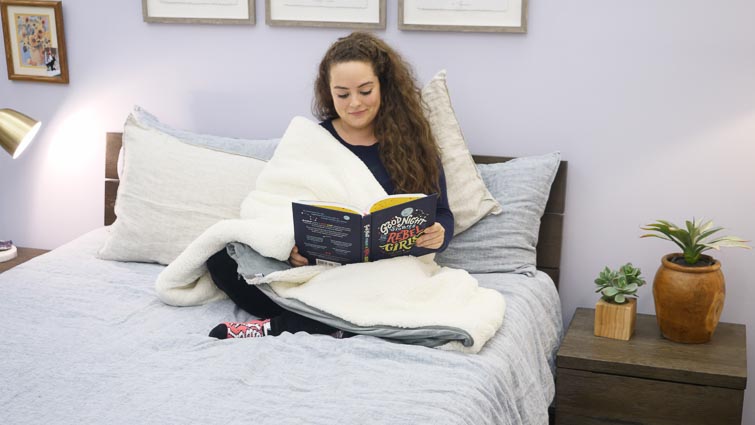 Disclaimer: Sleepopolis reviews should not take the place of medical advice, and I am not a doctor. If you're not sure whether or not a weighted blanket is safe for you, be sure to consult your healthcare provider.
Look & Feel
I'll come right out and say it — the super soft, dual-sided cover fabric is my favorite part of this weighted blanket. It's the first thing I noticed when I unpackaged it, and I still can't decide which side I like best. And each side offers a distinctly different feel!
For example, the microfiber side is smoother and less warming than the fleece side, and is bluish grey in color. Meanwhile, the fleece side warms up very quickly; so if you're a hot sleeper, this is definitely something to consider. Additionally, the fleece side is white and has a fuzzier feel that reminds me of the inside of house slippers.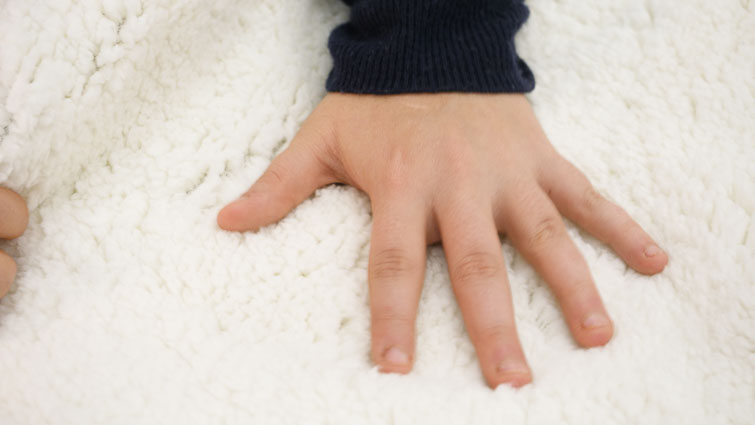 Once I removed the cover fabric, though, the blanket lost some of its appeal. Don't get me wrong — the glass beads and gridded stitching offer a balanced feel and an even distribution of pressure (which is a very important factor). However, without that extra layer of fabric, I could hear the beads clinking around inside the blanket.
You can still faintly hear the beads moving around even with the cover fabric on, but I did find that the cover muffled the sound a bit. If you are sensitive to noises or think that the clinking might bother you, I suggest you take advantage of the trial period that comes with this blanket.
Ultimately, though, I really enjoyed testing this blanket. Its balanced deep pressure touch provided a swirl of serotonin and melatonin, which left me calm and nap-ready.
The Verdict: Those looking for a warm and snuggly weighted blanket should definitely give the Helix a try!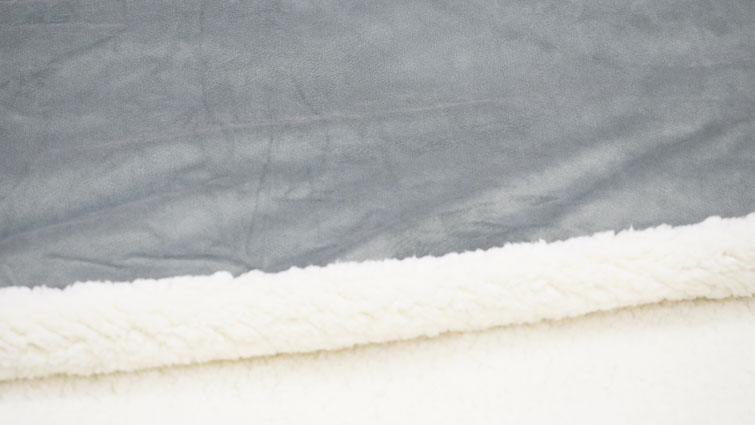 Should I Buy The Helix Weighted Blanket?
Now that we've taken a close examination of this blanket, let's recap the highlights:
Dual-Sided Cover – My favorite part about this blanket is the cover fabric and, frankly, I'd totally use it on its own. You've got the microfiber side that feels velvety to the touch, the fleece side that feels warm and fuzzy… The only hard part is deciding which side I like more!
Gridded Stitching – The weighted portion of this blanket features gridded stitching, which keeps the glass beads evenly distributed. This allows for a balanced feel, and keeps the beads from concentrating in any one area.
Affordable – I have to say, I'm pretty surprised by the price of this weighted blanket. Most weighted blankets I've tested are in the $200-$300 range, but this one sits at around $99-$115. And in my experience, it worked just as well as some of the more expensive models I've reviewed, and I find the cover fabric to be exceptionally cozy.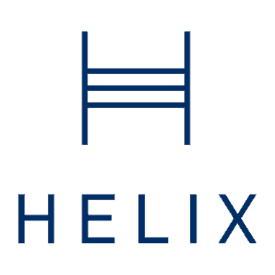 The Helix weighted blanket comes in 10 lbs, 15 lbs, and 20 lbs so you can find the right pressure to sooth yourself into a state of relaxation.
Helix Weighted Blanket Complaints
Of course, there are a few things to consider about this blanket before you make your purchase:
Warming – Sleepers looking for a cooling weighted blanket should definitely look elsewhere (and by elsewhere, I mean my roundup of the best weighted blankets). This blanket is covered in fuzzy fleece and velvety microfiber which is ideal for folks looking to keep warm.
Noisy – While I like that you can't feel the glass beads in this blanket, you can hear them a bit. Every time I repositioned this blanket, I could hear the beads move and clink together. If you think this sound will bother you, that's definitely something to consider.
Wash Care – The cover fabric of this blanket is machine washable and dryable, but the weighted portion is spot-clean only. Even then, you should avoid getting it too wet. To clean it, use a damp cloth, mild detergent, and allow it to air-dry.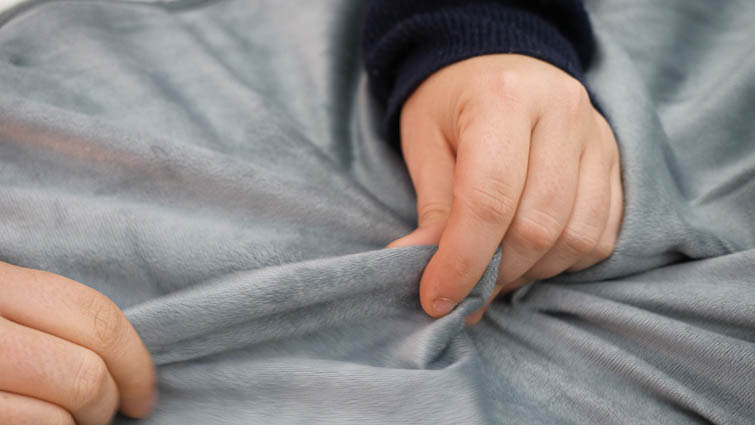 Anything Else I Should Know?
Pricing – $99-$115
Weight Options – 10,15, 20 lbs
Free Shipping – within the U.S.
Wash Care – The cover fabric can be washed on a cool, gentle cycle with mild detergent, and dried on low heat. The weighted portion of the blanket must only be spot-cleaned.
1-Year Warranty
100-Day Trial Period
Now that you're all experts on the Helix Weighted Blanket, all that's left to do is take for a test run (and I mean… you do have 100 nights to do so). In the meantime, don't forget to like and subscribe to our YouTube channel, and follow us on Facebook, Twitter, and Instagram for the answers to all your sleep needs!
References
Bestbier, Lana, and Tim I. Williams. "The Immediate Effects of Deep Pressure on Young People with Autism and Severe Intellectual Difficulties: Demonstrating Individual Differences." US National Library of Medicine National Institutes of Health, 2017, www.ncbi.nlm.nih.gov/pmc/articles/PMC5612681/.
Sarah is the Senior Writer and bedding expert at Sleepopolis. Every week, she personally tests and reviews new pillows, sheet sets, and other sleep accessories. She accompanies every video review with a meticulously detailed article to ensure her audience has all the pertinent info they need for the best shopping experience possible. Perhaps that's why her fans have dubbed her "the most thorough pillow reviewer on the Internet." Having tested everything from sleep trackers to mattress toppers, Sarah's expertise runs deep and is always expanding. She received her degree in Creative Writing from Brooklyn College and spends her free time doing stand-up, making pasta, and hanging with her cats.