The Helix Twilight is a firm hybrid mattress built with both layers of plush memory foam and springy pocketed coils. It's one of six affordable bed-in-a-box mattresses in the standard Helix line and is quite popular… but is it the one for you?
To help you decide, take a peek at my full review of the Helix Twilight mattress below. I'm going to describe how this bed feels as well as test it for pressure relief, motion transfer, edge support, and more. Plus, I'll round things out with a few expert recommendations you can use on your search.
Read on to learn all about what's inside this mattress and who might benefit from its unique build the most!

Spring Sale: Up to $200 Off + free pillows!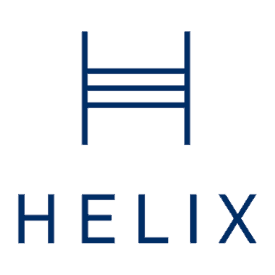 The Helix Twilight has firm support that is great for stomach sleepers! 
Brand Snapshot
Helix Sleep, was launched in 2015 by three business school students who were completely exasperated by the process of buying a new mattress. The group worked on designing mattresses with different firmness levels that were easy to compare to each other and purchase online. The NYC-based company currently sells mattresses, bedding, bed frames, toppers, and pillows.
The brand sells two mattress lines at the moment, one standard and one "luxe." The Helix Twilight model is part of the standard collection, alongside the Helix Sunset, Helix Midnight, Helix Dusk, Helix Dawn, and Helix Moonlight. You can learn more about these beds through our Helix mattress review hub, which includes full breakdowns of each model!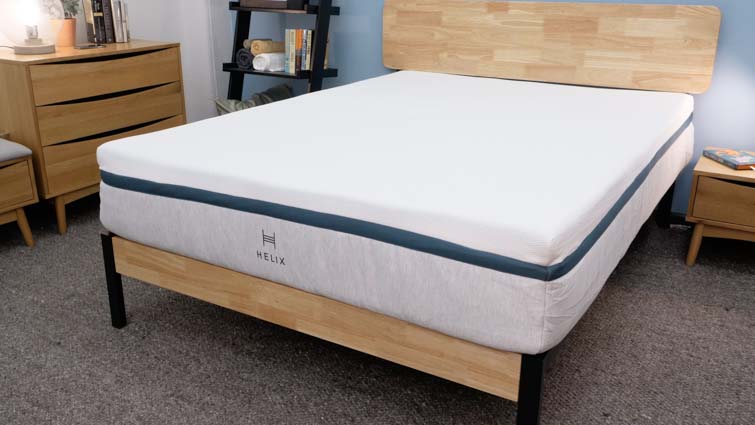 What is the Helix Twilight Mattress Made Of?
So, what's inside this mattress anyway? The Helix Twilight is a hybrid mattress, which means it contains both foam layers and coils — not just one or the other. There are five distinct layers within the mattress:
Cover – The cover is made of a light, stretchy material that Helix says promotes airflow during the night. That might help keep you cool, which is great for sleepers who typically run hot. Plus, the material is very soft to the touch.
Comfort – Next up comes a layer of Helix Memory Plus foam. Memory foam generally contours to your body and makes you feel like you are "sinking" into the bed. But this particular memory foam has a unique, firm feeling — you probably won't "sink" into it, which can happen with even the best memory foam mattresses. The high-density foam will still provide a contouring feeling while supporting your body weight without the sinking.
Transition – Below the comfort layer, there's a transition layer of High-Grade Polyfoam. This provides ergonomic support and adds cushioning below the firm memory foam layer to prevent the model from feeling too hard. It also ensures there's material between the memory foam layer and the individually pocketed coils.
Body Shape – This model's body shape layer consists of individually pocketed coils. These coils are what provide bounce to the mattress, and they are also good for edge support to prevent you from rolling off the bed at night. The layer of coils beneath the memory foam helps to support and cradle your body.
Base – At the very bottom of the bed is a base layer of DuraDense foam, which supports the other materials on top! This provides stability and shape to the overall structure of the mattress.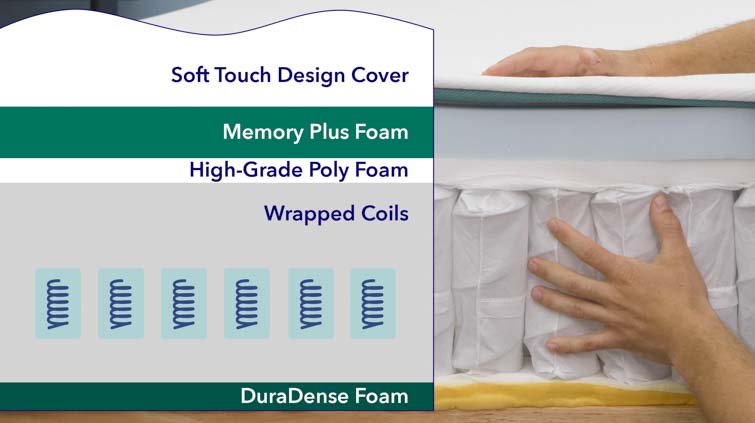 What Does The Helix Twilight Feel Like?
One major question to consider when you're picking out a mattress: How does it feel? Before we jump into that, just bear in mind that my idea of what's firm or soft might not line up with yours.
These things depend on various factors, including your body weight and preferred sleeping position! For reference, I sleep on my stomach, and I'm about 5'10" tall and weigh around 190lbs.

Based on my own experience testing out the bed, I would give the Helix Twilight a 7.5/10 firmness rating, putting it at the high end of medium-firm.
This is really on the firmer side of things, as far as mattresses go, which means I'm comfortable recommending it for strict stomach sleepers. I suspect the firmness of the mattress is due to the uniquely firm memory foam layer, combined with the supportive pocketed coils.
Generally, stomach sleepers like myself really benefit from sleeping on a firm bed that keeps the hips aligned with the shoulders, rather than sinking down and putting the spine in a funky position. This bed is a good option for that!
Spring Sale: Up to $200 Off + free pillows!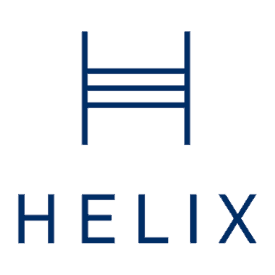 The Helix Twilight has firm support that is great for stomach sleepers! 
Testing the Helix Twilight Mattress
Firmness level is just one consideration among many! When purchasing a mattress, you also want to know how it performs in some other ways. If your partner gets out of bed at night, will the whole model shake and wake you up? Can you use the whole surface area of the bed without rolling off? And how good is the mattress at relieving pressure? I answer all those questions for you here.
Pressure Relief
Beds that relieve pressure help redistribute your weight across their surface, meaning you don't put too much pressure on one specific body part. Testing pressure relief is easier than it sounds. I roll out a pressure map, which looks like a black map, on top of the mattress.
When I lie on the map in various sleeping positions, it will measure pressure in a color-coded map, ranging from blue for areas of low pressure to red for areas of high pressure. Here's how the Helix Twilight fared in that test: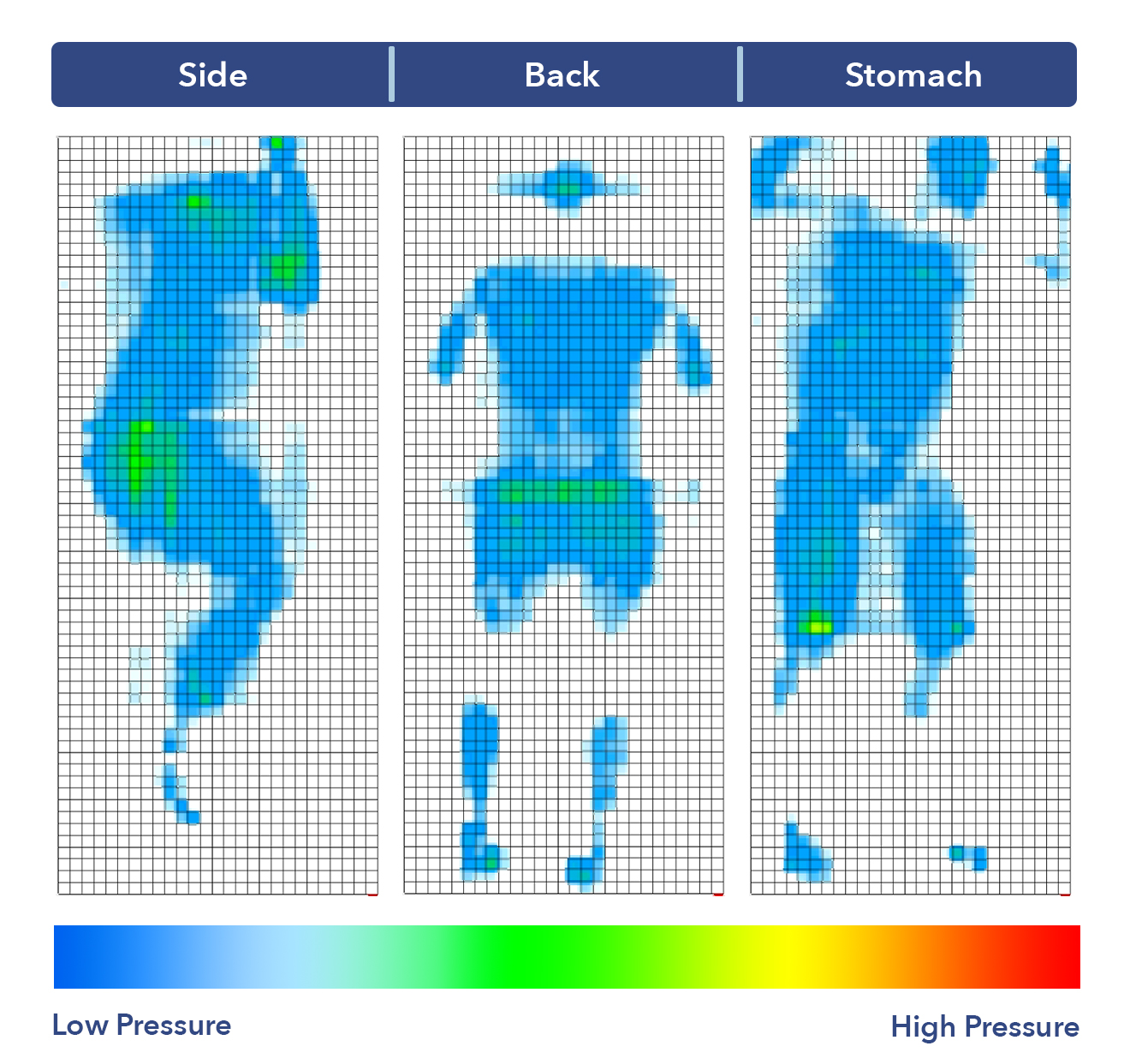 Back – As you can see, the pressure map here is pretty much entirely blue, meaning it's likely a comfortable choice for back sleepers who like a firm feel. The map does go a little bit into the green range around my hips, showing a tad more pressure there, which is something to be aware of if you suffer from lower back pain.
Side – Lying on my side created a map that's primarily blue, with some green areas showing higher pressure around the shoulders, elbows, and hips. The higher pressure here means this may not be the best pick for strict side sleepers, as it could cause some shoulder pain.
Stomach – As I mentioned earlier, I'm comfortable recommending this model to stomach sleepers. Stomach sleepers aren't likely to sink "into" this mattress; instead, they'll stay in a good sleeping position, with the hips lifted in line with the shoulders.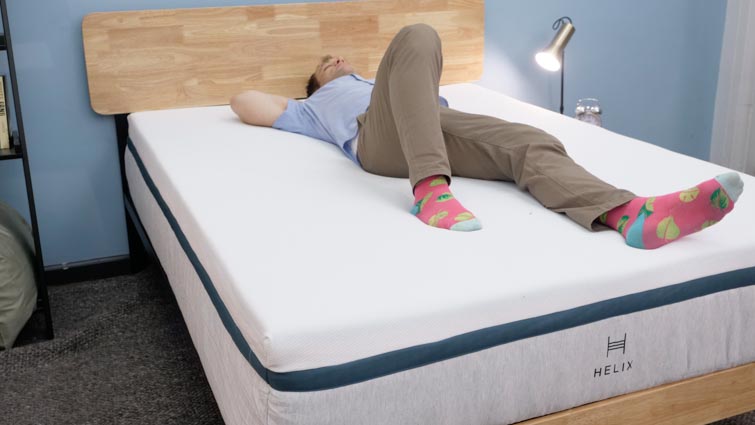 Motion Transfer
Next up, I evaluated the Helix Twilight for motion transfer. FYI, motion transfer refers to the amount of movement detectable from one side of the bed to the other. So, basically, this test should tell you whether or not you'll be bothered by your partner (or pet!) tossing and turning in the night.
To test motion transfer, I drop a 10lbs steel ball onto the bed from three different heights, and use a seismometer to measure the disturbance this causes on the other side of the bed.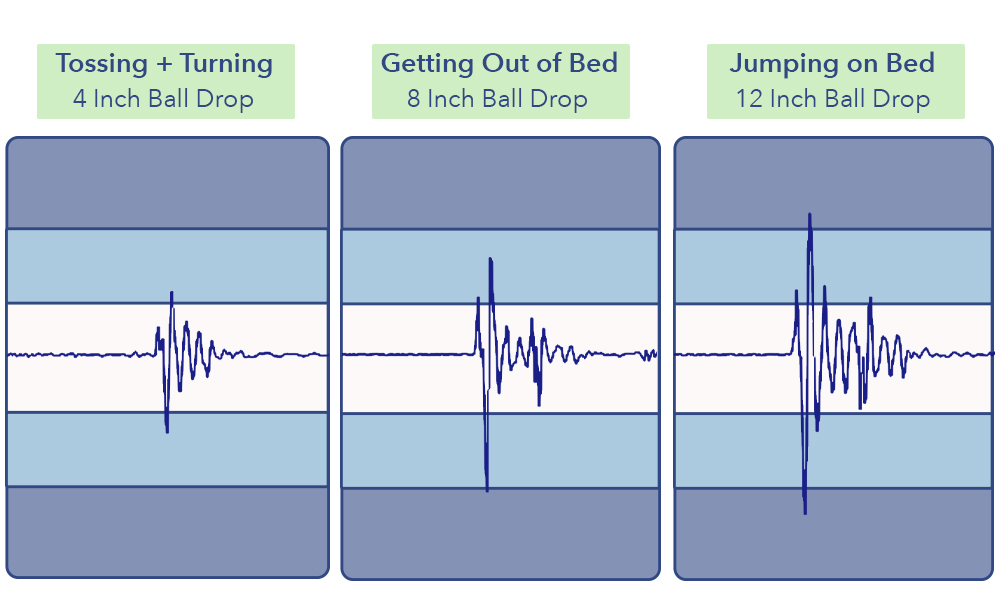 I was really impressed by how the Helix Twilight performed in this test, as the disturbances from the steel ball were pretty minimal. I suspect that the memory foam layer does a really good job of absorbing motion rather than transferring it. For that reason, I think this mattress is a nice pick for couples.
Edge Support
I typically round out my experiments by testing edge support. This one doesn't require any high-tech equipment: I just roll to the very edge of the mattress and see if I find myself slipping off!
The Helix Twilight has great edge support, which means you can maximize the whole surface area of the bed. That means it could be a nice choice for people with a heavier body weight, who might feel themselves slipping off of different models.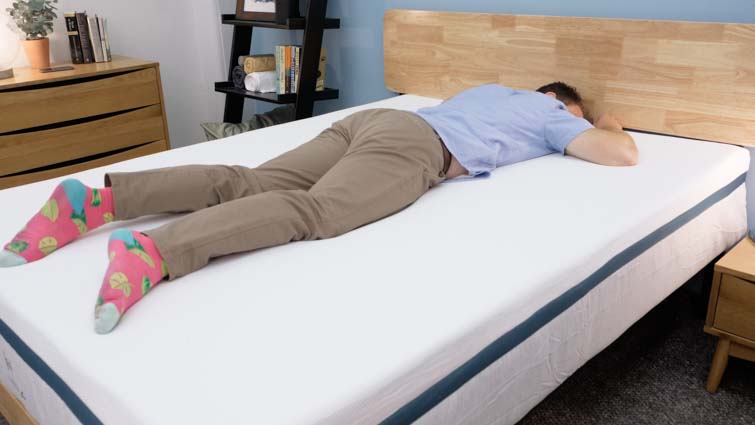 Should You Buy the Helix Twilight Mattress?
The Helix Twilight combines memory foam and firm coils for an interesting combination of comfort and strong support. The Twilight is a great choice for stomach sleepers as well as back sleepers that like a firmer feel.
Helix Twilight Pros
This mattress is probably a good pick for people who like a firm feel. I rated it about a 7.5/10 for firmness, which means it's definitely a firm, supportive mattress, but the memory foam layer means it's not uncomfortably hard.
I also really like this mattress for strict stomach sleepers! It offers the level of support that most stomach sleepers need, thanks to the firm memory foam layer and the pocketed coils.
Spring Sale: Up to $200 Off + free pillows!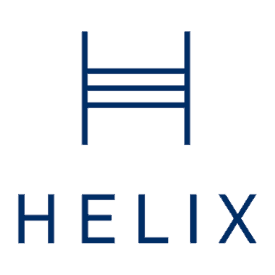 The Helix Twilight has firm support that is great for stomach sleepers! 
Helix Twilight Cons
Due to the results of the pressure map test, I generally wouldn't recommend this model for strict side sleepers—I think it puts too much pressure on the shoulders and other sensitive joints. Instead, side sleepers should look for a mattress with more pressure relief.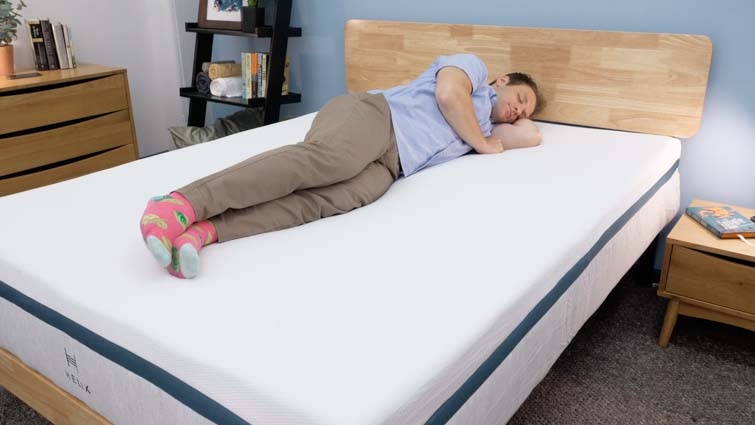 Helix Policies
Trial – 100 Nights
Shipping – Free
Warranty – 10 Years
How Much Does The Helix Twilight Cost?
Spring Sale: Up to $200 Off + free pillows!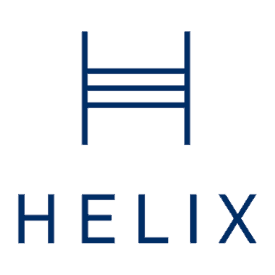 The Helix Twilight has firm support that is great for stomach sleepers! 
| Size | Dimensions | Weight* | Price |
| --- | --- | --- | --- |
| Twin | 39" x 75" x 10" | 40 - 50 lbs | $700 |
| Twin XL | 39" x 80" x 10" | 40 - 50 lbs | $800 |
| Full | 54" x 75" x 10" | 70 - 80 lbs | $950 |
| Queen | 60" x 80" x 10" | 80 -90 lbs | $1,099 |
| King | 76" x 80" x 10" | 90 - 100 lbs | $1,295 |
| California King | 72" x 84" 10" | 90 - 100 lbs | $1,295 |
Helix Twilight
Materials

Comfort

Support

Value

Cooling

Edge Support

Trial

Warranty