As a life-long stuffed animal lover, I'm always easily drawn in by adorable and cuddly plushies. You can imagine my excitement when I learned about Warmies — cute stuffed animals that are weighted, scented, and can be heated in the microwave for warming comfort. These charming little stuffed animals even made Oprah's list of Favorite Things this year!
In addition to the delightfully whimsical stuffed animals Warmies offers, they also sell other heatable wellness products, like boots, slippers, neck wraps, eye masks, and heat pads. In this review, I'll be covering three Warmies products: the Marshmallow Bear plush, the Marshmallow Gray Neck Wrap, and the Marshmallow Gray Eye Mask.
I've personally tested all three of these products and I'm ready to give you the lowdown, so let's go into it. Or, you can always skip ahead for a review summary.
Are Warmies Right For You?
Let's quickly go over who I think these products are a good fit for and who can skip on these, based on my experience testing them.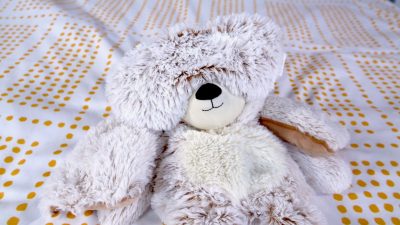 Who Should Try Warmies
People who frequently use heat pads or hot water bottles but want something a little cuter

will likely love Warmies. For me, my Warmies Bear is the more adorable and more huggable version of the heating pad I often reach for to manage pain. They're a great choice for kids for this reason.

Those who love the scent of lavender

will appreciate how all Warmies products are scented with French lavender. The smell is even more apparent after heating, in my experience.

If you want a heatable product with a natural fill

, you will appreciate that Warmies are filled with natural flaxseed grains.
Who Shouldn't Try Warmies
If stuffed animals aren't your style

, the Warmies plushes may not be the best choice for you. However, it is worth noting the brand offers a variety of other products with a slightly more "grown up" feel, like slippers and heat pads, and if you are looking for heatable products.

If you want a machine washable product

, then you may want to look elsewhere. The Warmies products are spot clean only — the cleaning instructions advise not to submerge them in water.

If you don't like fuzzy

, then Warmies likely aren't for you. All three of the products I tested (and most of the other ones) featured a soft, fuzzy fabric.
How To Use Warmies
I found Warmies products to be super easy to use. To heat them up, simply place them in the microwave and turn it on. To make things easy, Warmies includes directions on the tags of all their products that let you know how long to microwave them for, depending on the wattage of your microwave.
For a 600 watt to 800 watt microwave, they recommend heating for 90 seconds. For an 850 watt to 1,000 watt microwave, they recommend heating for 60 seconds.
When trying out my Warmies at home, they were easy to heat and generally not too hot to use when I took them out of the microwave.
Price
Wondering how much a Warmie will cost?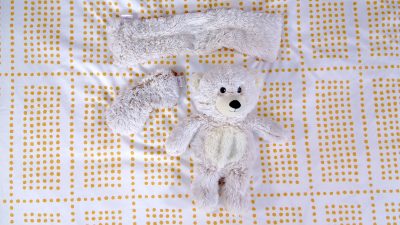 The Marshmallow Gray Bear Plush I tested costs $29.99, as do the other styles of Warmies plushes. The brand also offers some other plushes at different price points, such as Warmies Juniors (which are smaller and cost $14.99) and Supersize Warmies (which are large and round, somewhat similar to a Squishmallow, and cost $34.99).
The Marshmallow Gray Neck Wrap I tested costs $29.99, as well. The Neck Wrap is available in a variety of other colors for the same price. The Marshmallow Gray Eye Mask costs $19.99 and is also available in a variety of other colors for the same price.
My Experience Using Warmies
Let's go over my experience testing out these three products from Warmies.
Warmies Marshmallow Gray Bear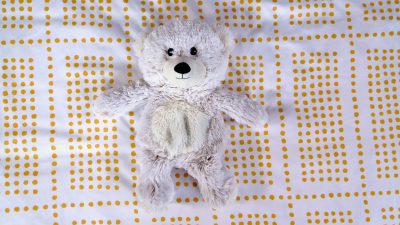 The Marshmallow Gray Bear was the Warmies product I was most excited to test, as the heatable plushes were what initially excited me about this company. As I mentioned above, I absolutely love stuffed animals and have been known to snuggle up with one well into my adulthood.
First, I thought the bear was simply adorable. It has a classic teddy bear look and is made with ultra-soft, fuzzy polyester fur. The bear feels decently heavy, offering a comforting level of weight to snuggle up to — it weighs 1.5 pounds. Plus (like all the Warmies products), it features a lovely lavender scent that only gets stronger once you heat it up.
Whether I wanted something heated to relieve pain or just wanted to feel a little extra cozy, heating up this teddy bear and snuggling up before bed has been a really pleasant experience.
I also must add I love the wide selection of animals Warmies offers as heatable plushes. While the Marshmallow Gray Bear I tested is a pretty classic stuffed animal, Warmies offers sloths, cows, manatees, penguins, seals, otters, meerkats, llamas, platypi, geese, cats, dogs, frogs, lobsters, and just about every other animal you can imagine. With so many different options, it's easy to find your or your child's favorite critter.
Warmies Marshmallow Bear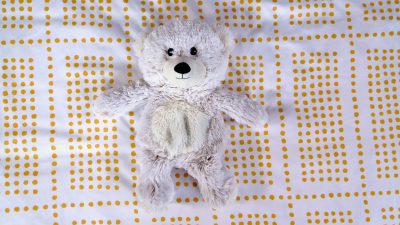 A heatable, weighted stuffed bear filled with flaxseed and scented with French lavender.
Warmies Marshmallow Gray Neck Wrap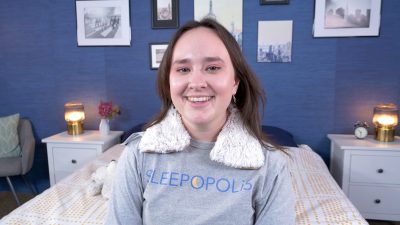 Overall, I also really enjoyed the Warmies Neck Wrap. It has many of the same features I liked with the Marshmallow Gray Bear — the soft and fuzzy fabric, the lavender scent, and comfortable weight. The Neck Wrap is basically a long rectangle, with one side featuring the fuzzy fabric and one featuring a velvety material. It weighs two pounds.
I found it sat comfortably over my shoulders — a good length and not too heavy. As an amateur rock climber, I am often pretty sore around my neck and shoulders, so I certainly found myself reaching for this neck wrap after climbing! I also found it to work quite well as a heat pad generally for any part of my body, not just neck and shoulders.
Warmies Marshmallow Gray Neck Wrap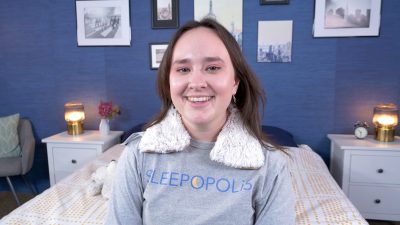 A heatable, weighted neck wrap filled with flaxseed and scented with French lavender.
Warmies Marshmallow Gray Eye Mask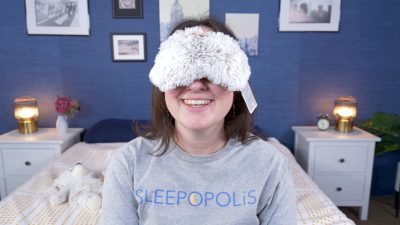 The heated eye mask was probably my least favorite out of the three Warmies products I tested. It has the same general construction and materials as the other two, but in eye mask format. The outer part of the mask is made with the fuzzy polyester, while the part that touches your face is the velvety material. The mask itself is weighted and it features an elastic strap that goes around your head.
The eye mask works the same as the other two products, but I found it made my face really sweaty to have all that weight and heat right on top of it. However, that may be more of a personal preference against heated eye masks in general than against this one in particular. It also features the same lavender scent as the other products and weighs half a pound.
Warmies Marshmallow Gray Eye Mask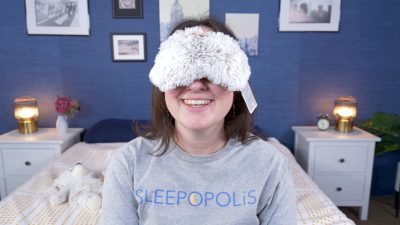 A heatable, weighted eye mask filled with flaxseed and scented with French lavender.
Warmies Policies and FAQs
How does Warmies ship?
Warmies offers either standard or express shipping within the contiguous U.S. Standard shipping costs $4.95 for orders under $35 and express shipping costs are calculated based on distance from the distribution center in Illinois. Warmies does not currently ship to Hawaii, Alaska, Puerto Rico, or Canada.
Can I return Warmies products?
Yes, you can return the products within 30 days of purchase. However, they must be in new, unused condition with all the tags and packaging intact.
Are there any Warmies bundles?
Yes, Warmies offers a few different product bundles. The Warmies Plush Bundle includes three of the 13-inch Warmies plushes of your choice. The Warmies Family Pack includes two 13-inch Warmies plushes and two 9-inch Junior plushes of your choice. The Sampler Pack includes one 13-inch Warmies plush, one 9-inch Junior plush, and one neck wrap. The Spa Pack includes one neck wrap, one slipper, and one eye mask. And the Oprah's Favorite Warmies Bundle includes three of Oprah's favorite 13-inch Warmies plushes.
Are Warmies suitable for children?
Yes, Warmies are totally safe for children. Just be sure that children are supervised by adults when using their Warmies.
How do I clean Warmies?
Warmies recommend surface washing with a damp cloth only. They do not recommend immersing the product in water, which will harm the filling material.
Other Products To Try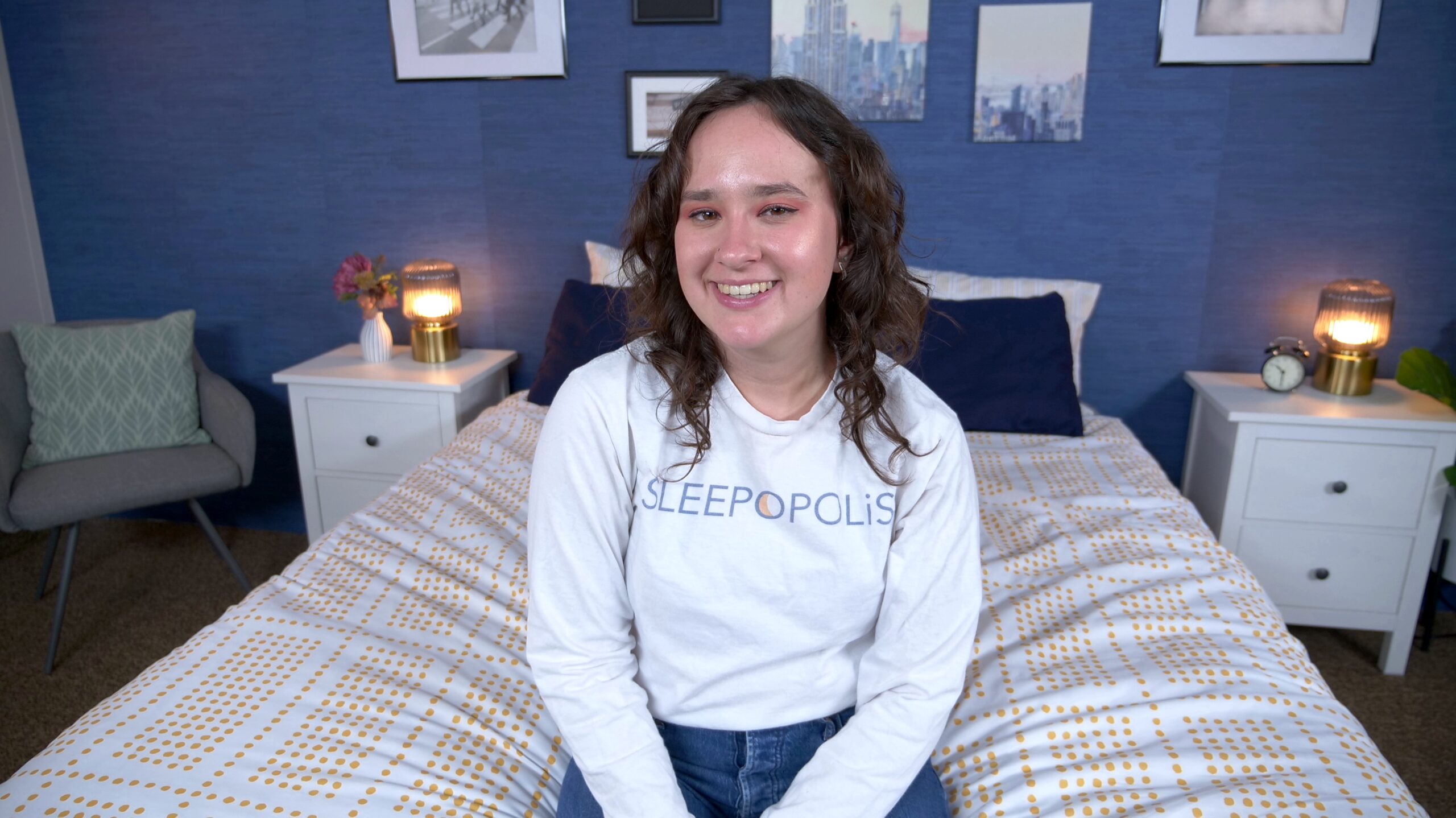 Amelia Jerden
Amelia is a Senior Staff Writer for Sleepopolis. She primarily covers bedding and sleep accessory products in reviews, how-to guides, and more. You can also find her over on the Sleepopolis YouTube channel. Amelia is a graduate of the University of North Carolina at Chapel Hill, with double majors in media and journalism and in dramatic art. Outside of work, Amelia can usually be found on a hike, traveling to a new city, or at her local thrift store.