If "loungewear" or "athleisure" are up your alley, get ready for Casper's new Snoozewear collection. Casper is taking relaxation to the next level with three new wearable products that are all about snoozing, relaxing, and taking it easy.
Casper is best known for their iconic bed-in-a-box mattresses, but the mattress brand makes lots of other sleep products, ranging from bed sheets to bed frames to throw blankets…and now "Snoozewear."
I tested out all three pieces from the Casper Snoozewear line — the Snoozewear Blanket Robe, the Snoozewear Sleep Mask, and the Snoozewear Slippers — and I'm ready to give you the lowdown.
Just want the highlights? Skip to the end for my review summary!
The Casper Snoozewear Line
Let's first take a look at each piece individually and go over what they're made of, sizing options, and color options.
Snoozewear Blanket Robe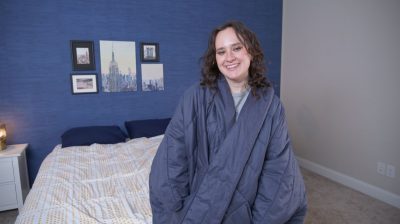 The Casper Snoozewear Blanket Robe is pretty much what it sounds like — a wearable blanket that's a bit duvet-meets-Snuggie. The shape of the robe is reminiscent of a kimono, with wide sleeves and a T-shape. It also has a collar, which gives it more of a bathrobe look. The robe also features two pockets and a single button closure on the front.
The robe's shell is 100 percent cotton and the fill is 100 percent poly fill. The robe is available in three different colors: oat milk, white, and indigo. And it comes in three sizes: small, medium, and large. Additionally, the Snoozewear Robe is machine washable.
Snoozewear Sleep Mask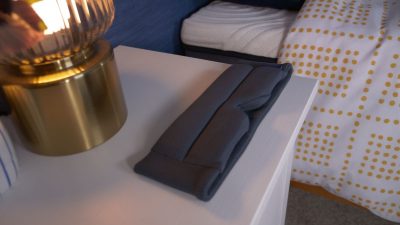 The Snoozewear Sleep Mask looks a bit like a sleep mask from the future, but it's actually pretty simple. The front part of the mask that goes over your eyes is soft and cushy, made with a 100% cotton shell and filled with 100 percent polyester. The strap of the mask is a wide, stretchy band made from ribbed fabric.
The mask's dimensions are 3.5 inches x 10.25 inches and it's only available in one size and one color, which is a dark blue shade that's similar to the indigo shade the robe comes in.
Snoozewear Slippers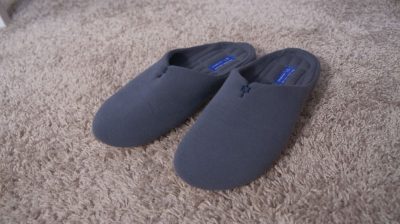 The Snoozewear Slippers are classic slip-ons with a sleek microsuede exterior in the same shade of indigo as the sleep mask and robe. They're made with a 100 percent polyurethane foam inner footbed. The soles are made from 60 percent polyester and 40 percent polyurethane. And the shell/lining is made from 90 percent cotton, 5 percent PET plastic, and 5 percent spandex.
The slippers are available in four sizes: small, medium, large, and extra large.
Casper Snoozewear Prices
Curious how much these pieces cost? All prices are listed before discount, but be sure to use our Casper coupon to get the best price.
| Product | Price |
| --- | --- |
| Blanket Robe | $169 |
| Mask | $59 |
| Slippers | $49 |
My Experience with the Casper Snoozewear
I tested out all three of the Casper Snoozewear products, so here are my takeaways.
Casper Snoozewear Blanket Robe Takeaways
I'm a naturally cold person, so I was particularly excited to try out this blanket robe. It definitely does feel like you're swaddled up in a blanket, but with arm mobility, which is key for making this robe functional — whether the function is staying comfy in your work-from-home-office or just lounging around the house. It definitely brings the comfort of bed with you, no matter where you are. I thought the robe did a great job of keeping me warm and I've consistently found myself reaching for it any time I'm cozying up to read or watch TV at home.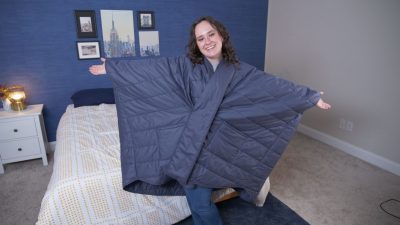 I will say this robe is pretty darn big though — I got a medium size and in retrospect, I probably should have gone for the small. The robe is slightly oversized in design, so the medium ended up being extra-oversized on me. I'm about 5 foot 5 inches tall and the medium is the size Casper recommends for my height, but that's also the shortest height they recommend for the medium size. So I'd say that if you're on the lower end of the recommended heights, you may want to size down.
Casper Snoozewear Slippers Takeaways
I had an issue with sizing for the slippers, as well. I got a small pair because the online size guide listed small as fitting women's shoe sizes 7–8. However, when I received the slippers, the box actually listed the small size as fitting women's shoe sizes 6–7. And when I tried them on, my heels definitely were hanging off the edges a bit, so I think the next size up would have been better for me.
Confusing sizing aside, I do think these are quite nice slippers. I love how soft and cushy the foam insoles are. They provide a nice bit of cushion for walking around your house or apartment, without being as overly clunky as an actual shoe. I also really like how these slippers look — the design is quite sleek and simple.
Casper Snoozewear Sleep Mask Takeaways
Of all these products, however, the sleep mask actually ended up being my favorite. It's definitely one of my favorite sleep masks I've tried out so far. I found the mask itself to be quite soft and it felt comfortable against my face while sleeping. The fabric is smooth and the plushness of the mask makes it feel like you have a tiny pillow resting over your eyes, which sounds a little weird, but I thought was quite cozy!
I was seriously impressed with how well the mask blocked out light. I usually have some ambient light in my bedroom from my alarm clock and street lights outside my window, but once I slid this mask on, I was in complete darkness.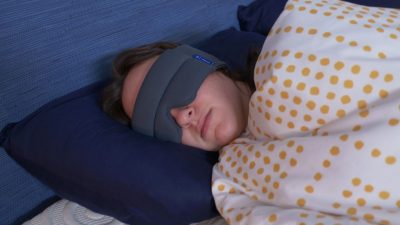 My other favorite feature of this mask was definitely the band. I've never seen a sleep mask with such a wide band before and I was surprised how much I liked it, as compared to the smaller elastic straps that are usually used for sleep masks. It's wide enough to cover my ears, which was not only cozy, but provided a little bit of noise blocking.
And the soft, wide band made it feel less like something was strapped to my head and more like I was snugly enveloped in the mask. Casper claims this strap will leave your hair crease-free, which I agree with somewhat. I think it definitely left less of a defined crease in my hair than some other straps, but I also have extremely crease-prone hair, so the strap definitely still left a mark on my hair.
Final Thoughts
After thoroughly testing and reviewing all three Snoozewear products from Casper, I would say I am overall impressed and satisfied with the quality and comfort of these products, but I'd recommend being careful when selecting your size for the robe and the slippers. If you're on the hunt for some cozy sleepwear and loungewear, definitely take a look at this new line of Snoozewear.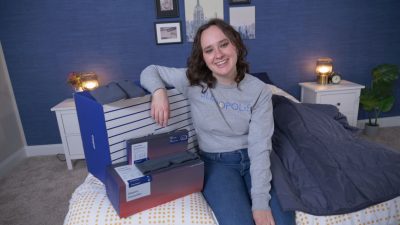 Other Products from Casper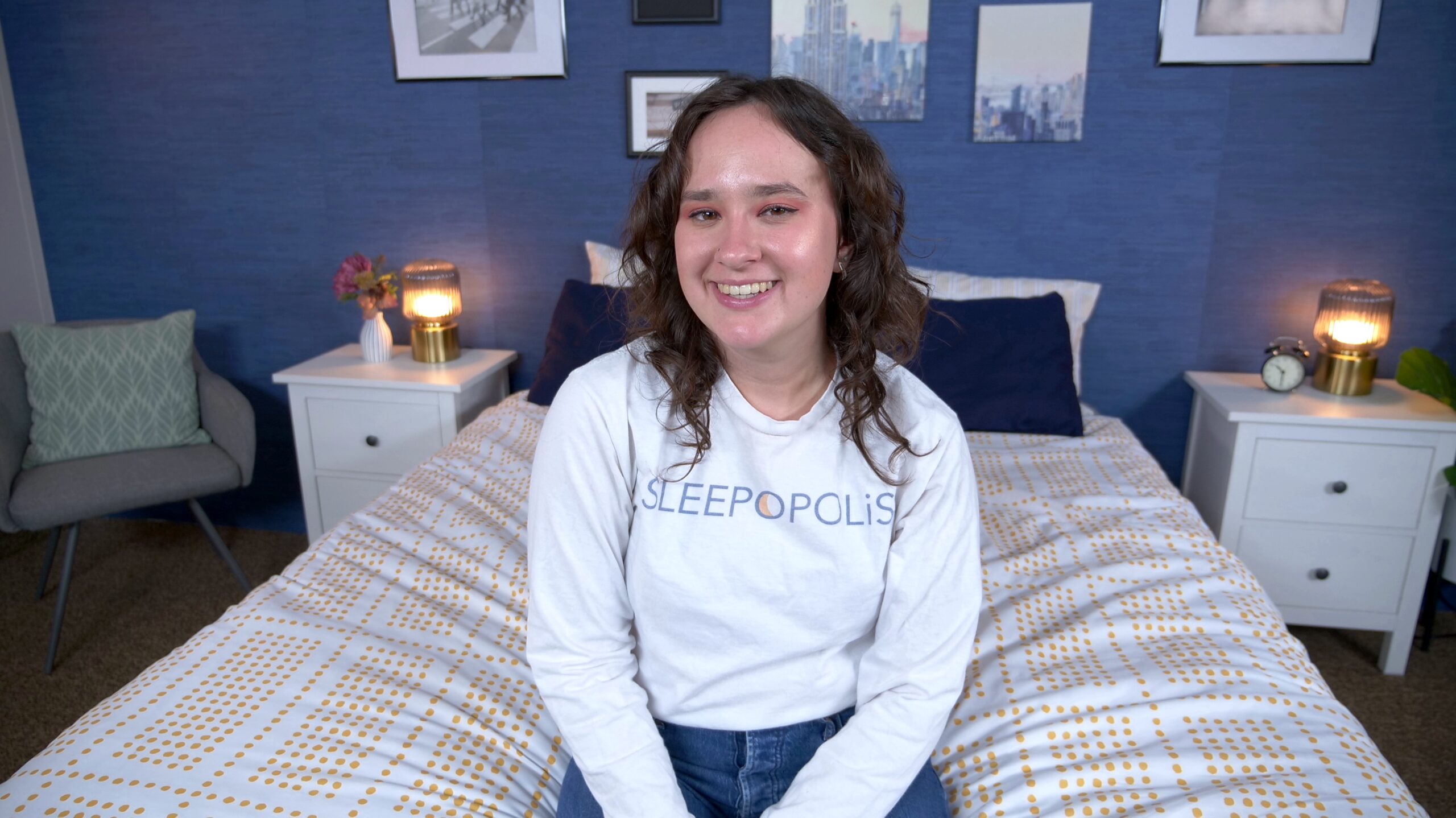 Amelia Jerden
Amelia is a Senior Staff Writer for Sleepopolis. She primarily covers bedding and sleep accessory products in reviews, how-to guides, and more. You can also find her over on the Sleepopolis YouTube channel. Amelia is a graduate of the University of North Carolina at Chapel Hill, with double majors in media and journalism and in dramatic art. Outside of work, Amelia can usually be found on a hike, traveling to a new city, or at her local thrift store.