Your bed is the focal point of your bedroom, making your sheets the most visible and important design choice in your room. White sheets are a blank slate, brightening up a space and making your bedroom appear larger. There is nothing like white comforter sets — clean looking and reminiscent of stays in luxury hotels. They free you up to design the rest of your bedroom however you'd like — because everything matches with white.
While white comforter sets seem pretty straightforward, it's important to find the right ones for your specific needs, whether you prefer cotton or microfiber, a subtle design or a simple elegant white, or if you need extra warm sheets or a more breathable set. Some sets come with all the sheets you'd need on your bed, and some contain two pillow shams and a comforter. We've done the work so you don't have to, researching the best fabrics, styles, and quality white comforter sets. Keep reading to find the best choice for just what you need.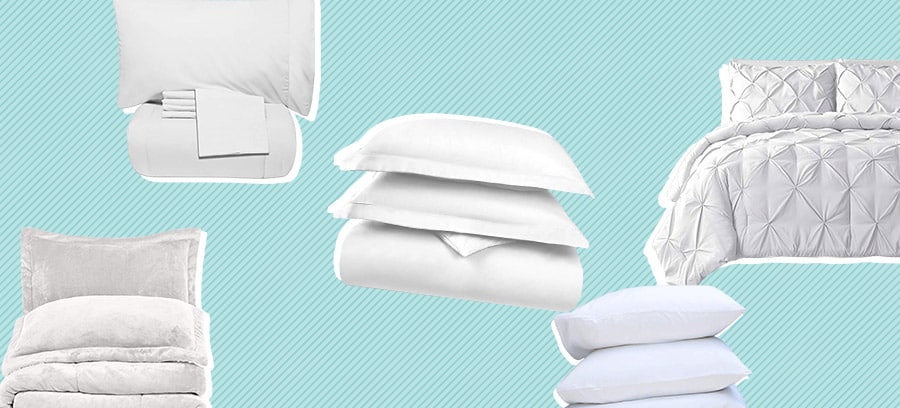 Expert Choice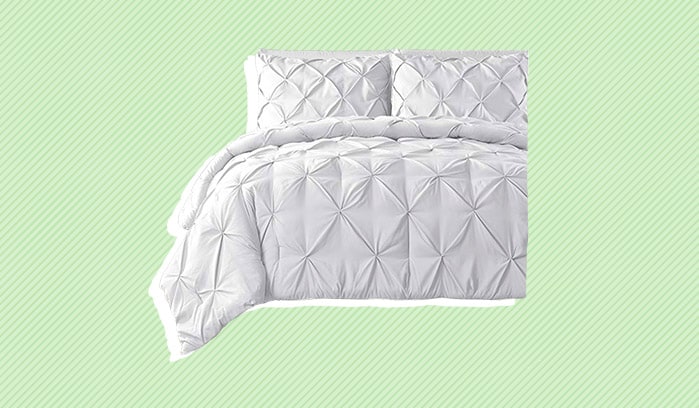 Comfy Bedding 3 piece comforter set
Pros:
Instead of a duvet and duvet cover, this set includes a comforter that already matches the pillowcases. This means it's super easy to throw into the wash — no need to remove a cumbersome cover.

The comforter is in that sweet spot of being warm enough for winter and breathable enough for summer.

This is a great white comforter set for the person who wants ease of use, elegant design, and a set they can use for all seasons. 
Cons:
This set doesn't come with a bottom fitted sheet, so it may not be the right pick for you if you're needing every piece of bedding.

Check the dimensions of this set against your desired size. You may need to size up from the size of your bed, as it runs small.
Comfy Bedding 3 piece comforter set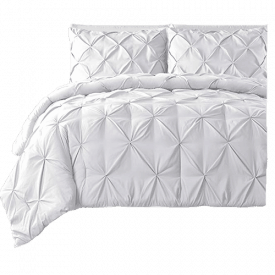 Comfy Bedding 3 piece comforter set
Breathable microfiber with a pintuck design, this white comforter set gives you the look of elegant white sheets but with an understated design. This set includes a comforter and two standard pillowcases.
The Warmest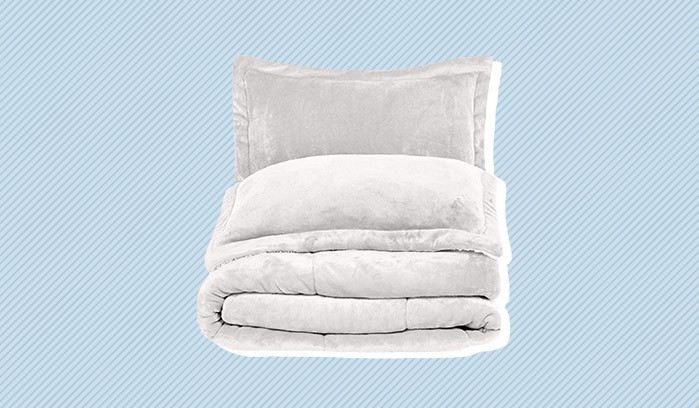 AmazonBasics Ultra-Soft Comforter Set
Pros:
The fabric of the comforter and matching pillow shams is so soft, making for a dreamy night's sleep.

Despite the unique fabric combination of sherpa and micromink polyester, it is machine washable.

The comforter that comes with the set is versatile enough that when you aren't using it on your bed, it could double as a pretty living room throw.
Cons:
The design of this comforter set may not appeal to all, given the sherpa and faux-velvet look it has to it.

Because of the unique fabrics, it may not hold up to bleaching, which is one of the reasons many look for white sheet sets.
AmazonBasics Ultra-Soft Comforter Set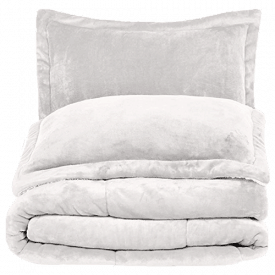 AmazonBasics Ultra-Soft Comforter Set
Ultra-soft micromink polyester on one side and faux sherpa on the other, the comforter included in this set is our pick for the person who is always cold. It also comes with two matching pillow shams.
The Bargain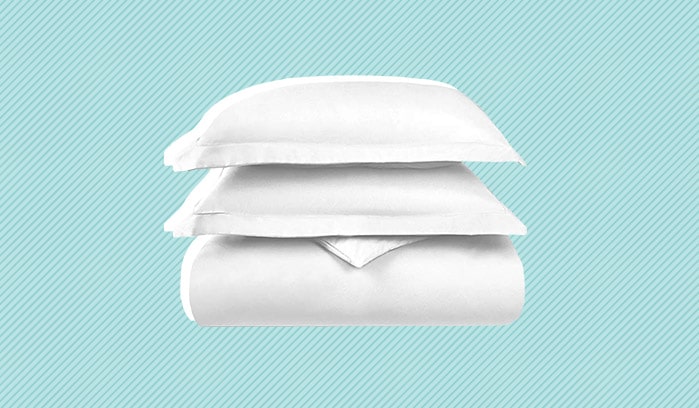 Hotel Luxury 3 piece Duvet Cover Set
Pros:
Hypoallergenic and dust resistant, this may be a great choice for those whose allergies act up from dust, down, and cotton.

This duvet cover set comes with a lifetime warranty, if you are ever unsatisfied with your purchase.

This set is lightweight and soft fabric, so it's very comfortable, especially for the overheated sleeper.
Cons:
Because it's 100% polyester, the fabric may pill and attract hair and lint over time.
Hotel Luxury 3 piece Duvet Cover Set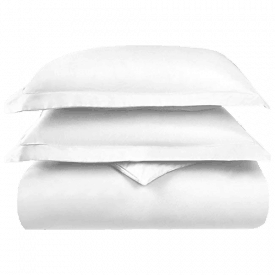 Hotel Luxury 3 piece Duvet Cover Set
Made from double-brushed microfiber, this three piece set includes a duvet cover and two pillow shams. The duvet cover is removable with buttons, allowing you to insert whatever duvet you prefer.
The Whole Package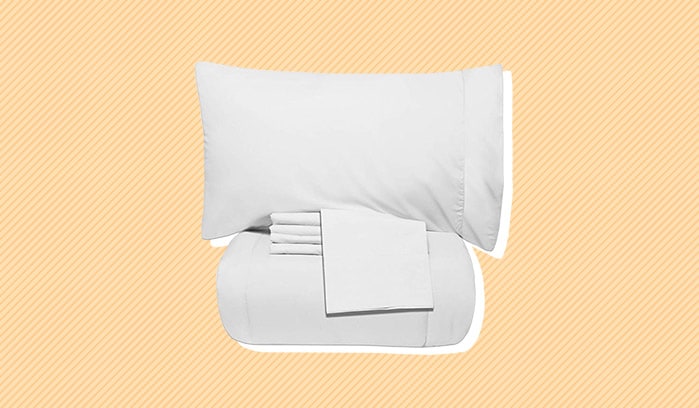 Sweet Home Collection 5 Piece Comforter Set
Pros:
It comes with so many pillowcases that you can swap out clean ones very easily (unless you need all six at once!).

This is a great choice for the student going off to college — no need to cobble together different sets and styles.

No need to iron this set — given its fabric, it doesn't come out of the dryer wrinkled.
Cons:
While it does come with a comforter itself, it doesn't come with a duvet cover — which may work out for you since it does include a flat sheet.
Sweet Home Collection 5 Piece Comforter Set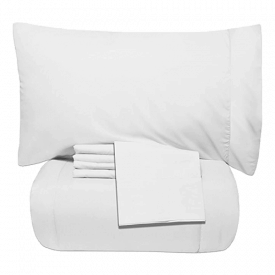 Sweet Home Collection 5 Piece Comforter Set
This microfiber white comforter set comes with almost everything you need: a comforter, a fitted sheet, a flat sheet, and four pillowcases (the twin includes two pillowcases).
Most Natural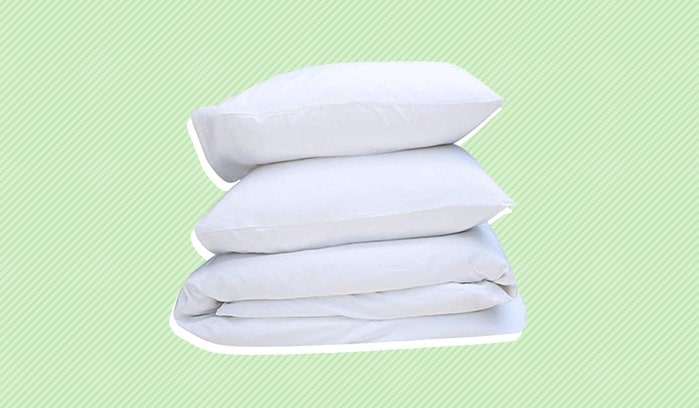 California Design Den White Duvet Cover Set
Pros:
There is nothing like cotton. Friendlier to the environment than polyester, it gets softer with every wash and keeps you warm in winter and cool in the summer. 

The duvet cover includes a button closure and corner ties to fit your duvet insert as well as possible.

This sheet set comes in many different sizes, including Twin XL and Short Queen, making it a versatile choice for those with unique mattresses.
Cons:
While it is cotton, the thread count of this set is 400, which may be too rough for the sleeper who needs a softer weave.
California Design Den White Duvet Cover Set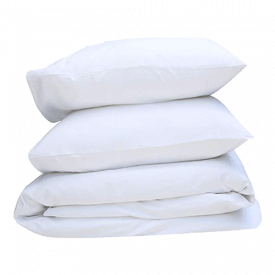 California Design Den White Duvet Cover Set
At 100% cotton, this three piece set with two pillow shams and a duvet cover is the best choice for the sleeper who needs the most natural fabric option on the market.
How We Picked
There are so many white comforter sets on the market that it can be hard to choose. That's why we spent a long time analyzing a number of different white comforter sets with the following important characteristics in mind:
Fabric
How fabric feels and breathes as you sleep is probably the most important factor when choosing a comforter set. The fabric will need to change depending on whether or not you are a hot or cold sleeper or what season it is. Here's what you should be looking for:
If you're a cold sleeper, choose micromink, faux sherpa, or microfiber options.

If you're a hot sleeper, pick natural fibers like cotton, tencel, linen, or a lightweight polyester. 
Style
Many gravitate towards white comforter sets to simplify the look and feel of their bedroom. We kept this in mind while researching options, and we specifically looked for comforter sets with simple, elegant design. Choosing a new comforter set is an easy way to revamp the design of your bedroom, and white ones allow for sometimes dramatic changes.
Price
Because we spend so much time asleep, the quality of our bedding is important. Sometimes it might be necessary to spend a bit more on good quality comforter sets because our sleep determines our quality of life. That being said, we also looked for budget-friendly options and machine-washable comforters to save money on dry-cleaning.
Sleepopolis Tips
We suggest the following when looking for the right white comforter set for you:
Make sure the fabric is the right fabric for you — hypoallergenic, microfiber, or 100% cotton — whatever it is that you need.

How much do you want your white comforter set to stand out? Whether you're looking for a subtle design or a simple, plain set, it's important to choose something you won't get sick of seeing first thing in the morning.

While looking, be clear on what you need and whether or not it will include a comforter, a duvet cover, and a specific number of pillowcases. White comforter sets vary and this will help you narrow down the right pick. 
There's a variety of white comforter sets out there, so look for the one that will help you sleep soundly! It can be hard to find the right one, but if you let this list guide you, you can't go wrong.