In this review, we'll be taking a look at the 2500 mg CBD oil from American Hemp. Though the Internet's been buzzing about the positive health benefits of CBD for years, I was curious to know: Could it help improve my sleep?
To find out, I tested the American Hemp Oil for two weeks and was definitely surprised by how it affected my slumber. Want to know if the effects were good or bad? Well then you better keep on reading!
Note: The content on Sleepopolis is meant to be informative in nature, but it shouldn't be taken as medical advice, and it shouldn't take the place of medical advice and supervision from a trained professional. Please talk to your healthcare professional before beginning any new supplement routine. If you feel you may be suffering from any sleep disorder or medical condition, please see your healthcare provider immediately.
Brand Snapshot
American Hemp Oil was founded in 2016 by a group of CBD enthusiasts who wanted to share the health benefits of cannabidiol with the world. The Florida-based company sells a wide range of products, including CBD gel capsules, CBD cream, CBD oil, and even CBD oil for pets.
Because I work for a sleep website (surprise!) I asked the team over at American Hemp to send over the product they thought would lull me to sleep the fastest, so they sent the brand's 2500 mg CBD oil.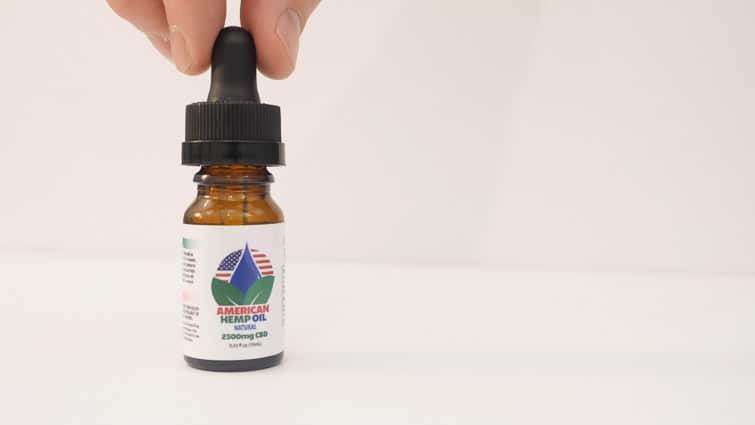 American Hemp Oil Ingredients
So first things first… what is CBD? Well, CBD is a natural compound found in the flower of the cannabis plant. Cannabis contains more than 100 of these phytocannabinoids (including the psychoactive tetrahydrocannabinol, or THC), so CBD is just one of many contained within the plant.
But unlike its sister THC, CBD has no psychoactive properties. Repeat: CBD does not trigger hallucinations, intoxication, or any other stereotypically stony side effects. CBD is commonly incorporated into gummies and oils and is used to treat everything from loss of appetite to joint pain, anxiety and, yes, even poor sleep. I should also add that it's totally legal to purchase and consume hemp-derived-CBD in all 50 states. For more on the compound, check out our full guide to CBD and sleep.
Though studies on the side effects of CBD are still scarce, the research that does exist supports it as a safe and well-tolerated compound. A comprehensive survey conducted in 2011, which aggregated results from numerous studies, showed CBD to be non-toxic, and safe in doses up to 1500 milligrams per day. (1) A 2017 study which sought to add new data to that survey further found that not only was CBD safe for chronic, long-term use, but that it had a better side effect profile than other drugs when treating certain medical conditions, like epilepsy or psychotic disorders. (2)
For its part, American Hemp uses 100% natural CBD derived from industrial hemp and a unique terpene blend to formulate its oil. Aside from being au natural, the oil's also been third party lab tested, which means it's been approved for sale by scientists unaffiliated with American Hemp.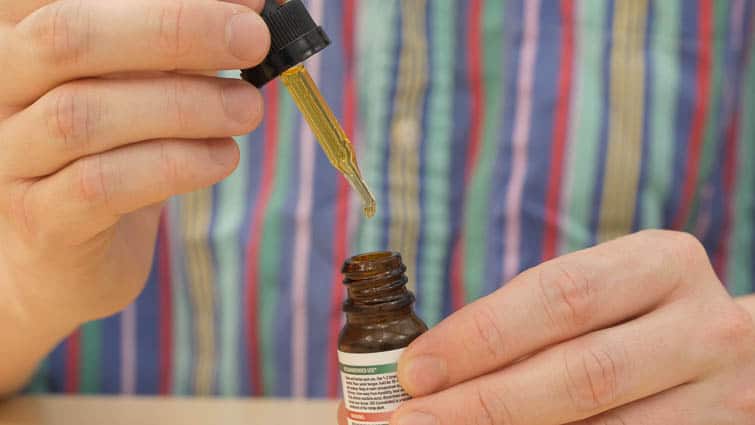 My Experience with American Help Oil
The 2500 mg CBD oil from American Hemp is the brand's highest quality oil and retails for $140. According to the company, one dropper of oil contains 15 drops or about 83 mg of active CBD oil. There's reportedly 30 servings in each bottle, so if you stick to the recommended once a day dosage, the vile should last you for about a month.
I used mine for two weeks and feel like there's just a little less than half left, which scans with the recs. Per the instructions, I placed the drops underneath my tongue, held them there for 15 seconds, and then swallowed them. Because I wanted to see if the oil would help me sleep, I took my dosage right before bedtime, but if you're not using CBD for slumber, feel free to take it any time you want!
Alright, now let's get into my experience, which I'm going to break down into three categories: falling asleep, staying asleep, and the morning after.
Falling Asleep
I'm an awful sleeper, and one of my biggest nighttime struggles is getting to sleep. Usually when my head hits the pillow, my mind starts racing with a thousand different thoughts, all competing to reign supreme as the ultimate distractor on my way to dreamland. Therefore, I need a sleep supplement that'll relax my brain enough to allow me to actually, you know, fall asleep.
That being said, I was pleasantly surprised by how well the American Hemp CBD oil helped me to do just that. The company says you should expect the oil to kick in 15 minutes after taking it, so I took my dosage right before bed. Within 15 minutes, I felt incredibly relaxed, all the way from my head to my toes.
Though the CBD oil didn't totally eradicate my bedtime anxiety (I mean what but a trip to the Bahamas could?), it did help calm and quiet my mind. I felt a pleasant tingling across my body, and noticed a lifting of tension from my typically tight shoulders. All in all, a lovely sensation I think could help restless folks achieve some nice zen before bed.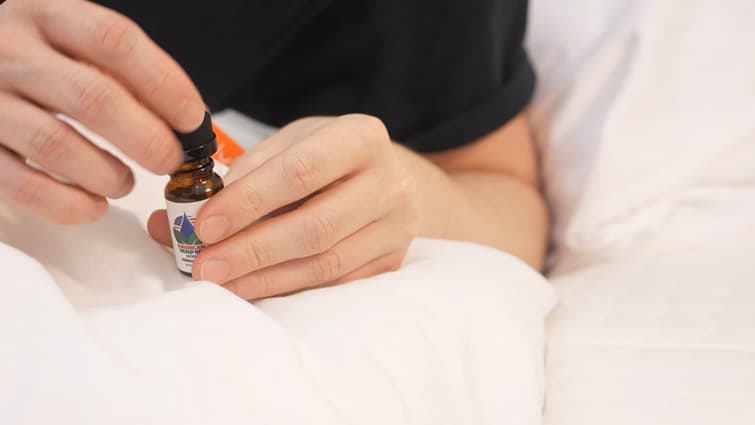 Staying Asleep
Staying asleep was another story. In general, I wake up in the middle of the night every night, so while it's crucial for me to find a supplement that allows me to fall asleep, I also need one that's going to sustain that slumber over the course of an entire evening.
Unfortunately, the CBD oil didn't help much in that department. Though the oil certainly helped me get to sleep, it didn't "knock" me out or anything like that, so I found myself stirring as I often do, around 3 am.
The Morning After
While sleep supplements usually lead to a TON of grogginess the next day, I was delighted to find that I didn't feel any sort of haziness from the CBD oil. I woke up feeling refreshed and ready for the day, which is a big plus for CBD in my opinion.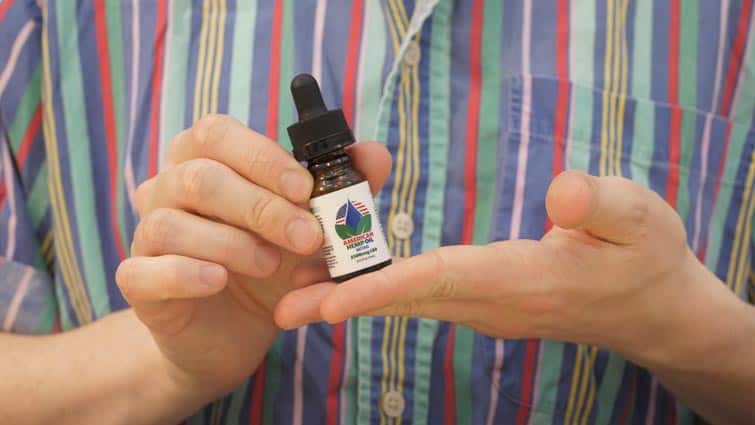 Should you buy the American Hemp CBD Oil?
Well folks, we've arrived at the end of this review and that means it's time to decide if the American Hemp CBD Oil is right for you! Though I can't make that decision for you (sorry!), I can leave you with a few final thoughts to help you get there on your own.
Pros
I thought the CBD oil was fantastic at helping me fall asleep. After taking the recommended dosage, I felt relaxed, serene, and totally ready for bed.
I also like that the ingredients here are all-natural and third party tested.
One of the biggest pluses in my opinion is that I didn't experience any sort of morning hangover, which is typical of sleep supplements in general.
Cons
Perhaps the biggest con for this product is that it's quite expensive. But that doesn't really have anything to do with American Hemp in particular, as CBD oil is generally pretty pricey.
I'd also say that the oil wasn't great at helping me to stay asleep, which could be a con for those of you who need help sleeping through the night.
And that's that on that! If you have any more questions, feel free to leave a comment on the video or to send me a DM on Twitter or Facebook. Otherwise, make sure to subscribe to our YouTube channel so you don't miss out on all our new sleep-related content. Happy dreaming!
References
Bergamaschi, Mateus Machado, et al. "Safety and Side Effects of Cannabidiol, a Cannabis Sativa Constituent." Current Drug Safety, U.S. National Library of Medicine, 1 Sept. 2011.
Iffland, Kerstin, and Franjo Grotenhermen. "An Update on Safety and Side Effects of Cannabidiol: A Review of Clinical Data and Relevant Animal Studies." Cannabis and Cannabinoid Research, Mary Ann Liebert, Inc., Publishers, 1 June 2017.