In this review, we'll be taking a look at the CBD PM tincture from cbdMD. Packed with all-natural CBD oil and melatonin, this product is designed to send even the most restless sleepers straight off to dreamland. But does it like… actually work?
To find out, I tested the oil myself and I've gotta say, I was pretty surprised by how it affected my slumber. So… was it good? Bad? Awful? Magical? Well, you'll just have to keep on reading to find out!
Note: The content on Sleepopolis is meant to be informative in nature, but it shouldn't be taken as medical advice, and it shouldn't take the place of medical advice and supervision from a trained professional. Please talk to your healthcare professional before beginning any new supplement routine. If you feel you may be suffering from any sleep disorder or medical condition, please see your healthcare provider immediately.
Brand Snapshot
Since its founding in 2015, cbdMD has been on a mission to produce the highest-quality CBD oil in the industry. A lofty aim, but one the brand has endeavored to pull off with rigorous third-party testing and domestic hemp production right here in the United States. In addition to its collection of straightforward CBD oil tinctures, the company also sells CBD capsules, gummies, sleep aids, topical creams, vape oils, bath bombs, and CBD oil for pets.
The kind folks over at cbdMD sent us a ton of these different products, many of which I was lucky enough to personally test. But for the purpose of this review, I decided to focus mainly on the brand's special CBD PM tincture.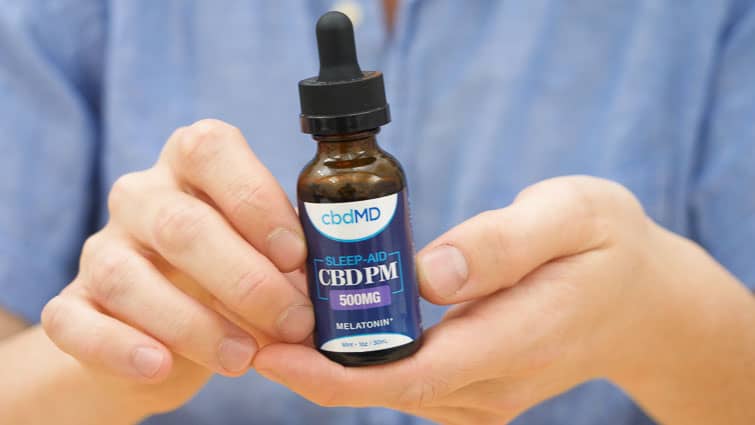 Ingredients
So, first things first… what in the world is CBD oil? Well, CBD is a natural compound found in the flower of the cannabis plant. Cannabis contains more than a hundred of these "phytocannabinoids" (including tetrahydrocannabinol, or THC), so CBD is just one of many of these compounds.
But unlike THC, CBD isn't psychoactive. I repeat: CBD does not trigger hallucinations or intoxication. It's most commonly contained within gummies, oils, and creams to treat everything from loss of appetite to joint pain, anxiety and, yes, even poor sleep. I should also add that it's totally legal to purchase and sell hemp-derived CBD in all 50 states.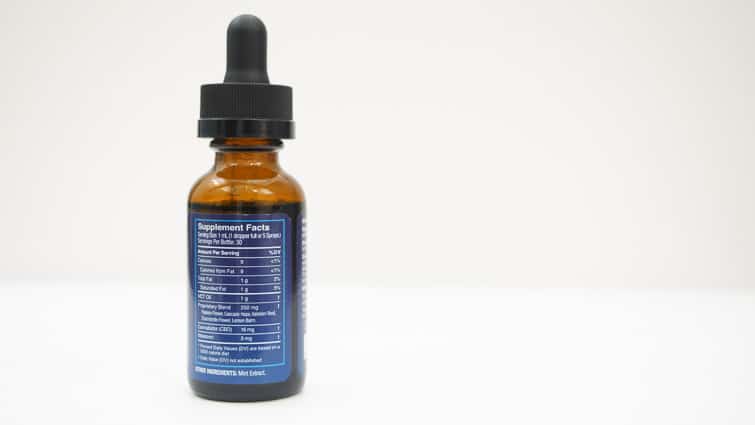 There hasn't been too much research done into the side effects of CBD, but the studies that do exist support it as a safe and well-tolerated compound. A comprehensive survey conducted in 2011, which aggregated results from numerous studies, showed CBD to be non-toxic, and safe in doses up to 1500 milligrams per day. (1) A 2017 study which sought to add new data to that survey further found that not only was CBD safe for chronic, long-term use, but that it had a better side effect profile than other drugs when treating certain medical conditions, like epilepsy or psychotic disorders. (2)
But CBD's not the only ingredient in this tincture! There's also some melatonin (a hormone that helps regulate the sleep/wake cycle) as well as a proprietary blend of chamomile flower, valerian root, cascade hops, passion fruit, and lemon balm. These natural ingredients have long been sought out for their anxiety-reducing properties, and their combined flavor profile (aided by a bit of mint) helps to mask the naturally earthy taste of CBD.
Alright, now that we've got all that sorted, let's get into my experience with the CBD PM oil.
My Experience
The CBD PM tincture comes in a 30-serving vial and retails for $45. According to the brand, one should take a full dropper about 15-30 minutes before bed. This dosage contains 16 mg of CBD and 5 mg of melatonin. For reference, that's a pretty low to mild amount of CBD and a high one of melatonin (most doctors recommend taking between .2-5 mg of melatonin a night). If you're new to either CBD, melatonin, or both, I'd recommend starting with a lower dosage and adjusting until you find the amount that's right for you.
I'm about 6 ft. tall, 165 pounds, so I opted to follow the instructions to the letter and took an entire dropper of oil. Below, I'll describe my experience with oil by dividing it into three sections: Falling Asleep, Staying Asleep, and the Morning After.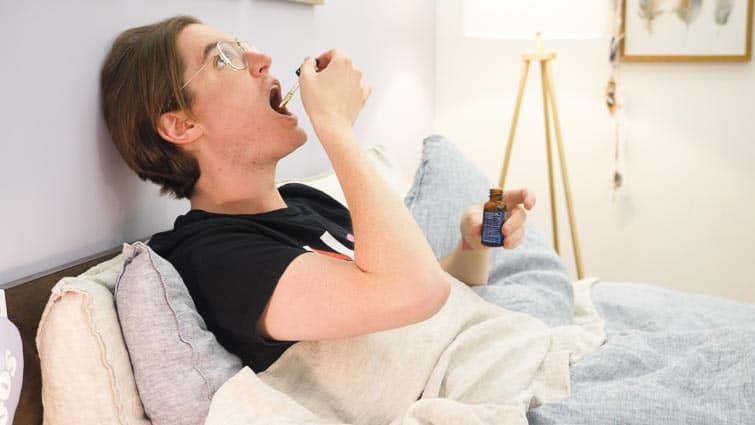 Falling Asleep
One of my biggest bedtime problems is getting to sleep. As soon as my head hits the pillow, my mind swirls with dozens of different thoughts and ideas, making it difficult for me to relax and slip into the syrupy half-consciousness of slumber. So, when I'm trying out a new supplement, I pay extra close attention to how well it's able to get me to fall asleep, and I am happy to report that the CBD PM tincture worked like a charm!
I took it when I got into bed and noticed its effects within 15 minutes. It felt like a warm, heavy blanket pressing against my body, inundating me with a satisfying sense of calm. My mind was quiet, my shoulders relaxed, and I was soon drifting off to sleep.
Staying Asleep
If falling asleep is my number one nighttime woe, staying asleep comes in at a very close second. Most nights, I wake up around 2 or 3 am, either because of a bad dream, a stray thought, or simply because my body's desperately hoping it's time to wake up so it can finally stop trying to snooze. That being said, I consider myself pretty lucky if a supplement is able to help me doze all night long.
Unfortunately, I didn't find that to be the case with the CBD PM tincture. Falling asleep was a breeze, but I still found that I was waking up in the middle of the night most evenings.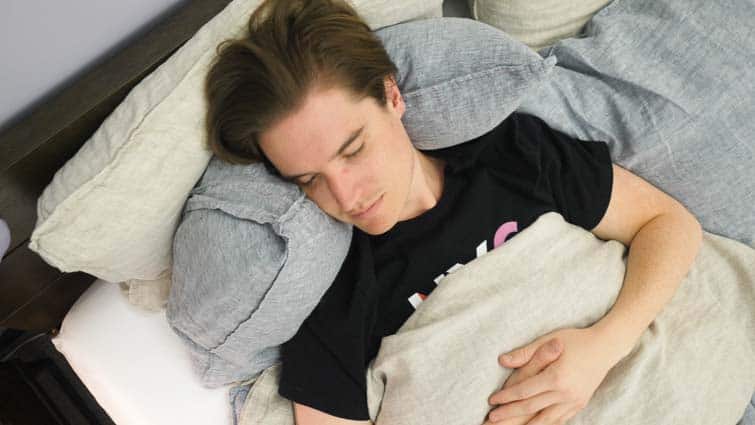 Morning After
A major drawback of most sleep supplements is the feeling they leave you with the morning after. If a sleep aid is particularly strong or effective at getting you to fall asleep, chances are you'll experience some serious drowsiness the next day. Therefore, I was curious to see how clear-headed the cbdMD tincture would leave me in the morning hours.
Thankfully, I didn't really experience any grogginess with the oil! I'm not sure if it was because the effects mostly wore off by the early morning or what, but I was glad to find out there was little to no next day hangover from the supplement.
Is the CBD PM Sleep Aid for you?
Now that we've delved into the cbdMD brand, analyzed the ingredient profile of the CBD PM sleep aid, and chatted about my personal experience with it, it's time to answer the final question: Is the CBD PM Sleep Aid for you?
I can't answer that for you, but I can leave you with a few final thoughts to help you get there on your own.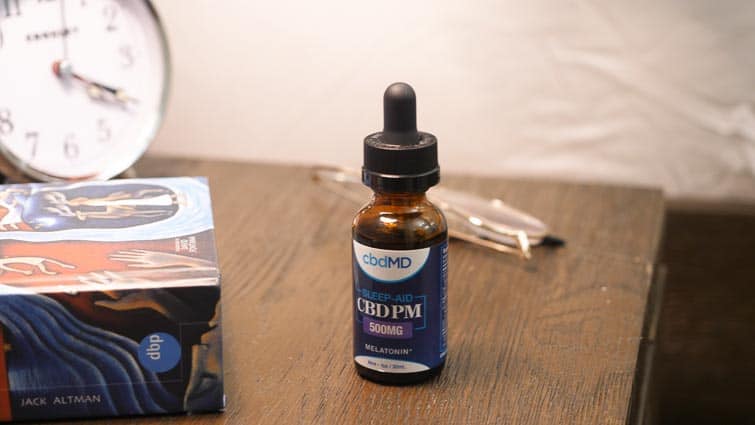 Pros
First and foremost, I thought the tincture was fantastic at getting me to fall asleep. If that's your biggest slumber problem, this oil could be a great fit.
It also tasted really nice! CBD oil typically has a grassy, earthy flavor, so I appreciated the notes of mint here.
Finally, I think it's a great value buy. At $45 for a 30-serving bottle, this sleep aid is competitively priced for the CBD market.
Cons
Though the oil was great at getting me to fall asleep, it didn't last through the evening, so may not be effective for folks who have trouble staying asleep.
I'd also say that the cap was kind of difficult to open. If you're someone who generally struggles with opening vials/pill bottles, I'd recommend finding a supplement that's a little easier to manipulate.
Well, that about does it for this review! If you have any other questions about this product, feel free to DM me on Twitter, Facebook, or Instagram. And make sure to subscribe to the Sleepopolis YouTube channel so you can get all our latest sleep-related content.
References
Bergamaschi, Mateus Machado, et al. "Safety and Side Effects of Cannabidiol, a Cannabis Sativa Constituent." Current Drug Safety, U.S. National Library of Medicine, 1 Sept. 2011.
Iffland, Kerstin, and Franjo Grotenhermen. "An Update on Safety and Side Effects of Cannabidiol: A Review of Clinical Data and Relevant Animal Studies." Cannabis and Cannabinoid Research, Mary Ann Liebert, Inc., Publishers, 1 June 2017.
Cody Gohl
Cody is a former staff editor at Sleepopolis. His work has appeared online for Esquire, Next, LOGO TV, Fandom, Citylife, The Manual, and more.