Silk pillowcases are among the most luxurious sleep accessories on the market. They're impeccably smooth, beautifully lustrous, and feel uniquely soothing on the hair and skin. But when you're shopping for the perfect one, it's important to remember that every silk pillowcase is different! So, how are you supposed to know which one is right for you?
Well settle in, sleepers, because I'm about to show you exactly how to shop for silk pillowcases. In this guide, I'm presenting my top four favorite silk pillowcases, as well as some expert tips and tricks for finding the one that suits your unique sleep needs. Let's get started!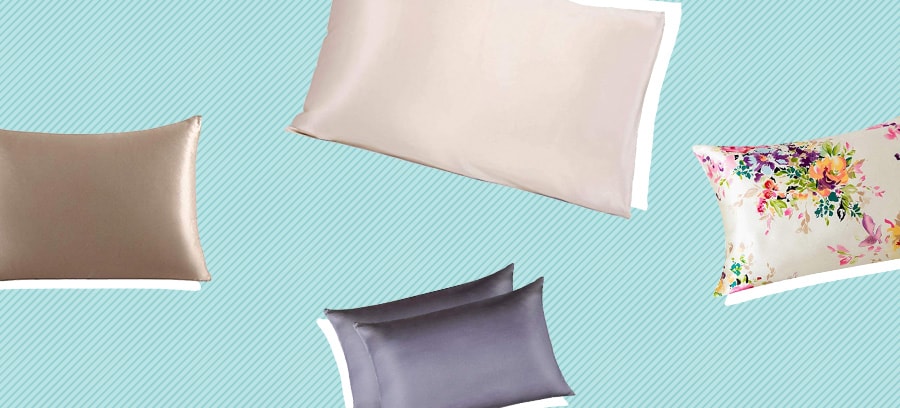 Editor's Pick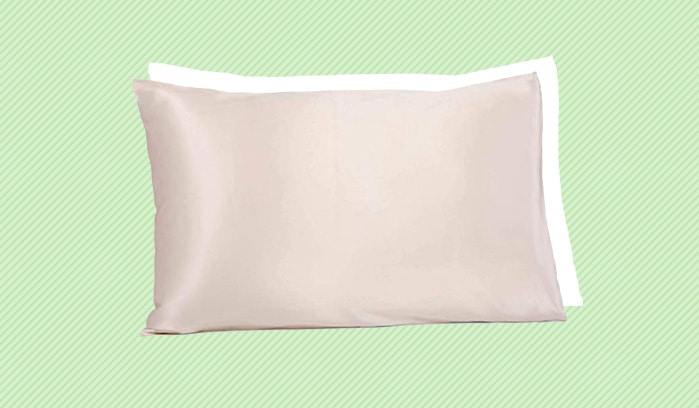 Fishers Finery Mulberry Silk Pillowcase
This pillowcase is made from the finest Mulberry silk, and features a luxuriously high momme of 25. It's lustrous, lightweight, and features envelope closures for a clean look.
Pros
If you're looking for a durable yet delicate pillowcase, this is a great way to go. Mulberry silk is known for its lone, fine, strong fibers. 

A high 25 momme makes this pillowcase extra lustrous and smooth!

This pillowcase is offered in a wide variety of colors and sizes, ideal for folks looking to buy for the whole family.
Cons 
While it is offered in over a dozen colors, this pillowcase does not come in any prints or patterns. 

At almost $50, this might be more than you're looking to spend on one pillowcase.
Fishers Finery Mulberry Silk Pillowcase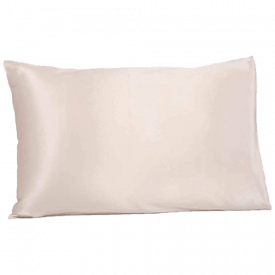 Fishers Finery Mulberry Silk Pillowcase
The Fishers Finery Mulberry Silk Pillowcase is lustrous and lightweight, featuring a luxuriously high momme of 25.
Best Affordable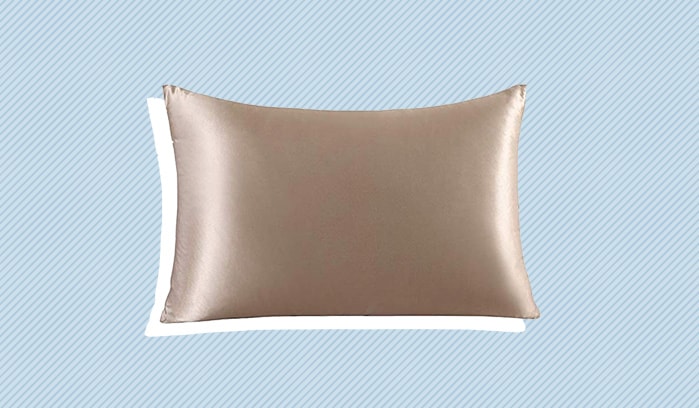 Zimasilk Mulberry Silk Pillowcase
This mulberry silk pillowcase is smooth, shiny, and very reasonably priced. It features a high 19 momme, and has a hidden zipper as well. 
Pros 
If you're looking for a luxurious silk pillowcase (but don't want to break the bank), you'll be glad to know that this one costs about $25. 

The zipper on this pillowcase is very discreetly hidden to prevent it from snagging your hair!

This pillowcase comes in over

twenty

different colors, ideal for those experimenting with bedroom decor. 
Cons 
This is more a matter of personal preference, but keep in mind that this pillowcase has a zipper closure instead of an envelope closure. 

In order to maintain the integrity of the fabric, this pillowcase must only be handwashed or dry-cleaned. 
Zimasilk Mulberry Silk Pillowcase
Zimasilk Mulberry Silk Pillowcase
The Zimasilk Mulberry Silk Pillowcase is smooth, shiny, and very reasonably priced.
Best Style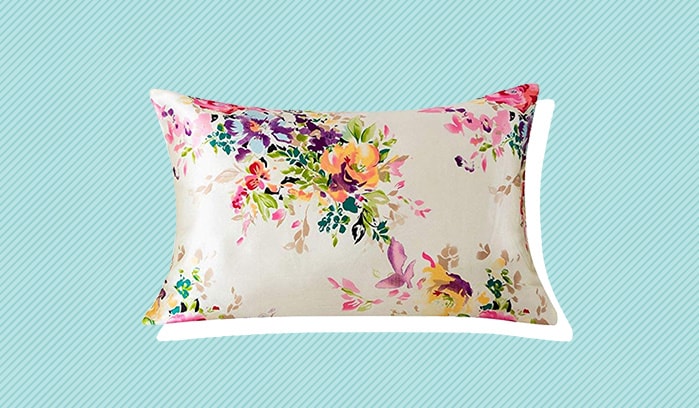 SLPBaby Silk Pillowcase
This mulberry silk pillowcase is as stylish as it is smooth. It features a delicate 16 momme, a hidden zipper closure, and comes in a variety of fun prints and patterns. 
Pros 
This pillowcase comes in over a dozen floral patterns, perfect for shoppers looking to get creative with style. 

It's made from 100% mulberry silk, which is widely considered to be the best type of silk thanks to its extra smooth feel. 

This pillowcase is

very

reasonably priced at around $20 for a Queen size! 
Cons
I found this pillowcase to be exceptionally delicate, so you must be extra careful with wearing earrings or jewelry to bed. 

If you prefer envelope closures, keep in mind that this one has a zipper.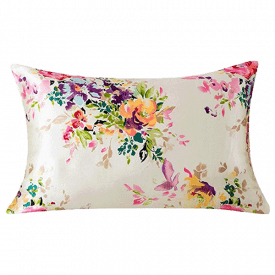 If you're looking for a pillowcase that's as beautiful as it is smooth, look no further than SLPBaby.
Best for Hair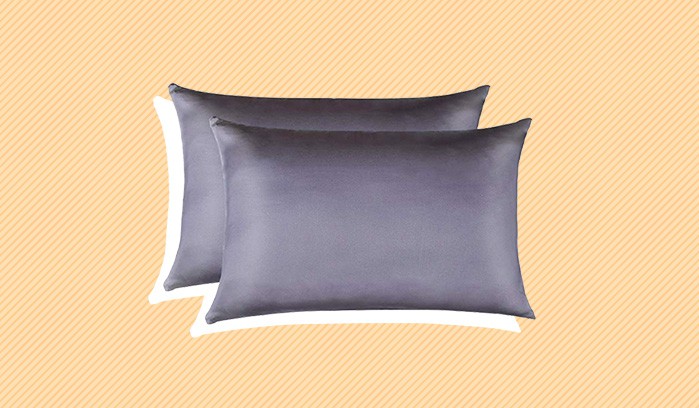 Jocoku Mulberry Silk Pillowcase
Made from 100% mulberry silk, this pillowcase is super smooth and durable. Additionally, it features a high 19 momme, a hidden zipper, and lovely luminous sheen. 
Pros
Pure mulberry silk like this can be exceptionally soothing on the skin and hair, perfect for those in search of beautyrest! 

This pillowcase comes in a variety of colors and sizes, which makes it a good giftable item. 

A high 19 momme makes this pillowcase feel extra smooth and look super lustrous. 
Cons
This pillowcase doesn't come in any printed patterns — only solid colors. 

For best results, you should only hand wash or dry-clean this pillowcase.
Jocoku Mulberry Silk Pillowcase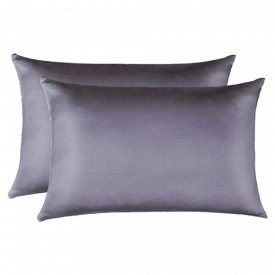 Jocoku Mulberry Silk Pillowcase
The Jocoku  Mulberry Silk Pillowcase is super smooth and has a great luminous sheen.
How We Picked
Now that we've seen my personal favorite silk pillowcases, let's discuss the methodology behind my picks. Yes, a lot comes down to personal preference, but there are some key things to consider when you're shopping for the perfect silk pillowcase.
Materials & Construction
While there are a variety of different silks on the market, this guide focuses specifically on mulberry silk. Why? Well, it's widely regarded as the best silk available, thanks to its extra long, fine, round threads. That's why I recommend shoppers keep an eye out for mulberry silk, as it's a pretty safe bet as far as quality is concerned.
That said, you might encounter Tasar silk (made by caterpillars) or Spider silk (spun by Madagascan spiders), but mulberry silk is definitely the most popular. In fact, it makes up about 90% of the global silk supply! So, not only is it the best quality — it's also the easiest to find.
It's also important to consider construction, as some pillowcases feature the same silk on both sides, while others employ a dual-design. For example, a pillowcase might have a cotton underside in order to prevent it from slipping and sliding on your mattress. If you're working with a strict budget, I urge you to keep an eye out for these silk/cotton constructions, as they're often half the price of an all-silk pillowcase!
Weave
When it comes to silk pillowcases, weave style is not always explicitly given (unlike with cotton). And if it's not, it's safe to assume that it features a plain weave style in which the horizontal threads alternate over and under the vertical threads for a smooth, untextured finish.
However, charmeuse, chiffon, and crepe de Chine are all weave styles you might find on your shopping journey, and they each offer unique traits. Silk chiffon is very light in weight and has a transparent appearance, charmeuse silk is exceptionally lustrous and shiny, and crepe de Chine is known for its distinctly crimped texture.
All the pillowcases in this review feature a plain weave style, but it's worth it to take some time to decide what weave appeals to you most. Afterall, the way a silk pillowcase is woven directly affects how it looks and feels!
Momme
In the world of silk bedding, thread count goes out the window, and the focus turns to momme. But similar to thread count, a higher momme usually means a more luxurious product!
Simply put, momme is the term used to measure the weight of silk bedding. It says a lot about the quality and durability of the fabric, and lets you know how smooth the texture will be. Keep in mind, though, that some brands do not advertise momme, and classify a pillowcase as light, medium, or heavy instead.
Personally, I prefer retailers that tell you exactly what the momme is because it gives you a good sense of what to expect in terms of quality. For context, a momme of 12-15 is considered good, a momme of 16-19 is considered great, and anything in the 20s is top-notch luxury.
Ultimately, a high momme is not the sole indicator of silk quality, but it can boost resistance to pilling, color retention, and overall performance.
Colors, Prints & Patterns
Dressing your pillow with silk is a quick and easy way to make your whole bedroom look more luxurious, but that doesn't mean you shouldn't take time to find the exact style that suits you best. After all, silk pillowcases come in a very wide variety of prints, patterns, and colors, and it's worth it to find the one that matches your personal aesthetic.
That's why I recommend doing a little research before settling on a specific brand. For example, it would be a shame to find the material, weave, and momme you're looking for only to find out that it's only offered in one color (that you don't particularly like)! Obviously, style doesn't affect the feel of the fabric, but curating your sleep space to your liking can help you get better rest.
Wash Care
Here comes the tricky part.
More often than not, silk pillowcases must either be carefully hand washed, or taken to the dry cleaners. It's not a huge hassle, but it's certainly not ideal for folks who prioritize easy wash care. So, to save you some stress, I've detailed some failsafe silk wash care instructions below:
If you prefer to hand wash your silk pillowcase, use cool water and a mild detergent (Woolite or Ecosa are great options).
Then, let it air-dry indoors, away from the sun. Remember — the sun can damage silk!
If you absolutely must machine-wash your silk pillowcase, put it inside a mesh garment bag to prevent the fabric from snagging anything mid-cycle.
Silk pillowcases can be pretty pricey, and they're very delicate, so be sure to protect your investment with proper wash care. And when in doubt, simply check the care instructions as given by the bedding brand itself.
Pricing
Price ranges quite a bit within the world of silk bedding, and I've seen them cost anywhere from $15 to $700 (for one pillowcase!). It largely depends upon the quality of the fabric (that's why materials, weave and momme are so important), but can also be influenced by the popularity of the retailer itself. So, how do you know if a silk pillowcase is worth the dough?
Well, as I said earlier, mulberry silk is typically a safe bet. But it's still a great idea to take advantage of a brand's trial period when it's offered. A trial period gives you the chance to personally test a product in order to determine if it's really the best fit for you. And if you decide that it's not, just send it on back for a full refund.
Sleepopolis Buying Tips
We're nearing the end of this guide, but let's recap a few more expert buying tips before you start shopping:
Wash Care – If you decide to dry your silk pillowcase by machine, use the lowest possible setting. Additionally, don't add any fabric softener or dryer sheets, as these products can leave a residue on the surface fibers of silk.
Beauty Benefits – If you're looking for a pillowcase that'll be kind to your hair and skin, go with 100% silk as opposed to blended materials. Pure silk produces minimal friction against your hair, and can prevent sleep lines from showing up on your face!
OEKO-Tex Certification – Folks with sensitive skin should keep an eye out for the OEKO-Tex certification, as this guarantees that no harsh dyes or chemicals were used in the production process.
Final Thoughts
Well, shoppers, you're officially silk experts and you're ready to find the pillowcase that's perfect for you. Just be sure to focus on materials, weave, and momme, and you'll be getting the beautyrest you deserve in no time! Sweet dreams, everybody.
Sarah is the Senior Writer and bedding expert at Sleepopolis. Every week, she personally tests and reviews new pillows, sheet sets, and other sleep accessories. She accompanies every video review with a meticulously detailed article to ensure her audience has all the pertinent info they need for the best shopping experience possible. Perhaps that's why her fans have dubbed her "the most thorough pillow reviewer on the Internet." Having tested everything from sleep trackers to mattress toppers, Sarah's expertise runs deep and is always expanding. She received her degree in Creative Writing from Brooklyn College and spends her free time doing stand-up, making pasta, and hanging with her cats.