If you're looking for a way to adjust the firmness and feel of your bed, a mattress topper might be just the thing. So let's take a look at the Flip Topper from Coop Sleep Goods, a reversible topper that lets you choose between soft and firm support. But is it really a practical solution to your sleep needs (and is it worth the dough)? You'll have to keep reading to find out!
Editor's Note: The Coop Flip Topper is no longer available. If you are interested in a topper from Coop, take a look at our Coop Sleep Goods Retreat mattress topper review.
Brand Snapshot
Coop Sleep Goods was founded by a pair of siblings whose family had been in the textile manufacturing industry for decades. After much research and development, the brand launched its first ever pillow in 2013, and has been building its collection of sleep accessories ever since.
Though Coop Sleep Goods offers bedding of all kinds (with my personal favorite being the body pillow), this review focuses exclusively on the Flip Mattress Topper. So let's dive in and see what it's all about!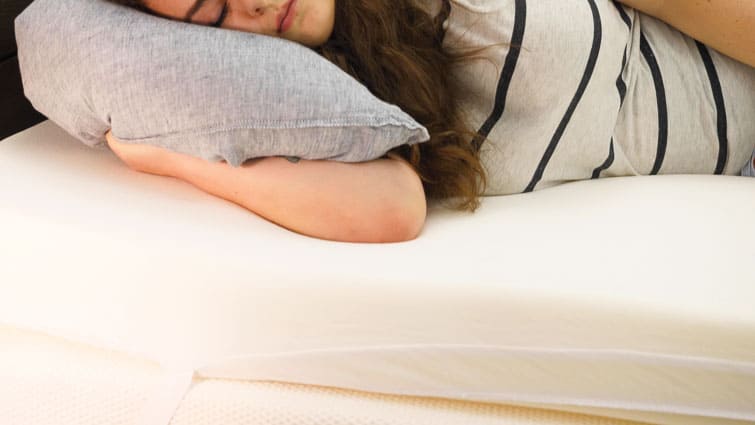 What Is The Coop Sleep Goods Mattress Topper Made Of?
The Flip Topper is made from memory foam, which offers a slow response to pressure and deep sink into the material. Memory foam is known for its ability to conform to your body's shape and relieve pressure at sensitive areas like the shoulders and hips.
Additionally, this topper is four inches deep which, in my experience, is thicker than the average topper (the majority I've tested have been 2-3 inches deep). So heavier sleepers or those looking to boost of the depth of their mattress might be particularly compatible with the Flip!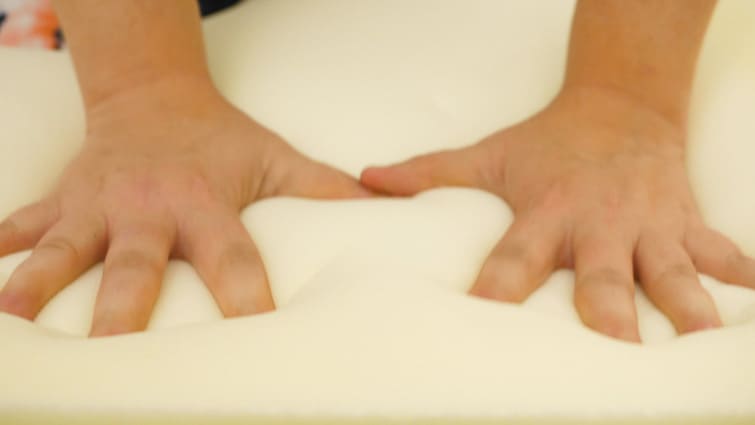 The foam is covered in a thin layer of polyester, and has four corner straps used to secure the topper to the mattress. But what's unique about this topper is that it offers a different level of firmness depending on the side you sleep on (hence the name "Flip").
One side of the topper has a soft feel, while the other is crafted to offer a firm feel. So let's take a closer look at this dual-design so you can better determine if it can really help you avoid back pain.
Coop Sleep Goods Retreat Mattress Topper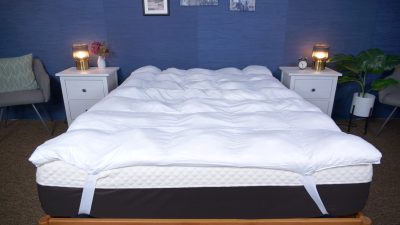 This Coop Sleep Goods topper is filled with cross-cut foam and microfibers, using a baffle box construction for even distribution.
Sleepopolis Score
4.90 / 5
Read Full Review
How Does The Coop Sleep Goods Mattress Topper Feel?
Before we get into the feel of each side, I have to address one small complaint — the color. On the brand's website, each side of the topper is clearly indicated by a difference in color (soft side is yellow, firm side is white). But after seeing it in person, I find it very difficult to see any color difference.
Of course, you can determine which side is firm/soft by pressing into the material, but I do wish the topper looked like it does on the website. But the good news is that every Flip Topper comes with a waterproof mattress protector, which I think is a pretty great perk. Afterall, a mattress protector is a great way to keep your sleep space looking clean and pristine.
Okay, now let's discuss how each side of the topper feels, and which sleepers might be most compatible with each one.
Firm Side
As you have probably guessed, this side is firmer as compared to the soft side of the Flip. But it's important to note that it's not very firm; in fact, I'd give it a 6.5 on the 1-10 firmness scale (with 10 being the most firm). Of course, firmness and feel can be subjective and depend upon the sleeper's body type, but keep in mind that neither side of this topper is extra firm.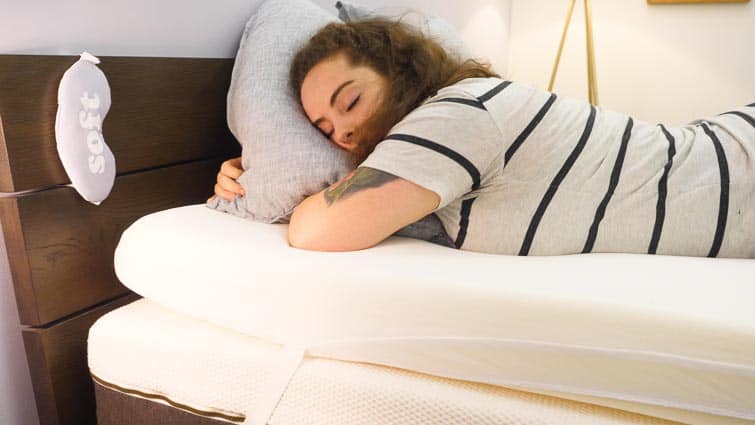 I find the firmer side to be most beneficial for stomach sleeping, as prone sleepers typically need firm support in order to maintain neutral spine alignment. That said, I think back sleepers who like a firm feel might prefer this side to the softer side.
When it comes to side sleeping, I definitely prefer the soft side of the topper (which we'll get to next). Keep in mind, though, that the firm side offers a slightly quicker response to pressure, and the soft side lets you sink more deeply into the material.
More: Check out my guide to picking the perfect pillow for your sleeping position!
Soft Side
As I said, the soft side of the topper offers a slightly slower response to pressure and deeper sink into the material as compared to the firm side. In my experience, this provided better pressure relief at my hips and shoulders when I slept on my side.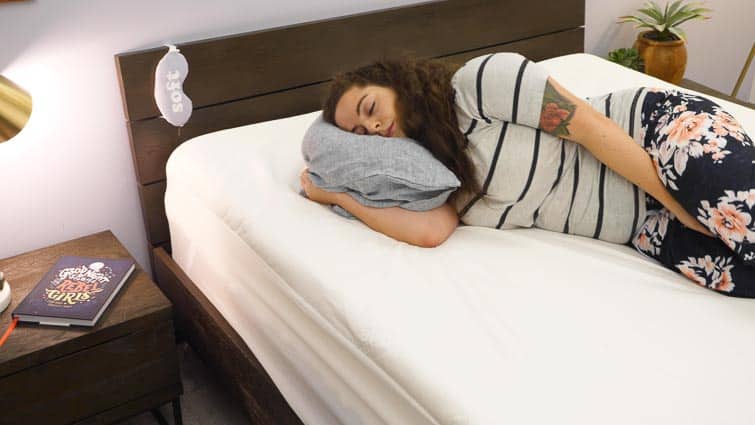 Additionally, I think that back sleepers who love that slow sink into memory foam will probably be more compatible with the soft side of the Flip. Personally, I enjoy the firm side for back sleeping, but that's just a matter of preference.
However, I will say that flipping the topper back and forth is not exactly easy. Don't get me wrong — I like that it has a dual-sided design, but having to remake the bed every time you want to flip it is kind of a hassle. Additionally, the topper is about 25 lbs which can make it tough to maneuver by yourself.
Ultimately, I find the soft side to be ideal for side sleeping. The foam cradled my shoulder and hip in a really cozy way, while the other side was a bit too firm for side sleeping. Remember — side sleepers typically need softer support in order to maintain a neutral spine and relieve pressure throughout the body.
The Bottom Line
Overall, I enjoyed my experience testing this topper. I think the dual-sided design is a clever idea, especially for those still experimenting with different sleeping positions.
I'll also say that I was surprised by this topper's ability to dissipate heat. Memory foam has a reputation for trapping heat and causing the sleeper to warm up, but I did not find that to be the case with the Flip.
I do wish that each side was more clearly labeled, but I'm impressed by the quality of the foam and appreciate that you get to choose between soft and firm!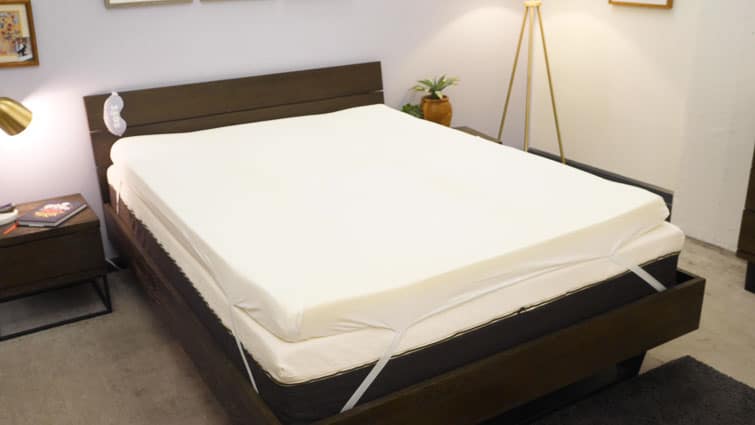 Should I Buy The Coop Sleep Goods Mattress Topper?
Okay folks, now that we've taken a close look at the Flip Topper, let's recap the highlights:
Dual Sided – I think it's great to have the option between soft and firm, especially since sleep habits evolve over time. For example, side sleepers tend to be more compatible with soft support, but if you switch up styles and become a stomach sleeper, there's no need to get a new topper — just flip it over.
Free Mattress Protector – I think it's awesome that Coop Sleep Goods includes a free waterproof mattress protector. Mattress protectors, in my opinion, are an essential accessory as they keep your bed looking clean and pristine. And this particular protector comes with a nice 15-year warranty.
Trial – Every topper comes with free shipping, free returns, and a trial period of 100 nights. Now, you might not need 100 nights to decide whether this is the right fit for you, but it's nice to have the time!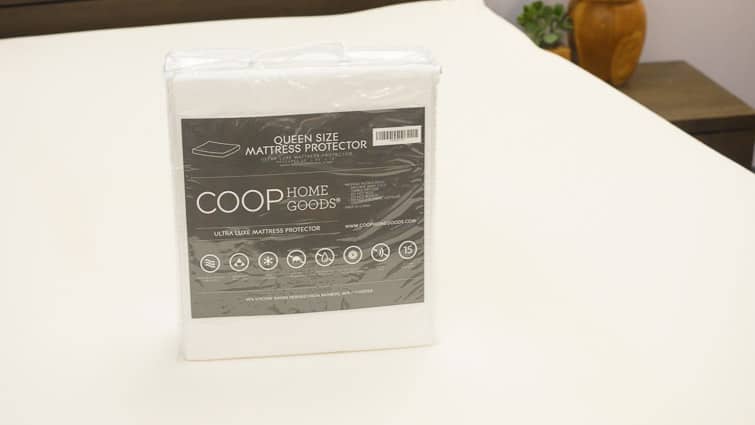 Coop Sleep Goods Mattress Topper Complaints
When it comes to quality, I have no complaints. However, there are a couple things to consider before you make your purchase:
Which Side is Which? – My main complaint about this topper is that the sides are not clearly indicated like they are on the website. On the website, the soft side is yellow and the firm side is white, but I didn't notice much difference in color at all. So, you kind of have to lie on both sides in order to figure it out.
The Flip Factor – At the end of the day, not everyone is going to want a flippable mattress topper. At about 25 lbs, this topper isn't exceptionally heavy, but some may find the whole flip factor to be more burdensome than useful. Afterall, you have to remake your bed every time you want to flip firmnesses.
Wash Care – This memory foam is not machine washable, and must only be spot cleaned with a camp cloth and mild detergent. Then, allow it to air-dry before dressing it with any bedding.
Anything Else I Should Know?
Pricing – $269-$289
Sizing – Queen: 57″ (W) x 78″ (L) x 4″ (H), King: 74″ (W) x 78″ (L) x 4″ (H)
Free Shipping & Returns – with the U.S.
100-Night Trial Period
CertiPUR-U.S. Certified
Wash Care – spot clean only
Well, now you're all experts on the Coop Sleep Goods Flip Mattress Topper and you're well on your way to deciding if it's the right fit for you. And as you carefully consider every last detail, be sure to like and subscribe to our YouTube channel and follow us on Facebook, Twitter, and Instagram!
Sarah Riccio
Sarah is the former senior writer and bedding expert at Sleepopolis. She received her degree in Creative Writing from Brooklyn College and spends her free time doing stand-up, making pasta, and hanging with her cats.