[box type="warning"] UPDATE 11/16/16:  Ooroo is no longer selling online. They are only selling wholesale. They may eventually return to selling direct to consumer, but for now this product is not available directly from Ooroo.[/box]
Looking for a new bed for your four legged friend? Meet the new Ooroo pet bed. The Ooroo pet bed is built a little different than most pet beds, but still offers the comfort and support your pet needs.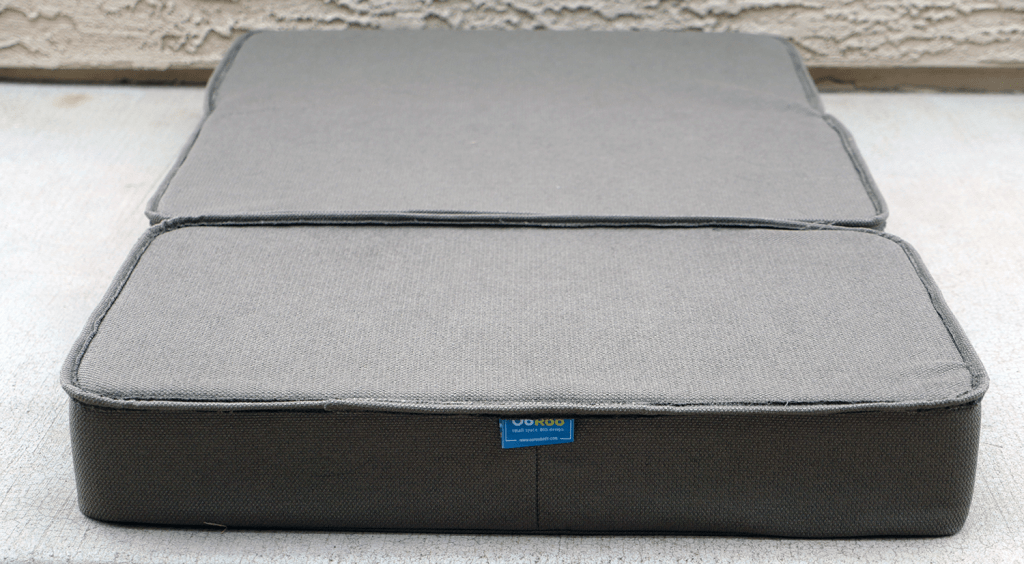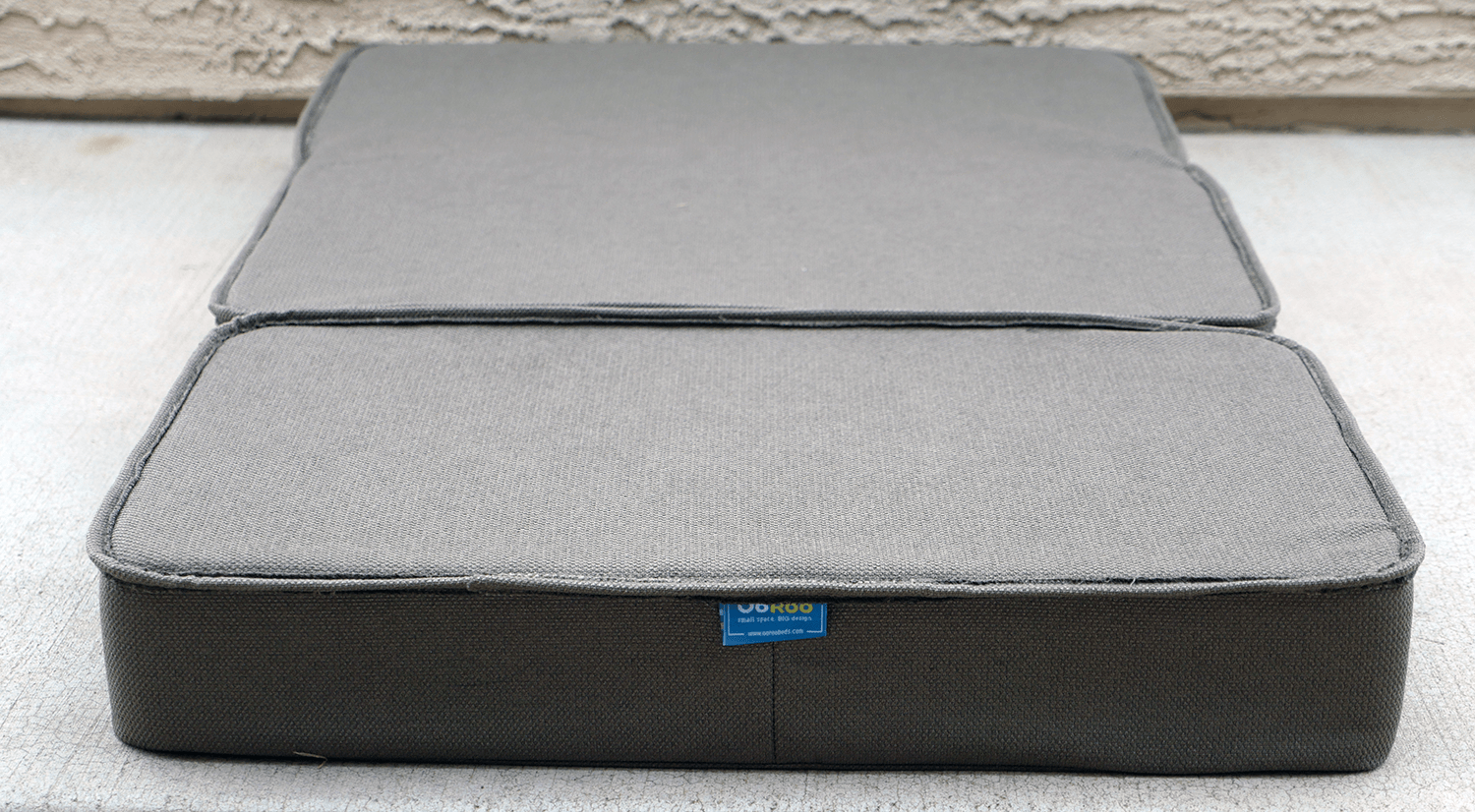 Construction & Materials
The Ooroo pet bed is made up of stain and odor resistant Crypton fabric. Crypton is a patented fabric that incredibly durable and able to resist stains, moisture, and smells.
The bed is designed with a tri-fold construction. This is beneficial for pet owners as you'll be able to fold the pet bed up and store it with ease or take it on the go for trips. The bed folds out into a flat bed so pets are able to sprawl out and enjoy a more comfortable place to rest. The foam used inside of the Ooroo pet bed is very responsive and soft. The mix of a comfortable cover, soft foam, and Crypton fabric make for a very nice bed.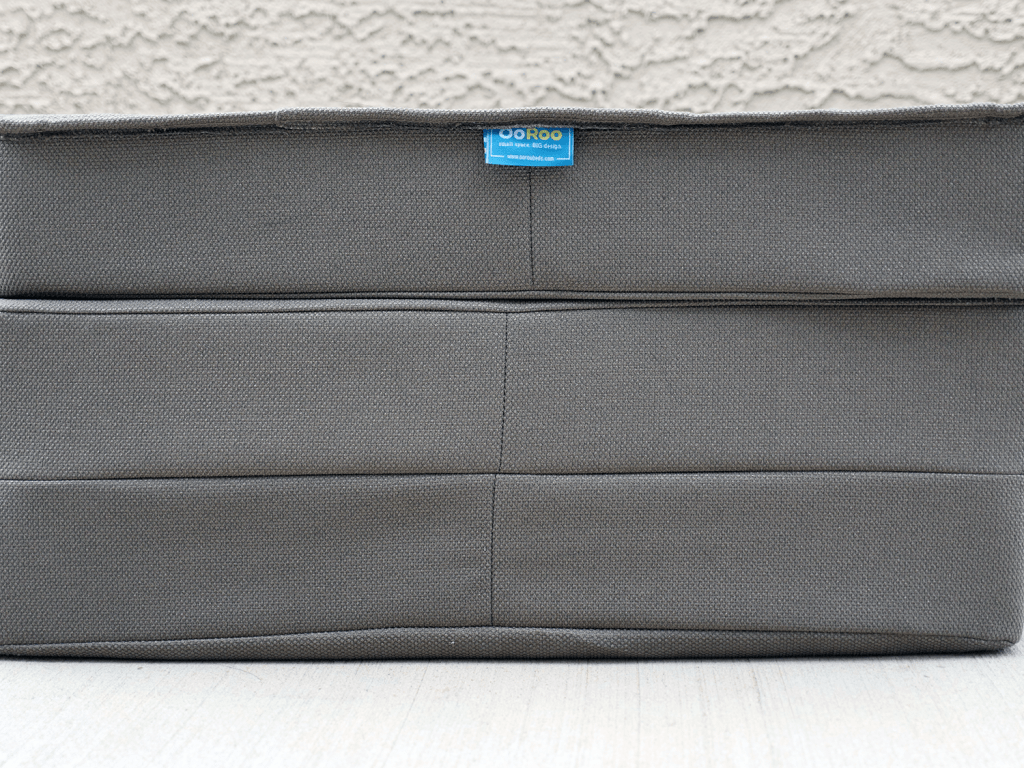 One flaw with the Ooroo pet bed is cover removal. Unfortunately, there is no way to remove the cover off of the bed and wash it. Granted, it spot cleans quite easily, I would still like the option of removing the cover and putting it through a wash cycle.
Durability
This pet bed has a very strong build quality. Just before allowing my cousin's dog, Stella, to lie on the bed I searched for any potential flaws. While inspecting the seams I did not find any loose threads. Typically, I would examine the zipper and cover removal of the pet bed, but with no zipper this test was not possible.


Next, it was time to give Stella the chance to enjoy the bed. First, she lied on the bed while it was completely unfolded (flat). She seemed to enjoy the comfort level from what I could tell. As a rambunctious puppy, she grabbed the bed with her teeth at one point and tried to tear into it. The Ooroo pet bed held up great to Stella's onslaught, preventing any noticeable damage or tears. After a few minutes of lying and playing with the bed unfolded, we turned it into the couch style bed. Although she appeared to tolerate the couch style, Stella seemed to prefer the large fully flat configuration more.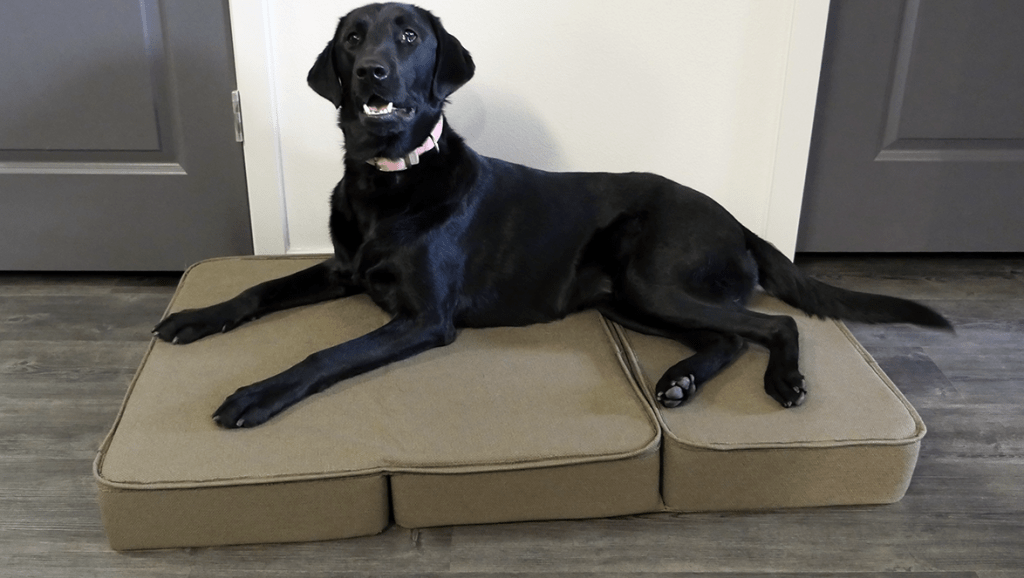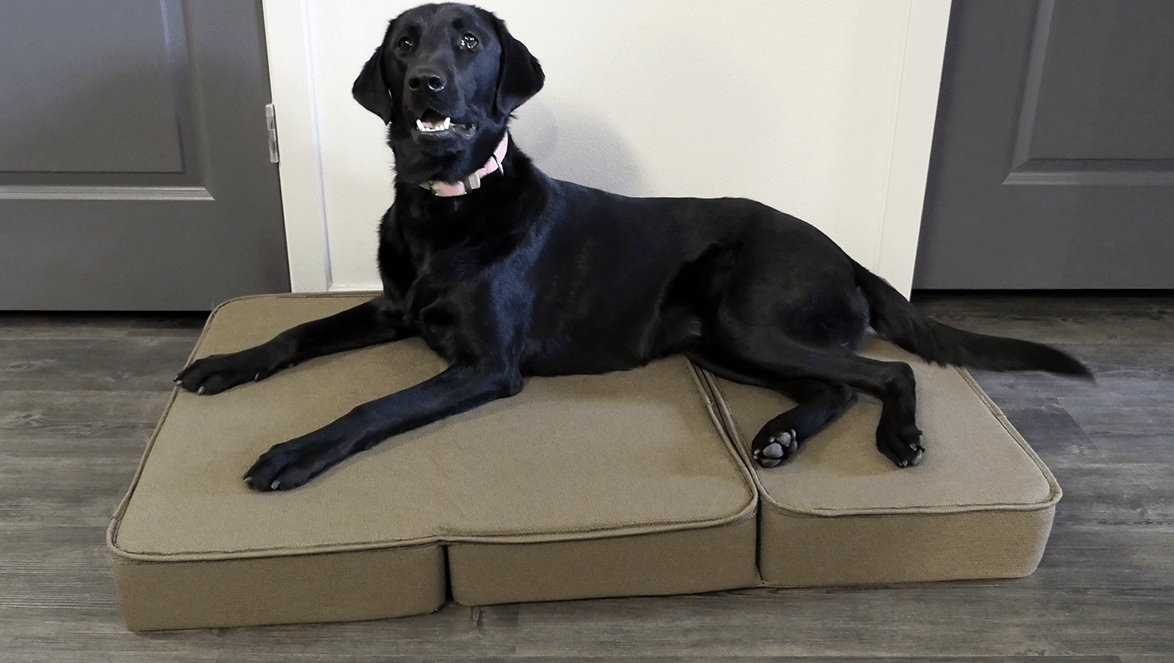 At 65 pounds, Stella is not a small dog. I would expect smaller and medium size dogs would enjoy the couch style configuration more, as it allows them to get a little higher off the ground and see more, while still being fully on the bed.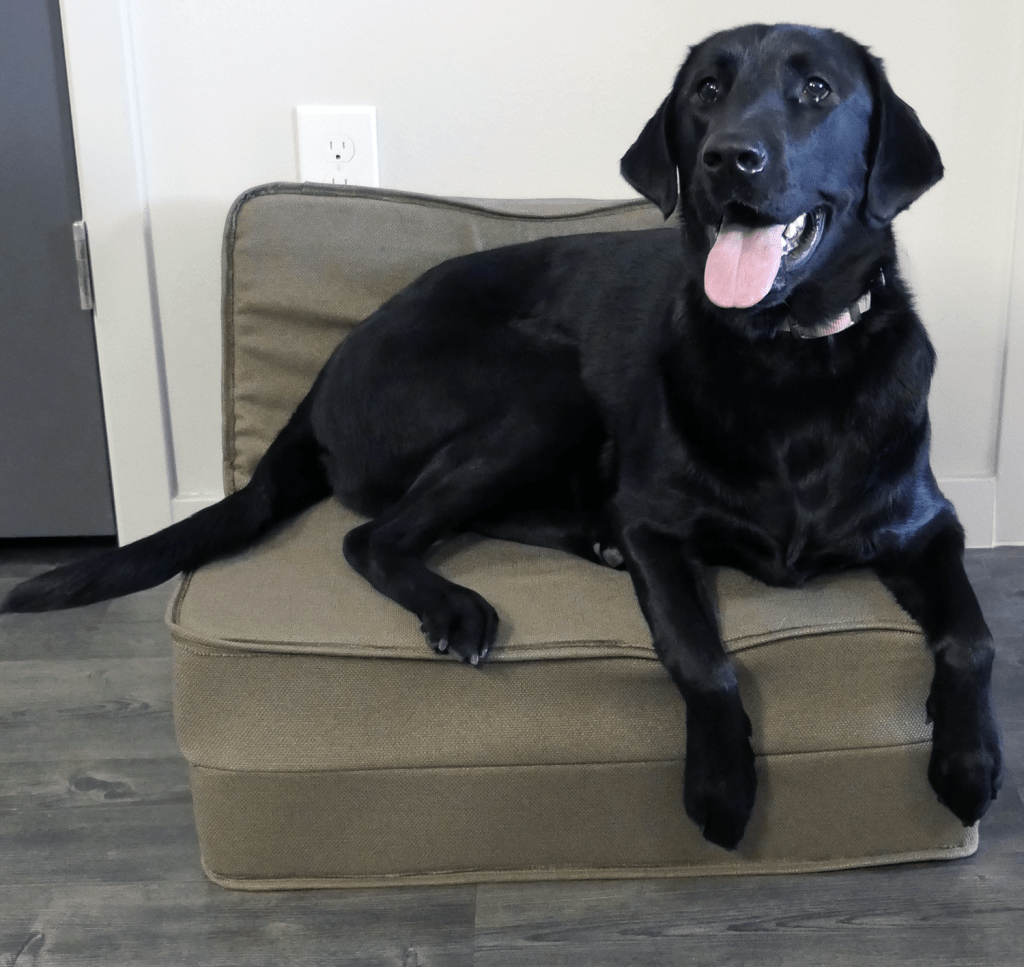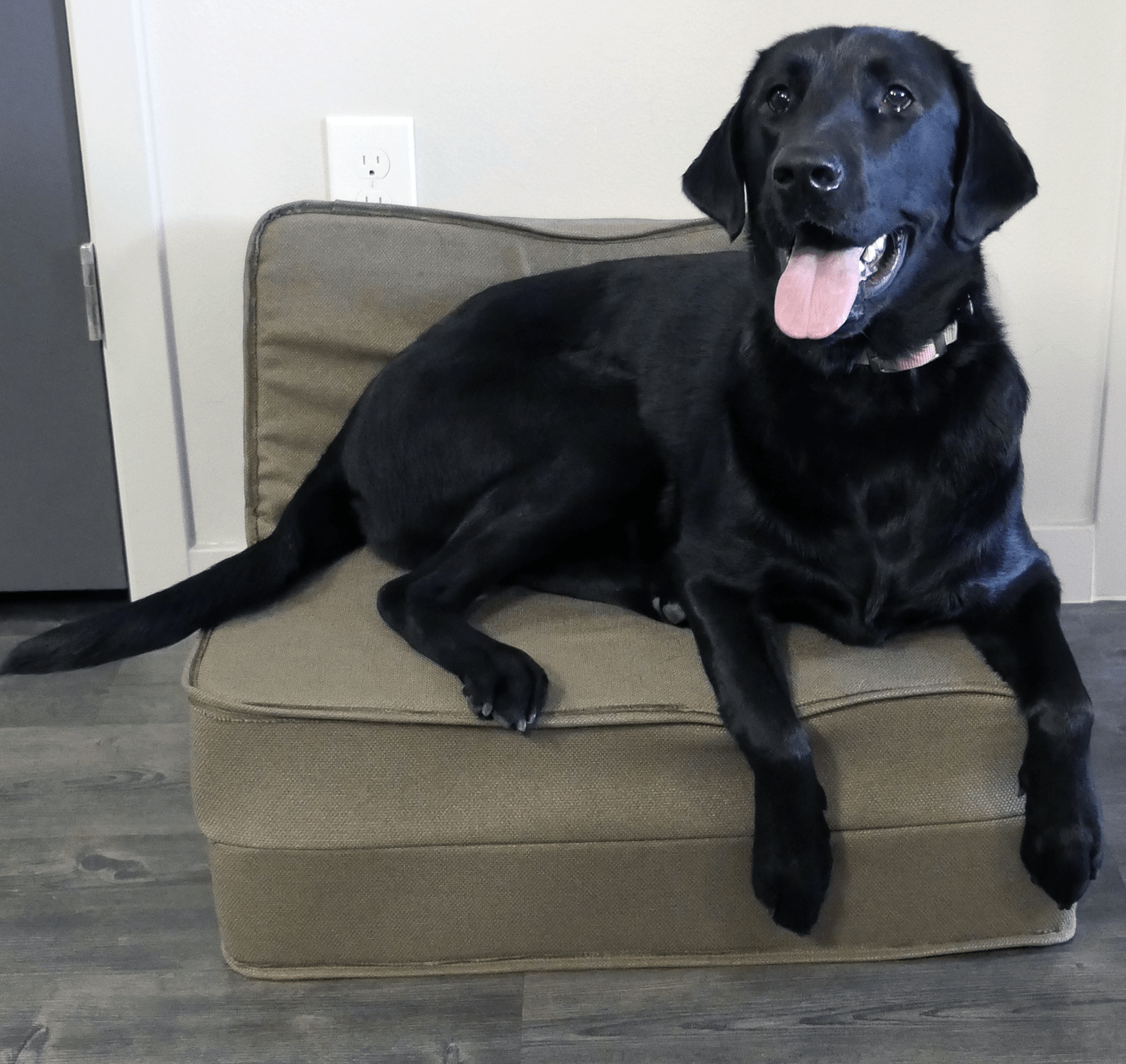 As a dog that sheds a lot, Stella was very helpful in determining the hair retention factor of the Ooroo pet bed. Fortunately, the hair came off of the bed very easily. Not every single hair came up, but there was a significantly reduced volume of hair after a quick vacuuming.
Final Thoughts
To sum it all up, the Ooroo pet bed is very well made. Personally, I would have really preferred a removable cover. At some point, there is simply going to be a mess and/or smell that I would rather have a washer / dryer for than simply spot cleaning. Additionally, the price point for the large pet bed seems a bit much at $200+, however, the medium and small sizes are more reasonable. My favorite attribute is simply the tri-fold configurable options. While I don't see my dogs using it as a couch bed, it's nice to have the option to fold it up for space saving when not in use.
This pet bed is offered in three different sizes: small (23″ x 36″), medium (26″ x 42″), and large (28″ x 53″). The Ooroo pet bed ranges from $91.99 – $203.99 and is made in the USA.
For more on the Ooroo pet bed visit Ooroobeds.com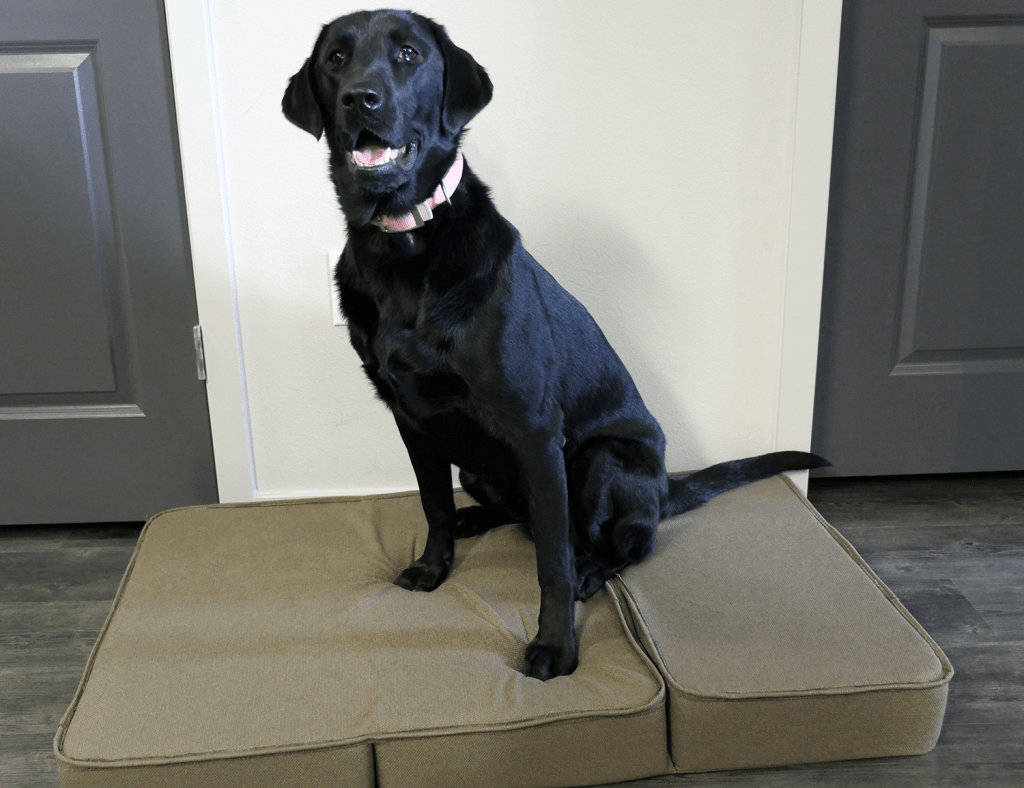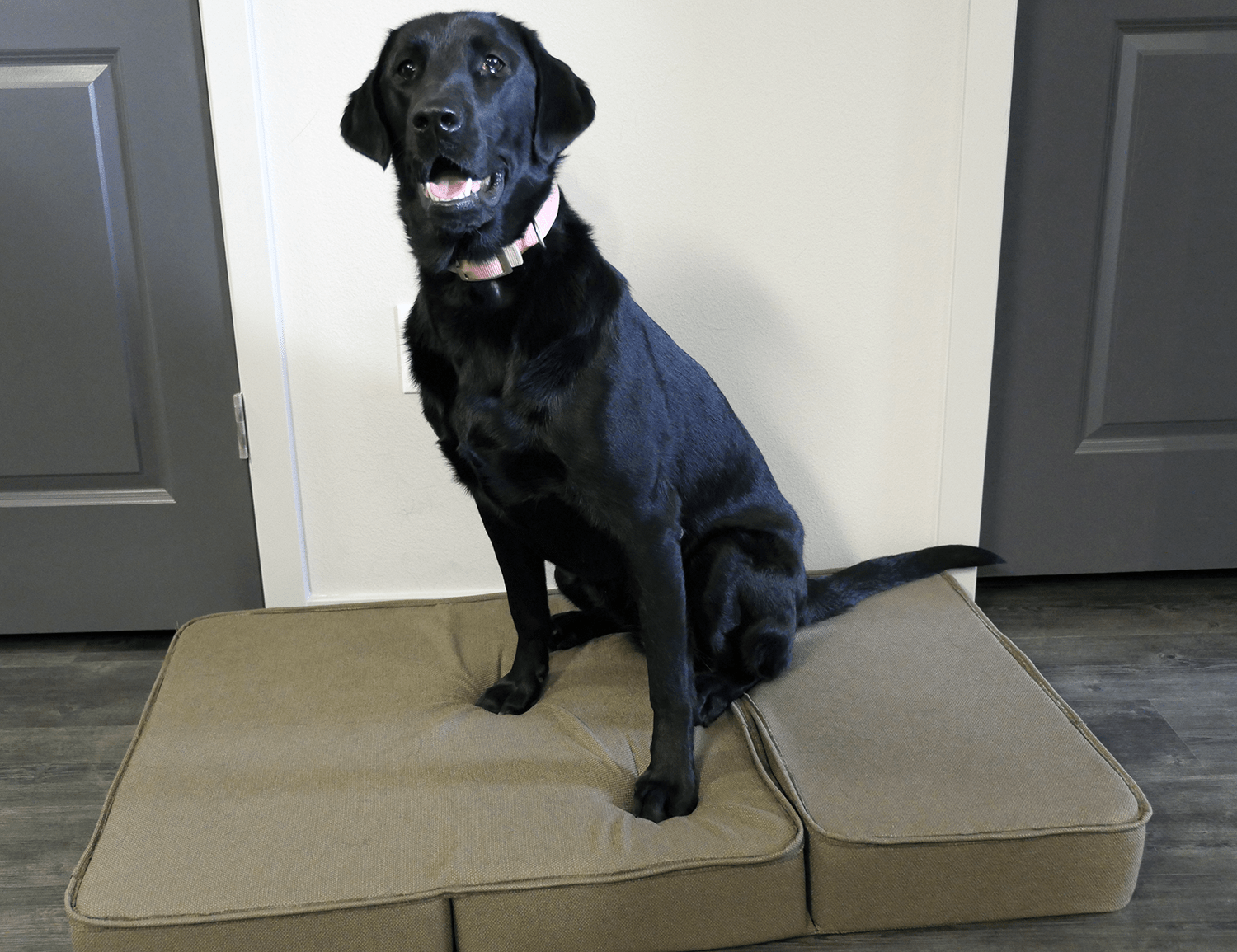 Durable & Strong, But Not Cheap
Materials

Durability

Style

Value

Company
Summary
The Ooroo pet bed is a space saving, dependable, and high quality pet bed that your furry friend will love. With the tri-fold design, this pet bed can easily be stored away and brought back out for your pet's pleasure. With a Crypton fabric cover, you can rest easy knowing that the bed will last and remain stain free from your pet's messes. With 3 different sizes offered, you have the ability to purchase a pet bed that meets the size specifications of your pet.
The following two tabs change content below.
The Sleepopolis team is all about helping you sleep better. Whether it is through extensive sleep product reviews, sleep tips, or debunking sleep myths, we're here for you!
Latest posts by Sleepopolis Team (see all)