There are hundreds of different mattress models on the market. While this can be exciting, as there are a number of possibilities, it can also be overwhelming. If you're certain about the kind of mattress you want, if you're on a budget, or if you just want to get a little crafty, we couldn't recommend a DIY mattress enough.
Building a DIY mattress quite literally involves you doing the entire thing yourself (surprise, surprise). It can truly be as simple as purchasing the necessary mattress layers, stacking them together in the right order, and enclosing all of them in a cover.
While the DIY mattress process can reap rewarding results, it can be difficult to know where to start. That's precisely why we've created this DIY mattress guide. This process doesn't have to be painless, and you don't have to be notoriously handy. In some ways, creating something on your own can be quite a lot of fun. Think about it this way: you're investing time and money into a product that will further improve your mental health and your overall well-being.
DIY Mattress Construction
Even if the mattress materials vary from brand to brand, the majority of mattresses consist of roughly the same components. To understand how to build your own mattress, it's important to know what you're looking for within each layer of the mattress.
Cover
The cover encloses the layers of the mattress, and it also serves to protect the mattress from contaminants like dirt and bacteria. Mattress covers can be removable or stitched together, depending on your preferences. Often, the cover also serves as an additional plush layer, and sometimes brands will include cooling capabilities that help the cover wick away moisture.
Comfort Layer(s)
These layers play the main role in pressure and pain relief. They can also assist with temperature regulation, if companies decide to incorporate cooling properties. These layers are typically made of a cushioning foam, often memory foam. If they're cooling, the foams are open-cell or infused with gel. Without cooling properties, foam can conform so closely to the body that it traps heat. This is something to pay attention to if you frequently find yourself overheating at night.
Transition Layer(s)
These layers connect the foundation with the comfort layers and serve to transition the sleeper's weight to the base. This helps better support the body, so sleepers aren't sinking right through the cushy comfort layer. This helps keep the body lifted and in proper alignment. The transition layer could be made from just about anything: poly foam, memory foam, latex, coils, and other materials.
Support Layer
The foundation of the mattress supports all the layers above, increases a mattress's durability, and keeps sleepers lifted on the mattress. As with the other layers, the support layer can be made from a few materials. Typically, it's made with more durable materials, such as high-density foam (usually used in memory foam mattresses) or coils (as used in innerspring, latex, and hybrid beds).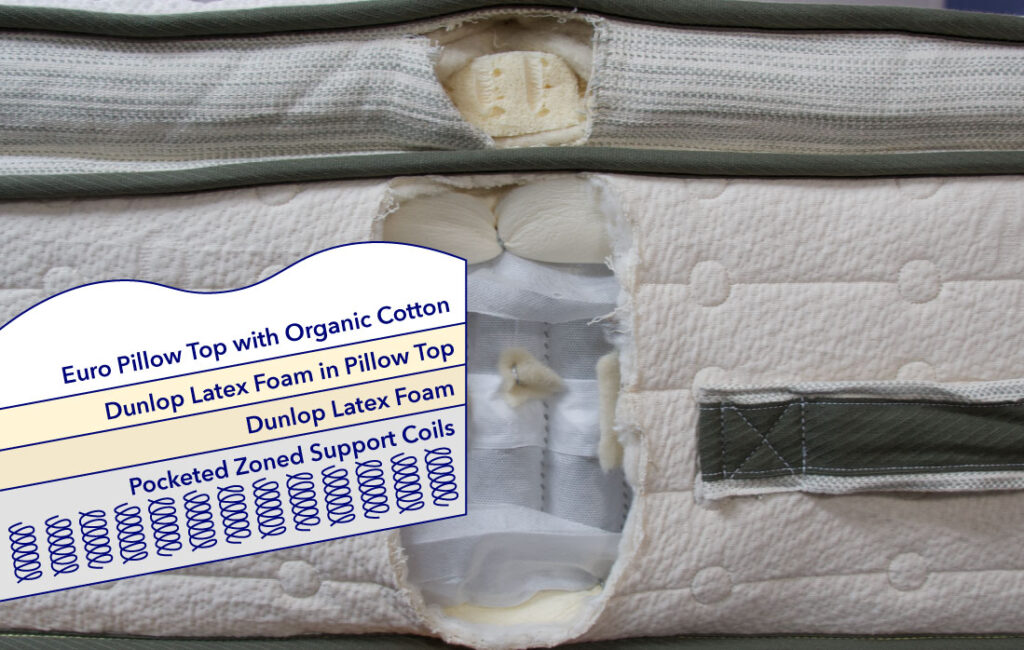 Above, you'll see a diagram of the Avocado Green mattress, which includes all four of the components described above. Its cover is a Euro pillow top that provides plush comfort while the cotton adds some breathability. The first layer of latex foam is intended to cushion the sleeper, serving as the comfort layer. The next layer of Dunlop latex foam transitions the sleeper to the final layer: the pocketed coil support layer.
As you peruse our many mattress reviews, you'll find that mattresses come in all sorts of construction styles. Sometimes, there's an extra high-density foam layer beneath coils in order to provide additional support. Other times, there's another comfort layer to provide more pressure relief. Some of them can skip transitional layers or have a cover with a sewn-in pillow top (like the Avocado Green), but you get the idea.
Pro tip: When stacking your mattress layers, using adhesive between the layers can prevent them from slipping around when you sleep. Of course, an encased cover can do the job on its own, but an adhesive further prevents this.
DIY Mattress Firmness
Firmness directly impacts the amount of comfort you'll get from your mattress. The industry standard firmness scale rates mattress firmness between 1 (the softest option) to 10 (the firmest option).

Soft Mattresses
Truly soft mattresses are generally between a 3-5/10 on the firmness scale. These beds tend to have the most pronounced cushioning, but this doesn't mean they come without support. It's important to know that firmness and support do not always go hand-in-hand, but many firmer mattresses include more support because they emphasize the support layer rather than the comfort layer.
It's also important to keep in mind that softer mattresses work best for specific types of people. For example, side sleepers and those with joint pain often need a softer mattress for maximum comfort and pressure relief.
Medium-Firm Mattresses
Medium-firm beds typically clock in at about a 6-7/10 on the industry firmness scale. These mattresses work to not only provide motion absorption but also spinal alignment. For this reason, they're particularly great for back sleepers, who require a balance of both comfort and support.
Firm Mattresses
Firm mattresses (an 8-10 on the firmness scale) don't give you that hugging feeling that you may expect from a memory foam bed, as they have a more rigid structure. These beds are fantastic options for back sleepers wanting a bit of a firmer feel, or stomach sleepers who require a sturdy mattress to lift their hips.
To learn more about mattress firmness, you can check out our mattress firmness guide.
How to Choose the Right Firmness for a DIY Mattress
One of the best things about making a DIY mattress is that it's fully customizable, so shoppers can pick any mattress firmness they want. This question can be answered by understanding two things about yourself: your body type and sleeping position. Each sleeping style and each body type requires different levels of support and cushioning, so it's better to pick the firmness level according to your individual needs.
Sleeping Position
There are a number of different sleeping positions out there, but the most common tend to be side-sleeping, back-sleeping, stomach-sleeping, and combination sleeping.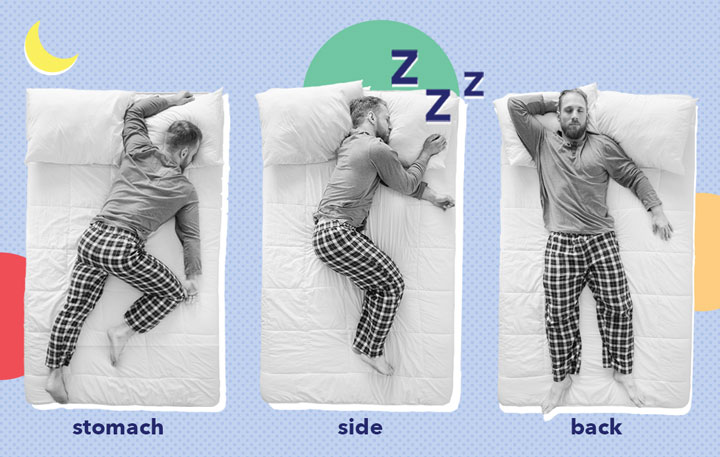 Side sleepers usually feel the most comfortable when they receive plenty of cushioning at the shoulder and hip, as these are the parts of the body that we put the most pressure on in this position. Therefore, softer mattresses work better for this sleeping style. They can help prevent joint pain at these more sensitive areas.
Back sleepers need a balanced combination of sturdy support for spinal alignment and cradling for pressure relief at the hips. That's why we advise these folks to choose medium to medium-firm mattresses.
The most important thing for stomach sleepers is to prevent sinkage around the abdomen, as this can put a lot of strain on the spine. That's why this sleeping style calls for a firmer mattress with lots of support.
Combination sleepers are folks who toss and turn between at least two different sleeping positions at night So, it's important to find a mattress that accommodates these sleepers in each of their most common sleeping positions. For the most part, medium-firm mattresses work well as they can often accommodate multiple sleeping styles. We also recommend a responsive (or bouncy) mattress that allows for ease of movement when changing positions.
Body Type
We've established that the best firmness for shoppers depends on their sleeping position, but body type also plays a large role. For instance, lightweight side sleepers feel mattresses much differently than heavyweight side sleepers. Similar to sleeping positions, our general rules are not exactly universal, but you'll find that typically this is the case in most situations:
Lightweight sleepers (under 130 pounds) need to go slightly softer. Their weight isn't always enough to compress the mattress materials, leading to pressure build-up.
Average-weight sleepers (between 130 and 250 pounds) feel mattresses roughly as advertised. Generally, these folks do well with a firmness somewhere in the middle.
Heavier people (over 250 pounds) typically need slightly firmer mattresses for each sleeping style. After all, they typically compress the mattress materials more and require sturdier support to enjoy proper alignment.
DIY Mattress Sizes
Something you'll definitely want to consider when building your DIY mattress is what size you'd like it to be. To help you narrow down your options, we created a guide on the most common mattress sizes, along with who these sizes tend to be best for. Note that the bigger the mattress, the more material you'll have to buy.
| | | |
| --- | --- | --- |
| Mattress Size | Mattress Dimensions (W x L) | Best For Which Sleepers? |
| Twin | 38″ x 75″ | Toddlers, Children, Single Adults |
| Twin XL | 38″ x 80″ | Children, Single Adults, College Students |
| Full | 54″ x 75″ | Children, Single Adults, Adults with Children and/or Pets |
| Queen | 60″ x 80″ | Single Adults, Couples, Single Adults with Children and/or Pets |
| King | 76″ x 80″ | Couples, Couples with Children and/or Pets |
| California King | 72″ x 84″ | Couples, Couples with Children and/or Pets |
Still need more information? Check out our guide on Mattress Sizes and Bed Dimensions.
Building Your DIY Mattress
Now that we've discussed the basics of mattress construction and mattress firmness, we can move onto how to actually build your dream mattress. To make it easier, we've broken this section of our guide into the four most common mattress types:
You should find that after purchasing your materials, your DIY could cost as little as $500. Not surprisingly, higher quality materials come with a higher price tag, so it's important to pay attention to what best aligns with your budget. The right balance between price and quality makes for the best affordable mattresses.
With all this in mind, you should find that a DIY mattress can cost far less than purchasing a mattress online or in a store. Whether the "DIY" part is worth it is something for you— and only you —to decide.
Having trouble choosing between a coil mattress and an all-foam? See our Innerspring vs Memory Foam Mattresses page for more information.
Building an Innerspring Mattress
If you're wanting an easy DIY mattress, and if your body type and sleeping position allow, we recommend starting from an innerspring mattress. This is because it has the simplest construction: a solid coil unit and one comfort layer from each side encased in the cover.

Here's what you need to do:
Take the mattress cover, unzip it, and spread it on the floor. You can choose a mattress protector to serve as a cover. This is a good ready-made solution, and it gives you a rough idea of the size of your mattress.
Place the layer of foam on the cover. A number of innerspring mattresses are designed to be flipped, so they have comfort layers on both sides. You can choose different firmness for these layers, but if you don't plan to flip your mattress, choose a firmer and denser poly foam two to three inches thick.
Place the coil unit on the foam. The coil layer is the main supportive structure of your mattress, and it should be six to seven inches high. For a firmer mattress, choose thicker coils or a higher coil count. This will allow you to achieve a uniform surface and extend your mattress's longevity.
Place the comfort layer on top. You can choose gel memory foam, natural latex, or traditional memory foam, depending on your preferences. Two to three inches of material should do the trick, depending on how thick you want your mattress. Note that if you have a firm core, you might want to choose a softer comfort layer to compensate for it.
Wrap the mattress in the cover and zip it.
Innerspring mattresses are eight to 12 inches thick on average and might be pretty heavy because of the coil system.
Building a Hybrid Mattress
Hybrid mattresses combine different support systems, typically a coil block and foam layers. You can see our beautiful selection of hybrid mattresses and check the construction, so you will have an idea about it.
A hybrid DIY mattress can reach 18 inches in height and be pretty heavy, but the main thing you need to focus on is its edge support and comfort layers.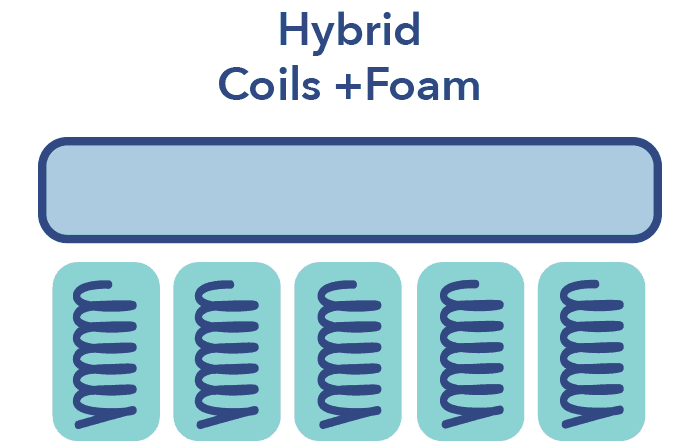 Here's how to make a hybrid mattress from scratch:
Unzip the mattress cover and place it on the floor.
Place the thin layer of dense and firm memory foam on the bottom cover. This layer will hold your coil system and keep it even. Note that hybrid mattresses, in most cases, are one-sided, which means that after the core layer you will be just stacking layers until you reach the desired feel.
Place the coil system on the base foam layer. You can choose a solid coil block or individually wrapped coils. The latter will require reinforcing the perimeter with dense polyfoam, so make sure you define your mattress height before you start building it.
Place the transition layer(s). You can go for a single transition layer or a couple, and the best materials for it are often poly foam, natural latex, or synthetic latex. Truthfully, any material that has a good bounce and quickly restores its shape should work just fine.
Place the comfort layer(s). Hybrid mattresses can have a number of comfort layers, but the final choice is up to you. Note that to secure different foam layers, you will need adhesive, and this can affect breathability. Generally, for the upper comfort layer, you need to choose the material that you like the most because this will be the main layer you will feel. Bonus points if it's gel-infused or open-celled, which could help it become one of the best cooling mattresses.
Wrap the mattress in a top cover and zip it.
Building a Memory Foam Mattress
Memory foam mattresses can be standard or dual-sided, with different firmness levels. They consist of a firmer core and comfort layers that define the final firmness. You'll want to think about the balance of pressure relief and firmness you're looking for in an all-foam mattress. But you'll also want to consider how responsive or slow-moving you want this mattress to be, as well, since the materials you use can drastically change the firmness of this mattress.

To make your memory foam mattress, you will need to:
Unzip the mattress cover, and place the bottom half on the floor. If you plan to make a standard mattress, you can place the base foam layer right on the cover. It should be roughly four to six inches thick. If you want to make a mattress with different firmness levels, then you need to place a one to two-inch comfort layer before you secure the base with the glue.
Place the transition layer. This layer will ensure your spine stays in a neutral position throughout the night and the layer will help distribute your weight on the mattress. This can be a two-inch poly foam layer or an open-cell memory foam layer.
Secure the comfort layer. Memory foam is temperature-sensitive material, so to prevent your DIY mattress from retaining heat, choose cooling foams for the comfort layers. We also recommend using three inches of material or less, so as to not trap as much heat.
After letting your adhesives dry and zip up the top cover. You can sleep on your mattress right away.
Building an Eco-Friendly Mattress
Finally, let's talk about eco-friendly mattresses. These tend to be some of the most expensive mattress options on the market because of the high-quality materials used. However, doing it yourself can cut down on the cost.

Yes, you can craft a DIY mattress without utilizing toxic materials, and here's how:
Choose an organic cover. We highly recommend materials like cotton, Tencel, or bamboo.
If you want a mattress without coils, go for natural latex or plant-based memory foam. The latter are more eco-friendly and can be upcycled. The excess foam can be used to make pet beds, for example.
For mattresses with coils, you can use upcycled mattress springs from your old bed, if they're in a good condition. This will help make your mattress a bit cheaper because brand-new spring blocks can reach up to $300 in price.
For cooling layers, you can use brushed cotton or natural wool. These are natural, and you can also recycle them at the time of disposal.
Also, you can discard adhesives and replace them with hand-stitching. However, this will increase the time of mattress production. So, if you're short on time, you can still use adhesives, just be sure to choose eco-friendly varieties.
If you're super short on time and realize you won't be able to do it yourself, then take a look at our roundup for the best organic mattresses.
Conclusion
Making homemade mattresses might seem like a difficult project, but it's all a matter of planning. If you define the mattress construction, choose quality materials, and dedicate some time to the crafting of your mattress, you might find you've crafted your own dream mattress.