Novilla is an online mattress brand that makes incredibly affordable beds. The Novilla Bliss is no exception— this gel memory foam mattress comes in at about $300 for a king size. But is this budget-friendly bed-in-a-box actually comfortable? 
Curious to learn more? I was too, so I put the Novilla to the test! I analyzed this bed's construction and overall feel, and I also compared it to some of its biggest competition on the market. From firmness level to motion control, breathability to bounce, here's all you need to know about the Novilla Bliss mattress.
Short on time? Feel free to skip to my review summary at the end.
Editor's Note: The Bliss is available in a 10-inch and 12-inch model. I'll be discussing the 10-inch model in this review.
See Latest Deals
The Novilla Bliss is a soft memory foam mattress that's great for side sleepers!
Is the Novilla Bliss a Good Mattress for You?
Before we get into the details, I want to give you an overview of the different sleepers the Bliss is best (and worst) for.  Depending on your body weight, height, and preferred sleeping position, the Bliss may or may not work for you. I can't make that decision for you, but you can take a look at some of my recommendations below to get there on your own.
Who I recommend the Novilla Bliss mattress for
Budget shoppers should definitely consider the Novilla Bliss. Both the queen and king size mattresses are some of the best value mattresses I've tested.
Side sleepers should like the feel of this bed, it cushions pressure points at the shoulders and hips quite well.
Memory foam lovers should enjoy the body-contouring sinkage the Novilla Bliss offers.
Who I don't recommend the Novilla Bliss mattress for
Stomach sleepers will likely need a firmer mattress. One of our best mattresses for stomach sleepers could be a better option.
Heavy sleepers (over 250 lbs) will probably need a more supportive mattress. One of our best mattresses for heavy people might offer more durability for these folks.
Combination sleepers might prefer a bouncier mattress that makes it easier to change positions at night. I'd recommend they take a look at one of our best innerspring mattresses to find a better fit.
See Latest Deals
The Novilla Bliss is a soft memory foam mattress that's great for side sleepers!
How Firm is the Novilla Bliss Mattress?
Now that you know the basics, let's talk about what this bed actually feels like! Keep in mind that firmness and feel are quite subjective. You'll experience a mattress differently depending on your body type and preferred sleeping position. For reference, I'm 5'9", about 125 lbs, and prefer to sleep on my side. Someone heavier than me will likely find this bed softer, and someone lighter might find it firmer.

I rated the Novilla as a 6 out of 10 on the mattress firmness scale. For reference, the industry standard for medium-firmness is 6.5 out of 10. This means the Novilla Bliss is a soft to medium-soft mattress.
Novilla Bliss Mattress Performance
Firmness is one of the most important characteristics to consider when searching for a new mattress, but there are definitely more things to look at. To really determine whether a bed is a good match for you, it's also important to consider how it performs in different sleeping positions, how it relieves pain and pressure, and how it might feel for couples sharing the bed. So let's do just that!
Testing the Novilla Bliss Mattress in Different Sleeping Positions
Different sleeping positions and weights require different amounts of support. Generally, light sleepers don't require the same amount of support as heavy sleepers. Read on below to see how the Bliss mattress performs for sleepers of different weights.
Is the Novilla Bliss a Good Mattress for Light Sleepers (Under 130 lb)?
Light Back Sleepers

– I think this bed would be a good option for these folks. Light back sleepers tend to find mattresses a bit firmer than advertised, so these sleepers should experience just enough firmness to support their spine, as well as lots of cushion.

Light Side Sleepers

– Lightweight side sleepers should find great pressure relief on the Novilla Bliss mattress. These sleepers' hips and shoulders will sink into the Bliss's foam layers just the right amount for optimal cushioning.

Light Stomach Sleepers

– Lightweight stomach sleepers may find this mattress to be too soft. A firmer, potentially hybrid option, could allow for the same amount of cushioning, with a little less sagging — the perfect recipe for stomach sleepers.
Is the Novilla Bliss a Good Mattress for Average Weight Sleepers (130 – 250 lb)?
Average Weight Back Sleepers

– Average weight

back sleepers might enjoy the Bliss's firmness level. It should offer them a nice blend of pressure relief and support. However, some of these folks (especially those closer to 250 lb) might prefer a firmer mattress for added support.

Average Weight Side Sleepers

– Average weight side sleepers can rest assured that the Bliss is a great choice for them.

Its soft memory foams will contour to these sleepers' bodies and create some nice sinkage. This is a

great sign for side sleepers

, since sinking in a little around the shoulders and hips will help them achieve a neutral spinal alignment.

Average Weight Stomach Sleepers

–

Average weight stomach

sleepers will likely feel their hips sinking into this mattress, which can lead to back pain over time. These sleepers might be more comfortable on one of our

best mattresses for stomach sleepers

.
Is the Novilla Bliss a Good Mattress for Heavy Sleepers (over 250 lb)?
Heavy Back Sleepers

– I'd generally steer these sleepers away from this mattress (and away from most all-foam beds). I think the Bliss will start to

sag quickly for heavy people

, and won't offer them the support they need to feel comfortable throughout the night. I'd recommend checking out a mattress designed with more weight in mind, like one of our

best innerspring mattresses

.

Heavy Side Sleepers

– See above.

Heavy Stomach Sleepers

– See above.
Novilla Bliss Pain Relief Performance
A good way to measure pain relief is to measure a mattress's pressure relieving capabilities. Pressure relief is a measure of how evenly distributed your weight is on a mattress. A bed with great pressure relief will prevent you from feeling sore at sensitive spots like the shoulders, hips, and lower back. Memory foam mattresses like the Bliss normally have great pressure relief, so I was excited to test this bed out!
To measure pressure relief, I use a pressure map. I roll the map out onto the mattress, hop on top, and let it measure pressure on various spots on my body. You'll see the results in the graphic below, which will show low pressure areas in blue to green, and high pressure areas in yellow to red.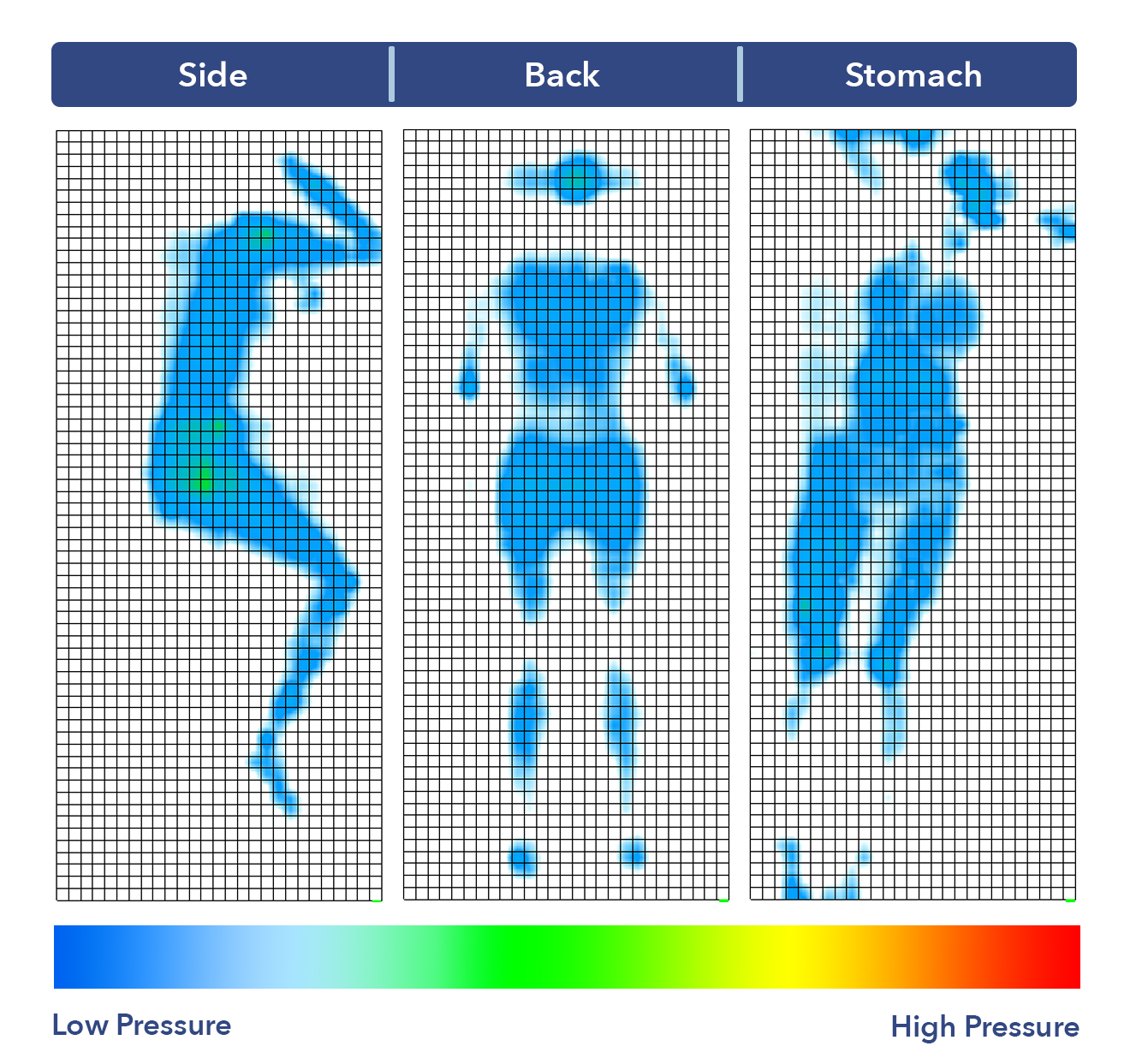 Back Pain — As you can tell from the map, my weight was evenly distributed when I was on my back. I felt the Bliss's foams contouring to my lumbar region, offering some great pressure relief. I think back sleepers with back pain could benefit from the soft, hug-like feel of the Bliss. The same cannot be said for stomach sleepers with back pain. This mattress will allow stomach sleepers' backs to form a U bend — worsening their back pain. 
Shoulder Pain — I felt most comfortable on the Bliss when I was on my side, and really appreciated the cushioning it offered around my shoulders and hips. I think most side sleepers would get a good night's sleep on this bed, and wake up free from aches and pains. Back sleepers with shoulder pain should experience a similar type of cushioning and pressure relief, which is why I would recommend it to these sleepers! Overall, I think shoulder pain might vanish on the Bliss.
Hip Pain —  This mattress is also a nice choice for side sleepers with hip pain. On the other hand, I wouldn't recommend this bed for stomach sleepers, and definitely not for stomach sleepers with pre-existing hip pain. Generally, soft mattresses like this create a bend in stomach sleepers' backs that can lead to pain over time. If you have hip pain and are really interested in this value mattress, I recommend sleeping on your back or side to ease the pain away.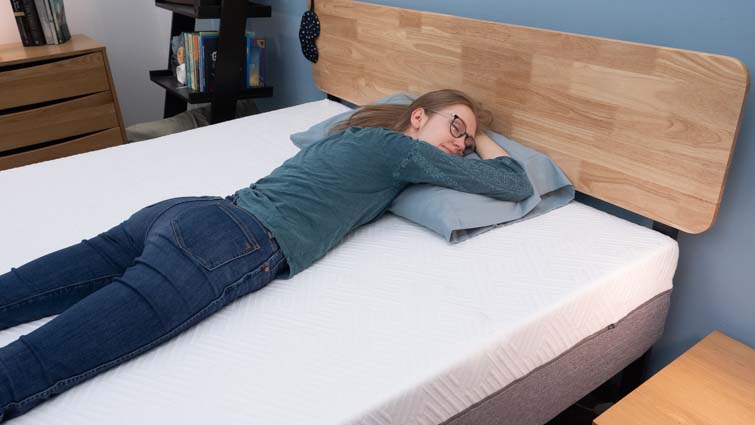 Novilla Bliss Performance for Couples
When sharing the bed with a partner, you'll want to keep a few more things in mind while shopping for a new mattress. Features you'll want to consider include motion transfer, performance during sex, cooling, and edge support.
Motion Transfer
Motion transfer is a measure of the movement from one side of the bed that's detectable on the other. Essentially, it measures whether or not you'll feel disturbed by a restless partner or pet if you share a bed.
To measure motion transfer, I dropped a 10 lb steel ball on one side of the bed and measured how much of a disturbance it caused with a seismometer. I dropped it from three different heights. Each drop is meant to simulate a different movement, from a partner tossing and turning to someone jumping on the bed.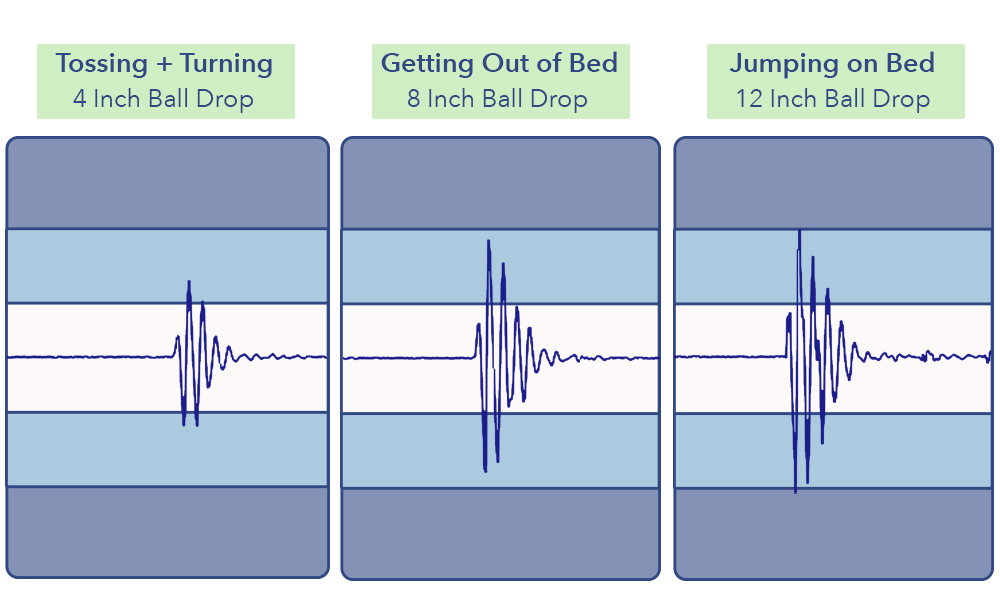 The Bliss had great motion transfer results! Like most memory foam mattresses, it does a great job isolating motion across its surface. This great motion isolation result means that you're unlikely to feel disturbed by a restless partner on the Novilla Bliss. I'd definitely recommend it to couples if one partner is a light sleeper.
Sex
Couples often do best on a mattress that has great motion isolation, but also a bit of responsiveness (which makes it easier to move around during sex). I think the Bliss mattress offers a bit too much sinkage to be ideal for sex, but if getting undisturbed sleep is more important to you, it might fit your needs.
Cooling
For a memory foam mattress, the Bliss does a good, not great, job of cooling. Memory foam has a tendency to trap heat, and despite the Novilla Bliss's cooling properties, it does definitely warm up overnight. If you are prone to sleeping hot, I would recommend going in another direction. But if staying chill throughout the night is not too much of a priority you'll be in good shape on the Bliss.
Edge Support
Last, I tested the Novilla Bliss for edge support. Edge support measures how firm the perimeter of the mattress is. A mattress with strong edges feels a bit bigger, because you can sleep all the way on the edge of the bed without feeling like you might fall off.
Unfortunately, the Novilla Bliss did not have great edge support. I felt unstable while sitting and lying on the edge of this bed. But, this is fairly expected for any foam mattress, and especially for a budget foam mattress.
See Latest Deals
The Novilla Bliss is a soft memory foam mattress that's great for side sleepers!
What is the Novilla Bliss Mattress Made Of?
The 10-inch Bliss mattress is made of CertiPUR-US Certified foams. This means it's free of heavy metals and harmful chemicals. I've peeled back the cover to give you a look at each foam layer in detail.
Reminder: The Bliss is also available in a 12-inch model.
Cover — The Bliss's mattress cover is made of hypoallergenic charcoal and bamboo fabrics. This breathable cover is a nice way to protect against pet dander, dust mites, and other allergens. This cover is also removable and machine washable, which is great if you're looking for a mattress for kids!
Comfort Layer — The Bliss's top layer of memory foam is infused with cooling gel to increase breathability. This comfort foam offers pressure-relieving sinkage and body-contouring.
Transition Layer — Next up is a layer of Airflow Comfort Foam that eases sleepers down onto Novilla's Air Circulation Foam. Both these foam layers help ease your body weight onto the firm base foam below.
Support Layer — The Novilla's support layer is made of high-density foam. This high-quality poly foam layer offers support to the sleeper and to the mattress overall.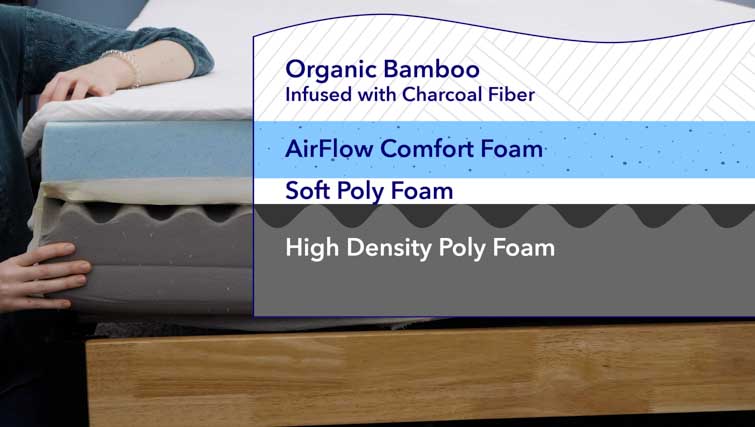 Novilla Bliss Unboxing and Off-Gassing
The Bliss is a bed-in-a-box mattress, which means it will arrive compressed and will have to be unboxed at home. As with all bed-in-a-box mattresses, you'll need to wait at least 24 hours for this bed to fully decompress. 
Like many new mattresses, the Novilla Bliss will likely emit a smell when it is first unboxed — this is known as off-gassing. Although this smell is not harmful, the "new mattress" smell might be unpleasant to some people. If you experience off-gassing, I recommend leaving the mattress in a well-ventilated room and within a day or so the smell should be completely gone!
My Final Thoughts about the Novilla Bliss Mattress
That about wraps up my review! After going over the Novilla Bliss's construction, feel, and performance, it's time for you to decide: Is the Bliss a good mattress for you? And though I can't make that decision for you, I can leave you with a few of my favorite things, as well as my complaints, to help you get there on your own.
My favorite things about the Novilla Bliss mattress
I appreciate the soft, pressure-relieving feel of this mattress. I think side sleepers should also like the feel of this bed. I also think this mattress is priced extremely well. It might not be the most durable mattress in the world, but you're getting a great value for the price. As far as budget mattresses go, I think the Novilla is on the more high-quality side of the market.
My Novilla Bliss mattress complaints
I don't have many complaints about the Bliss. As a side sleeper who's evaluated quite a few budget mattresses, I think Novilla delivers what it promises. But, anyone looking for a firm mattress should opt for a different bed. The Novilla is too soft for stomach sleepers and heavy people. If you're someone looking for more durable support (especially around the edges), I'd recommend opting for a hybrid mattress.
How Much Does the Novilla Bliss Cost?
Price is a big factor when choosing a new mattress! Take a look at the chart below to see pricing and sizing information. The Bliss is quite affordable, but be sure to click our Novilla coupon below to get the best deal on this bed.
Price listed will be before discount or offer for each size.
| Size | Dimensions | Price |
| --- | --- | --- |
| Twin | 39"x75"x10" | $209.99 |
| Full | 54"x75"x10" | $269.99 |
| Queen | 60"x80"x10" | $309.99 |
| King | 72"x84"x10" | $339.99 |
See Latest Deals
The Novilla Bliss is a soft memory foam mattress that's great for side sleepers!
Novilla Mattress Policies and FAQs
Does the Novilla Bliss come with a sleep trial?
Yes, the Bliss comes with a 30-night sleep trial period.
How does the Novilla Bliss ship?
The Bliss will ship for free. It will arrive compressed in a box.
Does the Novilla Bliss come with a mattress warranty?
Yes, the Novilla Bliss comes with a 10-year warranty.
Do I need a box spring for the Novilla Bliss?
No, the Novilla Bliss is compatible with any hard, flat surface. This includes box springs, solid foundations, slatted or platform bed frames, and even adjustable beds.
Novilla Bliss Mattress Vs
It's always a good idea to compare a mattress you're considering to models from a few other brands. Below, I'll compare the Novilla Bliss mattress to the Zinus Green Tea and original Nectar mattresses.
Novilla vs Zinus Green Tea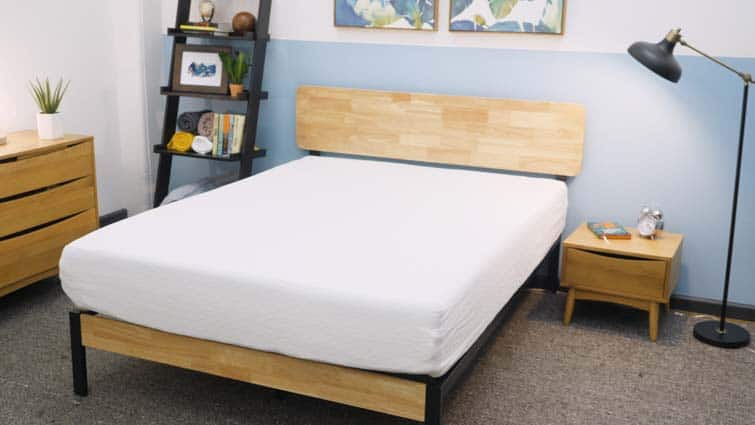 Like the Novilla, the Zinus mattress is very affordable.
The Zinus feels softer than the Novilla.
The Zinus is another memory foam bed-in-a-box that side sleepers might like.
Learn more in the full Zinus Memory Foam mattress review.
Novilla vs Nectar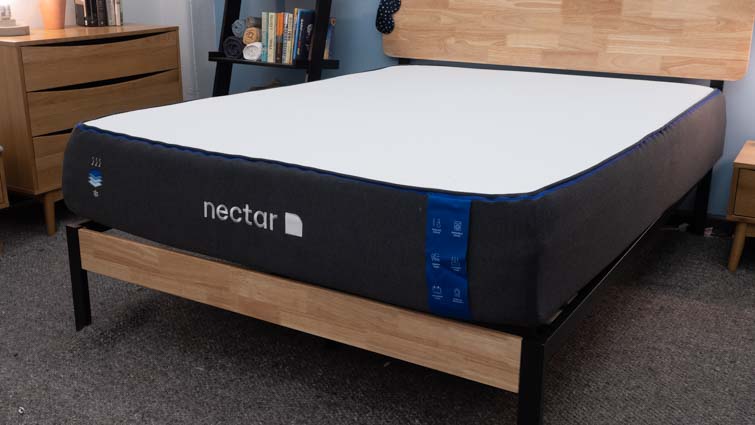 The Nectar is also a memory foam mattress.
The Nectar feels firmer than the Novilla. It's more of a firm to medium-firm mattress.
The Nectar could be a good fit for back sleepers who struggle with back pain. It should offer a nice amount of support to these folks.
Check out the Nectar in the full Nectar mattress review.
See Latest Deals
The Novilla Bliss is a soft memory foam mattress that's great for side sleepers!
Other Models from Novilla
Novilla offers two other models, the Novilla Vitality and the Novilla Serenity. Sleepopolis has reviewed the Novilla Vitality mattress, which you can find some information on below.
Novilla Bliss vs Novilla Vitality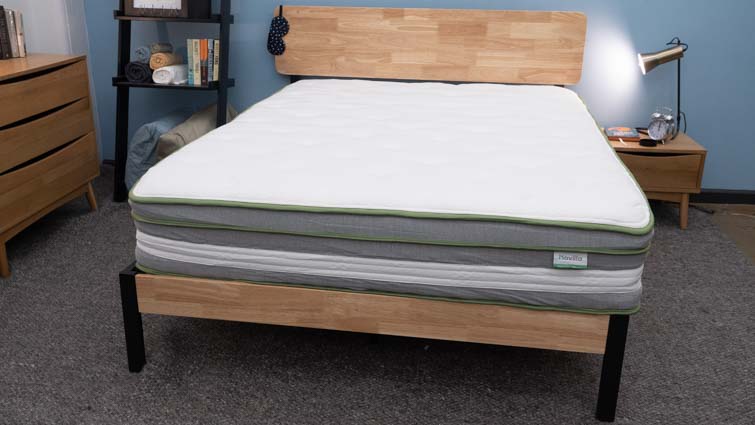 The Vitality is a hybrid mattress built with foam and coils.
Unlike the Bliss, the Vitality has a firm feel.
Combination sleepers might like the bouncy Vitality mattress.
Learn more in the full Novilla mattress review.
Still not sure if the Novilla Bliss is the right mattress for you? Take a look at the performance ratings below to decide!
See Latest Deals
The Novilla Bliss is a soft memory foam mattress that's great for side sleepers!
Materials

Comfort

Support

Value

Cooling

Edge Support

Trial

Warranty
Madison Schaper
Madison is the Staff Writer at Sleepopolis. She reviews new mattresses every week to help readers decide which mattress is best for their needs. When she's not testing out a bed or trying to fit in at least nine hours of sleep you can find her exploring a new park, reading short stories, or checking out a local brewery.