Want to feel as cozy and peaceful as a sleeping panda? That's what I imagine mattress and sleep accessory brand PandaZzz is trying to evoke with their name. In addition to comfort, the company is all about value: PandaZzz is seeking to make high quality sleep products at an affordable price. As of now, they sell the PandaZzz memory foam mattress, a few different pillows, and three different mattress toppers.
That brings me to our topic today — the PandaZzz Cooling Topper. I tested out this memory foam mattress topper and in this review, I'll be going over the feel and materials of the topper, as well as make some recommendations for who I think should or shouldn't try it.
In a hurry? Skip to the bottom to read my review summary.
Who is the PandaZzz Cooling Mattress Topper Best For?
There's lots of reasons to buy a mattress topper, such as trying to soften a firm mattress or alleviate pressure. And mattress toppers are a great option because they can allow you to sleep more comfortably without having to buy an entire new mattress, which is much more expensive than purchasing a topper.
Before we dive deep into the PandaZzz Cooling Topper, here's some quick hits on who I would recommend it for and who should consider buying a different topper.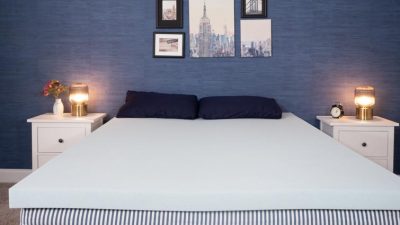 Who I recommend the PandaZzz Cooling mattress topper for
I would definitely recommend the

PandaZzz

Cooling Topper to

side sleepers

. I found it to be

super plush

and it really allowed me to

sink into the foam

, which offered great

pressure relief

.

I would also recommend this topper for

hot sleepers who like memory foam

. Memory foam is tricky because it traps

body heat

very easily, so the cooling properties

PandaZzz

has added into this topper strike a nice balance.

This topper is also going to be a great pick for

budget shoppers

. With the queen size topper

price-point

around $100, this topper is going to be an affordable fix for those who need a softer bed.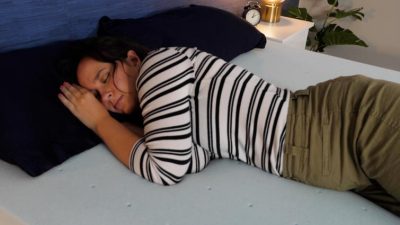 Who I don't recommend the PandaZzz Cooling mattress topper for
This topper is definitely not a good pick for

stomach sleepers

. They generally need a firm

sleeping surface

to keep their hips elevated. If your hips sink down into your mattress, it can cause a bowing effect, which will lead to lower

back pain

. This plush foam topper has too much sinkage to work for

stomach sleepers

.

I also wouldn't recommend this topper to anyone who likes to lie on top of their mattress, rather than in it. Because this topper offers so much sinkage, you will definitely feel somewhat enveloped in it. For more options, I'd recommend taking a look at our

best mattress toppers

roundup.
What is the PandaZzz Cooling Mattress Topper Made Of?
What materials a mattress topper is made with will determine how it feels and performs. There are memory foam mattress toppers, latex mattress toppers, down mattress toppers, and more.
This is a 3-inch memory foam topper and it is available in five sizes: twin, full, queen, king, and California king. Something important to note is that this topper simply lies on top of your mattress—there are no straps or attachments that will secure it to your bed.
Let's take a look at what the PandaZzz Cooling Topper is made of.
Cover: This topper does not have a cover.
Fill: This topper is made of just one layer of AirCell memory foam. It is 3 inches thick and has cooling gel infusions, which help to draw heat away from the body. The AirCell memory foam has an open-cell design, with perforations that allow for more airflow within the topper. This memory foam is both CertiPUR-US certified and OEKO-TEX certified, which means that it is free from harmful chemicals.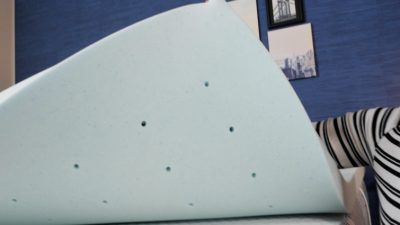 How Does the PandaZzz Cooling Mattress Topper Feel
I tested the feel of this mattress by lying on it in different sleeping positions and testing it on different mattresses. Feel is an important quality in a mattress topper, as generally the purpose of a mattress topper is to adjust the feel of your mattress overall. As with mattress feel and firmness, the feel of a mattress topper will be somewhat subjective.
Here's my assessment of this topper for different types of mattresses.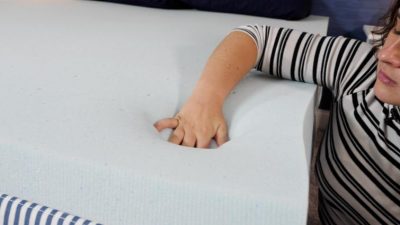 Soft: Adding this topper to a softer mattress is like doubling up on softness. The best way I can describe the feeling of this topper on a soft mattress is doughy. I definitely experienced some sinkage and was basically enveloped in the bed. I think this would only really work for side sleepers—and even then, it was very soft.
Medium-firm: I think adding this topper to a medium-firm mattress knocks the firmness level down to medium-soft or soft. Side sleepers who need a little more cushioning or back sleepers who prefer a softer feel will likely enjoy adding this topper to their medium-firm mattress.
Firm: When adding this mattress topper to a firm mattress, I thought it lowered the firmness level to medium. I was surprised to see how much this topper improved side sleeping on a firm mattress, which was honestly painful to side sleep on without the topper. The foam cradles around pressure points, like the shoulders and hips. I think this topper is a great fix for a mattress that's too firm for side or back sleepers.
I would note though that heavier people will likely sink into the foam more deeply than I did, as an average weight sleeper. The potential issue there is sinking through to the firm mattress and not getting the soft, pressure-relieving benefits of the topper.
PandaZzz Cooling Mattress Topper Sizes and Prices
Ready to buy the PandaZzz Cooling Topper? Take a look at the prices below, listed by size. Prices listed will be before discount or offer for each size.
| Size | Price |
| --- | --- |
| Twin | $79 |
| Full | $99 |
| Queen | $115 |
| King | $139 |
| CA King | $139 |
My Verdict on the PandaZzz Cooling Mattress Topper
Overall, I'd say the PandaZzz Cooling Topper is a great option for softening a medium-firm to firm mattress. I think it's an excellent option for side sleepers who need some contouring and pressure relief. I also think back sleepers will enjoy this topper, particularly if they enjoy a memory foam feel. For moderately hot sleepers, I think this topper's breathability and gel memory foam will prevent overheating, while still delivering on a soft, conforming feel.
PandaZzz Cooling Mattress Topper Brand Policies and FAQs
Does the PandaZzz Cooling mattress topper come with a warranty?
Yes, the PandaZzz Cooling Topper comes with a 1-year warranty. If there are any defects, PandaZzz will pick up, repair, and return the product at no charge.
Does the PandaZzz Cooling mattress topper have a trial period?
Yes, this topper comes with a 100-night sleep trial period. PandaZzz will refund your purchase if you decide to return the topper in that 100-night period.
Is the PandaZzz Cooling mattress topper easy to clean?
This topper does not come with a cover and the foam itself is not machine washable, so it can only be spot cleaned. I would recommend adding a mattress cover or mattress pad over the topper to ensure that there is a barrier between the topper and your bedding.
Will the PandaZzz Cooling Topper fix my old mattress?
While a mattress topper can do a lot to alter the firmness and feel of a mattress by adding to the top layer, a mattress topper cannot solve the problems of an old mattress. If your mattress has reached the end of its life but you're not ready to drop a lot of money on a new one, check out our best cheap mattress roundup to get the best price on a new bed.
What are alternatives to the PandaZzz Cooling Topper?
If you're looking for a similar mattress topper, I'd recommend looking at the ViscoSoft mattress toppers or the PandaZzz Double-Quilted Premium mattress topper, which is similar to this topper, but features a quilted washable cover around the foam layers.
Other Products from PandaZzz
PandaZzz offers a few other products aside from the Cooling Topper. Here's what else we've reviewed.
And here are my star ratings for this topper.
Materials

Comfort

Durability

Value

Cooling

Trial

Warranty
Summary
The PandaZzz Cooling Topper is a mattress topper made from a 3 inch block of AirCell gel memory foam with perforations. It allows for deep contouring and pressure relief, making it a good choice for side sleepers.