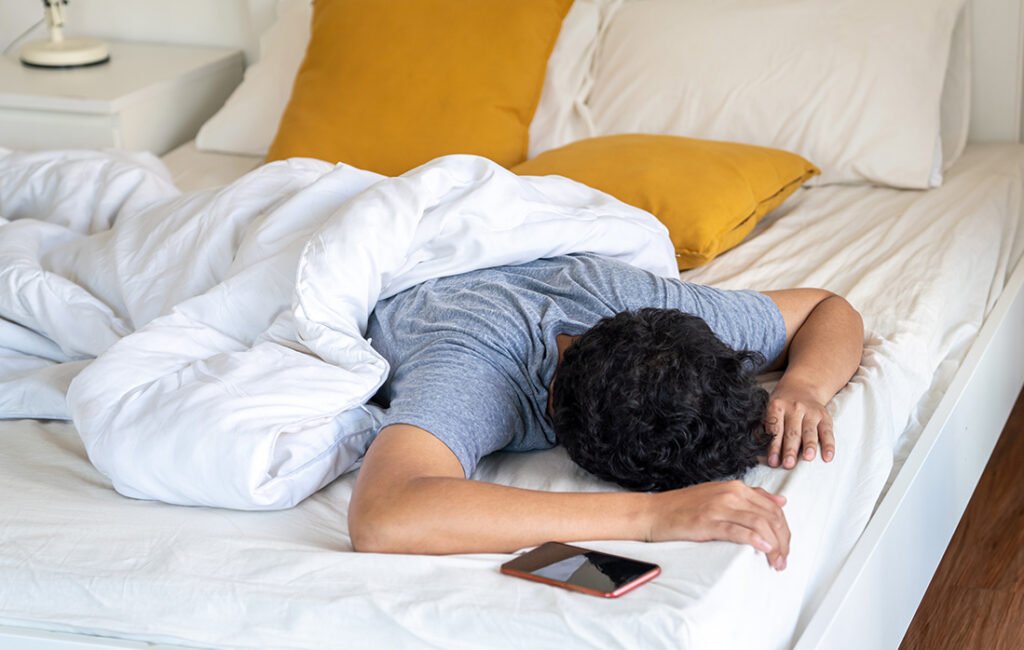 The numbers don't lie, and our Apple Watches are telling the alarming truth. Americans are doing an exceptionally terrible job getting enough sleep, according to data from Apple Watch along with the Apple Heart and Movement Study.
Only a mere 31.2 percent of people are reaching the standards set by the American Heart Association, which worked with Apple and Brigham and Women's Hospital on the study, updated March 7. The average sleep participants got was just 6 hours and 27 minutes.
Researchers in this study echo what doctors and scientists have been preaching for years — that sleep is connected to most aspects. of our mental and physical well-being.
"Sleep has become a top area of interest in both health research and the wellness space for good reason," they write in the study. "The duration and consistency of sleep have been linked to a wide range of health topics including cardiovascular disease, metabolism, and brain health, not to mention quality of life."
In spite of this, many of us are missing the mark by multiple hours, as the AHA recommends 7 to 9 hours per night for adults.
The study, one of multiple Apple Watch studies including women's health topics and hearing, uses data from participants who have volunteered to participate by having their data (securely) collected through their Apple Watch and iPhone via the Apple Research app. An impressive 42,000 people participated, giving researchers a wide range of data from West Virginia to Hawaii, and everywhere in between.
Our Apple Watches reveal just how different our weekday and weekend sleep can be, predictably, but only 66.4 percent of participants go to sleep before midnight on weekdays, the report reveals. On the weekend, only 56.6 percent go to bed before midnight. Across the country, our sleep varies widely as well, with those in Mississippi, West Virginia, and Hawaii being least likely to hit that minimum sleep recommendation.
On the contrary, Washington, South Dakota, and Idaho participants were most likely to hit those sleep guidelines. Researchers attribute these differences to variables like latitude, cultural differences, and demographic differences including age, employment status, job type, and other factors. However, they conclude that in all of the states, fewer than 40 percent of residents met the sleep recommendation.
Participants' sleep was collected between February and June 2022, for a four-month window. Around 50 percent of participants shared at least one night of sleep data, with over 2.9 million sleep nights shared and analyzed. The data showing 6 hours and 27 minutes of average sleep was only collected from those who had shared 10 nights minimum.
Those missing necessary hours of sleep are sometimes said to be in "sleep debt," which can be calculated by subtracting the amount of sleep you actually get from the amount you need to feel rested and alert each night.
Experts don't agree definitively on whether you can "make up" that sleep or not, but it can have an impact on your health and well-being — not getting enough sleep increases your risk of various health problems including viruses, heart disease, and cancer, and also increases the likelihood of having an exhaustion-related car or workplace accident.
But, the researchers conclude, you can take concrete steps starting now to get more sleep, including:
Measuring your own sleep metrics on your Apple Watch and iPhone to get a full picture of the truth.
Establishing a bedtime routine, including a target bedtime and limited screen time. Not sure where to start? Check out our 30-day guide to better sleep hygiene – our expert-backed plan outlines easy, actionable steps you can take to find a wind-down routine that fits your lifestyle and sleep needs.
Aiming for consistency with your sleep duration over time.