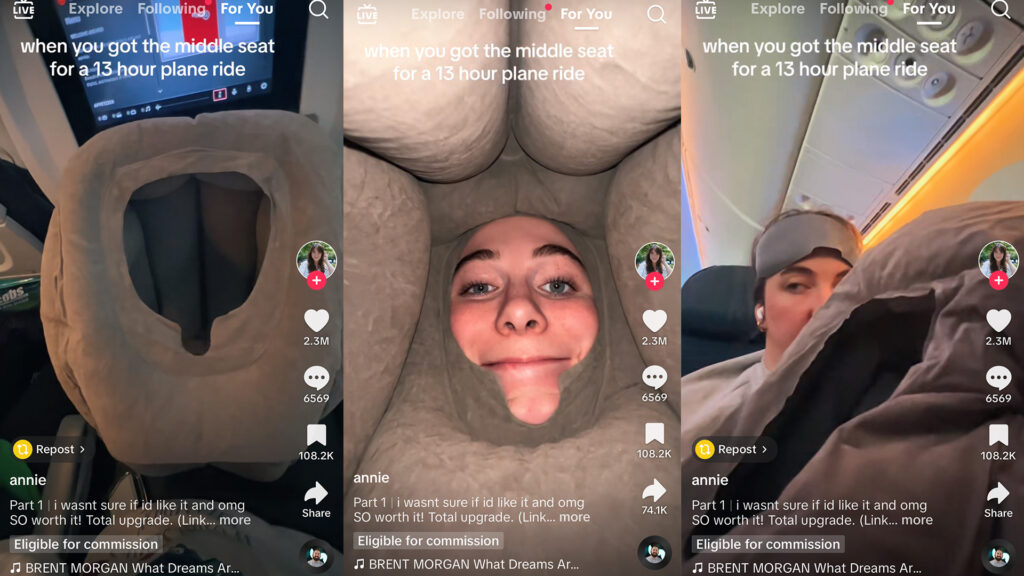 Out of all the places to sleep, an economy seat on an airplane is high on our list for one of the most uncomfortable places. But what if it didn't have to be?
We all know what happens when you don't get the lucky window seat. Your neck will hurt from it being too extended in the aisle seat or you'll consistently wake up trying to prevent your head from falling on the person next to you.
But wait, TikTok comes in handy once again. If you fly often and haven't found a way to sleep on a plane, you might want to listen up. And yes, it involves a pillow.
Anna Wright, a law student and TikTok content creator with over 200k followers, recently posted a video on how she makes the best out of the worst situations. Are you ready to hear what that is? Wright was left in the middle seat for a 13 hour flight, but she was able to get through it with her inflatable neck pillow. (1)
The video earned 2.3 million likes, where she shows herself manually inflating the pillow. She then proceeds to stick her head into the pillow to get those essential zzz's on the long flight. (1)
If you saw someone with this pillow on a plane, you might stare, but if it means getting the sleep you need, it's worth looking like a crazy person.
TikTok comments are always relatable, but one user said exactly what we were thinking writing, "yeah I have social anxiety I would be too embarrassed to use it." (1)
So, is this investment worth the possible embarrassment and will people be asking you where you made that clever purchase? We have everything you need to know about this viral pillow.
What Even Is This Pillow?
This is definitely not the typical overpriced neck pillow you buy in the airplane convenient store.
Made with PVC flocking, this pillow is soft and won't cause any irritation to your skin, meaning no redness or stubborn pimples once you land.
The material sets this pillow apart from others, but the design is one we've never seen before. The pillow includes a 2-in-1 Dual Valve Design meaning it can be inflated in less than five minutes and is 20 times more efficient compared to traditional inflatable pillows. (2)
The pillow is also made with a 45 degree angle, allowing your neck and head to lean over in a natural position preventing strain. With this, there will be less strain on your cervical spine and provide more support for your upper body. (2)
Once you are done with the hard part of inflating it on the plane, you can place the pillow on your tray table and place your head in the hole located on the top. There are also holes on each side for a place to put your arms.
Maybe it's time to throw out your worn out neck pillow that's been on every vacation, despite it continuing to fail you. With the #InflatableTravelPillow growing online it seems to be the "travel hack of the year" among some such as the user @g33Idn. (3)
How To Get Good Sleep on A Plane Even Without The Pillow?
We are not going to just rely on this pillow to achieve good sleep on a plane. Jack Dell'Accio, the CEO of Essentia Mattress had some suggestions on how to sleep better on a plane with a $20 pillow.
"It will not be possible to eliminate the leading stimulants that interrupt sleep, like VOCs (Volatile Organic Compounds, Toxins) and EMFs (Electro-Magnetic Frequencies), so prolonged deep sleep is unlikely [on a plane], but there are some best practices that can get you diving in and out of those critical sleep cycles," he told Sleepopolis.
In order to get your needed plane sleep, he suggested mimicking an environment similar to your bed by wearing baggy clothing, an eye mask, noise canceling headphones, and even wearing blue light glasses when you're browsing your phone or computer on the plane.
To ensure you can move your neck once the plane lands, Dell'Accio said to adjust your headrest, have good posture, perform some neck stretches, and move or change positions.
Depending on which seat you get on the plane, your sleeping position should be different. Dell'Accio explained that for a window seat, you should place a pillow against the window to lean on.
For the unlucky middle seat, he said to, "use a neck pillow, and lean slightly forward with arms folded or rest your head on the tray table with a cushion."
Finally, for the aisle seat, he suggests leaning slightly to the side using a neck pillow, but just make sure to not block the aisle way.
Don't let sleeping on the plane be your top concern when traveling. Ditch your old airport pillows or try some new sleep hacks for your next travel experience.
Sources

1. Wright A. Annie on tiktok. TikTok. July 7, 2023. Accessed September 6, 2023. https://www.tiktok.com/@anniesright/video/7254651452684274990?_r=1&_t=8fPEiibwYN5.

2. Productdetail – JEFDIEE-vip.com. Accessed September 6, 2023. https://jefdiee-vip.com/productDetail/Home-&-Kitchen/Travel-Pillows/612.

3. Georgia 🤍 on TikTok. TikTok. August 8, 2023. Accessed September 6, 2023. https://www.tiktok.com/@g33ldn/video/7264899347869977888?_r=1&_t=8fPQ25Wr4SF.

Dell'Accio, Jack. Personal Interview. September 6, 2023.