Lots of things are double-sided, like markers or tape, but have you ever thought about a pillow sporting two sides? Tempur-Pedic's pillow, the TEMPUR-Symphony, combines two pillow shapes in one to create a versatile pillow that allows you to switch by simply flipping it over.
I personally tested this pillow in every sleeping position to find out if this two-in-one formula really works. In this review, I'll go over what the pillow is made of, how it feels, and who it's best for.
Just want the highlights? Skip to the end for my review summary.
Is the TEMPUR-Symphony a Good Pillow for You?
Everyone has different wants and needs from their pillow, so let's go over who the TEMPUR-Symphony is best for.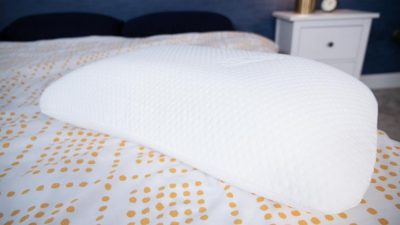 Who should try the TEMPUR-Symphony pillow
I thought the TEMPUR-Symphony was comfy for

back sleepers

. The foam allows you to sink in cozily but still get proper support.

The TEMPUR-Symphony was also great for

side sleepers

, in my opinion. I found it provided a good amount of

neck support

to maintain my spinal alignment.

Combination back/side sleepers

also might especially like the TEMPUR-Symphony, as it works well for both positions and offers two different pillow shapes you can toggle between.

Memory foam lovers

will also enjoy the TEMPUR-Symphony, which has that classic, deep sinking feeling.
Who should not try the TEMPUR-Symphony pillow
I didn't think the TEMPUR-Symphony was a good choice for

stomach sleepers

. I found it too lofty and elevating, which caused my neck to crane upward while lying on my stomach.

It's also

not a top choice for hot sleepers

, as memory foam naturally traps a lot of heat and this pillow doesn't have any cooling features.

And if you like a soft, moldable pillow, this probably isn't the

best pillow

for you, as the core is a solid block of memory foam.
What Does the TEMPUR-Symphony Pillow Feel Like?
I tested this pillow out by sleeping on it for a few nights, so here are my takeaways. But keep in mind that feel is subjective, so you might have a different experience than I did.
TEMPUR-Symphony Pillow Firmness
One of the main aspects of a pillow's feel is firmness. I rate pillow firmness as either soft, medium, or firm. Each sleeping position generally sleeps best with a different firmness. Side sleepers should go for a firmer feel, back sleepers do best with a medium feel, and stomach sleepers want a softer feel.
I thought the TEMPUR-Symphony had a medium firmness. The foam is fairly soft and adaptable — it molds around your head and neck quite cozily. You definitely get that classic "memory foam feel" from this pillow, because you sink into the foam slowly for deep contouring. However, the foam is still fairly sturdy and offers good support.
TEMPUR-Symphony Pillow Loft
Like firmness, each sleeping position generally does best with a different pillow loft, or height. I generally recommend a high loft for side sleepers, a medium loft for back sleepers, and a low loft for stomach sleepers.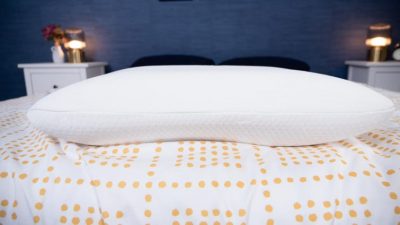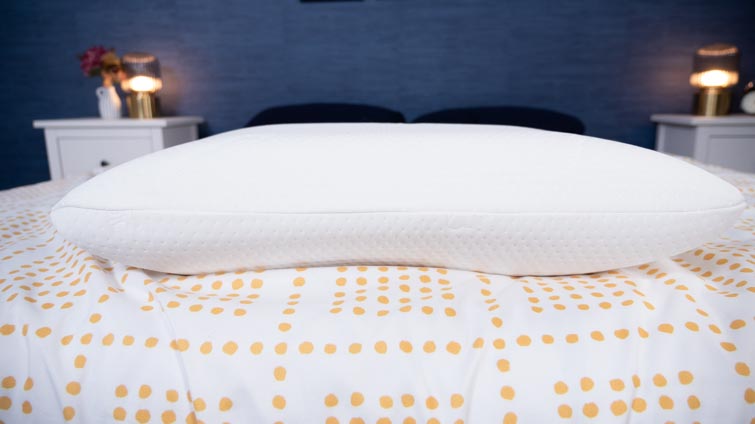 The TEMPUR-Symphony has a medium loft, although it feels slightly different depending which side you sleep on. The flatter side feels more even and the arched side feels more lofty.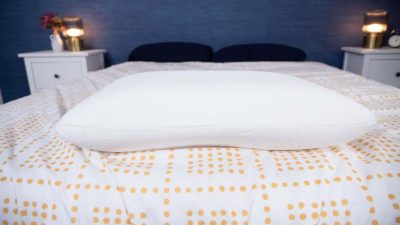 Tempur-Pedic recommends the flat side for side and stomach sleepers and the contoured side for back sleepers. I tested each side in each sleeping position and here's what I thought.
Side — While the TEMPUR-Symphony isn't as firm as I would usually recommend for side sleepers, I think it still provides great support for keeping the head and neck in line with the spine. I thought the flat side, which Tempur-Pedic recommends for side sleepers, to be pretty comfortable. However, I actually found the arched side to be more comfortable, as it provides a higher loft. So side sleepers, try both sides and see which you like better!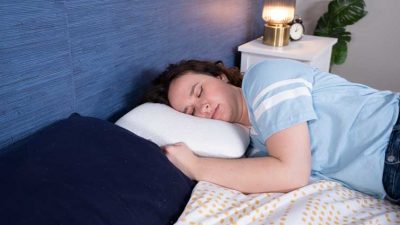 Back — I thought the TEMPUR-Symphony was also quite comfortable for back sleepers. The medium loft and medium firmness are spot on for back sleeping. The foam allows for just the right mix of contouring and support. I found the contoured side, which is intended for back sleepers, to be very comfortable. But the flat side also worked fairly well for back sleeping. Like side sleepers, I think back sleepers could opt for either side, depending on preference.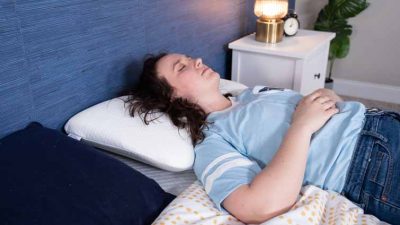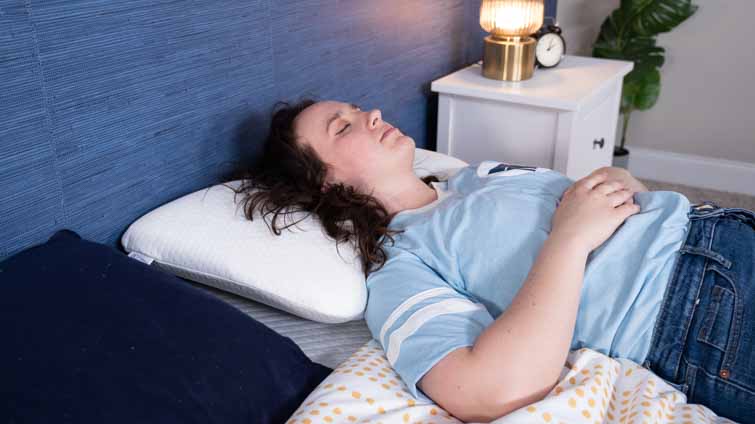 Stomach — Even though Tempur-Pedic says the flat side of the TEMPUR-Symphony should work for stomach sleepers, I found it to be too lofty. I felt my neck craning upwards while lying on my stomach with the TEMPUR-Symphony. I would definitely recommend something softer, with a lower loft to prevent any neck pain. See our best pillows for stomach sleepers for better options.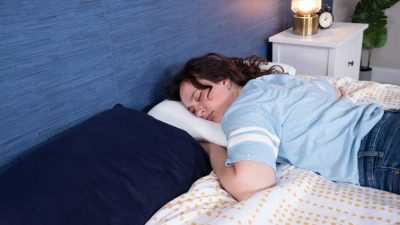 Under the Arm — I think the TEMPUR-Symphony could work decently well for sleeping with under the arm, as the foam is fairly soft and huggable, but it's not very malleable or fluffy.
Between the Legs — Because of the dual-sided design, I don't think the TEMPUR-Symphony is the best for putting between your legs to sleep. While the foam would offer some pressure relief, the shape might lead to your hips being misaligned, which defeats the purpose of sleeping with a pillow between your legs. Proper alignment can prevent hip and back pain.
What is the TEMPUR-Symphony Pillow Made Of?
The TEMPUR-Symphony has two main components: its cover and foam core. Let's take a closer look at each.
Cover: The TEMPUR-Symphony has a polyester knit cover. It's zippered, allowing you to remove the cover and wash it. It is machine washable and also hypoallergenic.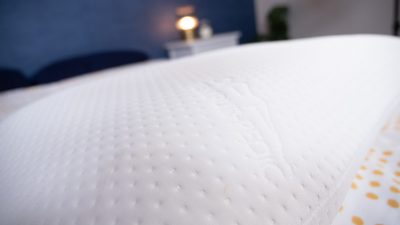 Core: The core of the TEMPUR-Symphony is a molded block of TEMPUR material foam, which is Tempur-Pedic's proprietary memory foam. The foam core is covered in a polyester netting. One side of the foam core is molded to be flat and the other is arched.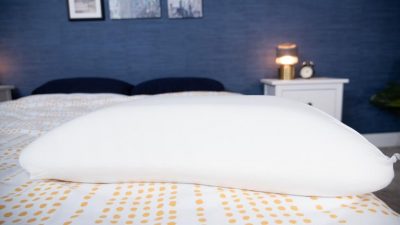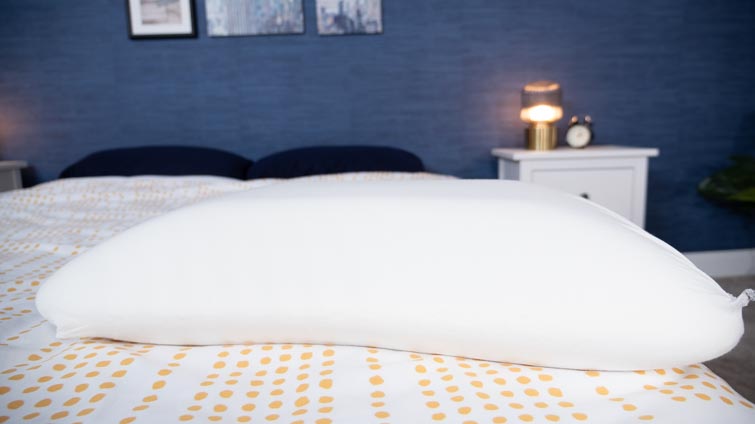 Is the TEMPUR-Symphony Pillow Good for Hot Sleepers?
The great thing about memory foam pillows is they allow for that super cozy, deep sinking-in, all-around contouring feel. The bad side is that memory foam is able to adapt around you by absorbing your body heat. Because it's made of memory foam, the TEMPUR-Symphony isn't a very breathable or cooling pillow, so it's probably not the best choice for hot sleepers.
If you are interested in better options for hot sleepers, take a look at our best cooling pillows.
TEMPUR-Symphony Pillow Sizes and Prices
Curious how much this pillow costs? Price is listed below before any discounts or offers, but be sure to use one of the coupons throughout this article to get the best deal.
| Size | Dimensions | Price |
| --- | --- | --- |
| Standard | 24" x 17" x 5" | $119 |
My Final Thoughts About the TEMPUR-Symphony Pillow
Overall, I thought the TEMPUR-Symphony was an interesting pillow. It definitely feels like a high-quality pillow, in terms of the materials, and I loved the feel of the memory foam. It has that adaptable, soft feel that lets the foam envelop you but is still quite supportive, giving the pillow an overall medium firmness.
That medium firmness worked great for back sleepers and also worked pretty well for side sleepers. Trying out each side of the pillow, I thought they did feel different, but I didn't necessarily agree with which side Tempur-Pedic suggests is best for each type of sleeper. I actually thought the contoured side worked better for me sleeping on my side than the recommended flat side. And I thought both sides were good for back sleepers.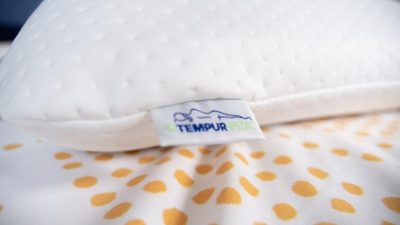 However, I think that makes this pillow a great option for back/side combination sleepers, especially if you're a bit indecisive or not sure what shape of pillow you want. Being able to switch between two different sides as you switch between sleep styles gives you a lot more options. Additionally, I appreciate that the TEMPUR-Symphony's cover is removable and machine washable.
But I didn't think either side worked for stomach sleepers, as they were both too lofty. I think stomach sleepers will just end up with neck pain, as the TEMPUR-Symphony isn't soft or low enough to prevent neck craning. And again, it may not be the best choice for hot sleepers, since memory foam does trap heat very easily.
TEMPUR-Symphony Pillow Policies and FAQs
How does the TEMPUR-Symphony pillow ship?
Tempur-Pedic offers free shipping within the contiguous United States. Customers in Hawaii, Alaska, and U.S. territories will have to pay an additional shipping fee.
Does the TEMPUR-Symphony pillow come with a sleep trial?
No, the TEMPUR-Symphony does not come with a trial period. According to Tempur-Pedic's return policy, it can only be returned if it is damaged or defective when received.
Does the TEMPUR-Symphony pillow come with a warranty?
Yes, the TEMPUR-Symphony comes with a 5-year warranty.
Is the TEMPUR-Symphony pillow machine washable?
The TEMPUR-Symphony has a washable cover, but the inner foam core cannot be machine washed. It should only be spot-cleaned.
TEMPUR-Symphony Pillow Vs
Now let's compare the TEMPUR-Symphony to another Tempur-Pedic pillow, the TEMPUR-Neck.
TEMPUR-Symphony Pillow vs TEMPUR-Neck Pillow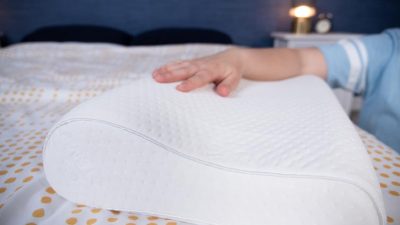 The TEMPUR-

Neck pillow

is also made from molded

TEMPUR-material

foam, although it is molded in a wavy, ergonomic shape that is meant to follow the natural curve of the body.

This pillow has more of an

extra-firm

feel than the TEMPUR-Symphony and doesn't allow for quite as much contouring.

The TEMPUR-Neck pillow offers great

neck support

for back and

side sleepers

, thanks to its ergonomic design. It's also available in three different sizes, to ensure it works for various body types and sizes.

Want to learn more? Read my full TEMPUR-

Neck pillow

review.
Other Products from Tempur-Pedic
Finally, here are my star ratings for the TEMPUR-Symphony pillow.
Materials

Comfort

Durability

Value

Cooling

Warranty