Aromatherapy has been used across cultures for thousands of years. By diffusing oil through the air, people can be relaxed, stimulated, or otherwise comforted by the natural aromas being misted around them. There are lots of modern devices that diffuse oil right in the comfort of the home; a new trend has companies binding aromatherapy with the utility of alarm clocks.
Aromatherapy alarm clocks can act as both a quick reference for the time, as speakers for music, or even as nightlights. Manufacturers are becoming increasingly clever as to how they work to combine different functions to help make sleep – and waking up – more comfortable. Because the market is so diverse, it can be hard to tell which product will serve a person's needs in the best way. We've taken a look at some of the leading products to see what sets them apart: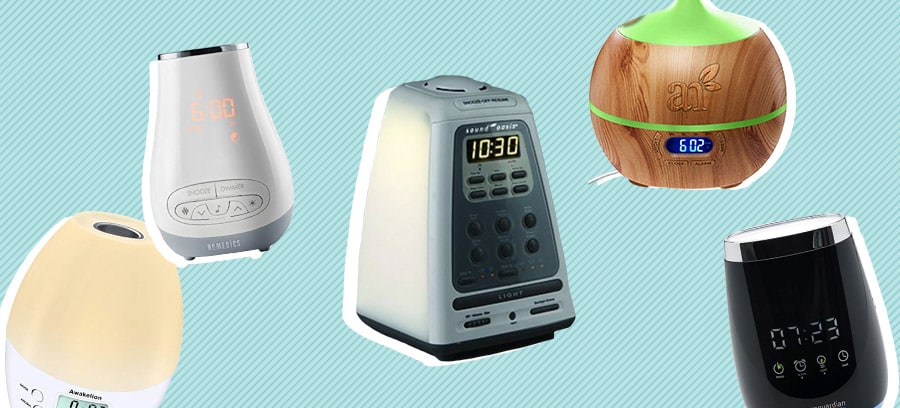 Editor's Choice
Sound Oasis Wake-up Light Aromatherapy Sleep Sound Machine & Alarm Clock
Pros:
Reverse effect. Not only does this wake-up alarm clock gradually lighten in the morning as it diffuses an aroma, it also can be programmed to go in reverse. At night the light can gradually dim as an aroma is diffused.
Gradual wake-up with nature sounds. This alarm clock from Sound Oasis can be programmed to play gentle nature noises 15 minutes before the alarm is to go off. This can help buffer an abrupt wake-up at an early hour.
Battery back-up. A great feature of this alarm clock is that, in addition to AC power, it has a battery back-up system. This can be a lifesaver for those who rely on their alarm clocks to wake-up during stormy season.
Cons:
Unfulfilled potential with aux plug. This alarm clock has an auxiliary plug that allows users to plug in their smartphones or other music playing devices. Unfortunately, the device doesn't allow users to use their own noises as an alarm.
Time will flash after pressing snooze. After pressing snooze, most people will want to go back to sleep for a few minutes. This machine will flash the time, making it hard to ignore.
Sound Oasis Wake-Up Light Aromatherapy Sleep Sound Machine & Alarm Clock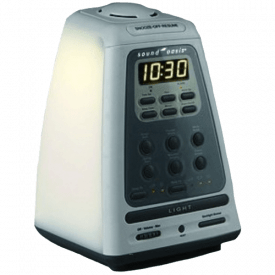 This alarm clock from Sound Oasis combines a wake-up light with an aromatherapy diffuser. This allows for a gentle wake-up complete with nature noises and a scent of the user's choosing.
Sleepopolis Score
3.50 / 5
The Contender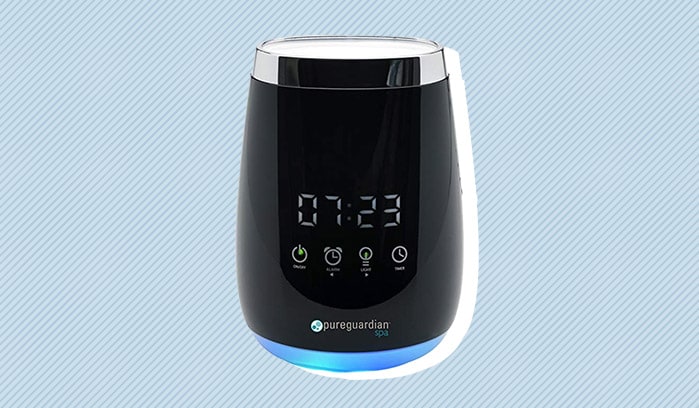 PureGuardian SPA260 Ultrasonic Cool Mist Deluxe Aromatherapy Essential Oil Diffuser with Touch Controls & Alarm Clock
Pros:
Automatic shutoff. This aromatherapy diffuser has a nice safety feature. It automatically shuts-off when it is out of essential oil.
Touch controls. This device allows easy access and control of its various functions through a touch system. No need to ensure that buttons are properly pressed down when tired.
45 foot cord. This alarm clock and oil diffuser has an especially long power cord. This lets users place it in exactly where they want. Perfect for those in a loft or other large space.
Cons:
Can't use LED lights without diffuser. While some competitors allow users to operate nightlights without the diffuser, this one has tied their function together. Users hoping to use just the nightlight will have to look elsewhere or make sure they have no oil in their device.
Digits quite bright. As the digits can be rather bright at night, users may need to position the clock in a way that doesn't disturb their sleep.
PureGuardian SPA260 Ultrasonic Cool Mist Deluxe Aromatherapy Essential Oil Diffuser with Touch Controls & Alarm Clock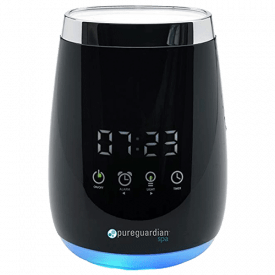 PureGuardian's Ultrasonic Diffuser and Alarm Clock has intuitive touch controls, automatic shut-off, several LED colors for use as nightlights, and sports a modern design. It is suitable for spaces big and small.
Sleepopolis Score
3.90 / 5
Best Bargain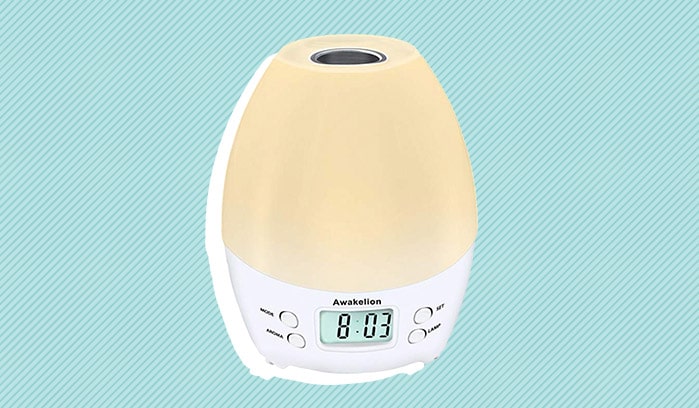 Awakelion All In One Aromatherapy Digital Alarm Clock with Color Changing Night Light
Pros:
Color options. This alarm clock has seven different colors that can be transitioned through automatically. Users can also pause on a certain color if they please.
USB or battery. A great feature of this alarm clock is that it can be powered by USB or by battery. Perfect for those who want to use it in different places around the house.
Cost. Despite its well-designed looks and aromatherapy capabilities, this is one of the more affordable alarm clocks on the market.
Cons:
No snooze. While most customers would probably like to wake up at the time they had preset, the snooze button is a great way to avoid sleeping in too late. This device has omitted that function.
Only holds a small amount of water. This diffuser can only contain a small amount of water when compared to other products. The aromatherapy consequentially lasts a shorter period.
Awakelion All In One Aromatherapy Digital Alarm Clock with Color Changing Night Light
The Awakelion All In One Alarm Clock features a pleasing mix of diffuser, sleek design, and soft colors that alternate throughout the night. This unobtrusive device would work well in quiet settings.
Sleepopolis Score
2.60 / 5
Best Design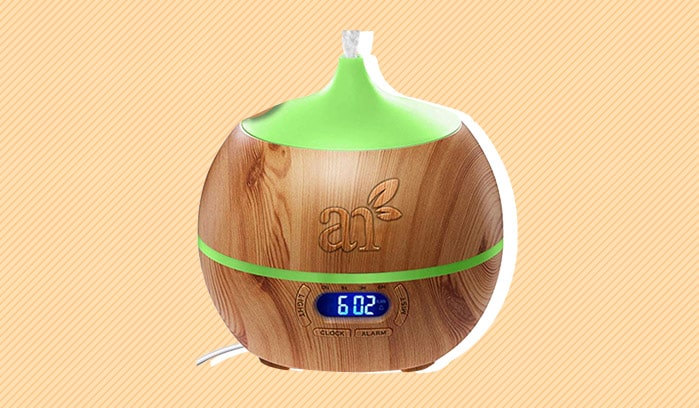 ArtNaturals Essential Oil Diffuser and Humidifier with Bluetooth Speaker Clock
Pros:
Bluetooth compatibility. This alarm clock – and its speaker system – can connect to Bluetooth-enabled devices. This makes playing favorite playlists and custom natural white noise sounds super convenient.
Adjustable mist settings. While many diffusers have one static setting for diffusion, this device allows users to toggle between two different mist settings. Perfect for when using the diffuser in different settings with variable environments.
Oil recipe booklet. The manufacturer includes a booklet with do-it-yourself information on how to use and mix oils for different occasions and for specific moods and effects.
Cons:
Small clock face. A potentially disappointing aspect of this product is that the digits are rather small and can be hard to read, especially at night. Users will need to have it set so they can look at it at the right angle.
Diffuser not synced with alarm. While some customers may be expecting the diffuser to be synced to the alarm wherein it is activated once the alarm chimes, that is not the case. They are operated independently.
ArtNaturals Essential Oil Diffuser and Humidifier with Bluetooth Speaker Clock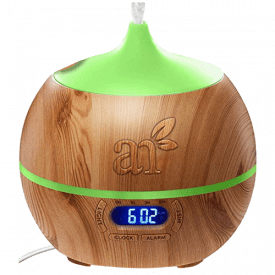 The ArtNaturals Essential Oil Diffuser and Alarm Clock is a handsomely designed and Bluetooth-compatible device that can be customized to the needs of the user. The level of mist and brightness can be altered to match the space in which the diffuser is being used.
Sleepopolis Score
4.50 / 5
Best for White Noise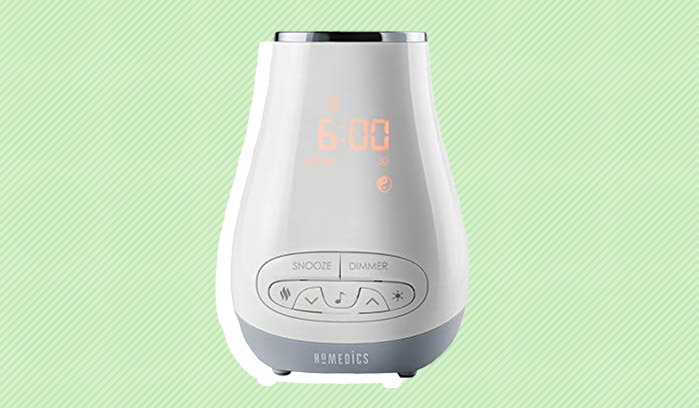 Slumber Scents Alarm Clock, Essential Oil Diffuser & White Noise Machine
Pros:
6 different sounds. This alarm clock doubles as a white noise machine. Featuring six different unique noises, users can toggle between them to find the most relaxing sound for their needs.
Starter kit. A nice bonus when purchasing this device is that it comes with an essential oil starter kit. Three different oils are included so users can try out their diffuser immediately upon purchase.
USB port for charging. This device has USB compatibility, so those hoping to charge their phones or other devices can do so through this machine. Great for those wanting to consolidate their bedside electronics.
Cons:
Only one volume for the alarm. The alarm on this device only has one volume level. While it may be sufficient for some users, others may find it too loud or even worse – might sleep through it.
Controls don't light up in the dark. While many alarm clocks will brighten up when being operated, this machine does not have that function. That can make operating it difficult at night.
Slumber Scents Alarm Clock, Essential Oil Diffuser & White Noise Machine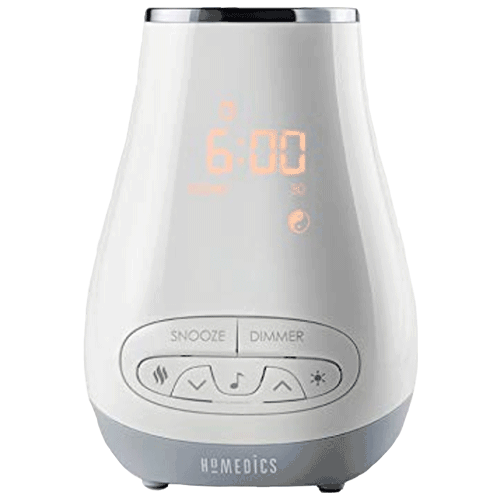 This white noise alarm clock from Slumber Scents is designed for users to fall softly asleep through both a selection of gentle sounds and through oil diffusion. Included with the purchase are three different essential oils to help users get started.
Sleepopolis Score
4.10 / 5
How We Picked
Aromatherapy alarm clocks can have functions that aid in sleep, relaxation, and for waking up comfortably. However, not many alarm clocks share the same features. Different manufacturers have chosen to focus on different functions, and this is evident through their design and the operational effectiveness of these functions. We have chosen a few key categories that we used to make our evaluations; here is what we looked at:
Device compatibility
A common feature in alarm clocks made in this era is some sort of compatibility with smart devices. This can be done either through Bluetooth, wifi, or through cords such as USB cords. While this sort of functionality is common enough in alarm clocks, units that combine alarms with oil diffusion are sometimes lacking this feature.
Device compatibility allows users to play music from the aromatherapy clocks, either as an alarm, or while relaxing. These sort of devices can be used at all times; diffusers are commonly used for meditation or relaxation during waking hours. By having the ability to use sounds of the user's choosing, these alarm clocks can be doubled as white noise machines as well.
Adjustability
One thing that shouldn't be taken for granted is the amount of customization that is available with these alarm clocks. While many brands may boast of the multitude of functions they have available, not all of these functions might be able to be harnessed appropriately by each user. Sometimes these extra features may prove cumbersome or less helpful than if they were not included.
Sound, or volume more specifically, is for obvious reasons a crucial element of any alarm clock. Several brands have options for device compatibility, but don't allow the sounds to be used as an alarm. Alternatively, some machines have six different alarm noises, but won't let the volume be altered. Devices that have adjustable controls for the level of mist and the level of brightness offer a wider range of use in different environs.
Utility
These sorts of devices often times have a dilemma; what type of product are they fundamentally. It would be nice if every offering in this line of product excelled at being an alarm clock, white noise machine, oil diffuser, nightlight, and speaker. Unfortunately, most fall short in at least one if not more categories.
Some of the more popular oil diffusers have alarm clocks that don't have a snooze or that cannot have their volumes adjusted. Others have small display surfaces or have digits that are too bright to sleep next to. While it is a nice added function to have these features – or a clock in general – one must come to the conclusion that some of these products are more so aromatherapy diffusers than they are proper alarm clocks.
Tips
Not sure which aromatherapy alarm clock is right for you? Here are some guidelines that may help aid in your decision making:
When will you use the diffuser function?

Some may be purchasing an oil diffuser alarm clock to help them wake up. Unfortunately not all of the leading products have synchronized alarm and oil diffusion settings. The diffuser is operated separately and doesn't go off with the alarm.

For those hoping to use the oil diffuser overnight, it is important to check if the device has automatic shut-off. Further, the amount of water that the unit can hold also may play a factor. Smaller containers can only operate for a short time.

Do you have a hard time waking up?

If you are a person who has a hard time waking up even with an alarm, it is advised to find an aromatherapy alarm clock that has a snooze feature. It would also be appropriate to find an alarm that allows adjustable volume.

Some devices have nature noises and white noise capabilities. These may be used to help fall asleep, but also to help people gradually wake up. The option to use your own music or noises is an added bonus.