The list of ways to improve your sleep grows every day. From the type of mattress, pillows, and bedding you select, to the lighting in the room, to ambient choices like sound and scent, down to what you put in your body; if you have trouble falling asleep or staying asleep, there are ways to encourage your body to submit to this all-important process.
While a nice glass of warm milk is the stereotypical idea of a drink to encourage sleep, who drinks warm milk in 2020? Many people turn to a warming cup of tea in the hours before bedtime to relax; this traditional remedy contains L-theanine, an amino acid that is said to reduce anxiety and promote relaxation.
Making tea before bed is a little different than relying on a normal waking hours kettle. Because it's working during sleep hours, you want to not only ensure that your tea is the right temperature right off the bat (as opposed to having the luxury of waiting for water to cool), but you also need to take safety into consideration: leaving a kettle on the stove and falling asleep could be a major disaster. Here are some of our favorite options for a safe way to make soothing bedtime tea.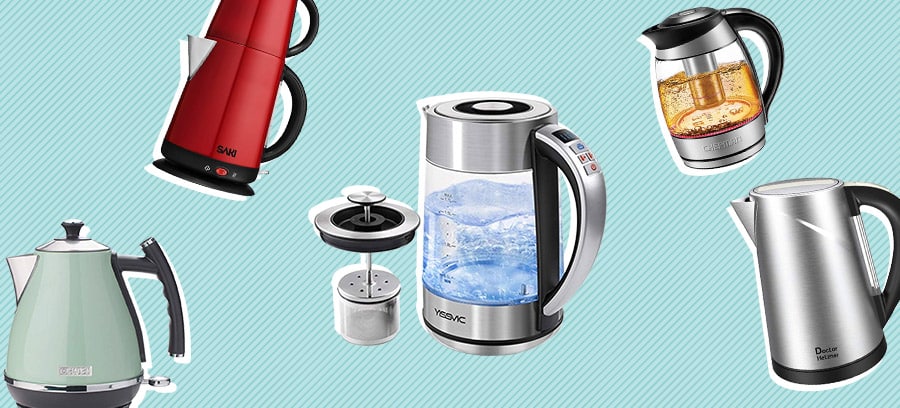 Editor's Pick
YISSVIC Electric Kettle Electric Tea Kettle
Pros:
Temperature select allows you to cycle through water heat levels from 105 to 216 degrees, and its "keep warm" button retains heat for up to an hour.

The kettle's built-in safety features include an auto-shutoff function, a steam sensor switch, anti-dry protection, and high temperature protection.

When your water is ready, the kettle glows with a vibrant blue LED which is both attractive and informative.
Cons:
Because of the glass and steel build materials, over time the glass can begin to take on tannen stains and, if not properly cleaned or dried, the stainless steel can show signs of rust.
YISSVIC Electric Kettle Electric Tea Kettle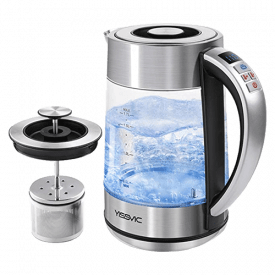 YISSVIC Electric Kettle Electric Tea Kettle
Made of BPA-free glass and food-grade stainless steel, this fully temperature-adjustable tea kettle will get water up to a rolling boil in seven minutes or less. Choose the water temperature based on your preferred tea type, and be alerted when you're at the perfect temp by the glowing blue LED. This electric kettle features a keep warm setting so the water retains its heat, and the included infuser lets you lower and raise loose leaf tea into the water with minimal effort. The kettle also features a host of safety features to prevent any accidents when making tea before you sleep.
Top Contender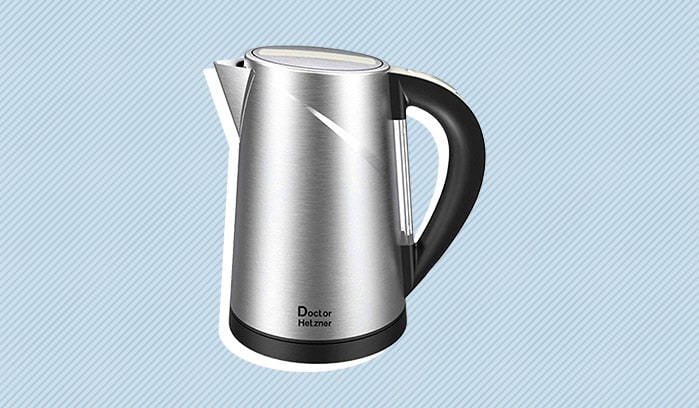 Doctor Hetzner Stainless Steel Electric Kettle
Pros:
The kettle's food-grade stainless steel design, with interior insulation and a heat-safe handle, is a safe and efficient way to boil water.

An internal temperature sensor guarantees that the kettle won't overheat, and boil-dry protection further ensures that the device won't be damaged.

Ulta-fast heating times have water reaching a boil in less than six minutes.
Cons:
This basic kettle doesn't feature some of the advanced functions as other kettles such as temperature settings or an included tea infuser.
Doctor Hetzner Stainless Steel Electric Kettle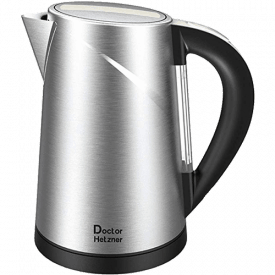 Doctor Hetzner Stainless Steel Electric Kettle
Efficient and inexpensive, this stainless steel kettle is perfect for prepping water for tea quickly and easily. The kettle's no-frills design includes insulation to keep water warm after boiling, and its LED indicator makes it easy to know when it's operating. Its built-in temperature control shuts off automatically when water reaches a boil, which provides an added level of safety when making tea. 
Best Retro Style Bedtime Tea Maker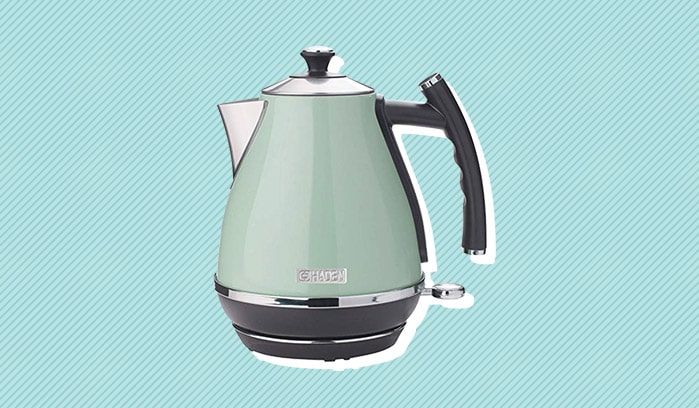 Haden COTSWOLD Stainless Steel Retro Electric Kettle
Pros:
Stylish design makes this kettle a great addition to the decor of your kitchen while also acting as a great way to boil water.

Added safety features like auto-off and boil-dry indicators keep the kettle from overheating or running when it shouldn't.

The kettle includes a filter (and a backup replacement) for collecting sediment, which can affect the device's longevity.
Cons:
The lack of a temperature setting and keep warm function makes this great for boiling water, but it's not ideal for creating a specific steep temperature for your tea.
Haden COTSWOLD Stainless Steel Retro Electric Kettle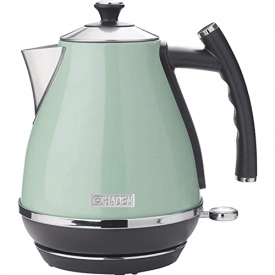 Haden COTSWOLD Stainless Steel Retro Electric Kettle
This classic electric tea kettle features an attractive design that adds a touch of sophistication to your decor as well as the functionality of a great tea kettle. Made of painted stainless steel and featuring a 360-degree heating base, this kettle also includes a cleanable, detachable water filter that helps collect limescale, which naturally occurs during water boiling and can affect the longevity of your kettle. With an LED indicator, an auto-off function, and boil-dry protection, this kettle is also safe for use any time, day or night.
Best Bedtime Tea Maker With Infuser Teapot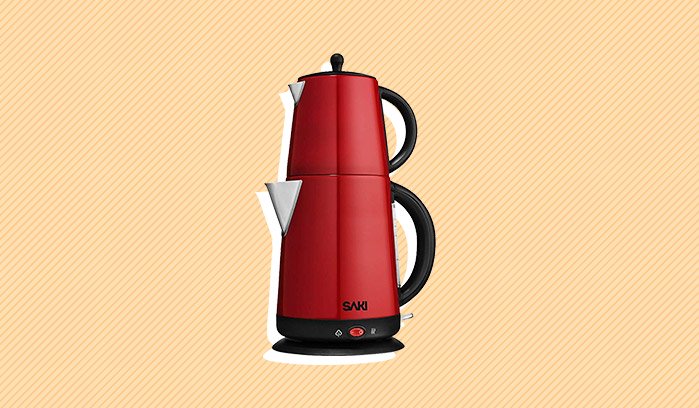 SAKI Electric Kettle with Tea Infuser Teapot
Pros:
The unique, stackable dual kettle design is perfect for boiling water and brewing tea without relying on one main kettle to do both.

The brewing kettle features an internal infuser that can be easily removed and washed.

The kettle has a simple interface for boiling, and a "keep warm" function perfect for retaining temperature over time.
Cons:
Because the kettle features a second kettle for infusing, it doesn't have a standard top, so when the brewing kettle is removed it has to work harder to retain temperature.
SAKI Electric Kettle with Tea Infuser Teapot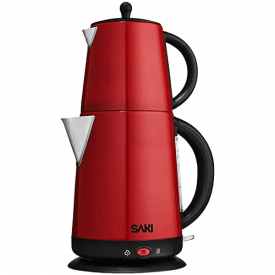 SAKI Electric Kettle with Tea Infuser Teapot
This two-in-one electric kettle lets you boil your water and brew your tea in one device. With a larger base kettle for boiling and a stackable, smaller kettle for infusing, this device features everything you need to brew that perfect cup. Made from stainless steel, this kettle is durable and food safe at any temperature. The kettle features simple on/off control, and its "keep warm" function ensures that your water will be kept at temperature for when you need it. Boil dry and overheat protections keep the kettle, and your home, safe from damage.
Best Glass Bedtime Tea Maker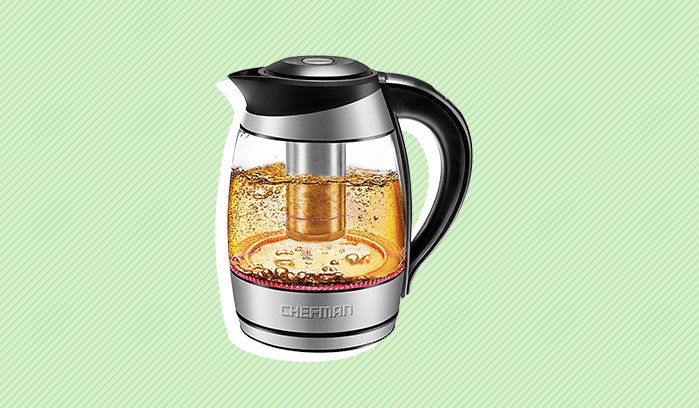 Chefman Electric Glass Kettle
Pros:
The kettle features five temperature settings ranging from 175 to 212 degrees to ensure you get your desired brewing temperature.

Attractive LEDs glow based on the different temperature settings, making this a great piece of decor in addition to a functional kettle.

Stainless steel finish and borosilicate glass are BPA free and completely food safe.
Cons:
The device is relatively inexpensive compared to others on the market, which makes it both a bargain, but the build quality of the materials could be a little better, especially if you're planning on relying on the kettle for daily use.
Chefman Electric Glass Kettle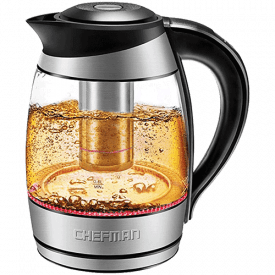 Chefman Electric Glass Kettle
This stylish glass tea kettle really leans into its glass design; with a range of five indicator LEDs, different temperatures are represented by the kettle glowing different colors. Featuring an included removable tea infuser, and a 360-degree swivel base, you're able to fill the kettle and brew your tea easily and unencumbered by wires. Included safety features like a boil-safe handle and boil-dry protection help preserve the device and its surroundings.
How We Selected the Best Bedtime Tea Makers
Much like their tastes for tea, everyone has a different definition of what makes a great tea maker. Some value the ability to brew a specialty variety of tea at the exact right temperature, while others just want a fast kettle that will get water boiling quickly so they can soak their teabags. While the variety of tea makers on the market make it tough to choose the right one, there were some features we looked for as we were defining our favorites.
Adjustable Temperature Settings and a Keep-Warm Function
Having a tea kettle that can bring a standard seven-cup pot of water to a boil in a matter of minutes is great, but having the precision to set a desired temperature is even better. Certain types of tea brew better at lower temperatures, while others require a high boil to extract the most amount of flavor. We really appreciated kettles that could be simply set to specific heat levels. Furthermore, it was an added bonus if those kettles had a "keep warm" function that would maintain that heat in case you wanted a second cup without going through the whole boiling process again.
Safety Features
One of the many reasons you turn to an electric kettle for a bedtime tea maker is to avoid setting a stovetop kettle on an open flame and falling asleep or forgetting about it. Added safety features like temperature sensors that automatically shut the kettle off if it overheats, or dry-boil sensors that shut the kettle off when water runs out are essential in not only ensuring the safety of you and your home, but they preserve the longevity of the device as well.
Keeping It Cordless
Electric kettles require some electric source (of course). A majority of the time they plug into the wall, which is typically convenient as they're set up in your kitchen. Having to unplug a kettle to fill a cup, or to initially fill it with water, however, can be a bit of an inconvenience. We preferred kettles that had a 360-degree heating source base where you could remove the kettle itself, refill it, and set it back down to boil. The added convenience is definitely worth it.
Tips for Picking the Best Bedtime Tea Maker
Choosing the right bedtime tea maker for you will depend on a few key factors. With a product assortment as wide as electric kettles, with drastically different price points and a wide variation of features, you may be inclined to just choose the least expensive. It's important to make sure the kettle you pick has everything you need, however, and odds are, if you have a list of qualities you want in a bedtime tea maker, there is a product in that price range to accommodate your needs. Here are a couple things to keep in mind as you're picking a kettle.
The Type of Tea You Like:

If you're a standard bag of black tea person, you may be able to get away with a common electric kettle that boils water quickly and easily. For those that are interested in experimenting with different types of tea, or have more temperamental tea tastes, a device capable of different temperatures could be key. For example, more subtle green teas brew best with water ranging from 170 to 180 degrees; being able to control your temperature can help get the best flavor for your tea.

Your Home Decor:

This is a strictly superficial consideration, but don't settle for a kettle you don't like looking at. These devices can be a beautiful piece of home decor, with vibrant LED lights, or painted steel designs that can add accent and personality to your kitchen. Make sure the device fits your aesthetic and not just your tea brewing needs.
Recapping the Best Bedtime Tea Makers
Finding the right bedtime tea maker can uncover a whole new world of relaxation for you. Being able to brew a cup of tea quickly and easily can help ease anxiety in the hours before sleep, and help your brain unwind as you drift to sleep. When you choose the right tea maker, it can also set you on a path of exploring countless varieties of tea, and experiment with ones that work best for your body.
FAQs
What is the best tea for bedtime?
There are countless types of tea that can help promote relaxation and reduce anxiety. Chamomile is a common choice as a bedtime tea. One important thing to consider is whether or not the tea contains caffeine, which can act as a stimulant and discourage sleep. Pro tip: if you like the relaxing effect of green tea but want to avoid the caffeine, dip a green tea bag a few times into the hot water so it seeps slightly, and then pour it out. Use the remaining, weaker teabag for your cup of tea; it will help reduce the caffeine and retain the calming properties.
Does Sleepytime tea really help you sleep?
Sleepytime tea is typically decaffeinated, and oftentimes includes sleep promoting herbs like valerian root and chamomile. It can act as a anti-anxiety supplement and promote relaxation and calm before you sleep.
What is in Yogi Bedtime Tea?
Yogi Bedtime Tea is made of a tea blend, with an added combination of passionflower, chamomile flower, licorice, cardamom and cinnamon to enhance flavor and promote relaxation..