Sleep is more than just what you lay on and what you cover yourself in; it's atmospheric and experiential. Especially if you're someone who has trouble sleeping, or slowing your brain down after a busy day—creating the right environment for your mind and body to drift off to sleep can take on many forms. One of those forms is scent. Certain scents are said to elicit feelings of calmness and relaxation which, when applied in the right spaces and at the right times, can be powerful sleep aids.
The best air fresheners for sleep come in many forms, from essential oils and bedside diffusers to wall plug-ins that fill a room with relaxing aromas. No matter how you choose to deliver the scent, however, air fresheners can be a great low-cost way to reinforce your body's natural sleep systems by encouraging relaxation before sleep, when you need it most.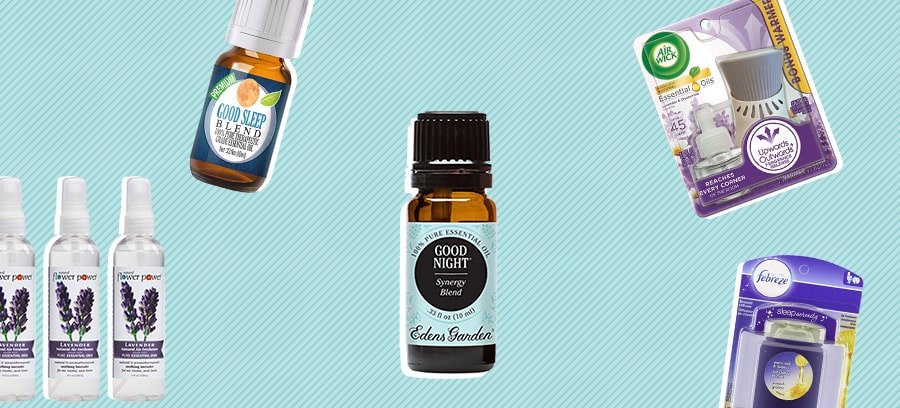 Editor's Pick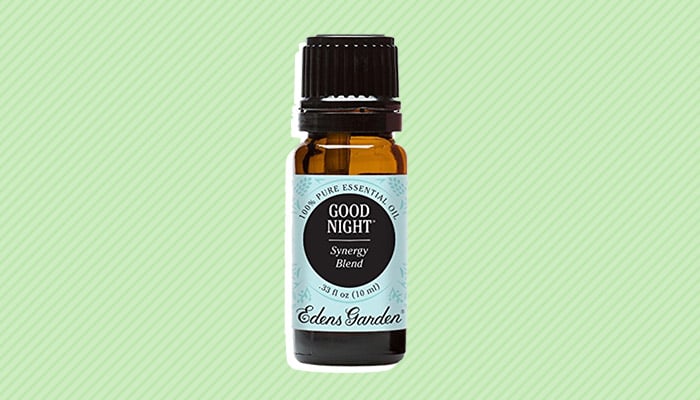 Edens Garden Good Night Essential Oil Synergy Blend
Pros:
The real highlight is the carefully crafted oil blend; its complex floral scent is mixed perfectly to promote calm and relaxation.
Essential oils provide a great versatility in their delivery method; this oil blend can be dispersed with a diffuser, made into a simple air freshener spray, dropped directly onto a pillow, or even applied topically.
The intensity of the oil not only allows you to dilute it to suit your needs, but it helps it last for longer than conventional air freshener sprays or plug-ins.
Cons:
Because of the number of ingredients included in the oil blend (and the quality of those ingredients), it hits a higher price point than comparable essential oils.
Edens Garden Good Night Essential Oil Synergy Blend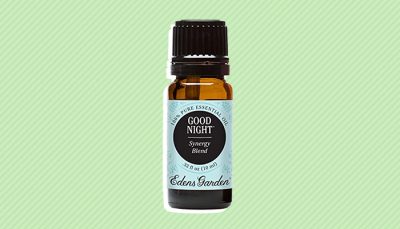 The Synergy Blend of essential oils from Edens Garden is a complex concoction of soothing aromas specially geared towards promoting relaxation and calm. Featuring lavender, sweet marjoram, chamomile, and multiple other pleasing oils, this blend strikes a perfect balance of carefully selected ingredients. Run it through a diffuser, create your own air freshener spray, or simply drip a couple drops on your pillow before bed for a soothing scent experience.
Sleepopolis Score
4.50 / 5
Top Contender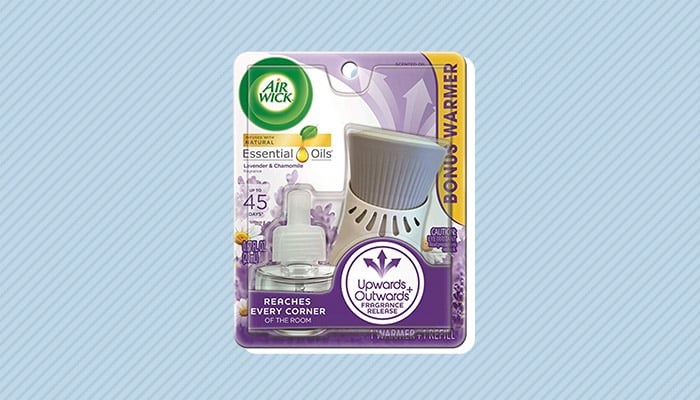 Air Wick Lavender & Chamomile Plug In Scented Oil
Pros:
The calming scents of lavender and chamomile are automatically emitted into the air, letting you set and forget the air freshener.
With a low price point and a 45-day lifespan, it's a great bargain.
Having five scent intensity levels is a good option for customizing how much air freshener you need based on your room size; smaller rooms may not need the full spray, which helps maximize longevity and stop the scent from overpowering a room.
Cons:
Because it's a mass-produced product, the scent won't be as subtle or as nuanced as more hand-crafted essential oil or scent options.
Air Wick Lavender & Chamomile Plug In Scented Oil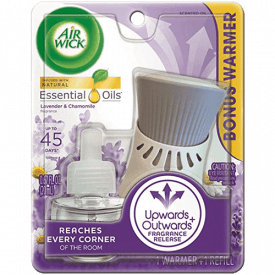 Lavender and chamomile have long been revered scents for their calming qualities. This easy-to-use, low-cost Air Wick plug-in air freshener is a simple and effective way to make your bedroom rich with the relaxing scent. Featuring five different spray intensity levels and a scent release that sprays in three different directions, this air freshener is a great alternative to higher-priced diffuser systems.
Sleepopolis Score
4.50 / 5
Best Spray Air Freshener for Sleep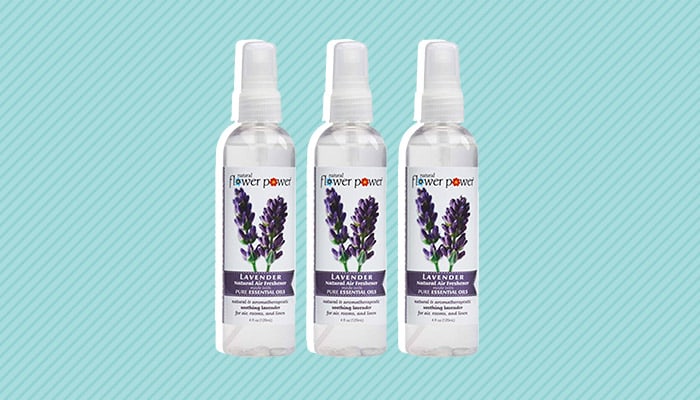 Natural Flower Power Lavender Air Freshener
Pros:
The all-natural mixture of lavender essential oil provides a clean and calming scent without being too overpowering.
With three bottles and an estimated 600 sprays per bottle, this spray is a great economic choice.
Natural Flower Power sources high-quality, all-natural ingredients; so the spray is biodegradable, non-toxic, and hypoallergenic.
Cons:
Because of the way the spray is produced, it's meant to be a subtle scent, so if you're looking for a strong lavender aroma or a spray to eliminate odor, this may not be the choice for you.
Natural Flower Power Lavender Air Freshener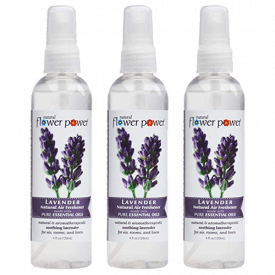 Spray air fresheners are a simple and effective way of controlling the scent intensity of a room. The Natural Flower Power lavender air freshener uses all-natural, biodegradable, and non-toxic essential lavender oil to provide a clean, relaxing floral scent to any room you use it in. Unlike other spray air fresheners that can smell synthetic or unnaturally like a desired aroma, this spray hits its mark.
Sleepopolis Score
4.20 / 5
Best Aromatherapy Air Freshener for Sleep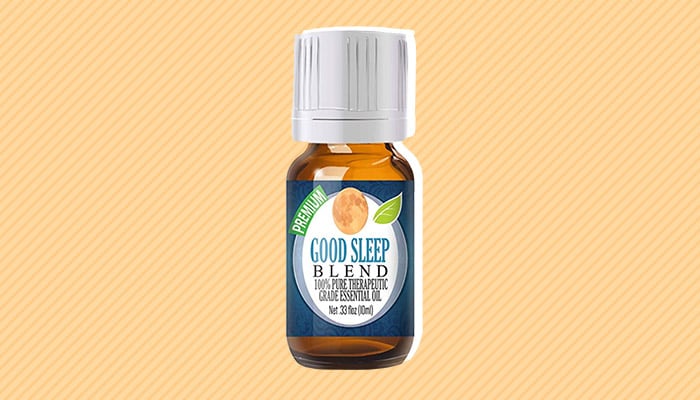 Good Sleep Essential Oil Blend
Pros:
The main pro here is the scent; the combination of sage, copaiba, and lavender (with lavender playing the starring role) is focused on promoting calm and relaxation.
Having your nighttime scent as an essential oil gives you more control with how it's deployed and with what intensity; create a homemade air freshener or run the oil through a diffuser.
Because of the high concentrate of essential oils, you're able to make a lower-cost amount of liquid last longer than traditional air fresheners.
Cons:
The use of essential oils puts the responsibility on you with how it's deployed; you'll need to physically create an air freshener using a water solution or have a separate diffuser, which can be an additional investment.
Good Sleep Essential Oil Blend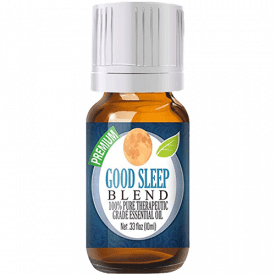 Essential oils are a go-to method of freshening air when paired with a diffuser, and there is no better oil blend than Heal Solutions' Good Sleep oil. A pleasing mix of lavender, sage, and copaiba (a plant native to South America), this oil provides a rich, herbaceous floral scent to any room in which it's deployed. If you don't want to invest in a diffuser, essential oils can be easily dissolved in water to create a homemade air freshener that can be easily sprayed on and around your bed for similar effect.
Sleepopolis Score
4.40 / 5
Best Small Area Air Freshener for Sleep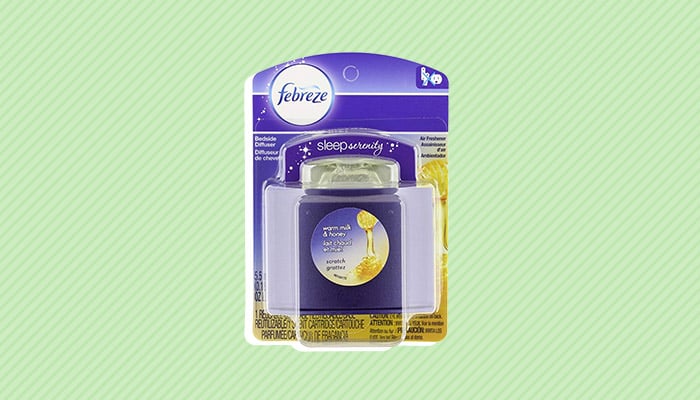 Febreze Sleep Serenity Warm Milk & Honey Bedside Diffuser Air Freshener
Pros:
The subtle scent is perfect for filling a smaller room or simply keeping the scent isolated to one part of a room.
The diffuser features a warm, semi-sweet scent which can be a nice alternative to more robust floral options.
There is no installation, no plugging in; just unwrap it and you're ready to go.
Cons:
The diffuser has an estimated lifespan of 30 days, which is a bit low, especially given the price point.
Febreze Sleep Serenity Warm Milk & Honey Bedside Diffuser Air Freshener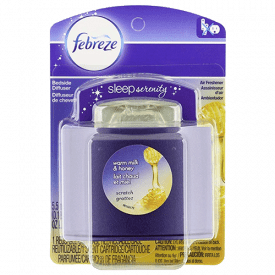 When you're looking to deploy an air freshener for sleep, the type of air freshener you choose can vary by the space you're looking to fill with an aroma. The Sleep Serenity bedside diffuser from Febreze is a great option for providing a more subtle, soothing scent to a smaller area. Or, if your partner has scent sensitivity and you need to isolate the aroma to one side of the bed, this diffuser can be a great option.
Sleepopolis Score
4.10 / 5
How We Chose the Best Air Fresheners for Sleep
Choosing an air freshener to help you sleep can be a simple, inexpensive way to encourage your natural sleep cycle. Especially if you have a hard time turning your brain off at night, the right scents can help have a calming effect. There are a number of different ways to control scent in your bedroom, and they all have different plusses and minuses. Here are some of the things we considered when determining our favorite choices for sleep-encouraging air fresheners.
Intensity of Scent and How You Control It
No matter what the scent is, whether it's a combination of lavender and something else or a different scent entirely, the amount of scent is going to vary. Some people have low tolerance for scent, and a little bit can go a long way. We tended to favor air fresheners that allowed you to control how intense the scent is. Even standard plug-in air fresheners are a good option when they allow you to manage the amount of aroma in the air.
Scent Delivery System
Everyone has a different system for scents. Some people invest heavily in high-end diffusers, in which case putting the additional investment in top-of-the-line essential oils can be a great option as an air freshener. Others don't have the space or the resources to make such an investment, and would rather rely on something as simple as a spray bottle of infused oil and water or a plug-in model of air freshener. We tried to represent the best in class of all of the air freshener varieties on the market.
Packaging and Waste
While essential oils are a great option for their versatility, they're also great scent delivery systems because they have a controllable, intense scent that helps limit packaging waste because the oil can be managed over time. Standard store-bought air fresheners can be a good option for their ease of use and non-reliance on any outside accessories or diffusers, but they can be wasteful if they're constantly thrown away and replaced. We put added weight on disposable air fresheners that had longer lifespans so they didn't need to be discarded as quickly.
Tips for Selecting the Best Air Freshener for Sleep
Air fresheners are a bit of a fickle proposition because everyone has a different relationship to scent. What smells great and relaxing to one person might smell artificial and chemical to others. As a result, there is a lot of trial and error in selecting the perfect air freshener to encourage a good night's sleep. There are some general considerations to make when choosing an air freshener, however:
Size of Your Space:

If you have a large bedroom with high ceilings, a soft, subtle scent might not make enough of a difference for you. Finding something that can be placed on a nightstand could be a better option for you; or, choosing a stronger scent that can fill the space might have more of an impact.

Accessories You Have:

If you've invested in a diffuser, there's a whole world of essential oil blends available that you can try until you find the perfect scent to help you sleep. If you don't, however, take note of where outlets are in your bedroom. If your outlets are all in use or they're otherwise obstructed, you may want to consider something like a spray or a bedside diffuser to disperse the scent.
Recapping the Best Air Fresheners for Sleep
Encouraging a good night's sleep is a holistic process, especially if you have problems falling asleep. Getting a great mattress, great pillows, and comfortable sheets can get you a long way, but controlling the atmosphere conducive to sleep through scent and lighting can take you over the edge into dreamland. And when you find the perfect scent for you, it can become an automatic response for your body that promotes your natural sleep cycles.
FAQs
What scent is best for sleep?
There are a number of scents that are said to encourage relaxation and calm which can help promote a good night's sleep. Lavender is a big one, but some others are chamomile, vanilla, valerian root, sandalwood, and juniper.
What is the best essential oil to help you sleep?
The great thing about essential oils is that they can be blended in ideal ratios to help encourage sleep. Many sleep blend essential oils feature some combination of lavender, valerian oil, clary sage, sweet marjoram, chamomile, bergamot, and more.
What is the best air freshener?
The best air freshener will largely depend on the scents you like and don't like, and the delivery method of that scent. That said, some leading brands in the air freshener space are Puressentiel, Air Wick, Febreze, and Diptyque. Investing in a diffuser can also be a great option if you're trying to avoid standard store-bought air fresheners.