Having problems sleeping affects every other aspect of your life. It tanks productivity, can cause irritability and strain on relationships, and even manifest in other physical illnesses or pain. Turning to medications is always a tough call to address sleep issues; chemically manufactured products that alter your brain's functions are a scary proposition. Many people instead turn to all-natural supplements as a way to encourage a good night's sleep.
Of course, if you have issues with sleeping, it's always best to consult a doctor first and foremost. Getting an expert opinion is the most important first step to fixing a potential problem. If your doctor suggests trying a natural supplement, there are a number of options available on the market that are designed to promote relaxation, anti-anxiety, and can help aid in a good night's sleep. Here are some of our favorites: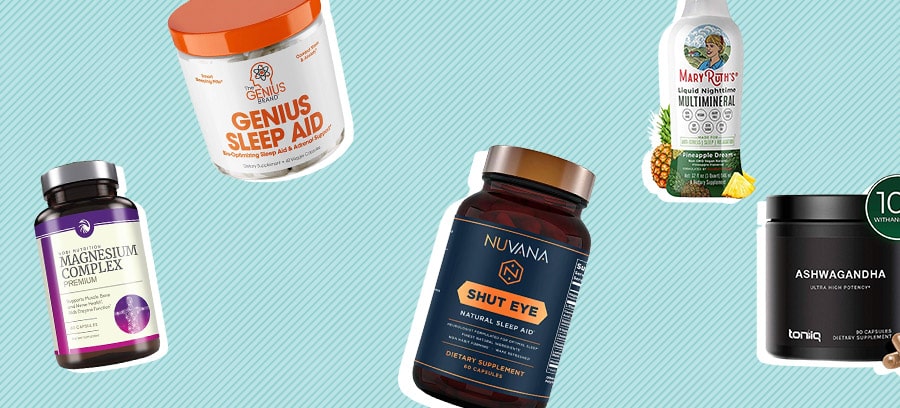 Editor's Pick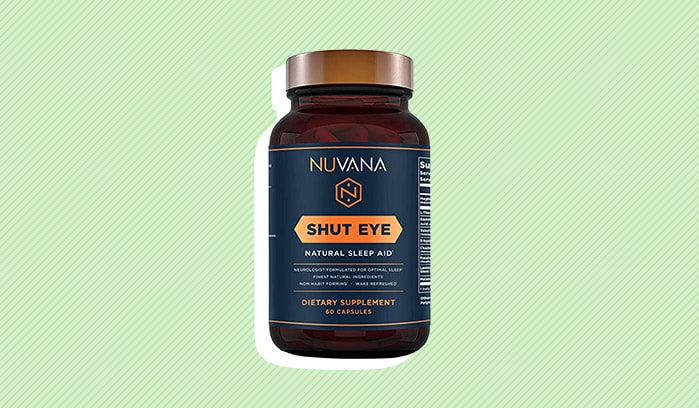 Nuvana Shut Eye Sleep Aid
Pros:
This supplement uses naturally sourced ingredients. It's vegan, non-GMO, and non-habit forming.

While many sleep aid supplements focus on one ingredient (high levels of melatonin, magnesium, l-theanine, etc), the blend of multiple herbal components distinguishes Shut Eye.

The product was developed by a neurologist and is manufactured in the U.S. at a GMP (Good Manufacturing Practice)-certified facility.
Cons:
The scent of the herbs in the supplement can be a bit strong and unpleasant to some.
Top Contender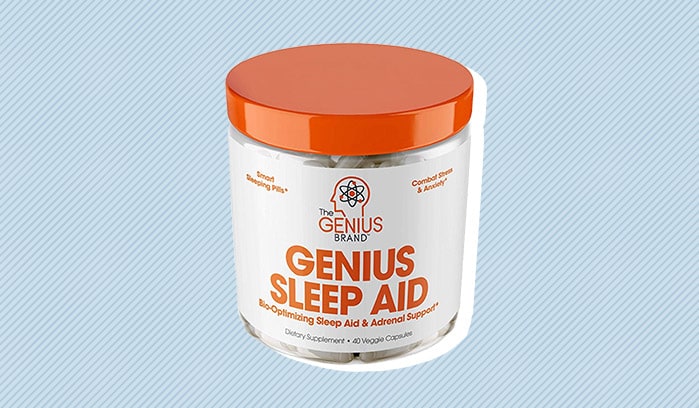 Genius Sleep Aid
Pros:
The Genius Sleep Aid is non-sedative and purportedly non-habit forming, as well as 100% vegan and non-GMO.

Its supplement mixture is designed for a more work-stressed audience, using ingredients that are said to calm anxiety and detoxify caffeine.

This supplement is a potentially good alternative to those who have had bad results with higher doses of melatonin.
Cons:
With a recommended dosage of two capsules per night and each container coming with 40 capsules, they're not the most economically sound supplement.
Best Ashwagandha Supplement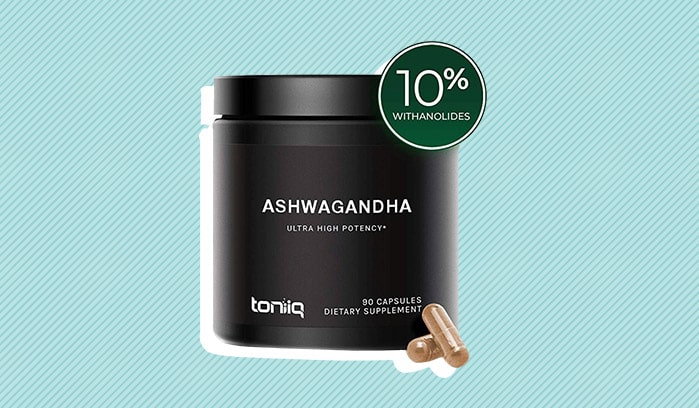 Toniiq Ultra High Strength Ashwagandha Capsules
Pros:
These supplements are a high potency and purity ashwagandha product, which makes them a good introduction to the root if you've been curious about its potential benefits.

The supplements are unflavored and unscented, which makes them easy to take.

The bottle comes with 90 supplement capsules, which is a great value at its price point.
Cons:
As with all supplements, consult a doctor before taking them; this product is ashwagandha and black pepper extract, which could cause allergic reactions (if you're allergic, of course).
Best Magnesium Complex Sleep Aid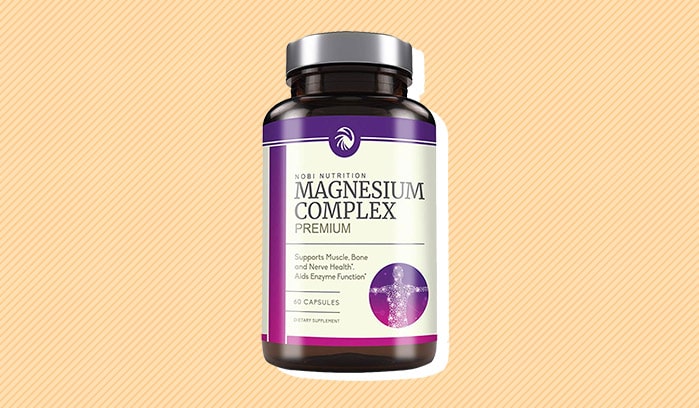 Nobi Nutrition High Absorption Magnesium Complex
Pros:
These magnesium supplements contain both magnesium oxide and magnesium citrate, the latter of which is intended to encourage a higher absorption by the body.

The capsules come in 500mg dosages, which is Nobi's recommended dose amount; having to take one capsule instead of multiple is a plus!

The product is GMO-free and vegan, made in the U.S. and third-party tested.
Cons:
The capsules are a little on the larger side, so if you have problems taking pills this may not be the best option for you.
Best Liquid All Natural Sleep Aid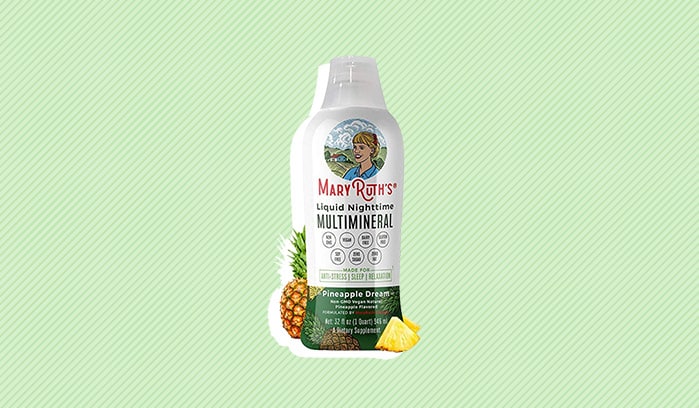 MaryRuth Organics Liquid Nighttime Multimineral
Pros:
The liquid delivery system is easy to use and dose, and it absorbs into your system faster than a digestible tablet or capsule.

Because of the mixture is vitamins and minerals and easily dosed, it's safe for children as well.

The liquid is truly all-natural: non GMO, sugar-free, dairy-free, soy-free, and vegan.
Cons:
The liquid is more like a syrup, so if you have bad associations with liquid cold medications or have trouble ingesting thicker liquids, this may not be for you.
How We Chose the Best All-Natural Sleep Aids
With an overwhelming glut of all-natural sleep aids on the market, finding the right one for you can almost seem futile. Part of the reason we recommend consulting a doctor is, first and foremost, they can give you advice on potential supplements that could be right for you (as well as diagnosing more serious underlying issues). With that said, there are some important considerations we made when assembling our list.
Purity of Supplement:

If you're looking to try one type of supplement to see if it works for you, it's best that that supplement be a true expression of whatever natural product it is. When we were looking at individualized supplements, we favored ones that weren't overcomplicated with extra or filler substances.

Integrity of Production:

Likewise, the supplement market is a bit like the Wild West. It's hard to know if what you're getting is legit and made at the highest level. All of the products we gravitated towards had some type of third-party testing or satisfaction guarantees.

All Natural:

This ties in with the first two considerations, but a big factor in determining the best all-natural sleep aids was to make sure they were, well, all natural. We favored products without GMOs, animal byproducts, and naturally sourced ingredients.
Tips on Picking the Right All-Natural Sleep Aid
Your doctor will be able to help you navigate the supplement market so you land on a product that works best for your body, and avoiding risks that come with supplements like stomach issues or allergic reactions. So let's say you've cleared that bar, here are some tips for picking the best all-natural sleep aids.
Dosages and Quantity: As you're looking at products, check to see how many capsules or dosages you're getting in your order, and how many recommended supplements go into each dose. If the product is designed to be taken as two capsules twice a day and there are only 40 capsules in the bottle, one order will only get you through ten days. Make sure you're getting a good value for your money!
Customer Satisfaction:

Because of how competitive the supplement industry is, many products come with some sort of satisfaction guarantee. Because supplements are far from a sure thing for every person, explore those guarantees before making your purchase, because you may be able to get a refund if the product doesn't work for you.
Recapping the Best All-Natural Sleep Aids
All-natural sleep aids may be a great option for some people, and finding the right supplement could be a game-changer in how you sleep. But as always, your doctor knows best!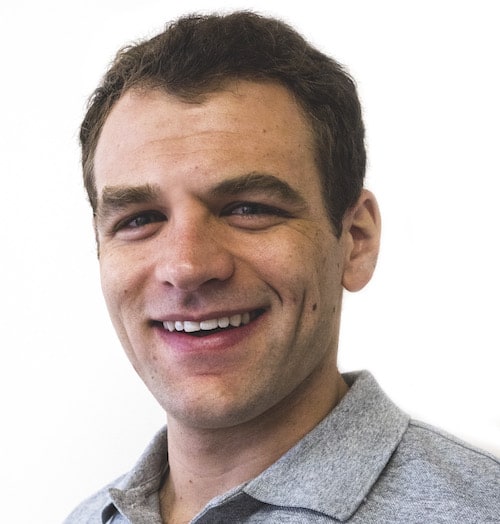 Logan Block
Logan is the former content director of Sleepopolis. As content director, he reviewed new mattresses every week and curated the comparisons, best of pages, and video guides on the site. Logan perfected his method by personally testing over 200 different mattresses, so he's not only able to discern the overall vibe of a specific bed, but to contextualize its feel within the bed-in-a-box market as a whole.