Parents will recognize that there are certain times in a baby's day when they aren't quite ready for a nap in a crib and don't want to be held. This is the perfect time for some supervised rest in a day sleeper. These products tend to be small, lightweight, and easy to manipulate.
The main difference between day sleepers are the shape, softness, and ease with which they can be cleaned. These are meant to travel, so they can easily collect dirt as they are used over time. Because this type of baby product can be useful for a wide range of families, it is important to be able to tell the difference between products. We have done some examining of the leading brands and this is what we found: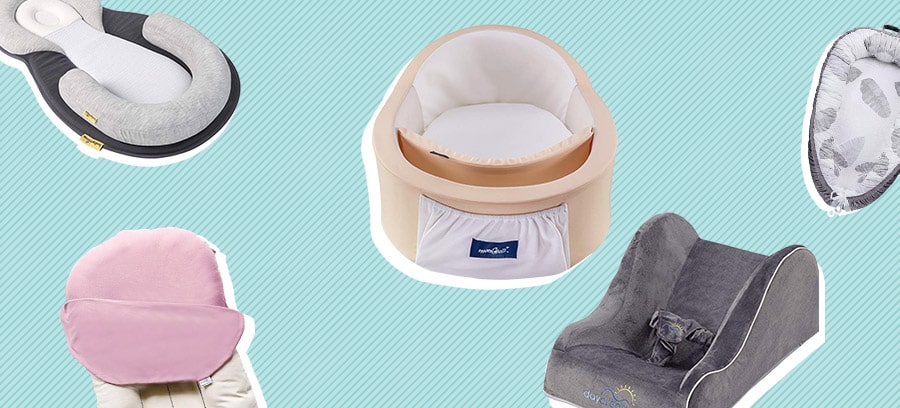 Editor's Choice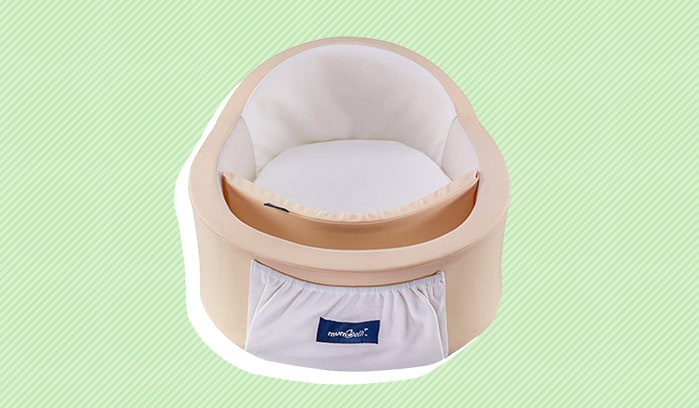 Mumbelli Adjustable Infant Bed
Pros:
Adjustable. These day sleepers by Mumbelli have an inner liner that can be adjusted to make the product fit the needs of the child. This is great to use as a baby grows.
Grip. This day sleeper has a layer of no-slip rubber grip on its bottom. This feature is included to help keep the sleeper stable and secure.
Portable. This line of day sleepers is meant to be amenable to travel. It has a soft pocket on the front side and has a travel bag included with every purchase.
Cons:
No ventilation. Some day sleepers are made of mesh or other breathable fabrics. This one is constructed from a thick foam.
Recommended that it is used with supervision. Per the company, the product should not be used without supervision.
The Contender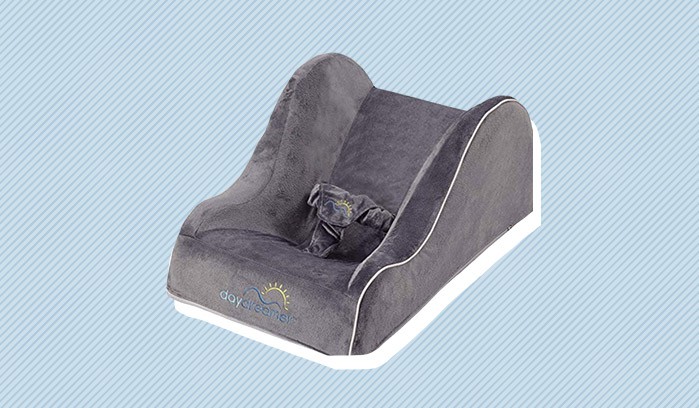 hiccapop Day Dreamer Baby Seat Lounger
Pros:
Incline. This day sleeper has a 28 degree incline built into the product, making it so that the baby's head should be above its stomach at all times. This is great for babies that have reflux or can't lay supine for other reasons.
Ventilated core. The manufacturer claims to have used a firm version of foam that allows more breathability. This is a way to prevent heat build-up.
Release mechanism. The safety harness on this product that is meant to keep babies secure can also be operated easily as it can be undone with one hand.
Cons:
Not all babies sit upright. The angled slope in this sleeper may not be conducive for every baby to sit in the desired position. Some babies may simply not be comfortable.
Firm foam. This product doesn't have as much cushioning as other similar brands. The foam has a firm density.
Best Bargain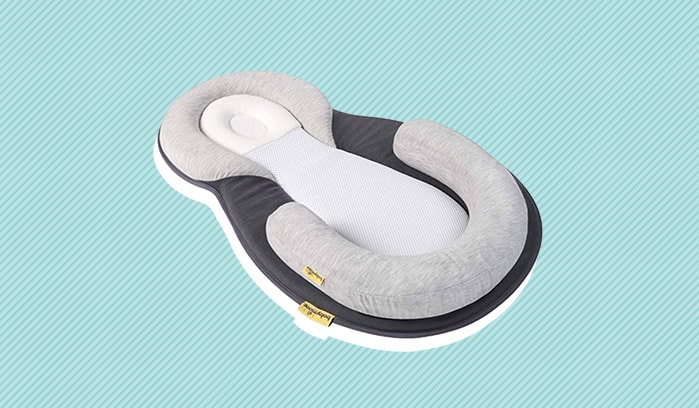 Babymoov Cosydream Premium Newborn Lounger
Pros:
Lightweight. This product from Babymoov is great for travel. It weighs just over half-a-pound and can easily fold.
Head support. Baby's heads can rest with circular support, dispersing the pressure so as to avoid flat spots.
Price. Parents or guardians can buy this day sleeper for almost half as much as most competitors. This is a great value for a solid product.
Cons:
Babies can roll out. This day sleeper has shorter side walls than other similar offerings, meaning babies can more easily roll out. Those with restless babies should not keep their babies unattended.
Adjustable leg rests come undone. The curved leg rests can be easily undone if the baby kicks them. Again, this is something to look out for if babies are restless.
Easiest to Clean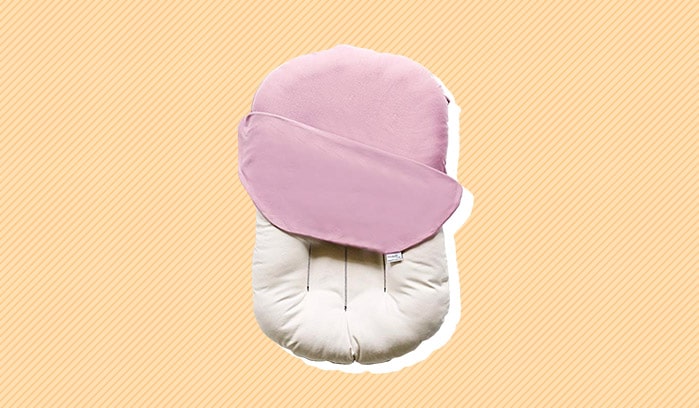 Snuggle Me Organic Sensory Lounger for Baby
Pros:
8 varieties. Customers can purchase this day sleeper with one of eight different colorful covers. Most day sleepers only come in one standard color, usually grey, beige, or white.
Easy to wash. Because this product consists of a shaped foam pad that is covered with a fabric, customers can wash the fabric individually or wash the padded lining as well.
Fits babies up to 9 months. While many day sleepers are limited to only serving babies up to 3 or 6 months, this one is designed to fit babies up to 9 months old. This is great for those not wanting to make frequent purchases.
Cons:
Some babies may feel cramped. Though this day sleeper is meant to allow babies to feel safe and enclosed, some may end up feeling cramped by the snug design.
Porous. If a baby has an accident, it may leak all the way through the product to the floor or sheets underneath.
Best for Travel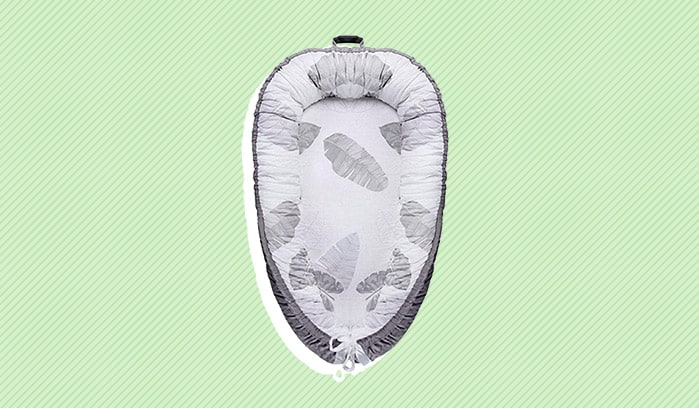 Mamibaby Baby Nest
Pros:
Raised legs. This product features a design that raises babies legs above ground level. This is designed to help with breathing and digestion.
Adjustable size. This is one of the day sleepers that allows parents to adjust the size to the product. This is great for sharing as a hand-me-down or as a baby is growing.
Handles. For those needing to take their babies with them on a trip or just around town, this sleeper might be a great choice. It is lightweight and has convenient handles.
Cons:
Hard foam. The padding isn't as comfortable as other foam products. Some may like its sturdiness but others may be looking for something fluffier.
Hard to put the cover back on after washing. Some users may have some difficulty putting the cover back on over the pad after washing, as it is a tight fit.
How We Picked
Day sleepers can be a great companion for babies. These types of products provide a safe space for babies to rest for short periods. There are several aspects of day sleepers that we judged as being the most important during our evaluations:
Style
This type of baby product, for whatever reason, doesn't tend to have the most intricate or ambitious design. Typically they are only available in one color, usually without patterns, stripes, or baby-themed designs. There are some outliers, however.
Some companies are filling that gap by offering products with several color options, sometimes with a washable slip that allows easy cleaning. There are other products that have reversible sides, allowing for a diversity in style. Those desiring subdued colors are in luck; most day sleepers are dark, beige, or white.
Cost
These sleepers are not inexpensive. Many can cost upwards of triple digits. The most affordable products will still cost something approaching $100 or more.
One way to mitigate against this price is to find a product that will be used a lot or for a long longevity. Some products are adjustable, allowing for parents to expand the product while the baby grows. Other products simply have a design that allows growing babies to still fit snugly in a day sleeper.
Cleaning
Day sleepers aren't always the easiest products to clean. Some are made out of a foam that may not keep its shape well after washing and drying in a machine. Others may have padding that is hard to get in and out of its cover before and after washing.
Products that have an easy to manipulate cover and a foam that keeps its form are the best bets for cleaning. Those that are traveling a lot with their day sleepers should be more vigilant about keeping them clean. Babies may soil these beds as well, so frequent cleaning may be necessary regardless of where it is used.
Tips
Not sure which baby day sleeper is right for you? Take a look at some of the hints compiled below:
How old is your baby?

Many day sleepers are only appropriate for babies of a certain age. Ranges can be between 0 to 9 months and older.

Adjustable baby day sleepers can fit babies as they grow. These may not fit the needs of all babies however, as adjustable beds have particular shapes.

What is your budget?

Some day sleepers are only fit for 0-3 month year olds and need to be used with supervision at all times. Babies should not be left alone in them.

Those that have a limited budget may want to consider an adjustable baby day sleeper or one that has a wide age range. Otherwise, the product may not be used very often before the baby outgrows it.