Is there anything better than hopping into bed right after your sheets have been washed? The fresh fabric and fresh scent have a magical way of increasing comfort and helping you fall asleep. Yet not all laundry detergents are created equal when you're washing your sheets. Some can be unpleasantly scented, or leave sheets stiff and papery.
Certain laundry detergents are much better than others for promoting sleep in a variety of ways; they can offer calming scents to help you unwind, or they can be a completely neutral canvas, effectively cleaning your sheets while giving you the option to add your own scent concoctions. Here are some of our favorite laundry detergents made to assist you as you drift off to sleep.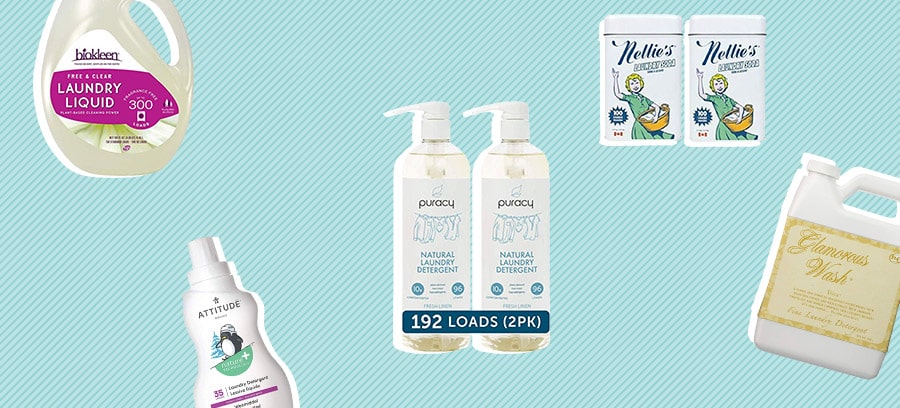 Editor's Pick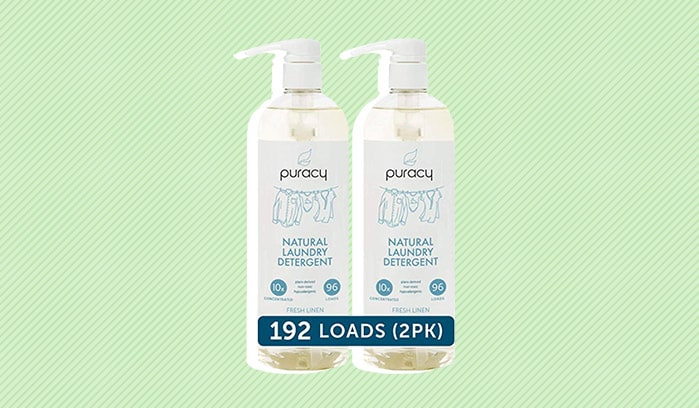 Puracy Fresh Linen Natural Liquid Laundry Detergent
Pros:
Cruelty-free, 99.5% natural, vegan, gluten-free, plant-based; this detergent goes to great lengths to be as gentle on your skin and the environment as possible.
The 10x concentration and pump-bottle design not only makes the detergent easy to portion, but reduces waste by maximizing the lifespan of a bottle.
The detergent's subtle but clean fresh linen scent is welcoming without being overpowering.
Cons:
Enzyme-based detergents can be less effective at removing tough stains from sheets and clothing, so for more aggressive washing you may need a separate detergent on hand.
Puracy Fresh Linen Natural Liquid Landry Detergent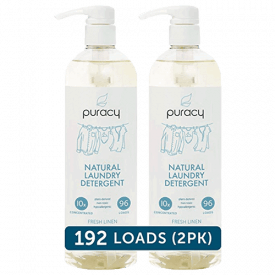 The plant-derived, enzyme based laundry detergent from Puracy is a fantastic natural alternative to harsh chemical detergents. At 10x concentration, a little bit of this detergent goes a long way; and its simple pump bottle design makes adding it to a washer a simple and clean process. Because the detergent is plant-based, it's a great option for those with sensitive skin. This detergent has a pleasant, but not overpowering fresh linen scent, which leaves a bed feeling refreshed and welcoming.
Top Contender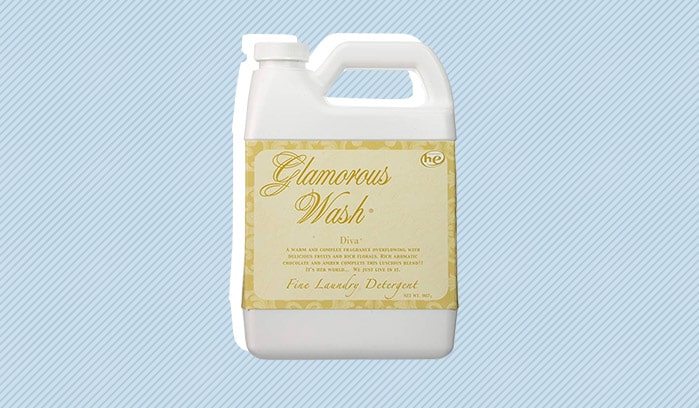 Tyler Diva Glamorous Wash
Pros:
The main pro here is the scent; the Diva variety of Glamour Wash has rich fruit and floral aromas with undertones of chocolate and amber to leave your bed feeling warm and comfortable.
The highly concentrated formula means you don't need much to impart your sheets with the appealing scent.
Unlike more subtle scents, this fragrance is long-lasting, leaving your sheets smelling great for extended periods of time.
Cons:
Because of the intensity of the fragrance, you may want to use it in conjunction with another neutral laundry detergent if you're using it to clean dirtier fabrics.
Tyler Diva Glamorous Wash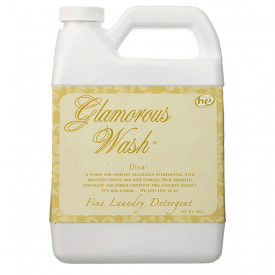 As much a perfume as it is a laundry detergent, Glamorous Wash from Tyler is designed to leave sheets smelling floral and fragrant. With such a highly concentrated scent, this detergent isn't designed for everyday clothes washing, but rather to impart a deep aroma into your bedding. And, because of the high concentration of scent, this detergent can be diluted with water, or used in small batches to extend the life of the bottle. But just because it's for special occasions doesn't mean the detergent doesn't have cleaning power.
Best Unscented Laundry Detergent for Sleep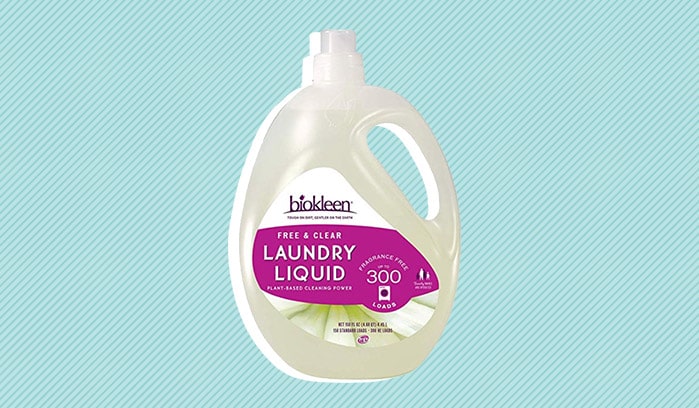 Biokleen Free & Clear Laundry Detergent
Pros:
This detergent boasts a number of eco-friendly bonafides: it's non-toxic, plant-based, and doesn't contain artificial scents or colors, which means it doesn't have negative effects on water quality or wildlife.
The lack of a fragrance gives you room to add your own scents through homemade or store-bought crystals, or through the use of bed sprays.
The detergent is tough on stains and dirty fabrics, comparable to chemical-based detergents.
Cons:
Because it's unscented, without any kind of additive you may get the impression that clothes are not fully cleaned (especially if you're washing sports clothes or other sweaty, smelly garments).
Biokleen Free & Clear Laundry Detergent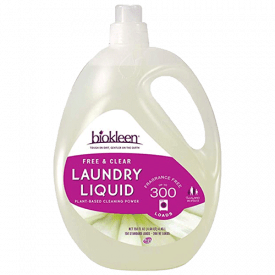 While there is something to be said for intensely aromatic detergents, a neutral option can be preferable, especially for those who add scent crystals or create their own out of essential oils. Biokleen Free & Clear detergent is entirely plant-based and non-toxic, which makes it a great choice for those with skin sensitivities. The detergent's 3x concentration means a single bottle can last up to 300 loads on a high-efficiency washer, which is cost-effective and environmentally conscious.
Best Laundry Detergent for Sleep for Infants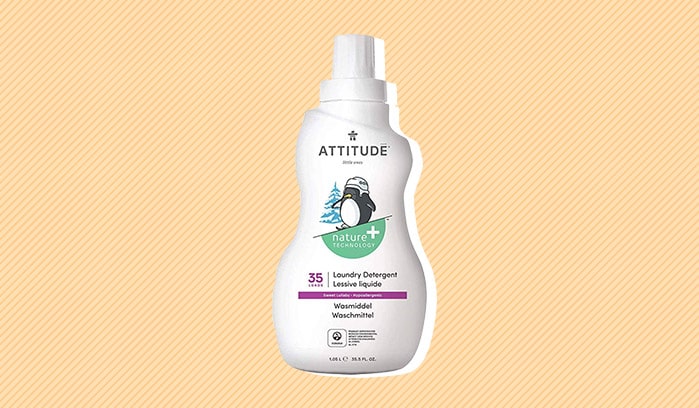 ATTITUDE Sweet Lullaby Baby Laundry Detergent
Pros:
The detergent is hypoallergenic and made for even the most sensitive skin.
There is a subtle floral aroma to the detergent, which can help promote relaxation without being too overpowering.
Even though the detergent is non-toxic, it's still strong enough to fight against tougher stains.
Cons:
Because the detergent isn't highly concentrated, bottles tend to run out quicker than other comparable brands.
Sweet Lullaby Baby Laundry Detergent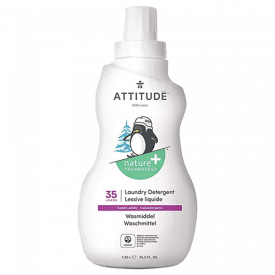 Making a choice in laundry detergents for your baby's bedding or sleep clothes can be a tough decision; a wrong move can leave a child's sensitive skin at risk of rash or they can be left otherwise uncomfortable throughout the night. ATTITUDE's brand of hypoallergenic laundry detergents are gentle on sensitive skin, making it a great choice for parents. The Sweet Lullaby variety of this conscious detergent features a subtle hint of floral aromas which can promote calmness and relaxation to help your baby drift off to sleep.
Best Powdered Laundry Detergent for Sleep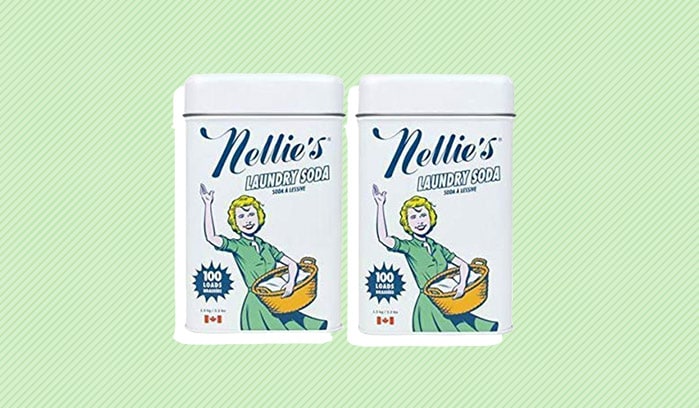 Nellie's Laundry Soda
Pros:
Powdered laundry detergent doesn't contain any filler, so you're getting a great value in every tin.
The unscented formula allows you to add your own scent through crystals or bed sprays.
Portioning the powder is easy and less messy than liquid detergents, which can leak or spill.
Cons:
Like other all-natural detergents, it may not be as tough on stains as ones that feature harsher chemicals.
Nellie's Laundry Soda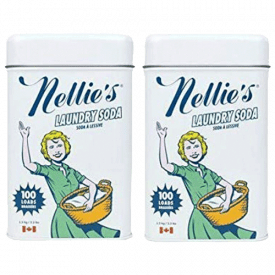 Liquid detergents tend to be the go-to for many people, but liquid detergents contain a lot of water in their formulas, which seems like kind of a waste of money when you get right down to it. Nellie's Laundry Soda is an all-natural, biodegradable powder that gets clothes clean without leaving any kind of residue. The powder formula is simple, and its concentration level amount to approximately 100 loads per tin, which makes it one of the more cost-effective detergents on the market.
How We Selected the Best Laundry Detergents for Sleep
There are huge variances in the types of laundry detergents on the market, and they all have their place; you're not going to pick a heavily perfumed detergent that's weak on stains if you're washing football uniforms. When determining the best laundry detergents for sleep, we were mainly focusing on those that would be used for sheets and linens. Typically, detergents for bedding don't need to fight stains, or preserve fragile fabrics. It's important that they can get sheets clean, sure, but they also need to show sensitivity to skin, and maybe even provide some scent to help you relax as you sleep.
Here were some of the considerations we made when selecting the best laundry detergents for sleep:
Fragrance
Certain fragrances can have a calming or relaxing effect, which can in turn help you sleep. We chose some detergents that went to lengths to put the fragrance at the center of their selling points. However, we also felt it was equally important to have unscented options. The ability to add your own scents through crystals (whether store bought or homemade) was a compelling factor; not having to settle on a single scent, but being able to switch it up to keep things fresh is always a good option.
Environmental Impact
Choosing a laundry detergent with intense chemicals can help when you're fighting stains, but generally speaking, washing sheets doesn't require a lot of stain removal. When you factor in that chemicals in detergents can have ecological effects on wildlife and groundwater quality, it seemed logical to us to favor detergents made of natural or biodegradable ingredients. If making a switch to a natural product doesn't affect the quality of wash, but can help the environment, why not go for it?
Cleaning Power
Though scent and environmental impact are important, you're still doing laundry. And at the end of the day, even if you're washing sheets, you want to know that you're getting the fabric clean. We chose laundry detergents that were effective in getting sheets noticeably clean without leaving residue on the fabric or in your washer.
Tips for Choosing the Best Laundry Detergent for Sleep
There can be a bit of trial and error when it comes to choosing the right laundry detergent for sleep. Part of the reason why we favored unscented detergents is because settling on one scent can get stale over time (especially if two people are sharing a bed). When you land on the right detergent for you, however, you can rest easy. Here are some things to consider when choosing a laundry detergent for sleep:
Skin Sensitivities:

There's something about laundry detergents, where if you pick the wrong one, it can be miserable for your skin (believe me, I've been there, covered in hives). Make sure to read the label, and if you do have sensitive skin, opt for a detergent that relies on natural ingredients which can protect you from irritation.

Concentration:

Laundry detergents come in a variety of concentrations, from super highly concentrated ones that only require a small amount for a full load, to those that seemingly require cups of the stuff for your sheets to feel clean. Pay attention to how many loads per container you're getting; by choosing the right concentration you can more easily portion out the amount of detergent you're using, which can extend the value of the dollar you're spending on it.
Recapping the Best Laundry Detergents for Sleep
Laundry detergent is almost always a household good bought for pure functionality. You get one detergent that works for workout clothes, dress clothes, towels, sheets, and everything else. Yet we ask for different outcomes from all of these things; more soiled clothes require stronger detergents, and sheets may ask for something more gentle and scented differently. Don't be afraid to have a couple types of detergent on hand for different purposes; if you find the right one, especially for bedding, it can be the extra factor you need to ease you into a night's sleep.
FAQs
What is the best smelling natural laundry detergent?
In recent years, there has been a deluge of new options for natural laundry detergents. Of course, the honorific of "best smelling" will vary from person to person, but some natural detergent companies that put value in making a great-smelling product are: Mrs. Meyer's, Method Beach, and Seventh Generation.
What is the best all natural laundry detergent?
Choosing an all-natural laundry detergent can be a great option for those looking to minimize their environmental impact without sacrificing the quality of clean they get for their fabrics. Some leading brands in the category are: Zum Clean, Method, Emma Laundry Soap by Eco-Me, and Nellie's Laundry Soda.
Is Tide detergent safe?
Tide laundry detergent was in the news in recent years because people were putting Tide Pods in their mouths. This is not safe. Tide detergent, when used on clothes, should be perfectly fine unless you have specific skin sensitivities that could be reactive to the detergent. When ingested, however, it's another story; Tide contains a number of toxic ingredients that should not be ingested.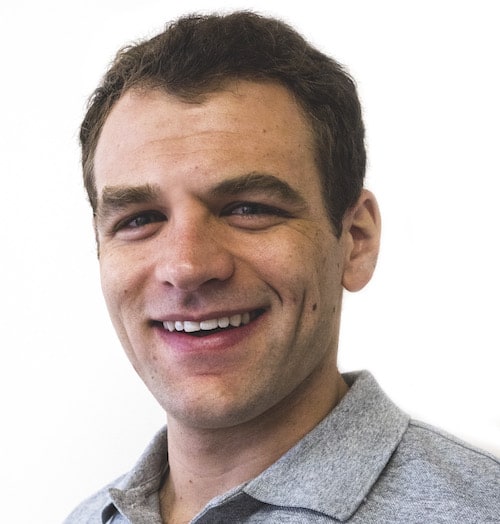 Logan Block
Logan is the former content director of Sleepopolis. As content director, he reviewed new mattresses every week and curated the comparisons, best of pages, and video guides on the site. Logan perfected his method by personally testing over 200 different mattresses, so he's not only able to discern the overall vibe of a specific bed, but to contextualize its feel within the bed-in-a-box market as a whole.