Creating the right environment for sleep goes beyond your bed. If you have trouble sleeping, adjustments in lighting, sound, and habits like disconnecting from screens earlier can make a huge difference is how you fall asleep. Another factor can be aromas; the scent atmosphere you set up in your bedroom (or wherever you sleep) can help have a calming effect, which can in turn help you fall asleep faster and sleep deeper. While there are countless sprays and plug-in air freshener options on the market, essential oil diffusers can be a great option for infusing scent into your room.
Diffusers can help you cut down on your environmental impact by avoiding the packaging associated with disposable air fresheners. And, with the glut of essential oil options out there, you can tailor scents to your specific needs, even blending scents you enjoy to create your hybrids. Portable diffusers are especially beneficial because they can be easily moved from room to room to maximize the coverage of the aroma. Here are some of our favorite portable diffusers you can get right now: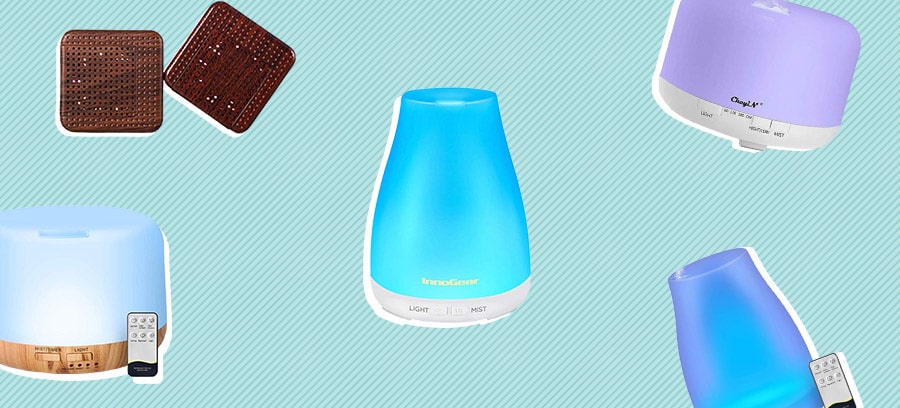 Editor's Pick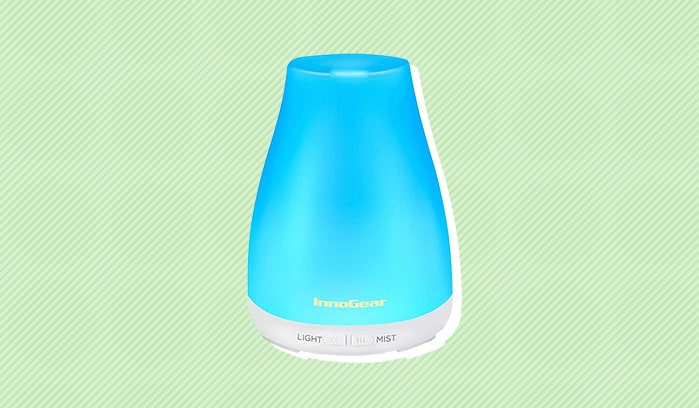 InnoGear Aromatherapy Essential Oil Diffuser
Pros:
The diffuser is compact in size, measuring four inches by five and a half inches, which is great for saving space on a nightstand.
It's made of safe polypropylene (the same material used in baby bottles), and doesn't heat up, so there's no risk of chemicals in the mist.
The eight-color mood light can be set to cycle or fix on a single color, which gives you control over the mood you set.
Cons:
The diffuser isn't the most efficient with the fill liquid; based on its size it uses water relatively quickly, which means it needs to be refilled more often than larger models.
InnoGear Aromatherapy Essential Oil Diffuser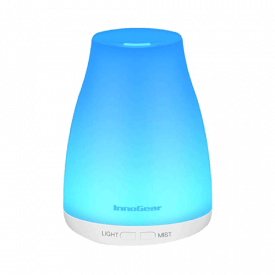 This low-cost, high-impact portable diffuser does everything you need it to do and more. With two misting modes, it can run constantly to give a room a fast scent injection, or the mist can be meted out over the course of a night to maximize scent while you sleep. This diffused features an auto-off when liquid runs out, and its eight-color mood light is ideal for setting ambiance or for use as a night light.
Sleepopolis Score
4.50 / 5
Top Contender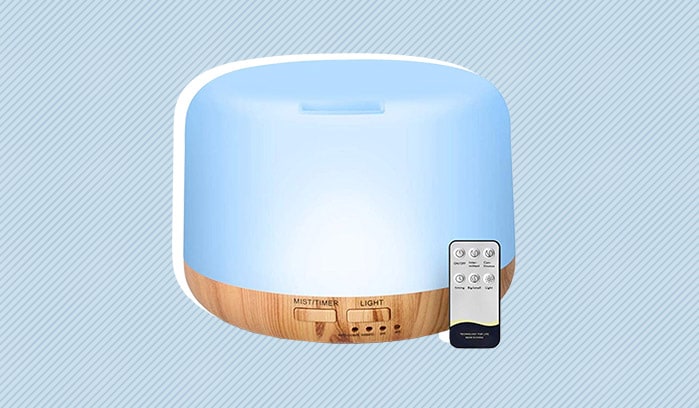 HOMEWEEKS 300ml Essential Oil Diffuser
Pros:
The diffuser's stylish design and seven-light LED make it fit in seamlessly with your home decor.
The device runs on two or four-hour mist times, which provides fast scent and moisture infusion into a room's air; its auto-shutoff stops it from running when the liquid is out.
The diffuser's remote control makes it easy to set up without needing to handle the device.
Cons:
The two and four-hour mist settings are great for a fast infusion of aroma, but it would be nice if it had an eight-hour setting that would mete scent out over the course of an entire night.
HOMEWEEKS 300ml Essential Oil Diffuser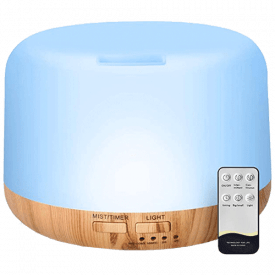 This whisper-quiet essential oil diffuser also works as a humidifier, infusing your air with moisture and scent simultaneously. The stylish device features two mist settings, two-hour, and four-hour, so you can control how intense the scent and humidity are dispersed. Easily controlled with the included remote, the diffused also features a seven-color LED for mood setting. And, its BPA-free design makes it safe for any room, including nurseries.
Sleepopolis Score
4.40 / 5
Best Multifunction Portable Diffuser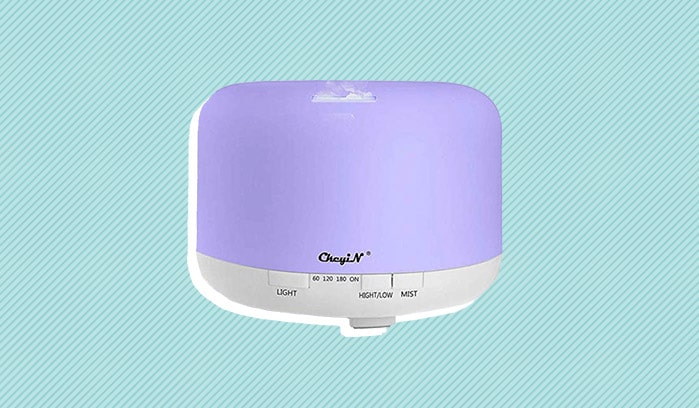 CkeyiN 800mL Essential Oil Diffuser
Pros:
The Bluetooth speaker is a great addition to an already impressive portable diffuser, giving you another way to control ambiance in your home.
The diffuser's 800mL capacity is much larger than comparable portable devices, which allows it to last for an impressive ten hours on its lowest mist setting.
With a timer setting and auto-shutoff when liquid runs out, you're given multiple ways to control for how long the device operates.
Cons:
The speaker runs on Bluetooth 4.2 protocol, which should work with most smartphones, but could have some connection issues with newer model phones.
CkeyiN 800mL Essential Oil Diffuser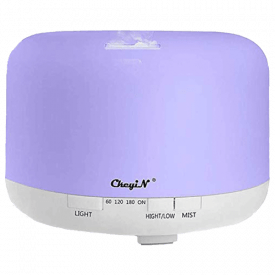 Featuring a higher fill capacity than many of the essential oil diffusers on the market, this 800mL device lasts for an impressive ten hours of mist time on its lowest setting, and eight on its highest. With an auto-shutoff function and a seven-color adjustable LED, this diffuser is perfect for setting a mood in your home. And if that wasn't enough, it can even be paired to your phone via Bluetooth and used to play music.
Best Portable Diffuser for a Nursery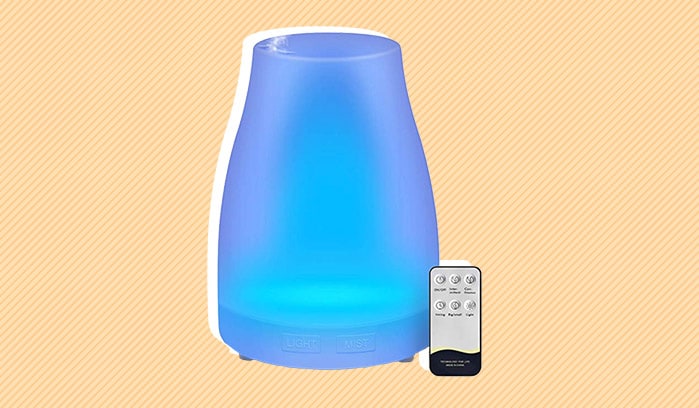 HOMEWEEKS 300ml Colorful Essential Oil Diffuser
Pros:
The constant three-hour mist mode can provide a quick aroma for a room, while the intermittent six-hour mist is great for controlling scent over the course of a night.
The diffuser's seven-color LED and kid-friendly design makes it a great night light and decorative addition to a nursery.
Simple remote-control function makes adjusting settings a breeze.
Cons:
The inclusion of additional mist settings like one-hour or eight-hour to further control the mist volume would be nice to mete out scent over time or quickly infuse a room.
HOMEWEEKS 300mL Colorful Essential Oil Diffuser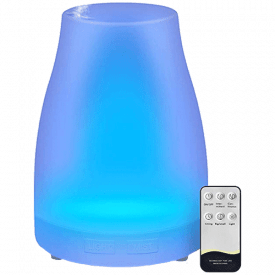 Featuring seven vibrant colors in its LED, this diffuser is perfect performing double-duty as a night light in a nursery. With a whisper-quiet mist that can be set to run for three or six hours continuously, you can run the device throughout the night to create a calming environment for a child while adding extra moisture to the air. The included remote control makes setting up the device simple, and its auto-off function ensures it won't keep running when the fill liquid runs out.
Sleepopolis Score
4.30 / 5
Best Portable Diffuser for an RV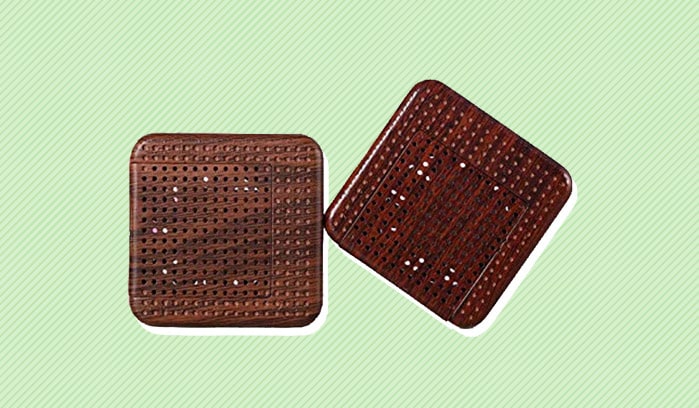 weljoy Wood Grain Portable Diffuser
Pros:
The size of the device makes it great for its portability, and the fact that it doesn't require AC power increases its versatility in installation.
Being waterless means you only need essential oil to get scent; this not only helps with cleaning but reduces the risk of spills or mess (especially good for a car or RV).
Adjustable setting allows you to control the intensity and longevity of the scent.
Cons:
Unlike water-based diffusers, this device uses pads to diffuse the essential oils; if you're looking to eliminate waste, this may not be the best choice since the pads need to be replaced over time.
Weljoy Wood Grain Portable Diffuser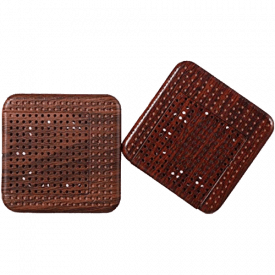 This tiny diffuser runs on a rechargeable battery or USB, making it perfect for use in an RV, camper, or other vehicle to control scent on-the-go. The device is waterless; just add a few drops of essential oil to the diffuser pad and it will emit the scent. With three settings, you're able to control how quickly or intensely the scent is dispersed, over the course of five hours, two hours, or one hour.
Sleepopolis Score
4.10 / 5
How We Selected the Best Portable Diffusers
Portable diffusers are a great way to control the ambiance in your home; they're cost-effective ways to add additional mood lighting and scent while also reducing the waste commonly associated with spray or plug-in air fresheners. Because of the rise in popularity in yoga and aromatherapy over the past decade, there has been a massive influx in the number of affordable diffusers on the market. Here are some of the factors we considered when selecting our favorites of the bunch:
Mist Dispersal Settings
Being able to control the amount of mist, or the time it takes to empty the fill tank was a big consideration. Having the ability to quickly add scent to a room with a one or two-hour mist in addition to a slower setting that could last the duration of an entire night were both ideal in a diffuser. Especially if you're using the diffuser while you sleep, having a six-hour mist setting at minimum was ideal.
Lighting and Additional Ambiance Control
Most diffusers on the market feature some sort of lighting setting that allows you to control ambiance in a bedroom or nursery even beyond aroma. We tended to favor devices that had multiple LED lighting options to control mood, with special weight given to those where the lighting control was customizable and simple (choosing an individual lighting color versus a constant cycling of colors). Devices that offered additional ambiance control options like Bluetooth speakers were all the better.
Fill Capacity
Because these are portable devices and not large-capacity diffusers that are meant to stay stationary in a yoga studio or aromatherapy clinic, the volume of liquid the device could handle became a consideration for us. We favored devices that had large enough fill capacities that would last a long enough time without having to be refilled hourly, but not so much that they became a pain to transfer from room to room.
Tips for Choosing the Best Portable Diffuser
When picking the best portable diffuser for your needs, there are some considerations you should be making beyond the mere price point. The good thing about diffusers is they're relatively inexpensive, and in the long run, can end up saving money compared to buying disposable air fresheners. When choosing the right device for you, also consider:
Built Materials and Auto-Off Functions:

When you're creating an atmosphere in your home through diffusing scented water, it's important that you're not adding additional chemicals to the proceedings. Take special care to note what the diffuser is made of before purchasing, especially if you're buying the device for a nursery. Choosing something that's BPA free or runs without heating plastic can help mitigate the release of toxins in your air. Auto-off functions also reduce risk by shutting the device down when it's empty or overheats.

Lighting and Ambiance:

Unlike candles or plug-ins, diffusers are a piece of decorative technology that you have to live with. Make sure you're choosing something that fits in with your decor. And if it's a device that's going to go in a nursery, make sure the LED options of the diffuser are something you think your child will like, otherwise you may have a great way to disperse scent and still need an additional night light.
Recapping the Best Portable Diffusers
If you're curious about how scent can play a role in your sleep, investing in a diffuser can be a great option. These relatively low-cost devices give you more control over the aromas you use in your home, and can be a simple jumping off point to finding the right scent which encourages relaxation and sleep. The ability to mix scents, as well as reduce the waste commonly associated with disposable air fresheners makes them additionally appealing. If that wasn't enough, they also often feature LEDs which can help set the mood for even further control of the ambiance in your bedroom or in a nursery.
FAQs
What is the best type of diffuser for essential oils?
The past decade or so has seen a rise in the number of affordable, effective essential oil diffusers on the market. Companies like HOMEWEEKS and InnoGear are a couple of our favorites, creating simple, effective diffusers that don't break the bank.
How do you fix an oil diffuser?
Though there can be a number of issues that can arise with a diffuser, if it's not functioning properly, the first step would be to thoroughly clean it. To clean a diffuser, fill it to about half its capacity and add ten or so drops of white vinegar. Run the device for five to ten minutes and then thoroughly clean out the tank; this should help get the diffuser back to its original state.
What is a personal diffuser?
Personal diffusers disperses essential oils into the air as a fragrant mist.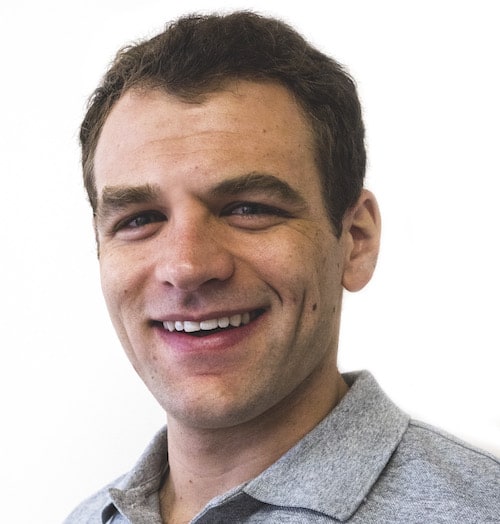 Logan Block
Logan is the former content director of Sleepopolis. As content director, he reviewed new mattresses every week and curated the comparisons, best of pages, and video guides on the site. Logan perfected his method by personally testing over 200 different mattresses, so he's not only able to discern the overall vibe of a specific bed, but to contextualize its feel within the bed-in-a-box market as a whole.