One of the most important clothing items a new parent needs to get their newborn is what they will wear while they sleep. As newborns will sleep a lot, and certainly need that sleep, it is important to ensure that not only are babies comfortable but they are warm and feel secure at the same time.
Though many sleepsuits share general features, there are some key differences that may sway parents from one product to another. Though the aesthetic of the sleepsuit may stand out, there are facets of these sleepsuits that are not necessarily visible that may be determining factors. We've given some of the top offerings a look. Here is what we found out: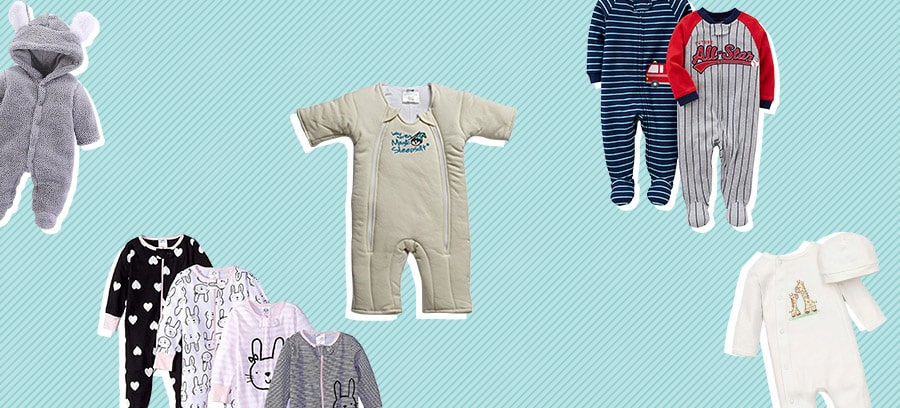 Pros:
Swaddle features. This product is designed to be the next step after the "swaddling" phase of caring for an infant. Swaddling means wrapping babies snug in warm blankets.
Double zippers. Parents will find that this product may provide an easier time to take on and off a newborn. There are zippers on either side of the baby's torso.
Scooped neckline. This line of sleepsuits has a neckline that craters well below the chin and neck. This helps keep fabric away from baby's mouths.
Cons:
Line dry. Customers may find that this article of clothing is a bit cumbersome to clean as it needs to be line dried.
Tall babies may not fit. Though many babies will fit fine in this product, some taller babies may be a bit too long for the sleeves.
Pros:
5 sizes. This sleepsuit has five different sizes to more accurately accommodate baby's varying sizes. The sizes range from preemie to 6-9 month olds.
Varieties. Each of these two-packs has two unique sleepsuits, sometimes featuring very different designs. When a few are bought at a time, parents will have a surfeit of choices.
Zipper or snaps. Parents will be able to choose between sleepsuits with snaps from head-to-toe or a zipper from head-to-toe. Both products have a comfortable snap at the top.
Cons:
Loose around feet. The sleepsuits that have snaps throughout the length of the suit can seem a bit loose at the feet. One more snap might have helped.
May shrink after washing. Though it is nice that this product is machine-washable, some parents may find that the product can shrink a bit after washing.
Pros:
Machine washable. While not all sleepsuits are very easy to clean, this product is machine-washable and machine-dryable. This may be a relief to new parents.
Mitten cuffs. The sleepsuits that are designed for newborns have mitten cuffs attached to the sleeves. These allow babies' hands to stay warm as they sleep.
Value. This four-pack provides tremendous value. These work out to only a few dollars per sleepsuit.
Cons:
Runs big. Customers may find that the sleeves are a bit too long for some babies. This product tends to run a bit big compared to similar offerings.
Thin material. Though they are made of a soft cotton, some may find that the material is a bit thin. Depending on the season, this may be a concern for parents.
Pros:
Cute ears. This line of sleepsuits is fashioned to make babies look like cuddly bears. The cute fuzzy ears are a nice touch.
Four colors. Parents can choose to transform their little ones into a pink bear, brown bear, gray bear, or white polar bear. Of course, parents can buy a few if they can't decide.
Warm fleece. From the feet all the way up to the ears, this sleepsuit is made of a fuzzy fleece material. This is great for keeping babies warm during cold months.
Cons:
Thick. Though the material is good for keeping babies warm, some may find that the fabric is a bit too thick and can seem bulky in carseats.
Newborn size is big. The newborn size of this sleepsuit may be too big for some infants. Parents will have to wait until the baby fits.
How We Picked
Sleepsuits are a great article of clothing for newborns. Not only do they keep babies warm but they are designed to be comfortable enough for them to sleep in yet feel snug while they sleep. Due to the multitude of benefits these products provide, it is important to know how they each stack up in these categories. Here are the factors we weighed heaviest:
Cleaning
While none of the leading products require too strenuous of a cleaning procedure, there are notable differences between them. Much of this is due to the fabric that these sleepsuits are made out of. Though each fabric presents positives and negatives, the ease in which they can be cleaned is definitely not something to ignore.
Products that can be machine-washed and machine-dried are obviously the easiest to clean. Some products need to be hand-washed, while others need to be line-dried. Though this may be too involved for parents who are short of time, washing and drying products like this is a good way of avoiding shrinking and degradation of the fabric.
How it is put on
One of the big decisions parents need to make when deciding which sleepsuit to get is whether they get a product with a zipper, one with snaps, or one without either. Most parents will probably prefer a sleepsuit with a zipper or snap buttons, as this provides easier and quicker access, especially when a baby needs to be changed.
The benefit of a sleepsuit with a zipper is that parents can quickly zip up or open the sleepsuit. Parents will need to be careful however, as babies' skin can get caught in the zipper if the parent isn't careful. Snaps may take a tad longer, but these have less chance of hurting an infant. Double zippers and double snaps on both legs make the process even easier.
Style
Parents will be able to choose from a large variety of cute designs with which to fashion their newborns. Many brands offer solid colors, colorful stripes, classic patterns, and unique artwork. These tend to be gender-neutral, though some are marketed for boys or girls.
While products can specifically have designs or text that specify a gender, many are designed to be unisex. These tend to have neutral colors or patterns. Those looking to have some fun with their baby's sleepsuits can find products that come with hats or even make their child look like fuzzy animals.
Tips
Not sure which sleepsuits are right for your infant? Before making your purchase, take a look at some of the guidelines below:
What season is it?

Some sleepsuits are noticeably thicker than others or are made of a material more suited for cold months.

If buying for the winter months, look out for products that include hats or mittens.

How many do you need?

While not necessarily very expensive, there is a range of prices that these sleepsuits are offered at.

Sleepsuits that are offered in multipacks may be best for new parents, while the individually packaged sleepsuits may be more appropriate as gifts.