Thermostats offer a way for people to keep their homes at a temperature that they find comfortable, whether winter, spring, summer or fall. While some may think of thermostats only as devices that can control central heating or cooling, there are options for those solely with space heaters, portable air conditioning units, or even fans. More modern products even allow users to change the temperature from the comfort of their beds.
Thermostats come in a range of designs, with different installation requirements and connectivity options. Some may be looking for a thermostat that is affordable and easy to use, while others may have more complex needs in their homes. We have surveyed some of the top options to see how they stack up: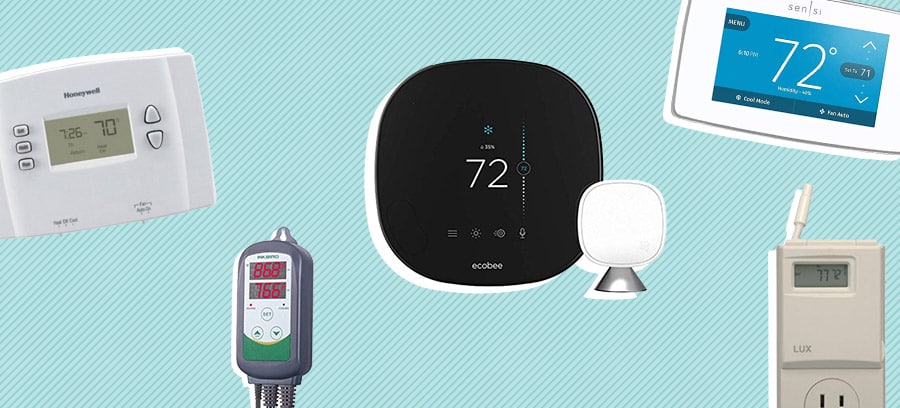 Pros:
Voice control. This thermostat can be controlled directly from bed using voice commands. It is compatible with Alexa-based products.
Sensors. This thermostat uses a sensor that can tell if someone is occupying a room, the temperature of that room, and then adjust the room's temperature accordingly. This is great for families.
Can control from phone. The ecobee Smarter Thermostat can be controlled with a smartphone. This makes is possible to conveniently change the temperature while still in bed.
Cons:
Complicated interface. This product has somewhat of a learning curve. Some of the features are hidden in the menu and it can be complicated to make simple changes.
No battery backup. This thermostat is powered through a wall plug. That means if power is lost, the thermostat stops working as well, as there is no battery back-up.
Pros:
Week program. One of the great features present in this thermostat is the ability to program weekdays and weekends to have different temperatures. This can make sleeping in on a cold weekend more comfortable.
Easy dial. This thermostat uses a dial for users to quickly hop between temperature modes and to adjust the temperature itself. Great for people that aren't tech savvy.
Portable heaters and fans. This line of thermostats is meant to be compatible with portable air conditioner units, heaters, and fans. Users plug their devices into the thermostat and the thermostat adjusts its power to match the desired temperature.
Cons:
Sensor location matters. For those needing to plug the thermostat into an outlet that is on an exterior-facing wall, the temperatures may need to be adjusted. In winter, the sensor may think it is much colder in the room than it actually is.
Battery-powered. This product is battery-powered, meaning it can lose power during a critical time. Those operating in cold climates should make sure they keep tabs on the batteries.
Pros:
Four periods per day. Users of this thermostat can set it to have different temperatures throughout the day: wake, leave, return, and sleep. This makes it easier to have the right temperature set at night and mornings without having to access the thermostat day-in and day-out.
Easy to use. This thermostat might offer one of the easier user experiences on offer. The temperature is clearly displayed on the screen and can be adjusted with self-explanatory buttons right on the face of the unit.
Price. Customers may have a hard time finding a more affordable thermostat. This can be bought for the price of a movie ticket or two.
Cons:
No weekend settings. This product doesn't have a 5/2 split to distinguish between weekdays and weekends. This may necessitate weekly tinkering.
Small display. The display on this unit employs rather small font due to the small size of the screen. It may be difficult for some to read.
Pros:
Alarms. This thermostat has an alarm feature that notifies users if the temperature has gone beyond a certain range. This is helpful as it can notify users when the sensor has an issue or the temperatures have reached an extreme.
Dual relay output. While some outlet thermostats have only one plug for devices, this one has a hot and cold plug, meaning heating and cooling appliances can both be managed at the same time.
Wifi option. For customers willing to shell out some more cash, there is a wifi-enabled version that allows customers to control the thermostat with their phones. This is great for adjusting the temperature for going to sleep and rising in the morning.
Cons:
Style. This has the look of an industrial thermostat and may not match the decor of all rooms.
Alarm is complicated to shut off. Some users may be annoyed with the alarm function. It can be a hassle to turn off once triggered.
Pros:
White or black. While most thermostats are only available in one color, this one is available in white or black. This can make a big aesthetic difference as one or the other could be an eyesore in certain rooms.
Touchscreen. This thermostat has a high-definition touchscreen with back glow. It is easy to use and see in daylight and at night.
Built-in level. This is an easy to install thermostat, not least because of the built-in level that ensures that the device is not crooked. The mobile app helps configure the device to the home of the customer.
Cons:
C-wire required. This product needs to have a direct connection with a heating or cooling source, called a c-wire. This may necessitate extra installation steps.
App required. Anything beyond setting the temperature requires users to install and operate using the proprietary app. That may be frustrating for families with multiple users.
How We Picked
Thermostats can be helpful tools that can make sleeping more comfortable no matter what day of the week or which season it is in. With new features such as bluetooth and wifi connectivity, thermostats are offering new operating options and improved functionality. To compare these more modern units with traditional thermostats, we used a few categories to examine:
Alerts
One function that traditional and more advanced thermostats share is their ability to communicate problems to users. This means that some thermostats can let users know if the temperature has reached a predetermined extreme. This can be helpful during the coldest months or during an unexpected heat wave.
These systems also can alert users of device failure. While this is helpful with any thermostat, this can be especially useful when using a "smart" product. These can give users updates on their phones, so if a certain room where a family member is sleeping needs more heat or if a heater has failed, the users can troubleshoot the room's temperature accordingly.
Installation
While the needs of users may necessitate using one type of thermostat over another, it is still good to note the installation needs regardless. There are some thermostats that boast about how easy they are to assemble, install, and program. The simplest thermostats tend to be the easiest to install, sometimes simply just needing to plug it into a wall and then plugging a heating or cooling device into the thermostat.
Unfortunately, these types of thermostats may have the least amount of functionality. The most advanced products have sensors that need to be installed, apps that need to be downloaded, and sometimes even wiring installed. These more advanced devices are best for big homes that have central heating and need the biggest range of control.
Price
Though not surprising, the range in thermostat prices tend to map the level of technological advancement within the unit. Devices that are "plug-and-play" tend to be simpler, offering less options for customization and having less sensitive sensors. These devices, however, may be easier to use and could fit some household's needs accordingly.
If users aren't looking to plug one device into a thermostat, it is wise to get a more advanced (and thus expensive) option. These allow users to control several heating sources or a more comprehensive central system. Along with this increased control, buyers of more advanced thermostats will typically have more features to explore on the apps that support the devices.
Tips
Not sure which thermostat is right for you? Take a look at the below tips to help make the process a bit easier:
How big of an area are you controlling the temperature in?

The simpler outlet-style thermostats are great for heating or cooling a single room. These devices can typically control one or two appliances.

Smart thermostats and other more advanced offerings allow users to control a whole home, but these are typically more expensive.

How tech savvy are you?

Some customers may have lots of experience working heating and cooling systems, but may struggle to maneuver smart thermostats.

These smart products tend to rely on mobile apps and touch screens and may not be as intuitive as legacy systems.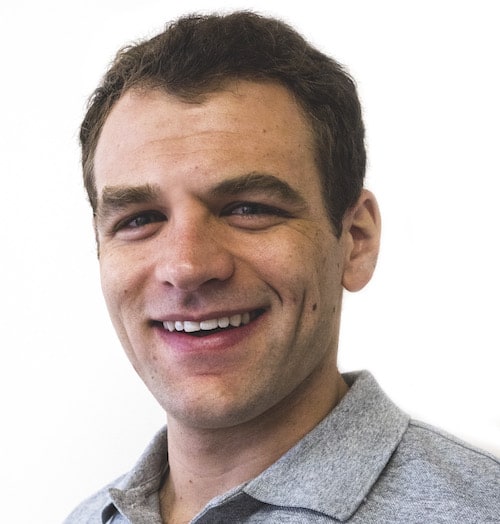 Logan Block
Logan is the former content director of Sleepopolis. As content director, he reviewed new mattresses every week and curated the comparisons, best of pages, and video guides on the site. Logan perfected his method by personally testing over 200 different mattresses, so he's not only able to discern the overall vibe of a specific bed, but to contextualize its feel within the bed-in-a-box market as a whole.