For some people, even a little bit of light is too much during sleep. It will keep them awake at night or abruptly disrupt a peaceful slumber in the morning. People who work during the night know all too well that one of the best ways to ensure a restful sleep is by donning a sleep mask.
Weighted sleep masks are many people's top choice because the weight of the mask helps block out more light. Though this may seem like a minor difference, there are lots of different manufacturers that are making different weighted sleep masks due to their popularity. We took at look at some of the more popular brands and compared them side by side: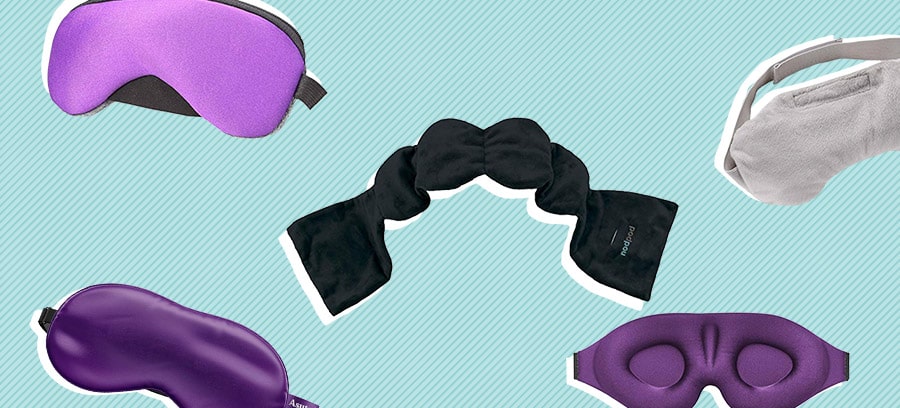 Editor's Choice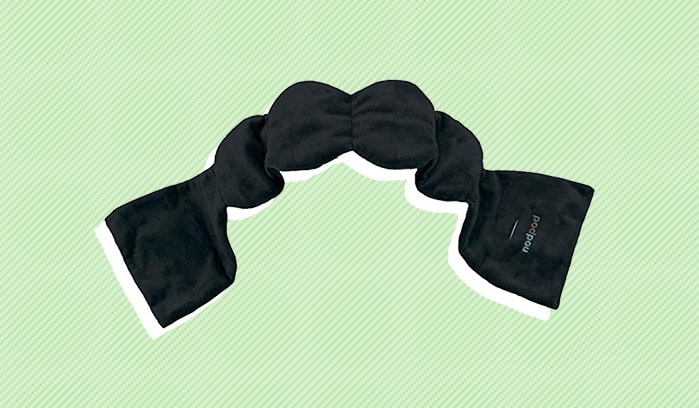 Nodpod Weighted Sleep Mask Eye Pillow
Pros:
No velcro or elastic. Unlike other sleep masks, this product doesn't use velcro to keep the product affixed to one's face nor does it use elastic to do so. Velcro and elastic can both cause discomfort if a mask gets misaligned.
Works for all sleepers. Due to the serpentine design of this sleep mask, it can work for side sleepers, back sleepers, stomach sleepers, and even while sitting upright.
Pull-through slit. This long sleep mask can be wrapped and secured around the head using a pull-through slit and even tying a knot. This is great for those who tend to move during sleep.
Cons:
Heavy on the eyes. Some users may find that the weight of the part of the mask that falls over the eyes may be too heavy. This is especially true for back sleepers.
Knot can be lumpy. Those who try to secure the mask by tying a knot at the end may find that the knot itself will disrupt their sleep. This, again, is mostly true for back sleepers.
Nodpod Weighted Sleep Mask Eye Pillow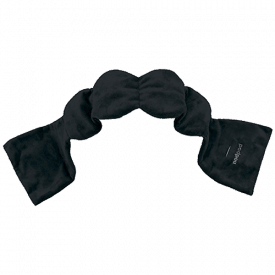 The Nodpod Weighted Sleep Mask features a long design meant to peacefully wrap around the head, regardless of sleep position. It is available in four different colors and is velcro and elastic free.
Sleepopolis Score
4.50 / 5
The Contender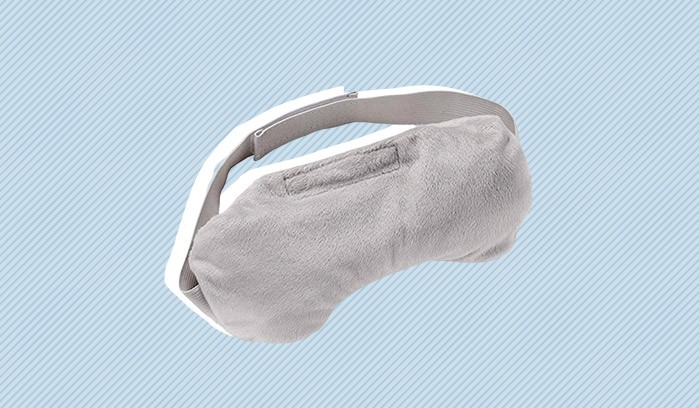 Asutra Weighted Silk Eye Pillow Sleep Mask
Pros:
Lavender scented. This eye pillow is filled with real lavender buds. This provides a form of aromatherapy and a general relaxing scent as users fall asleep.
Custom pouches. The Asutra sleep mask has zippered openings so users can customize the contents. Those who don't want lavender can remove it or want more weight can add it.
Flax seeds. This product is filled with flax seeds, which retain a bit of heat during the night and may be comforting on user's faces. Many competitors use plastic beads, so this is great for those who are concerned with sustainability.
Cons:
Scent doesn't last. As the product uses natural lavender, it makes sense that the scent doesn't last forever. Some users may notice the smell is pungent after a few uses.
Strap. The strap is not the most durable and may need frequent adjusting.
Asutra Weighted Silk Eye Pillow Sleep Mask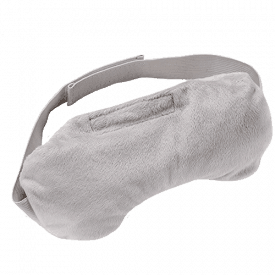 The Asutra Weighted Silk Eye Pillow is filled with a customizable amount of lavender buds and flax seeds. Available in four colors, this product is made out of 100 percent silk.
Sleepopolis Score
4.50 / 5
Best Bargain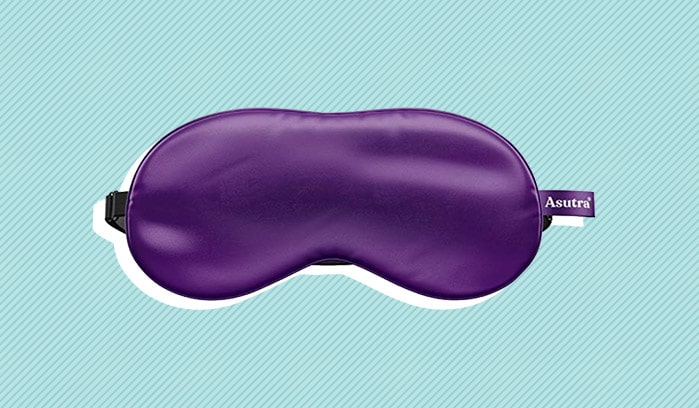 Unimi Heated Eye Mask
Pros:
Two-in-one. This eye mask contains two separate eye masks that can be used separately or in tandem. One is a traditional sleep mask while the other is for hot or cold compression.
Eye indentations. The design of this eye mask is meant to be soft on eyes and eyelids, reducing the amount of pressure being put on them. This is great for those who are sensitive sleepers.
Value. Customers can find this product for around the price of lunch. Many sleep masks cost double what this costs.
Cons:
Fit is large. Some customers with smaller heads may find that the velcro straps barely line up because there is too much strap material. This product may be designed for those with larger heads.
Velcro stretches. The fit may not stay tight with continued use as the velcro tends to stretch out over time. Not a problem for those with larger heads, but it may fall off more frequently for those with smaller heads.
Unimi heated Eye Mask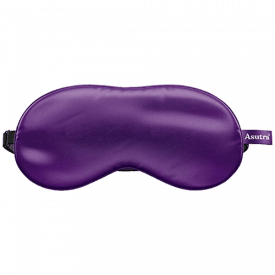 The Unimi Heated Eye Mask has an inner and outer pouch that can be used separately. The inner weighted pouch is lavender scented and can be put in the microwave or in the freezer for hot or cold compression.
Best for Temperature Control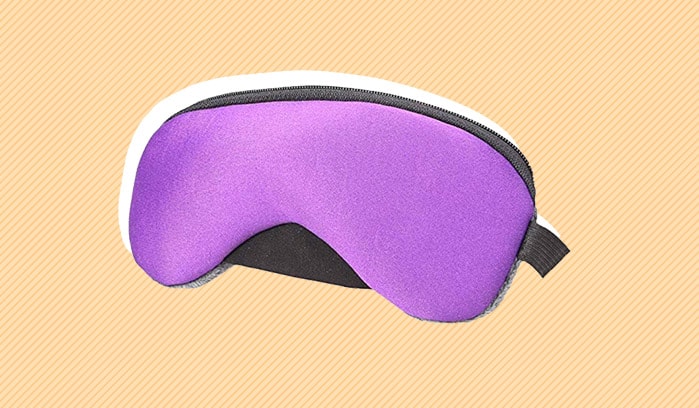 Hiverst Portable Cold and Hot USB Heated Steam Eye Mask
Pros:
Heat settings. Users of this sleep mask have different levels of heat they can choose from. It is designed to range from 95 to 122 degrees Fahrenheit.
Timer. This device also has different timing options. Users can choose between 10 and 30 minute increments, making it a safer product than otherwise.
USB powered. This product is powered using a standard USB wall adapter. This is great for those who want something easy to travel with.
Cons:
Needs to be connected. This does not retain a charge when not connected to power. This makes it a bit cumbersome.
Doesn't always heat up to advertised heat. Though not everyone will want it piping hot, it doesn't always get up to the highest heat advertised.
Hiverst Portable Cold and Hot USB Heated Steam Eye Mask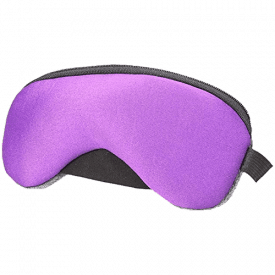 This sleep mask from Hiverst is USB powered for heat and also comes with a gel pack that can be put in a freezer for cold treatment. It is available in gray or purple.
Sleepopolis Score
4.30 / 5
Best Design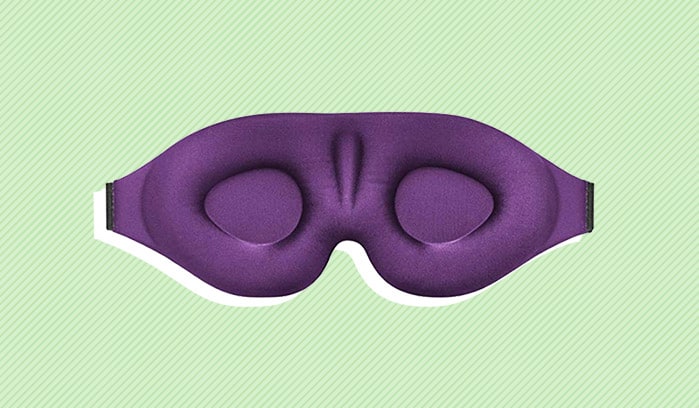 MZOO Sleep Mask with 3D Contoured Cup
Pros:
Buckle strap. While many sleep masks uses velcro, which can come undone at night or irritate a user's skin, this product employs a buckle. This lets users adjust the size with less chance of discomfort.
Style. The colors available with this sleep mask are rich yet subdued at the same time. The black, navy blue, purple, and gray are less bright and ostentatious than other offerings.
Memory foam. The contoured padding around the eyes are made from memory foam. This can put less pressure on eyes due to its soft shape. Great for sensitive sleepers.
Cons:
Light can leak in through nose cavity. While some may find that this mask provides complete coverage, others may find that the shape falls in a way that lets small amounts of light in through around the nose.
Elastic band can slide off. For those that move around during their sleep, they may find that the elastic can slide off. Users may need to have it secured rather tightly to avoid this.
MZOO Sleep Eye Mask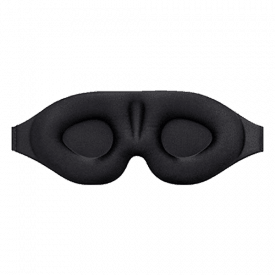 This offering from MZOO features a smooth and soft exterior with soft memory foam for padding. It is available in rich and classic colors and is secured with elastic and a buckle.
How We Picked
The success of a weighted sleep mask can make the difference between feeling well rested or feeling fatigued throughout the day. Because this success is reliant on more than the mask's ability to block light, we have chosen a few categories to highlight that we looked at when making our decisions:
Weight material
Sleep masks can contain any number of types of material to provide the mass that weighs down the weight. Common are plastic or silica beads. These may retain heat or cold moderately well, but may be worse for the environment than other options and may be harmful to ingest.
Shoppers can find alternatives to plastic beads, some even organic. One manufacturer is using flax seeds and lavender buds, while another uses genuine lavender fragrance. Some companies opt for a solid piece of dense foam. These will be easier to clean up in the unfortunate event of a rip.
Does it stay on
One of the biggest complaints users of sleep masks will give is that the mask itself doesn't stay on, thus eliminating its usefulness in blocking light. The weight provided by weighted sleep masks provide a helpful way of blocking light; the mask uses gravity to keep the mask close to the sleeper's face.
However, the mask itself needs to stay on all the same. Manufacturers typically use either an elastic band that attaches using velcro or one that goes all the way around the head and is adjusted via buckle. Though these are easy to adjust, the velcro ones may be uncomfortable and the buckle-kind may slip off easier. Products that tie in the end may be more comfortable but less secure.
Heat or cold
Some users may be getting a sleep mask expressly to use it for it's heating or cooling properties. Many manufacturers have created sleep masks that go right into a microwave or a freezer and can be placed on the sleeper's face afterwards. These may not be as comfortable, though.
Products that have inserts that can be removed and heated or cooled may provide the same temperature treatment with more comfortable exteriors. More advanced products may have temperature control and timers. These may have cords to deal with, however.
Tips
Not sure which weighted sleep mask is right for you? Look at the tips below for some guidance:
How big of a head do you have?

Most manufacturers only create "one-size-fits-all" sleep masks.

Those with larger heads may want the longest possible strap. Those with smaller heads may need to get a product features the most adjustability.

How sensitive of a sleeper are you?

Aside from the amount of light it lets in, some sleep masks may disturb sleep by having uncomfortable materials or an awkward fit.

Depending on whether you sleep on your back, side, or stomach, some products may work better for your sleep position.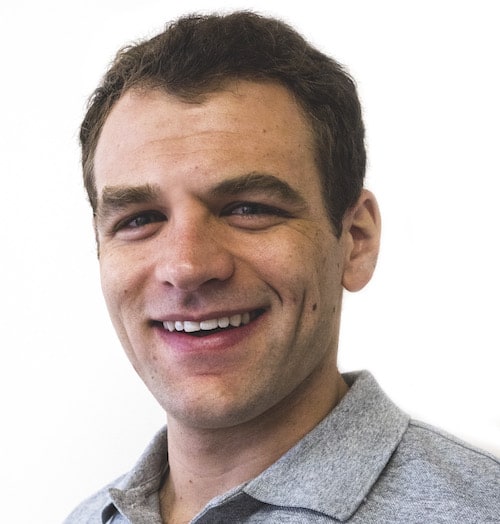 Logan Block
Logan is the former content director of Sleepopolis. As content director, he reviewed new mattresses every week and curated the comparisons, best of pages, and video guides on the site. Logan perfected his method by personally testing over 200 different mattresses, so he's not only able to discern the overall vibe of a specific bed, but to contextualize its feel within the bed-in-a-box market as a whole.