I've personally tested 18 memory foam pillows, and let me tell you – they are not all made equal. Read on for why you should even consider a memory foam pillow, as well as some of my personal favorite pillows.
Editors Choice
Coop Home Goods – Premium Adjustable Loft – Cross-Cut Hypoallergenic Certipur Memory Foam Pillow with Washable Removable Cooling Bamboo Derived Rayon Cover
https://www.amazon.com/Coop-Home-Goods-Adjustable-Hypoallergenic/dp/B00EINBSEW/
In my opinion, the best part about this pillow is the way it contours to your shape and cradles your head and neck. Coop Home Goods pillow is filled with shredded visco elastic memory foam, which makes the pillow shapeable and breathable. In my opinion, one of memory foam's greatest attributes is the way it conforms to pressure, and this pillow does a great job of cradling your head and neck in happy, neutral alignment.Not to mention, this pillow is adjustable as well. Feel free to unzip, reach in, and change the fill amount however you like!
Pros
Very comfortable, great support, adjustable
Cons
May take a few nights to adjust and find the right amount of foam for your preferences
Best Value
WonderSleep Premium Adjustable Loft [Queen Size 2-Pack] – Shredded Hypoallergenic Memory Foam for Home & Hotel Collection + Washable Removable Cooling Bamboo Derived Rayon Cover – 2 Pack Queen
https://www.amazon.com/WonderSleep-PREMIUM-Adjustable-Queen-2-Pack/dp/B073HRSHTQ/
When I tested this pillow, I couldn't believe how nice they were for the price. Another shredded memory foam option, these can be adjusted to be the exact loft and firmness that you like in your pillow. Personally I'm a side sleeper, and like a high loft, so I kept most of the memory foam in the pillow and let my head and neck really sink in. In my opinion it doesn't have as luxury a feel as the Coop Home Goods pillow, but for the price, this pillow has no peers.
Pros
Incredible value, adjustable, cooling gel
Cons
No luxury feel (compared to more expensive options)
Also Consider
Milemont Memory Foam Pillow, Cervical Pillow for Neck Pain, Orthopedic Contour Pillow Support for Back, Stomach, Side Sleepers, Pillow for Sleeping, CertiPUR-US, Standard Size
https://www.amazon.com/Milemont-Cervical-Orthopedic-Sleepers-CertiPUR-US/dp/B07PBT3ZJQ/
Many are drawn to Orthopedic pillows to address neck pain, and though I'm not a doctor (and cannot offer any medical advice, please see a professional), in my personal experience this type of pillow did help with my personal neck pain. The pillow's shape is designed to better align the neck and spine during sleep.
Pros
Designed to best align neck and spine, cooling gel, affordable price point
Cons
Doesn't suit all preferences
WHAT'S SO GREAT ABOUT MEMORY FOAM?
People are drawn to memory foam for all sorts of different reasons, but one of the biggest attractions is the way the material conforms to pressure. Memory foam is engineered to conform to your head and neck, securely cradling you in a way that helps your head to stay in healthy alignment with your spine. It is also built to be durable, resilient, and support you all night long without losing shape or caving in over the course of your slumber. But not all memory foam is created equally! Depending on the feel and support you're looking for, you might prefer your memory foam to be shredded, blended, gel-infused, or cooling. Like I said, when it comes to this popular pillow type — you've got options aplenty.
WHAT MAKES THESE MEMORY FOAM PILLOWS SPECIAL?
While the pillows listed above are all filled with memory foam, they each have their own personality and bring something different to the game. Like I said, everyone has unique slumber habits and there's a big, wide pillow world that reflects our diversity. That being said, I think that these seven pillows could be particularly beloved by sleepers who crave the distinct sink into memory foam. They all conform to your shape, offer great pressure relief, and comfortably cradle your head. But these pillows have more going on than just a foam fill. So, let's take a closer look at some of the things that set these apart from one another so that you can be better equipped to pick your perfect pillow.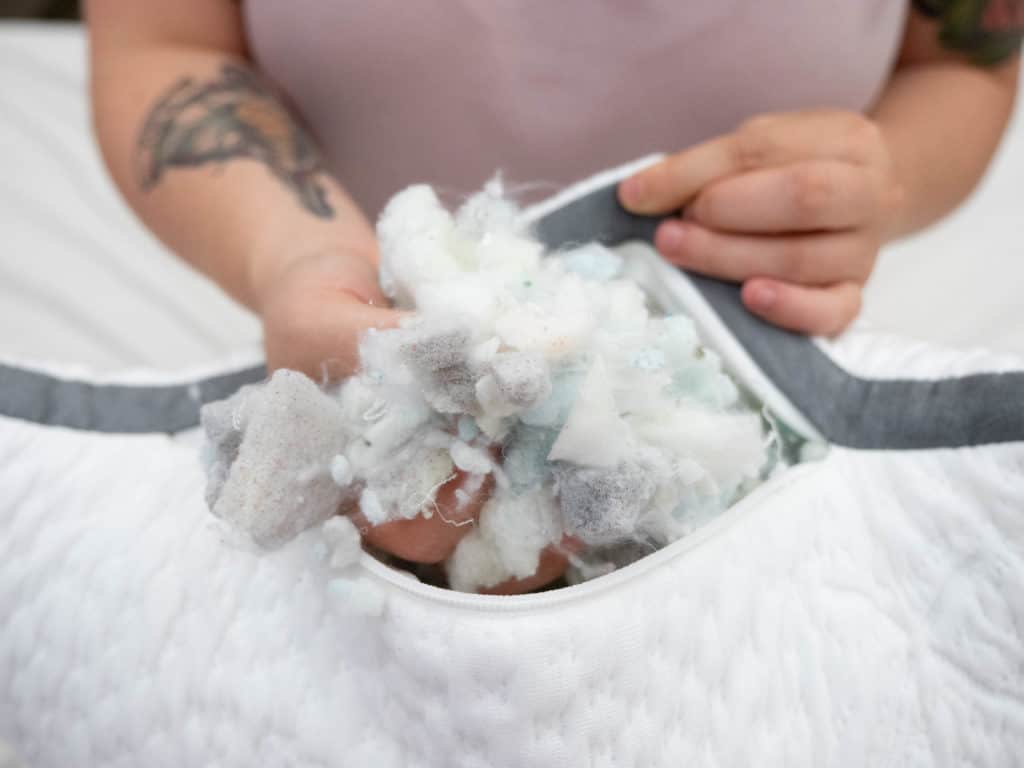 LET'S RECAP
Okay, so those are my top pillow picks within the memory foam family. But remember sleepers: these are just a couple of my favorites. There are so many to choose from, especially when it comes to memory foam, so let's make sure you know what to look for when you're shopping for a pillow on your own.
TRADITIONAL MEMORY FOAM
When you see the words "traditional memory foam," that means you're working with one solid piece of foam. This style is going to appeal to sleepers who like that deep, slow sink into the pillow. It's notorious for the way it conforms to pressure and makes a mold of your shape. Of course, it is less foldable and fluffable as it is just one solid piece. Traditional memory foam does have a tendency to trap more heat, but as we saw earlier, there are exceptions to every rule.
I would consider this a "classic" style of memory foam and I think it would be particularly good for folks who sleep in the supine position and don't do a lot of pillow-folding throughout the night. Folks on Reddit, for example, have reported that only traditional memory foam offers that distinct, body conforming sink into the pillow. It's durable, adaptable, and serves to relieve pressure in all the right places.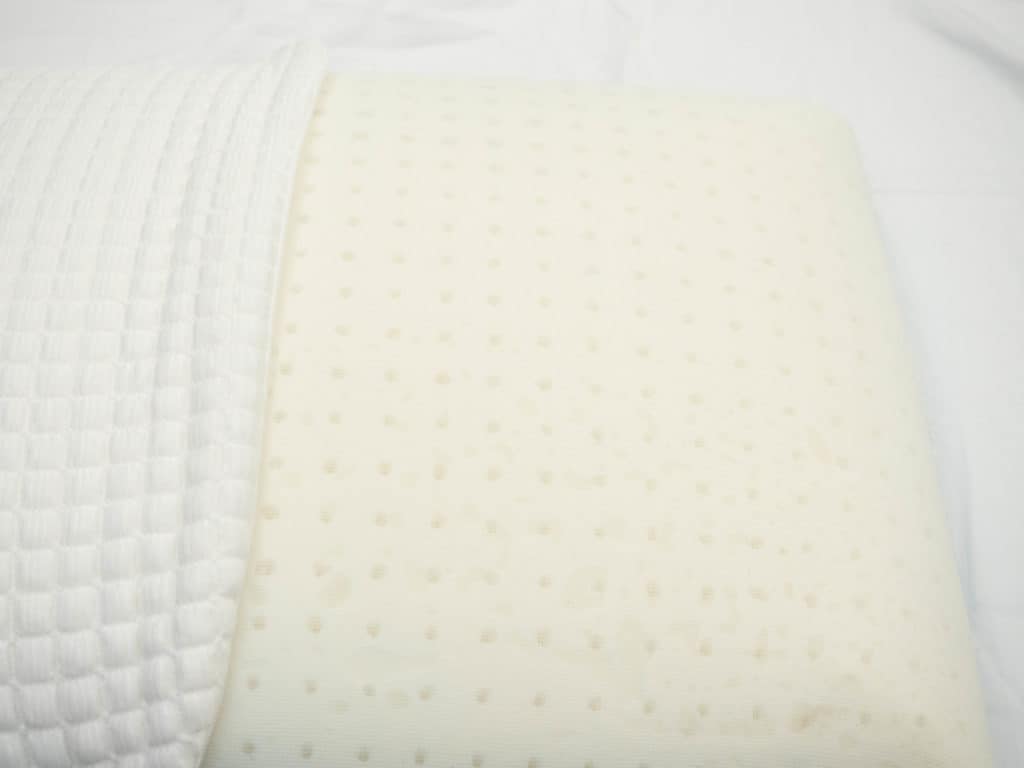 SHREDS, CHUNKS, AND STRANDS, OH MY!
It is increasingly common for companies to use shredded memory foam instead of a solid piece. Whether they are shreds, chunks, noodles, or strands — breaking the foam up into pieces allows for more movement within the pillow. This way sleepers have better ability to push, press, and otherwise mold their pillow into the shape that best suits their needs.
Furthermore, the individual pieces of foam offer better airflow within the pillow which serves to keep it from warming up. This style of memory foam does provide a quicker response to pressure than traditional memory foam, but still maintains that distinct sink into the pillow. It also tends to offer more of a balance between plush and firm that I think mixed sleepers could benefit from.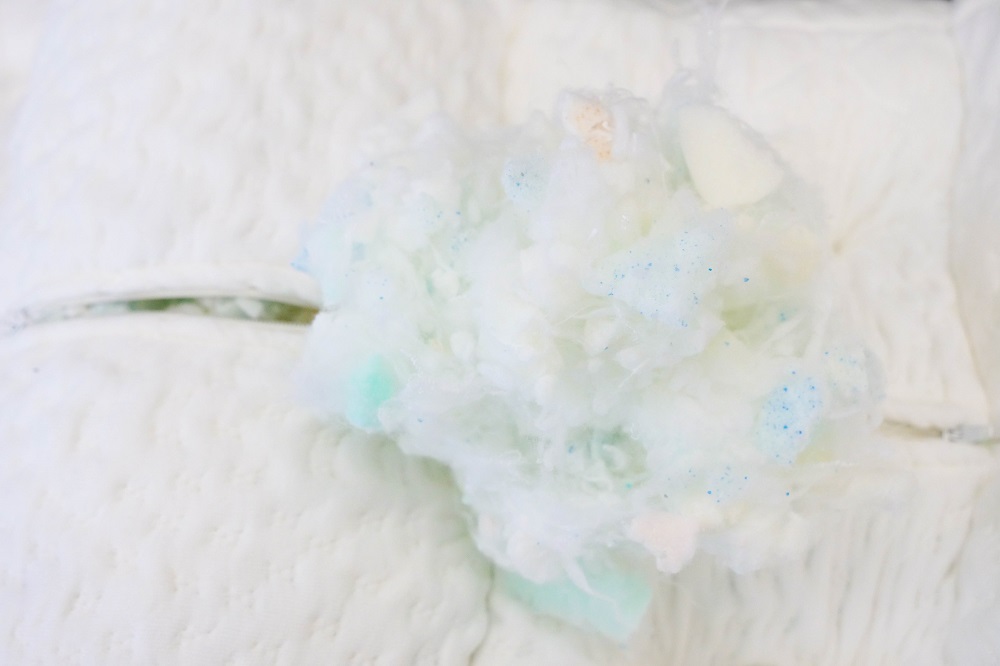 BLENDED MEMORY FOAM
Sometimes sleepers are looking for certain facets of memory foam, but need the help of another material to create the right feel and level of support. That's where blended memory foam comes in. By blending memory foam with different materials, you're able to complement the supportive, body-conforming nature of the foam with characteristics of other materials. This way, you can kind of pick and choose the various traits you want your pillow to have.
For example, if you love the way that memory foam responds to pressure but are also looking for something more fluffable, find a pillow that offers a blend of shredded memory foam and microfiber or Kapok. Those aren't the only options, of course — there are insurmountable material combinations that can be blended within sleep accessories. The trick is finding the one that's perfect for you!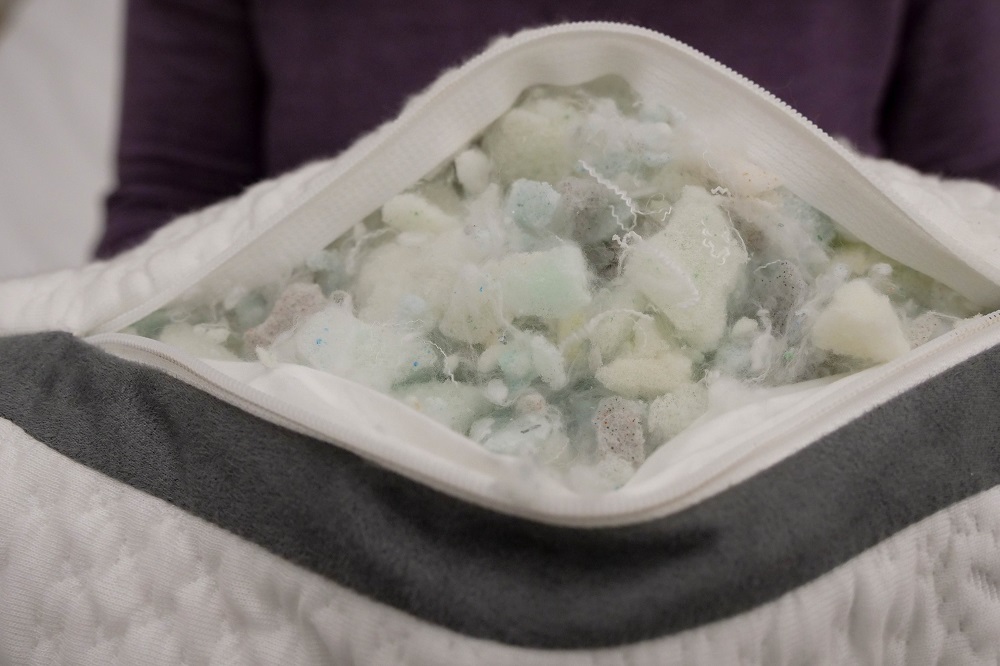 Final Thoughts
At the end of the day, everybody is different and our sleeping habits are prone to change over time. So, keep in mind that some memory foam pillows will work well for certain sleepers and not be as great for others. Researching a sleep accessory before you purchase it is a great way to get a good preliminary sense of it, and whether or not it's going to serve your particular needs.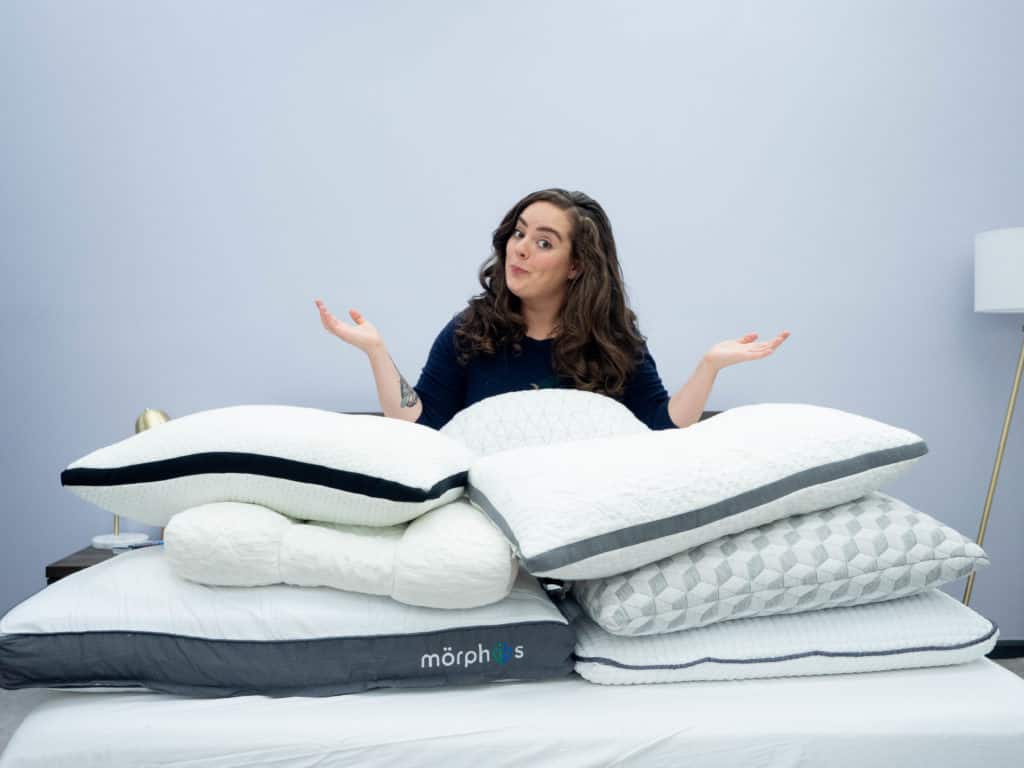 Sarah is the Senior Writer and bedding expert at Sleepopolis. Every week, she personally tests and reviews new pillows, sheet sets, and other sleep accessories. She accompanies every video review with a meticulously detailed article to ensure her audience has all the pertinent info they need for the best shopping experience possible. Perhaps that's why her fans have dubbed her "the most thorough pillow reviewer on the Internet." Having tested everything from sleep trackers to mattress toppers, Sarah's expertise runs deep and is always expanding. She received her degree in Creative Writing from Brooklyn College and spends her free time doing stand-up, making pasta, and hanging with her cats.