Just because you're sleeping in the great outdoors doesn't mean you have to be uncomfortable. Finding the best camping mattress can help you get a good night's rest while also allowing you to experience the joys of the wilderness. And don't worry, we've included several different types of mattresses, as not all camping experiences are the same. From RV beds to air mattresses for a tent to self-inflating sleeping surfaces, we've got you covered. Read on for some of the best camping mattresses out there.
Best Camping Mattress 2023 – Our Top Picks
Expert Opinion
Brooklyn Bedding has made a name for its affordable yet high-quality beds, all of which are manufactured in the company's own factory. They're now expanding into the wilderness with the Dreamfoam Essential, a mattress designed specifically for RVs and campers. Anyone who prefers sleeping in their own vehicle rather than a tent should check out the construction — a combination of gel memory foam and denser poly foam. When we tested it out, we found that the Dreamfoam Essential had an excellent mix of comfort and support. Best of all? The mattress is available in five different heights and 22 different sizes, including Short Queen, and several variations on RV King and RV Bunk.
What Customers Say
Many customers purchased the Dreamfoam Essential for their RV, and not only did they find the mattress to be comfortable, but they also valued the responsive customer service.
Pros of the Dreamfoam Essential
Even though this is a firm mattress, back sleepers should still get the pressure relief they need from the gel-foam layer.

Stomach sleepers should get the firmness and support they need on one of the taller models.

After discounts, most of these sizes (even king) are going to be under or around $500.
Cons of the Dreamfoam Essential
No matter what size you get, this is a firmer mattress that doesn't have a lot of contouring. So side sleepers may not get the pressure relief they need at the shoulders and hips. However, they can always add a mattress topper if they'd like to soften the sleeping surface.
Think the Dreamfoam Essential is the mattress for you? Click here for our best deal or check out our full Dreamfoam Essential mattress review. Still not sold? Take a look at some of the other best mattresses. 
Expert Opinion
One of the biggest drawbacks to air mattresses is that they can start sinking while you sleep, especially if you're on the uneven ground of the outdoors. That shouldn't be a problem with the SoundAsleep Dream Series. It's actually built with a series of "air coils" that help the bed keep its height and shape throughout the night. Adding to the stability, the SoundAsleep has a no-slip bottom cover that keeps it from wiggling, plus it's puncture- and water-resistant in order to stave off the elements.
What Customers Say
The SoundAsleep Dream Series has over 56,100 ratings on Amazon, totaling an impressive score of 4.4 out of 5. Many of them seem to appreciate how quickly it is to inflate and deflate this air mattress.
Pros of the SoundAsleep Dream Series
At less than $200 for a queen, this is a high-quality yet affordable option.

When purchased on Amazon, this air mattress comes with free returns.

Because most air mattresses have a lot of airflow in their construction and don't contain foam, they don't tend to overheat.
Cons of the SoundAsleep Dream Series
While there's no rule saying you can't put an air mattress on the floor of an RV, it's usually best to go with something built specifically for a vehicle.
Think the SoundAsleep Dream Series is the mattress for you? Click here for our best deal or see our roundup of the best air mattresses.
Best RV Mattress – Bear
Expert Opinion
Not everyone who camps out sleeps in a tent — some prefer to travel in a motorized home. Made in the USA, the Bear comes in twin, twin XL, full, queen, and king sizes that should fit snugly into many RVs. Even though it wasn't specifically made for motorized homes, it should still be compatible with a good deal of them. The construction consists of graphite gel memory foam, responsive memory foam for contouring and comfort, and high-density foam at the base for durability.
What Customers Say
A lot of comments note that the Bear is great for their back pain and priced at an appropriate value.
Pros of the Bear
Despite being all foam, the Bear is firm and sturdy. It should help back sleepers keep a neutral spinal alignment.

The graphite gel should help the Bear stay cooler than other foam camping mattresses.

You can also pay extra for a cover made of Celliant — a material that cools the body and may have added benefits for blood flow and recovery. Click here to read more about it.

One of our favorite aspects of the Bear is that it's non-toxic. In fact, it's CertiPUR-US certified, meaning it meets some of the most rigorous standards for content and emissions. Not only will you be spending time in nature while camping — you'll be sleeping eco-consciously on a whole other level.
Cons of the Bear
Because the Bear wasn't built to live inside an RV, it probably won't fare well outdoors in the elements.

Tent campers might want to choose a different option.
Think the Bear is the mattress for you? Click here for our best deal. Still not sold? Take a look at some of the other best RV mattresses.
Expert Opinion
The Exped MegaMat 10 is a sleeping pad built specifically to help you enjoy your time in nature instead of worrying about the setup. We think it's an incredible option for a tent specifically; it's self-inflatable, so you won't have to worry about finding power for a pump (although it does come with a pump you're welcome to use instead). It's also available in wide and long sizes to fit multiple different body types.
What Customers Say
The Exped MegaMat 10 has 4.7 out of 5 stars on Amazon from 600+ reviews. Several shoppers mention that it's a durable mattress for the price, and their sleep quality is better than expected.
Pros of the Exped MegaMat 10
The mat has both a polyester surface and polyurethane foam. These two materials work together to provide you with the optimal temperature in bed. The polyester surface is moisture-wicking and airtight, preventing you from getting humid.

On the flip side, the polyurethane foam provides insulation for those colder nights.

This mat comes with a sack to store it in, so it's convenient and portable while you're hopping around to different campsites.
Cons of the Exped MegaMat 10
If you're a larger sleeper who weighs more than 250 pounds, the Exped MegaMat 10 may not be supportive enough for you.
Think the Exped MegaMat 10 is the mattress for you? Click here for our best deal.
Expert Opinion
It's called the MondoKing for a reason — this outdoor sleeping pad is so luxurious, you'll feel like royalty sleeping in a tent or under the stars. It's another self-inflatable mattress, so you shouldn't have to wait long for it to inflate or deflate. In fact, Therm-a-Rest says that it inflates three times faster and deflates five times faster than the average sleeping pad.
What Customers Say
With 4.6 out of 5 stars on Amazon, Therm-a-Rest MondoKing 3D shoppers say that this self-inflating bed is comfortable and great for tent camping.
Pros of the Therm-a-Rest MondoKing 3D
When you slip into bed after a long day of hiking and marshmallows, there should be a lot to enjoy in the MondoKing 3D's StrataCore™ Construction, which should have a solid warmth-to-weight ratio to keep you warm in every season.

Therm-a-Rest ensures a lifetime warranty for this product, showcasing the confidence they hold when it comes to quality of materials.

The company offers a Better Sleep Guarantee, which allows free returns within the first three months of purchase.
Cons of the Therm-a-Rest MondoKing 3D
For an air mattress, the Therm-a-Rest is a bit expensive

, so it's not the best option for budget shoppers.
Think the Therm-a-Rest MondoKing 3D is the mattress for you? Click here for our best deal.
What to Look for in a Camping Mattress
Camping mattresses can be especially difficult to shop for because there are an extensive list of options to choose from. Air mattresses, camping pads or mats, and even regular mattresses can be used on a camping trip. That's why we've created this buying guide for our readers. We want you to make the best decision for your sleeping needs and preferences.
Height
Do you want a mattress higher or lower off the ground? It all comes down to what you value most: comfort or convenience. In terms of air mattresses, beds with a single layer (roughly a 12" height) are going to be far less heavy and much more portable than thicker air mattresses (sometimes as high as 22"). However, a more advanced air mattress that lifts you further off the ground can provide unmatched camping comfort.
The same could be said about a camping pad or mat in comparison with a camping cot. Camping pads and mats can often be rolled up easily and stashed in tight spaces, whereas a cot might come in a boxier container and feel much heavier. However, you might find you like being higher off the ground in a camping cot, especially if you're worried about lying on a rougher surface.
Convenience
Ease of use goes beyond mattress height, and it all comes down to your camping situation. Think about some things you'd really like to have, and other things you might be able to sacrifice.
If you're looking for an air mattress, how long does it take to inflate or deflate? It shouldn't be longer than five minutes to inflate, but some beds do so in a minute or less.
How heavy is the mattress? Keep in mind a lighter mattress is going to be helpful if you're hopping from campsite to campsite, or if you're camping solo.
Is it portable? Lots of camping pads and mats come in bags that are super easy for travel.
Price
Of course, these are dependent on the quality of materials and sizing, but overall you should be able to get the following products for these approximate amounts:
Air Mattresses: $30–$150
RV Mattresses/Regular Mattresses: $200–$700
Camping Pads (inflatable): $75–$150
Camping Mats: $30–$50
Which Type of Camping Mattress Should You Use?
As you may have guessed, there are certain camping beds for particular circumstances. We've compiled a few of the most popular camping scenarios and paired them with ideal sleeping surfaces.
Tent Camping
Here are the sleeping surfaces we most recommend for tent camping:
Cots: These are great if you're the kind of camper who likes to sleep high off the ground. Cots are lifted with a metal rod frame that stretches a fabric (such as canvas) in place. Camping cots are typically foldable and easy to set up.
Air Mattress: While not the same level of comfort as a regular mattresses, air mattresses might be the next best thing. Of course, we don't recommend sleeping on it for long-term use, but it can be a comfy way to bring home to the outdoors. If you purchase an air mattress that inflates quickly, then set up should be easy.
Sleeping Pad: Compact and lightweight, sleeping pads are a combination of air mattresses and sleeping mats. These sleeping surfaces are often self-inflatable and while not super thick, it can make for additional cushion. Sleeping pads can be great for backpackers who often switch up campsites.
Sleeping Mat: While not inflatable, sleeping mats are great for those who don't want to worry about punctures or the need for repairs. While they're arguably not as comfortable, they're even lighter than sleeping pads and can also be much more compact. Sleeping mats are typically made of foam and can be a nice choice for those who want a quick, easy setup (backpackers should especially appreciate this).
RV Camping
Here are the sleeping surfaces we most recommend for RV camping:
Cots: In a pinch, these sleeping surfaces can really come in handy as an extra sleeping spot for guests.
Air Mattress: If you've got the room, air mattresses are an RV camping option. However, we wouldn't recommend sleeping on one if you're sleeping in an RV for more than a few nights. RV mattresses should be far more durable than air mattresses and an ideal long-term sleeping option.
RV Mattresses: No surprise here! Of course, we recommend utilizing an RV mattress. There are a number of different models and sizes offered out there, and if you're looking for some good options, check out our article on the best RV mattresses.
Car Camping
Here are the sleeping surfaces we most recommend for car camping:
Sleeping Pads and Mats: We highly recommend sleeping pads and mats. Often, they're narrow (great for creating additional space) and can provide just a bit more cushioning for your car. These sleeping surfaces are also very portable since they're collapsible, so when you're ready to drive to your next location in the morning, packing up should be easy.
Camping Mattress Care Guide
You've set up your sleeping surface and you've spent a night under the stars. Now what? Don't dread the cleaning process. We've got you.
RV Mattress
For RV mattresses, it's important to keep the material in good condition even if it isn't camping season. One of the most common issues campers run into is the trapping of moisture in the mattress.
We recommend monitoring the environment's humidity; having the atmosphere at a low humidity can prevent mold and odor. Another way to prevent trapping moisture in the mattress is by airing out the bottom. This can be done by rotating the mattress from head to foot (only if advised by the manufacturer), or it can be done by using a mattress underlay, which should allow for sufficient airflow.
Air Mattress
After using an air mattress while camping, there's a high likelihood that it's not going to be anywhere near as clean as you left it. But don't let the outdoors discourage you. The easiest place to clean your mattress is probably going to be outside. While every air mattress is different (rely on your air mattress's care instructions first), here a few tips if you're in a pinch:
First, you should take care of the larger messes on the air mattresses. A lot of times, loose dirt and dust accumulates on the mattress and within crevices. We've found that utilizing a vacuum hose attachment or a small brush can take care of these larger particles.
Mold should be taken care of by applying a ratio of one part water and one part rubbing alcohol to the affected area. Odors can normally be tackled with a sifting of baking soda (let sit for five minutes), then a mixture of one part water and one part vinegar (gently rub on the surface).
For general cleaning purposes, mild dish soap and cold to warm water can be used to wash, not soak, an air mattress. Afterwards, we recommend drying the bed in indirect sunlight.
Camping Cot
Again, materials differ from company to company, so we suggest checking out the manufacturer's care advice before resorting to these general rules.
When it comes to camping cots, we recommend cleaning after every camping trip and on dry days where you can care for it outdoors. Like an air mattress, you should vacuum with a hose attachment or use a small brush to take care of larger dirt and dust particles.
You may use cold water only to clean the surface, or you can add mild soap or detergent for super dirty areas of the cot. A scrubbing brush may be used gently on tougher spots. The cot's frame, however, can be cleaned with disinfectant wipes.
Once the cleaning process is over, it's best to dry away from direct sunlight.
Camping Mat and Pads
For loose dirt and dust, you can use small brush or vacuum hose. We recommend cleaning with water, mild dish soap, and a cloth. For inflatable camping pads, it's best to keep the valves shut to prevent water from entering the interior of the pad.
When finished, we recommend drying indirect sunlight. For inflatable pads, leave the valves open to keep the interior from gathering any moisture. We also suggest leaving the valves open when you store it and keeping it in a cooler place until the next time you need it.
Inflation Guide
Inflatable mattresses can get a little scary, especially when camping. Some of us worry about rocks puncturing the surface of a sleeping pad or what kind of pump to get for an air mattress. That's why we've created this mini inflation guide to take away some worries.
Inflation Methods
As mentioned, camping pads can be self-inflatable, so you shouldn't have to put too much effort into inflation. Air mattresses work a bit differently and require a pump. This pump can be either built in or it may need a power source (such as an outlet or a car) to charge it. There is no best method necessarily; with that said, we think it's important to reflect on why you're buying a sleeping pad or air mattress, because that can help when making a purchase that fits your needs. For example, if you know you won't have access to a power source, an air mattress with a built-in pump is best.
How to Prevent or Repair a Deflating Mattress
It's best to care for your mattress the proper way in the first place because this can prevent premature damage. It's best to make sure you don't over-inflate your mattress, to deflate it once you've finished your camping trip, and to store in a cooler environment. Companies often provide a bag to carry your air mattress or camping pad in, so it's a good idea to use that and protect the mattress when not in use.
To repair a deflating mattress, a more common solution is to use the repair kit the mattress comes with. If the original repair kit is somehow not included or misplaced, then duct tape, a couple layers of superglue, or even a bike repair kit can be great alternative solutions. You can also make your own patch by covering the hole with a thin plastic material (such as a thinner tarp) and gluing to the mattress surface.
FAQs
How thick should your camping mattress be?

You're going to want a mattress that's at least two and a half to three inches thick, although several of the beds on this list (especially the RV mattresses) are thicker than that.
Do you need a mattress to go camping?

Of course not. Many people prefer sleeping bags, but some sleepers might want something a little extra, especially if they're using a vehicle such as an RV or camper as part of their journey.
Can you use a regular mattress in your tent?

Technically, yes, as long as your tent is big enough. But know that it will be hard to lug into the tent, plus you'll want to cover it on all sides by some sort of protection so it doesn't get ruined or dirty.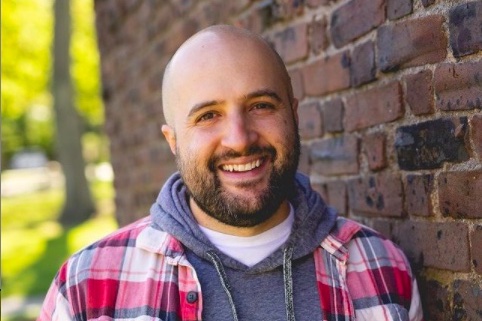 Dan Caffrey
Editor
About Author
Dan is a Performance Editor and Certified Sleep Coach at Sleepopolis, where he writes and edits mattress roundups to give readers the most up-to-date information on sleep products. In 2020, Dan earned his MFA In Playwriting from UT Austin, and his plays have been seen around the country in Chicago, Austin, Washington D.C., and elsewhere. He's also a pop-culture fanatic, having written for publications such as The A.V. Club, Consequence, Pitchfork, and Vox. He co-hosts two popular horror podcasts on the Bloody Disgusting Podcast Network — The Losers' Club: A Stephen King Podcast and Halloweenies: A Horror Franchise Podcast. When he's not catching up on the latest King novel, you can find Dan in and around Brooklyn walking his dog Hank, seeing a play with his wife, and going to way too many concerts.